Mood is one of the novelties that Italian Company, ModoLuce, is displaying these days at Ligh+Building show in Frankfurt. Designed by Annarosa Romano + Bruno Menegon, Mood is defined by a harmonious rhythm of porportions.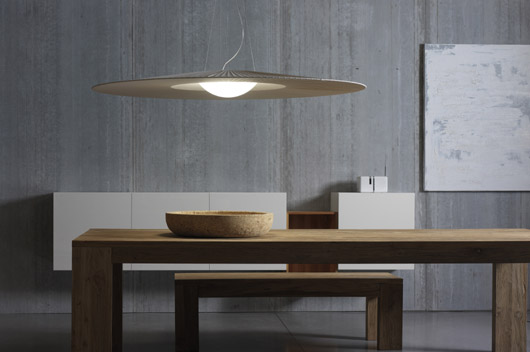 Lights and shadows calibrated to build light and colored discs in different diameters, alternating original materials and refined hand finished pleated fabric and the large central half-spherical shade in opal PMMA finishing Soft Touch.
The result is a mariage parfait between art and design: restful light to the eyes set in the bright and energetic color combinations of the lamp shade.
Suspension and wall/ceiling lamps with a strong decorative impact.
Material:
Shade in 100% acrylic pleated fabric or 100% polyester pleated ribbon hand-finished.
Central half-shperical shade in thermoformed opal PMMA finishing Soft Touch.
Colors:
pleated fabric: 19 colors among classic and fashion
pleated ribbon: 6 colors (ivory, twine, leather, mustard, mimosa, lobster)
MODOLUCE - Light + Building 2014
Frankfurt am Main, 30 March - 4 April
Pav 1.1 Booth C 51
Source: ModoLuce
Read more news related ModoLuce published at Infurma
Visit the ModoLuce website