The refurbishment and renovation of Prointel offices, the first independent TV production company founded in Spain in 1970 by Chicho Ibáñez Serrador, has been a creative overhaul which included a corporate identity renewal. A project carried out by AGi architects studio.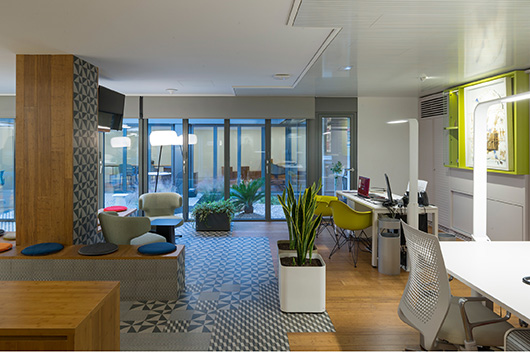 Located in a mixed use neighborhood in Madrid that is populated with residential developments and small businesses, the renovation adapts to the current needs of the user while preserving the original spirit founded by "Chicho"; that spirit is present in every detail of the project developed by AGi architects.
"The project began with a complex initial position: how to open the offices to a courtyard in order to maximize the natural light and daily use of the exterior areas. The decision was to emphasize the importance of the patio by continuing the outdoor paving into the interior of the offices, and eliminating every opaque wall.
The main workspace of production is a large open space that welcomes different disciplines to collaborate. On one hand is a wing dedicated for teamwork, with grouped tables and a wall dressed with custom shelving, on the other end are the technical recording rooms where postproduction is developed.
The project´s main driving force is the extension of the natural language of the courtyard through the entrance and into the offices. The main entrance and reception are at street level on the top floor. A central staircase wrapped in wood runs from the main entrance and blends into the ceramic tiling of the basement patio. Both the air conditioning and lighting systems have been designed taking into account requirements of energy saving and scene programming for the different configurations of the workspaces"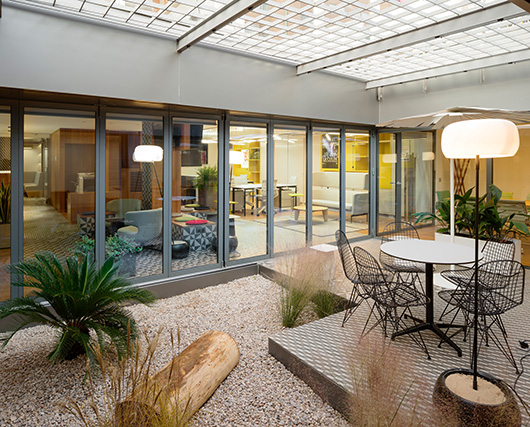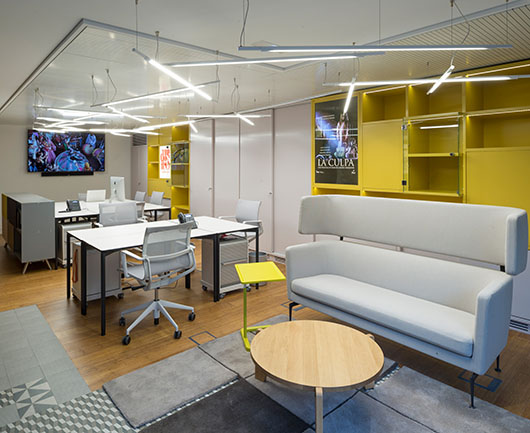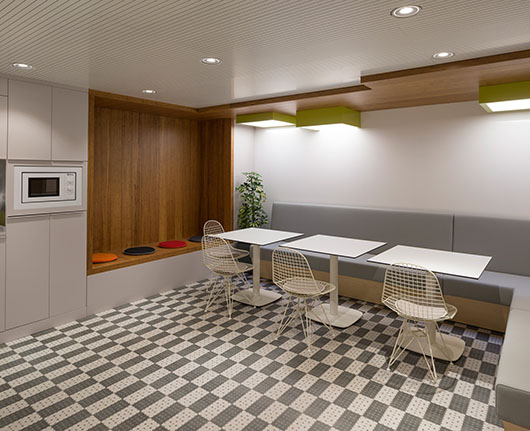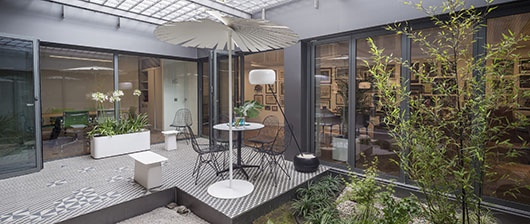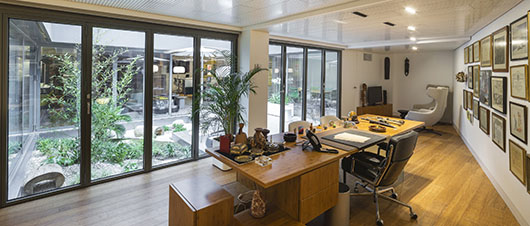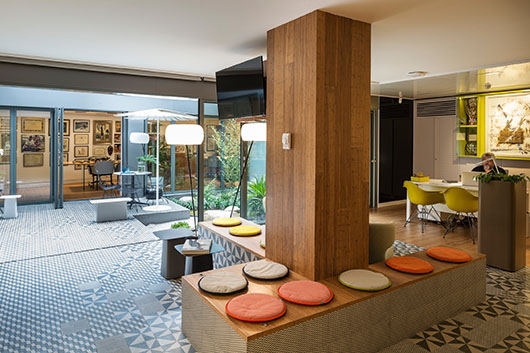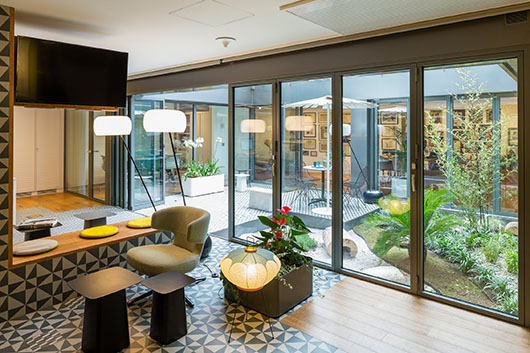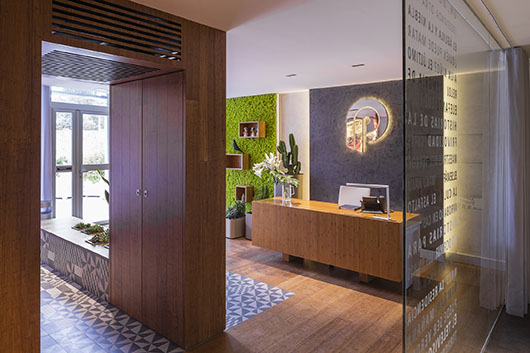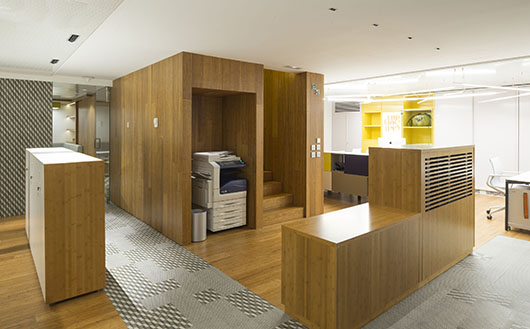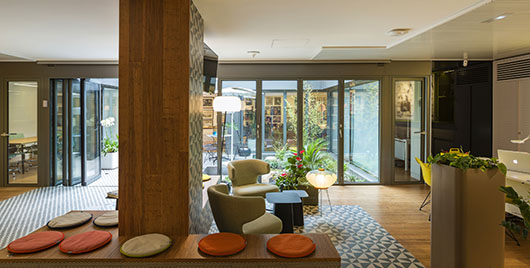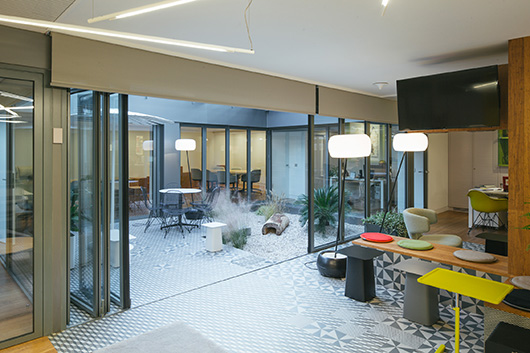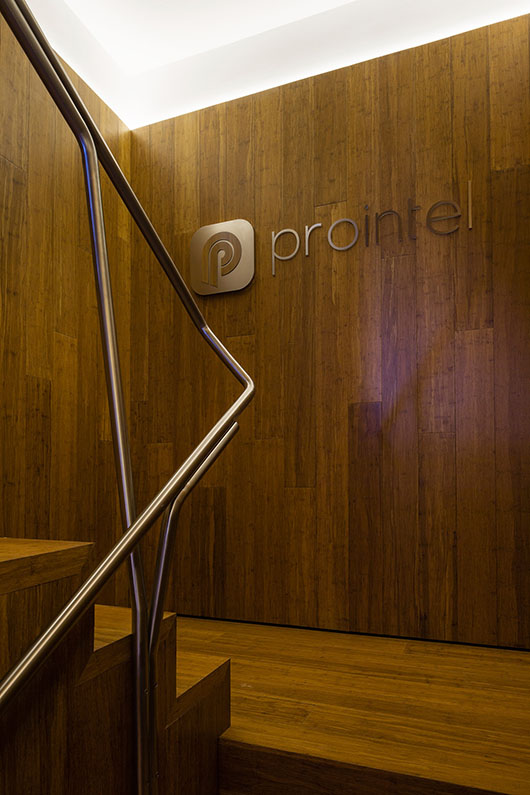 Program
Entrance floor:
Reception hall
Secretary
Offices
Meeting and scripts room
Lower floor:
"Turtles" courtyard
"Landscape office" workplace
Projection and exhibition area
Meeting room
Main office / Meetings / Exhibition
Secretary
Kitchen
Edition and voice-over room
Toilets
Design Team
Principals:
Joaquín Pérez-Goicoechea
Nasser B. Abulhasan
Ar chitectural team:
Cristina Araujo
Bruno Gomes
Justo Ruiz Granados
Daniel Muñoz
Technical architecture:
María Lamela
Lighting:
Aureolighting
Furniture supplier:
Gunni&Trentino
Photography:
Miguel de Guzmán
Source: AGi architects
Read more news related AGi architects published at Infurma
Visit the AGi architects website