The Hospital, projected by Architect Rafael de la Hoz, has a structure focused on the functionality and well-being of health professionals. In addition, a particular interest has been provided to achieving a unique architectural design that integrates light, silence and aesthetics, as elements for recovery. AERO bench and SLAM chair of Sellex (both Lievore Altherr Molina designs) have been selected to furnish the different areas of this new hospital center.
The new hospital counts on 260 single rooms and will receive more than 180.000 citizens. The center, with an investment of more than 230 million euros, has the latest technologies, both in health and information and telecommunications.
Besides the 260 singles rooms, the center has 47 consulting rooms, 10 day hospital room and 12 health posts dialysis. In the surgical area will have 10 operating rooms. As well as 32 exploration cabinets, 78 emergency posts, 21 radiology rooms, 10 nursery places and 18 UCI locations.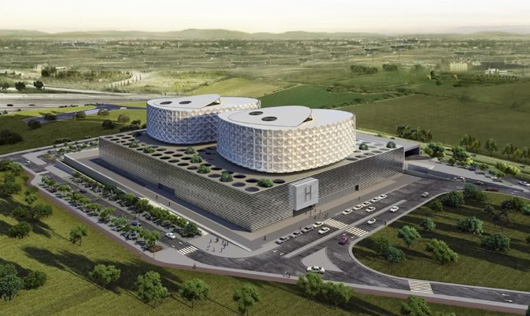 About Aero bench
AERO is the happy outcome of a combination of minimalism, ligthness, elegance, comfort and sturdiness. All this based on grooved aluminium profiles recalling an aircraft' swing. The materials used in its construction, aluminium and stainless steel, make AERO suitable both for indoors and outdoors purposes. No doubt AERO has become the leading in Aluminium benches.

About Slam chair
Thanks to its wide range of possibilities, SLAM Chairs program allows to equip the different spaces of the same building keeping a unique aesthetic.