The hood is an organ, a vibration of light and sounds materialized by a series of cilinders which both enlighten the fireplace and turn the scents of the food into music via bluetooth. A minimalist wood-made table with bright steel-made cooking elements embedded.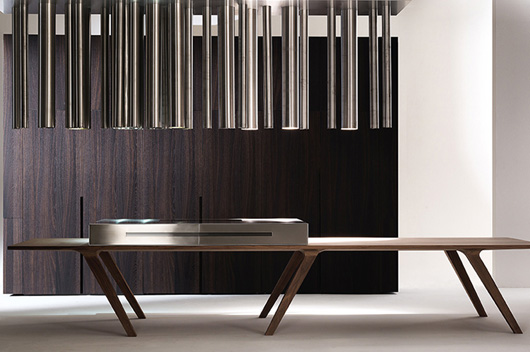 title="Más..." />
The new kitchen @home, designed by C+S Architects studio for Italian company .elmar Cucine is rigorous and precise technique.
@home reinterprets the DNA of those forms that the market conventionally names kitchen and which remind us the more complex memories of an inhabited space rich in materiality, flavours and fragrances.
The DNA forms through these memories, but using the most sophisticated technical solutions of the industrial market, pushing the product beyond the conventions.
Source: Versat
Visit the .elmar Cucine website
Visit the Versat website