Yecla Furniture Fair believes in its renovation for the 54th edition. Aware of changing trends in decoration and exhibitors and visitors needs, the event decided to expand its offer with a Premium showcase aimed at corporate and institutional clients, as well as decision makers, who are responsible for purchases in the "contract sector".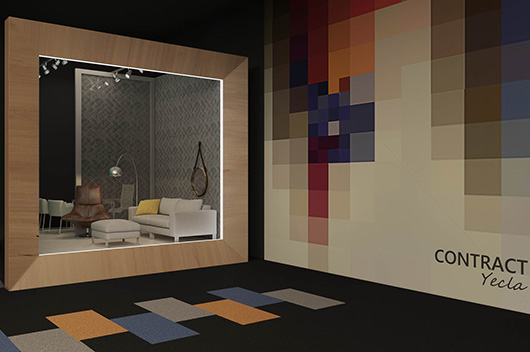 title="Más..." />
For this reason, a new specialised space has been designed, Contract Yecla, which will revitalise the exhibition and will have a positive impact in the furniture sector. This space, that will be located in the entrance area, will have a modern and attractive design. Here is where manufacturers will exhibit their products, such as bedrooms, outdoor furniture, lighting, textile, decoration and rest, among others. This means, in the same space the visitor will find everything which is needed to equip public buildings.
Precisely through Contract Yecla, Yecla Furniture Fair intends to attract hoteliers, interior designers, independent professionals, architects and experts in designing comprehensive projects. The chairman of the fair and mayor of Yecla, Marcos Ortuño, explains "Experts who visit our premium showcase will find comfort, functionality, design, price and durability, everything at the same place"
Furthermore, the event will make available a consulting office specialised in decoration. "Interior design is very important in contract sector, we know that exhibitors are committed to design and fashion without dismissing functionality" says the Director of the event, Inmaculada Hernández.
Specialised conferences about issues of interest in alterations to hotel facilities and interior design will also be in Contract Yecla. The management of the Yecla Furniture Fair is already working in the schedule of these conferences that will be given by renowned professionals.
In its push for renewal, the event also redesigned the entrance hall of the exhibition ground. Visitors will find a modern, welcoming and functional space. The new entrance will become a 2.0 space, with all the technological facilities needed to work in a comfortable and operational way.
On the other hand, Yecla Furniture Fair keeps its wide offer of household furniture for the traditional customer and its commitment to promote exhibitors companies in international markets through trade missions, in collaboration with Murcia's Regional Development Agency. "With this commitment to Contract Yecla we will not neglect the traditional side of the event which has given such good results throughout its history" concludes Inmaculada Hernández.
Source: Yecla Furniture Fair
Read more news related Yecla Furniture Fair published at Infurma
Visit the Yecla Furniture Fair website