Shoffice (shed + office) is a garden pavilion containing a small office alongside garden storage space located at the back of a 1950's terraced house in St John's Wood. The project brief was for both a practical office space and a sculptural object that flowed into the garden. The project was a close collaboration between Platform 5 Architects, Morph Structures and the contractor Millimetre.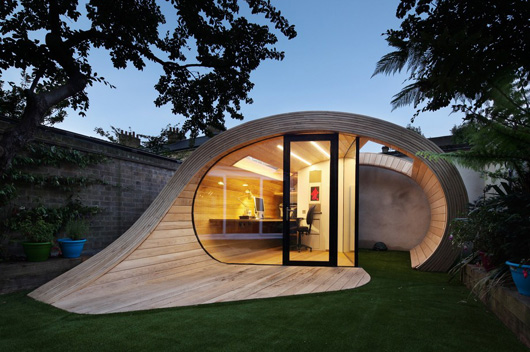 The finished design is a fully glazed office, which nestles into an extruded American white oak elliptical shell that unfurls to form a small terrace in the lawn. The interior is also lined with American white oak and fitted with a cantilevered desk and storage. The structure is naturally lit by two skylights - one glazed above the desk and another open to the sky outside the office attracting light into the work space.
London based architects Platform 5 took their inspiration from a curled wood shaving. The curved exterior shell was formed in a stressed skin timber structure to keep the weight and foundations minimal and allow the structure to be prefabricated in a workshop and before assembly on site. The exterior fascia was fabricated in slim, steam bent strips to accentuate the spiral form of the leading edge of the building. The efficient structure achieved good insulation levels whilst maintaining the elegance of the design intent.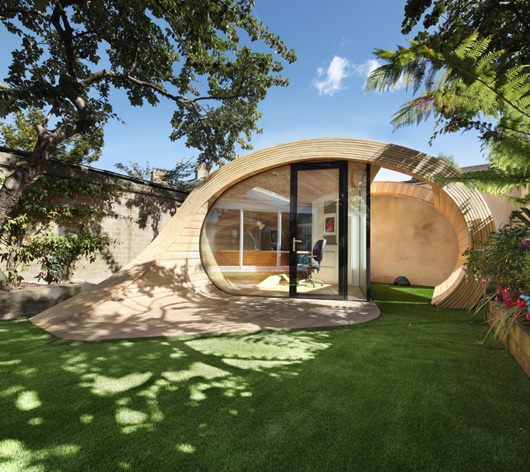 The American white oak cladding was chosen for its warmth, tactile appearance and durability. "Due to the shape of 'Shoffice', we required a cladding material that would work internally and externally on the roof, walls and deck; the oak cladding was able to adapt to all of the different conditions", says Patrick Michell from Platform 5. The exterior open cladding has been left untreated so that it will weather down to a silvery-grey.
The interior is lined with oiled tongue and groove oak boards, bringing out the richness of the wood. Over time the contrast between the interior and exterior will be accentuated.
A slim cantilevered desk was made using white oak laminated plywood with solid lipping and was crafted to integrate into the interior architecture.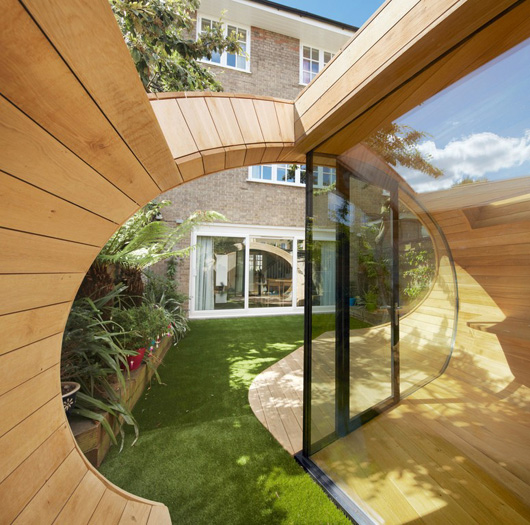 The site presented a number of challenges as the only access was through a small doorway and the modest sized garden had a limited working area. Therefore, the structure was prefabricated in to a kit of parts in a workshop to ensure accuracy, limit time on site and reduce the amount of materials that need to be taken through the house.
Source: AHEC
Photography: Alan Williams
Read more news related AHEC published at Infurma
For more information on American hardwood species and case studies, visit www.americanhardwood.org