The young Design Edition brand, Luxembourg based, Super-ette, founded in 2010, just launched new collection 2013 with pieces by Guillaume Delvigne, Fanny Dora, Eric Jourdan, François Bauchet and Tomas Kral.
title="Más..." />
Homework' work table by Tomas Kral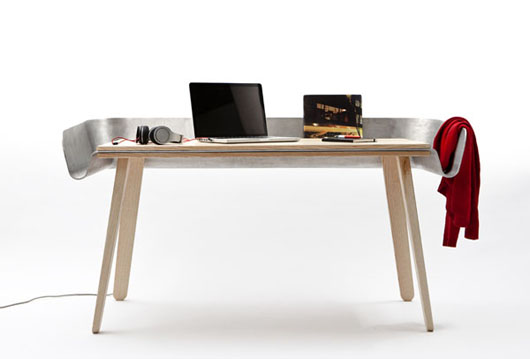 "Homework is a work table which has been set to be even more functional: an aluminium cloth is placed on a wooden table then folded to form a refined extension, a toolbox to store documents, objects, photos...that you need or simply desire to work. The tilted surface enables you to lay down open books and continue reading like with a desk." Tomas Kral.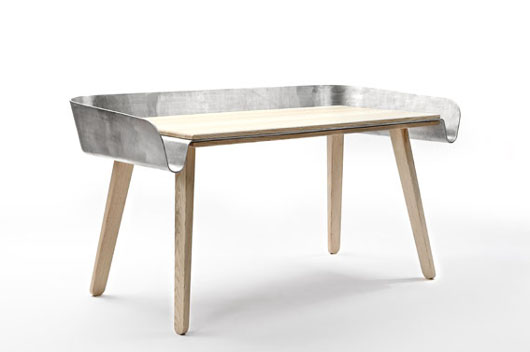 Materials: cast aluminium, ash
Design: Tomas Kral
Dimensions: 156 x 79 x 83 cm
Year: 2013
Made in Europe
Prestige mirror by Fanny Dora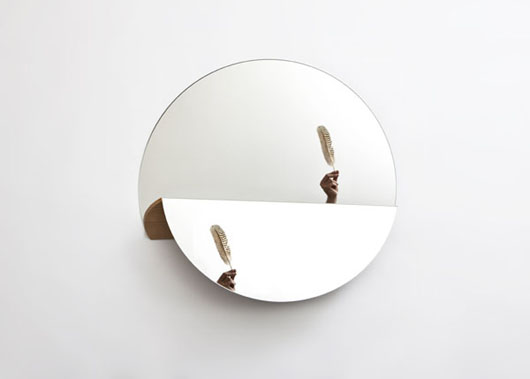 "In the world of magic Prestige is the conclusion of a trick, the moment when the audience is captured. Like an illusionist, your perception will be deceived by this mirror using an anamorphic 'trick': from the front, it is a traditional round mirror, but from a different perspective a second function is revealed, a layer of wood, a place for your small belongings." Fanny Dora.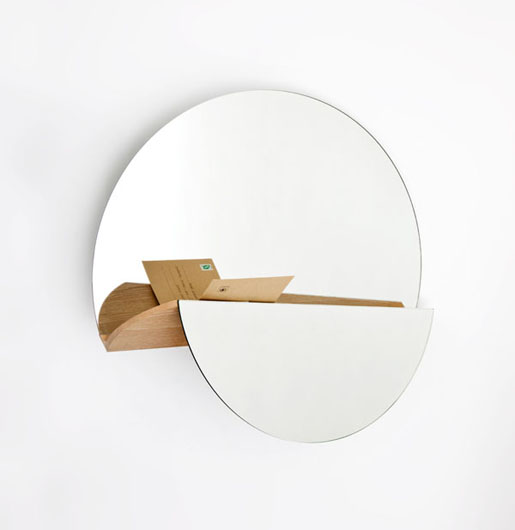 Materials: glass, ash
Design: Fanny Dora
Dimensions: ø 75 cm
Year: 2013
Made in Europe
Gilda table by Eric Jourdan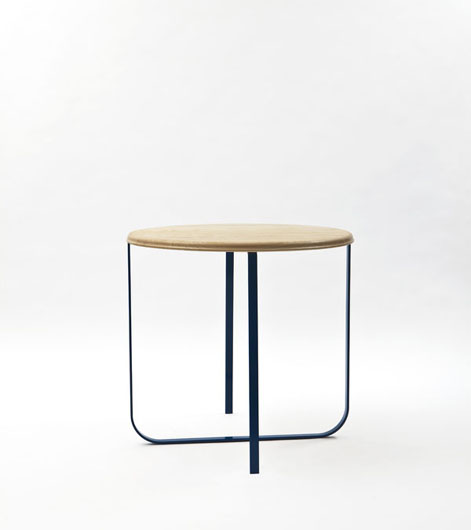 "'Gilda is a simple and basic table, with a very assertive character. A tricky exercise, since basics have no room for a glut of features. After having constructed the table around a "modern" base, I sought to tackle the table top, to be more precise its border, in a virtually traditional way with an outline which readily reflects the world of traditional cabinet making. A recurring blend in my work." Eric Jourdan.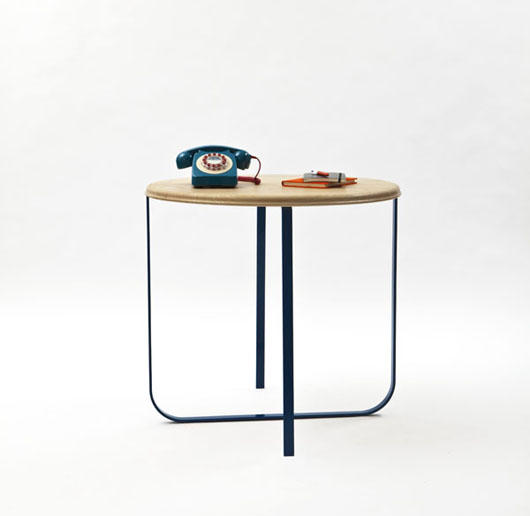 Materials: epoxy painted steel, ash or lacquered okoumé
Design: Eric Jourdan
Dimensions: ø 80 x 76 cm
Year: 2013
Made in Europe
Bronco Stool by Guillaume Delvinge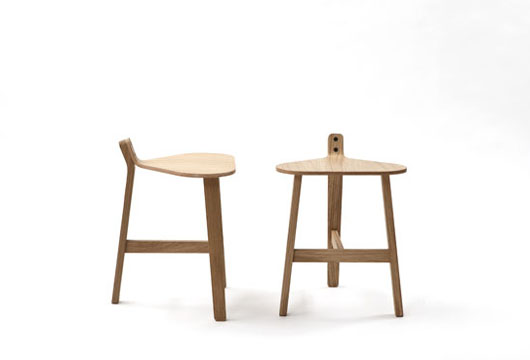 "Saddle or stool? With Bronco, I like the idea that at first there is speculation about which way to sit: in classic mode or astride? With these two eye-catching screws, the moulded piece of wood that interfaces the seat and one of the feet can also be a handle, lower back support, hook... Through the fluidity of its form and its T-shaped structure, I tried to give it a robust, accessible and likeable identity." Guillaume Delvigne.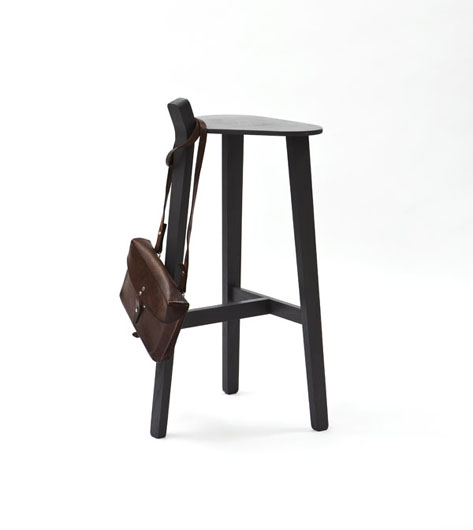 Materials: oak, heat moulded seat
Design: Guillaume Delvigne
Dimensions:
- Large: 40 x 40 x 75 cm
- Small: 40 x 40 x 45 cm
Year: 2013
Made in Europe
Monad Shelf by François Bauchet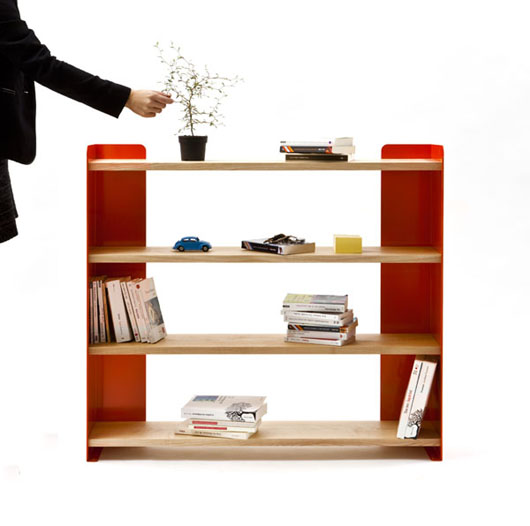 "I like the idea of economy, even if economy is ironic here since it lies in the organisation, in the clarity of the design and not in the material. Monad is a solid shelf made from solid materials, wood and metal, a far cry from cheap products. At least the research is formal here then: less features characterized by avoiding the superfluous with high a quality finish. A device for storage." François Bauchet.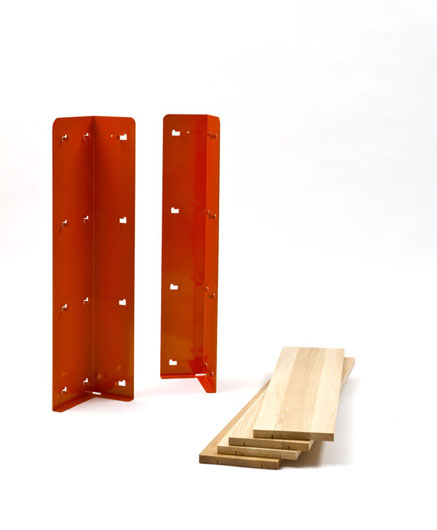 Materials: epoxy painted steel, ash or lacquered okoumé
Design: François bauchet
Dimensions: 4 models
Year: 2013
Made in Europe
Source: Super-ette
Visit the Super-ette website