The London Design Fair 2019 Offers Even More: More International Design, More Brands, More Collaborations and More Talent
Attracting 29,000 visitors annually, the London Design Fair makes every effort to excite, enthral and inspire its design-conscious audience. With a wealth of experience and keen knowledge of diverse creative industries, the Fair is well placed to accommodate the global tastes of architects, product designers, interior designers, collectors, retailers, journalists and more

In 2019, the London Design Fair will again showcase a comprehensive mix of country pavilions, brands, features, experiences, new launches and new talent. Visitors can look forward to exploring 550 exhibitors from forty countries, including Peru, Poland and Palestine. As well as an opportunity to peruse the design world's latest artistic endeavours, there will be a chance to shop for a unique design accessory. Design Milk, the hugely successful design blog, is opening its Milk Stand pop-up shop at the Fair. With a variety of independent American and European brands in store, visitors can meet the makers and bag themselves an individual piece of design.
London Design Fair_Design Milk_Milk Stand. Photo credit: Design Milk
Adorno—the design-focused online platform that exists somewhere between a digital gallery and marketplace—has announced that one hundred designers will take part in Crossovers, an exciting cross-cultural, collectible design journey.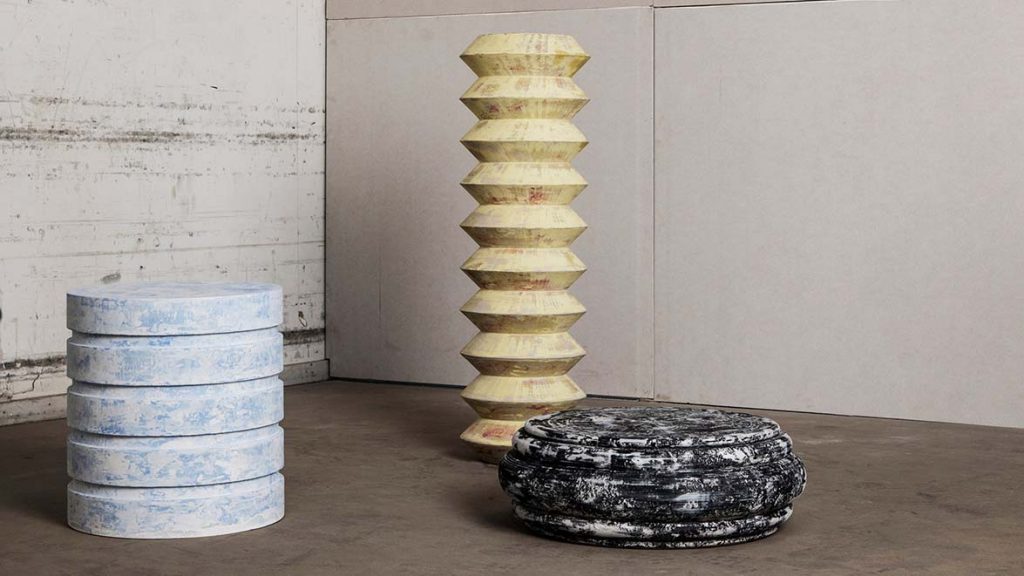 London Design Fair_Ragna Mouritzen & Troels Flensted_Adorno Crossovers_Hall 14. Photo credit: Ragna Mouritzen & Troels Flensted_Adorno Crossovers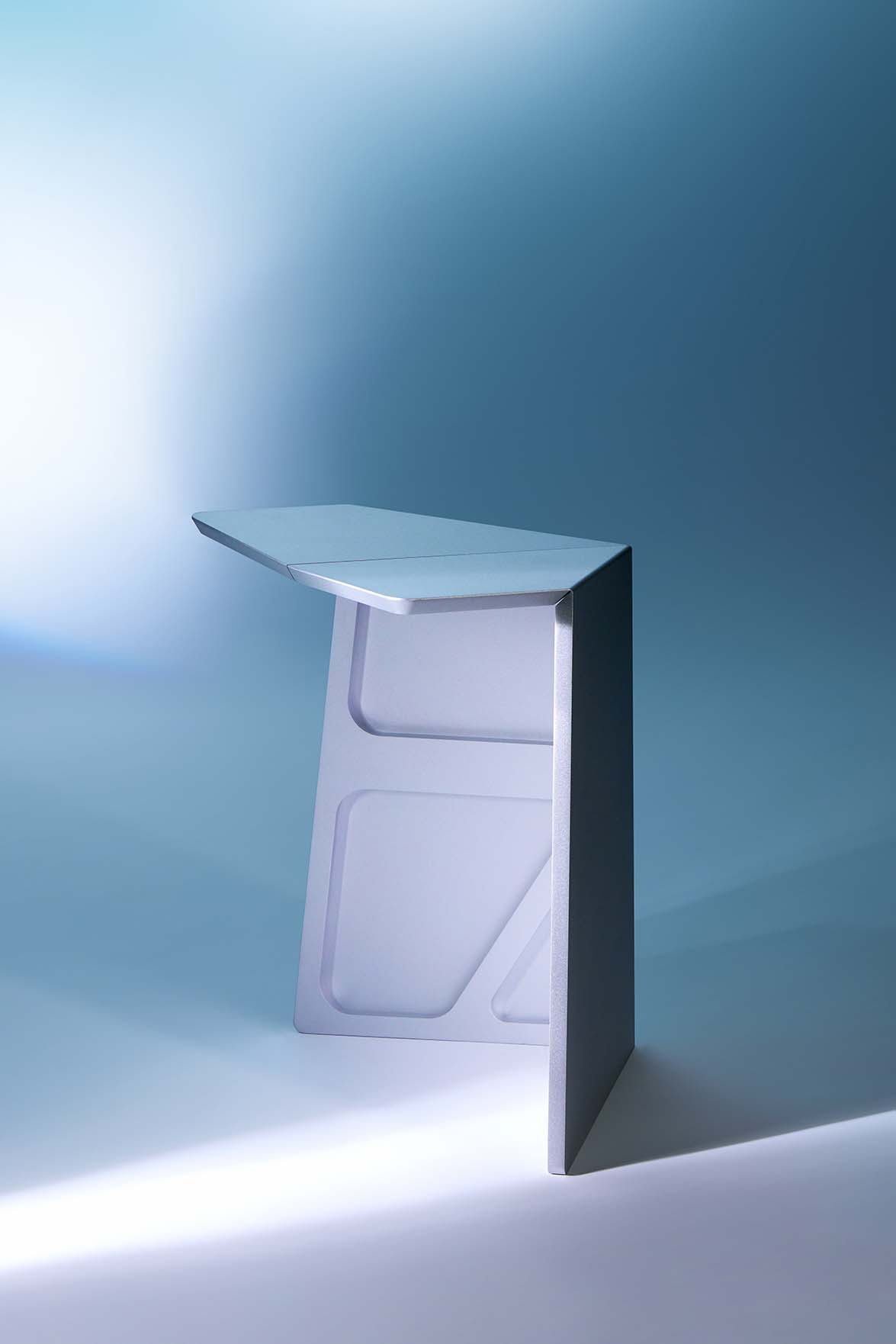 London Design Fair_Panter & Tourron_Adorno Crossovers_Hall 14. Photo credit: Panter & Tourron_Adorno Crossovers
Creative lighting exhibition [d]arc room, with its new home at the Fair, has confirmed the attendance of Belgian architectural lighting brand Delta Light, Italian lighting technology solutions group Linea Light and Belgian workspace design brand Buzzispace.
Joining The Bathroom Gallery, the Fair's new dedicated bathroom component in partnership with ELLE Decoration UK, are celebrated bathroom brands Villeroy & Boch, NIC Design, Roca and many more.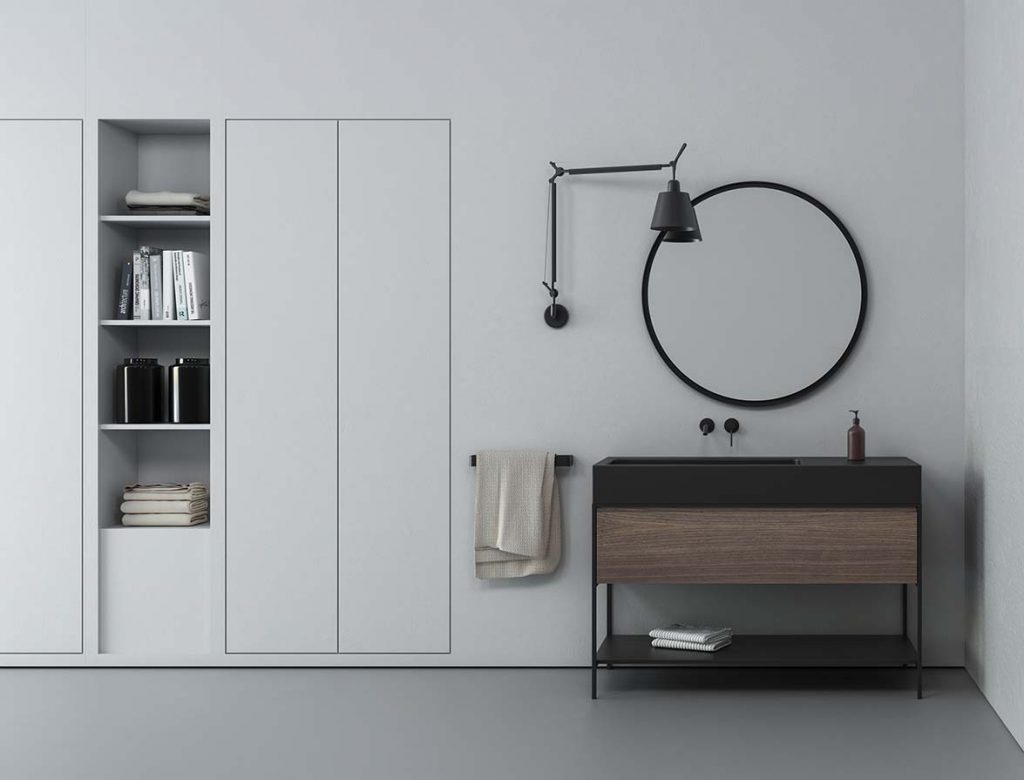 London Design Fair_NIC Design_Hall 11_Stand 5_The Bathroom Gallery. Photo credit: NIC Design
And for visitors seeking sustenance and a place to pause, Ole & Steen café will offer a taste of Denmark, serving up its delicious breads and pastries on the Old Truman Brewery's first floor.
A destination for international design
The Fair's Guest Country Pavilion in 2019 is the United Arab Emirates. Representing the UAE, Irthi Contemporary Crafts Council will debut its first exclusive product collection. Based in Sharjah, one of the UAE's seven member states, Irthi Contemporary Crafts Council operates a pioneering programme of creative, cultural and commercial initiatives, designed to empower women through craft. Such initiatives include artisan exchange programmes, vocational training, youth education and introducing talented craftswomen, in and around the UAE, to international markets. With a focus on preserving and promoting indigenous craft heritage, visitors can expect to find an inspiring collection of handmade items from more than forty female artisans, all of whom are employed by Irthi's Bidwa Social Development Programme. Moreover, as the Fair's Guest Country, the objective is to create a pathway between the UK and the UAE, providing visitors with direct access to products and designers they might not otherwise have had the opportunity to see and meet first-hand.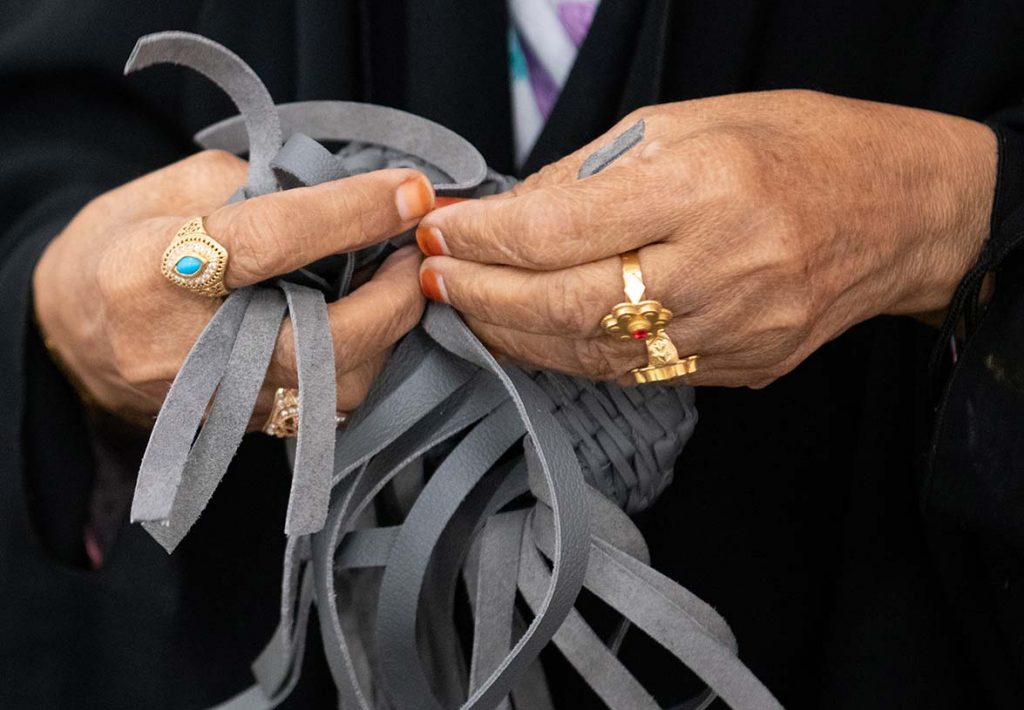 London Design Fair_Safeefa x Leather Bag Weaving_Guest Country_Irthi Contemporary Crafts Council. Photo credit: Safeefa x Leather Bag Weaving_Irthi Contemporary Crafts Council
Jimmy MacDonald, Founder and Director of the London Design Fair, comments: 'Each year we nominate a Guest Country, drawing special attention to activities and creatives in the chosen region. We have long since been intrigued by the Middle East, nowhere more so than the UAE with its ambitious plans to develop its creative sector. The establishment of Irthi Contemporary Crafts Council, focusing on female artisans in the UAE, MENASEA and Central Asia, is such a great initiative and we are honoured to host the UK launch of their first product line at the Fair.'
Presenting Hungarian design with a twist, Budapest Select will exhibit idiosyncratic objects that reflect the multilayered intersection of design and art, with pieces that go beyond the pure representation of form and material. Plydesign is an up-and-coming Hungarian furniture label whose work and approach builds on extensive experience in manufacturing moulded plywood components. Its Flagship armchair, designed by András Kerékgyártó, received the 'Design Without Borders Award', part of the yearly 'Design Without Borders' exhibition.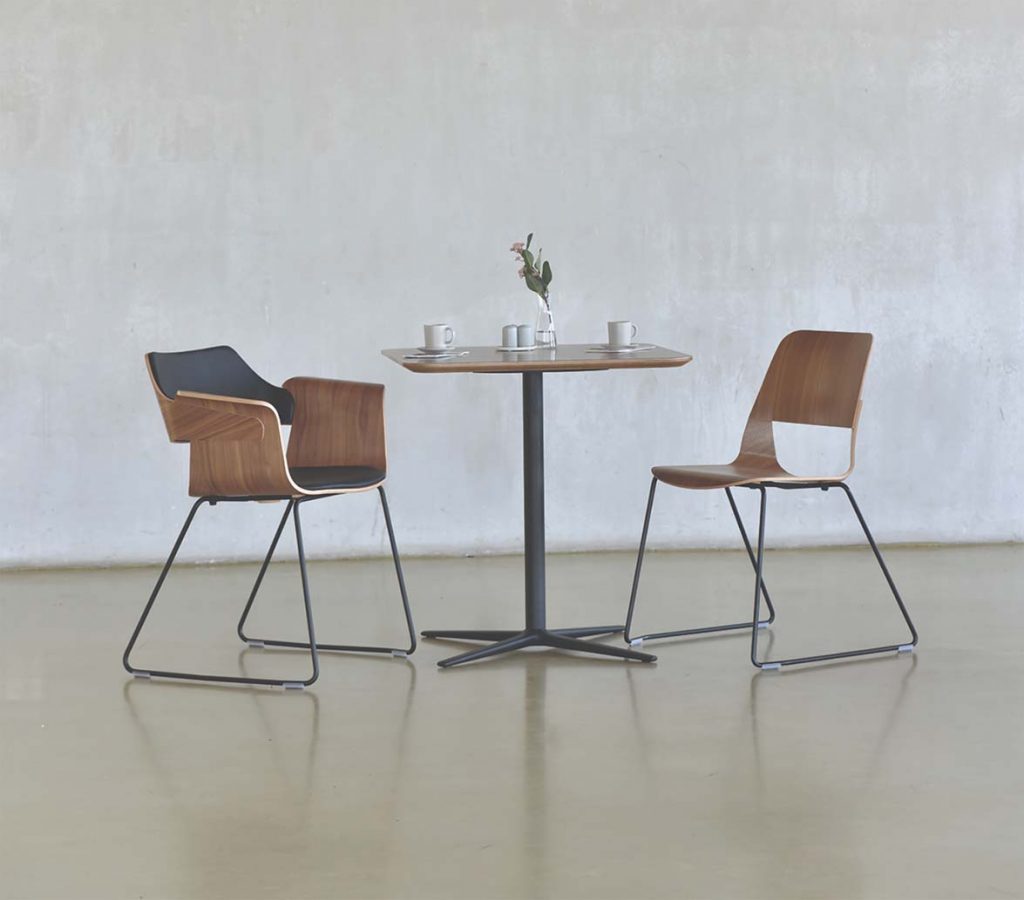 London Design Fair_Plydesign_Hungary Budapest Select_Hall 3, Stand 3.01. Photo credit: Plydesign_Hungary Budapest Select
In 2010, a number of Hungarian designers joined together to create Position Collective, a studio providing design solutions across a range of disciplines. The collective works on both Hungarian and international interior and product design projects, supplying its furniture and lamp collections to clients worldwide.
The International Craft Pavilion makes its debut at the London Design Fair, succeeding the British Craft Pavilion. Inaugurated three years ago, the British Craft Pavilion became the must-see exhibit for high-end craft during the London Design Festival. Recognising the need for a more comprehensive global representation of craft, the Fair's organisers decided to expand beyond British craft, creating the newly named International Craft Pavilion. Jimmy MacDonald explains: 'As the London Design Fair continues to grow, making it the largest and most respected international destination during the London Design Festival, it stands to reason that the Craft Pavilion should be international in nature.'
Artisans from Peru and Mexico, just two of the countries to join the International Craft Pavilion, will showcase their designs. Based in Peru, Allpa is a leading producer of handmade Peruvian crafts. Established in 1986, Allpa's products come from eighty small and medium-sized studios around Peru, and include ceramics, furniture, painted glass, textiles and jewellery. By working with local artisans, Allpa is able to help with fighting poverty and improving living conditions.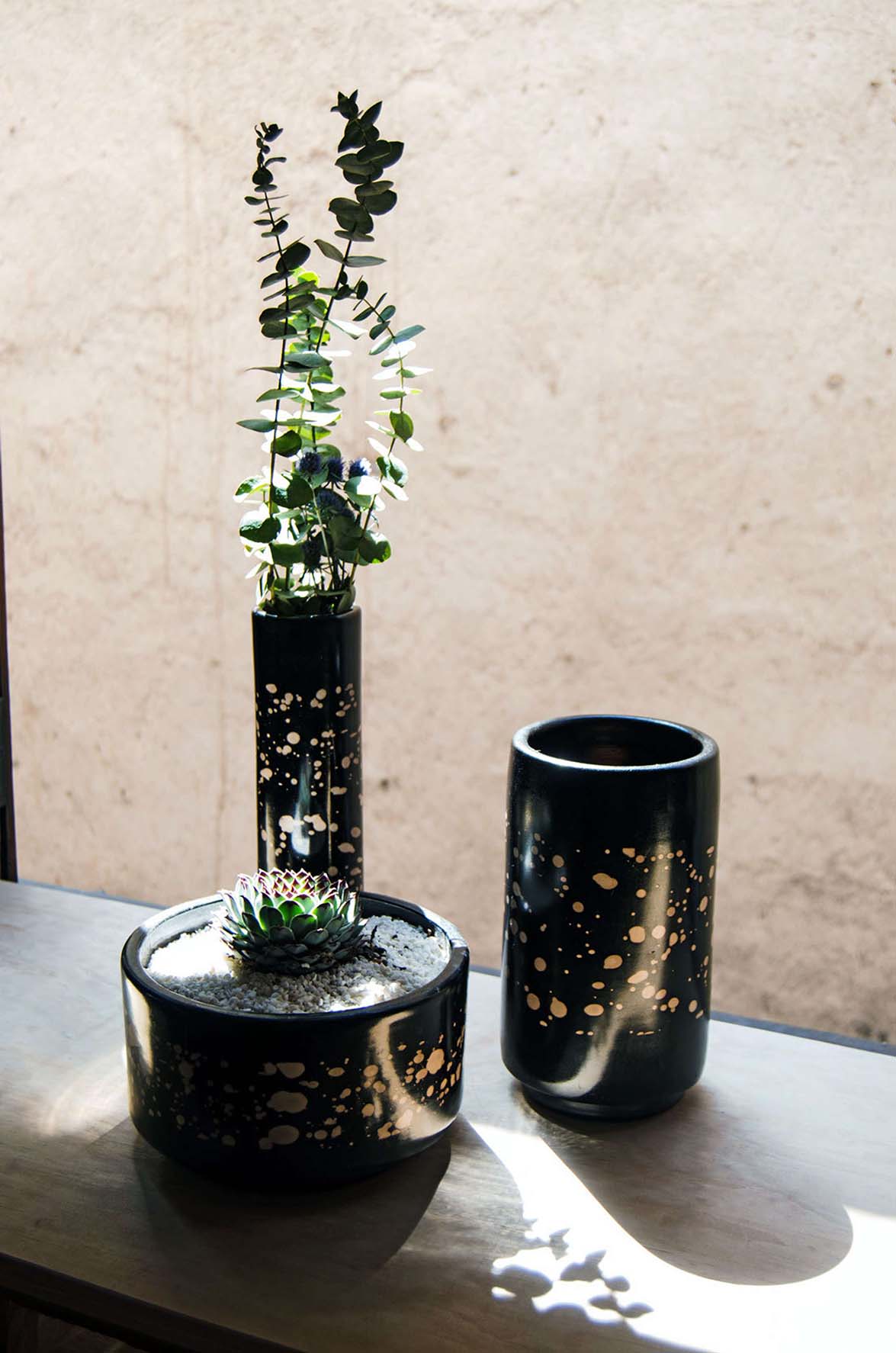 London Design Fair_Allpa x Studio Altar_Hall ICP 5_Stand 5.13_International Craft Pavilion. Photo credit: Allpa x Studio Altar
México Territorio Creativo is a creative organisation with a countrywide residency programme called 'Vision and Tradition'. Building a collaborative platform that unifies craftsmen and designers (from Mexico and beyond), the programme generates objects that work to establish a dialogue between traditional Mexican production and contemporary design. Following the residency programme, objects are exhibited for three weeks at the National Museum of Anthropology in Mexico City.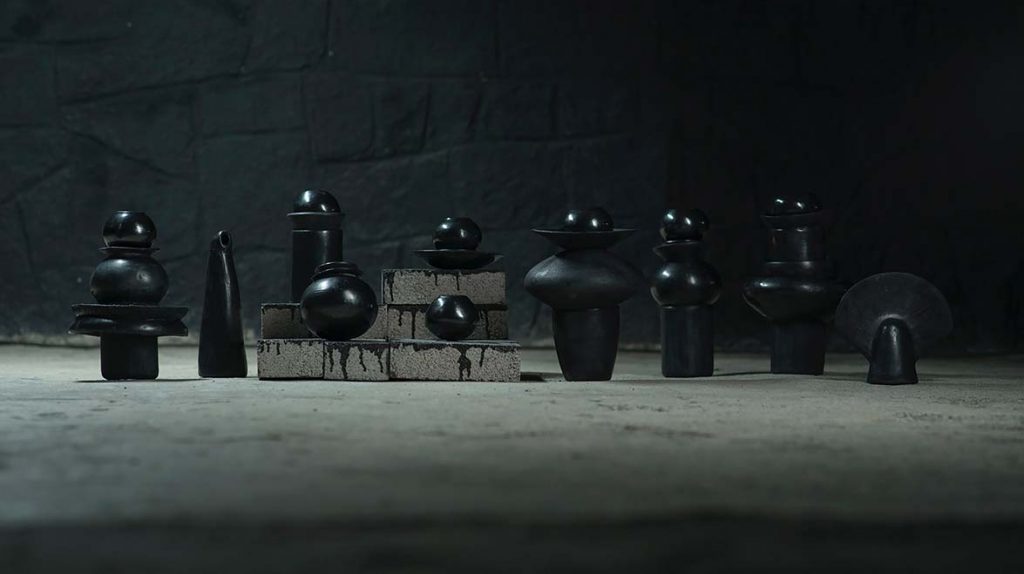 London Design Fair_Mexico Territorio Creativo_Hall ICP5_Stand 5.06. Photo credit: Mexico Territorio Creativo
Source: London Design Fair and v2com
Top image: London Design Fair_Made by Choice. Photo credit: Made by Choice
Visit the London Design Fair website