Enea furnished with its Lottus barstools a sweet facility located in Pyrmont Street in the Australian city of Sydney. A colourful, bold and modern space but above all, original in its presentation. It is the brand concept store Adriano Zumbo Patisserie where the decor conveys the philosophy that their pastry chef aims the food: fun, textural, visually attractive and above all taste.
So are the Lottus barstools from Enea! A formal, ergonomic and elegant seat but at the same time bold and multifaceted. Due to its wide variety of finishes and variants can be adapted to any home or contract space.
Lottus with upholstered frame in bright yellow and white lacquered sledge base is the perfect harmonizing element of the tasting area of The Star Zumbo. Sitting in the comfortable Lottus barstools, design Lievore Altherr Molina, we can chat with the chefs in the dessert train, see the thousands of cakes they produce each week or taste the sweet culinary masterpieces.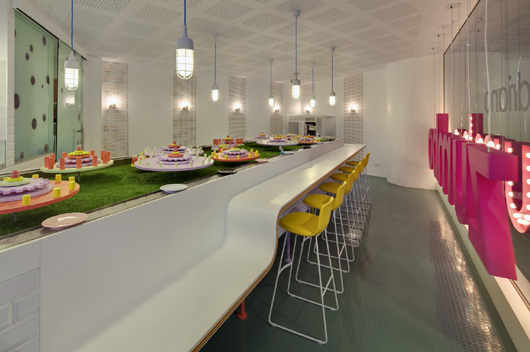 Read more news related Enea published at Infurma
Visit the new Enea website