Designer Martí Guixé has participated in the project that Nikari Finnish company is carrying out in collaboration with WWF Finland. Under the name "2012 Designs for Nature", this project tells about Nikari philosophy and the Finnish wood design ideology. 12 months, 12 products, twelve designers. Marti Guixé has participated in March with a wall bench.
PROJECT 2012 DESIGNS FOR NATURE is based in how Nikari delicately manufactures exquisite quality furniture and products of the local forests' wood in Fiskars Village. Because number 12 is the number of the year (and it is the World Design Capital Helsinki 2012 year, so definitely worth celebrating) and there are 12 months in a year, Nikari asked twelve designers or design studios to study its philosophy and give their comments to it in a form of a wooden product. Nikari co-operate with the Finnish WWF and part of the sales price is donated to protecting rainforests and forests globally.
From Martí Guixé,
"The MARCH wall bench is a wooden bench that has to lean on a wall to be able to function. This new typology originates from a certain misuse of a ladder: people using one of its steps as a seat. The perception of the MARCH wall bench as a kind of wrong wooden ladder enriches the object by giving it a multi-context; it becomes an extension of the wall, it creates a domesticated area around and a fictive memory, based on the unconscious recognition of the nostalgic and iconic image of the wooden ladder."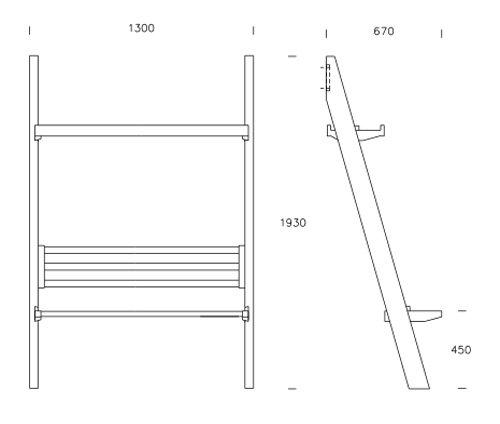 MARCH wall bench, oak, natural wood oil mixture.
Photographer: Chikako Harada
Visit the Nikari website
Visit the Martí Guixé website