Fresh, different, socially demanding. The young 'Talents' in Frankfurt never cease to surprise us with their new, often highly conceptual and imaginative product ideas and design approaches.
And Ambiente's successful promotional programme itself will, this year from 10 to 14 February, be the subject of two innovations. On the one hand, we shall see the launch of the 'Fashion Accessories' area in Hall 9.2, with young designers' jewellery and fashion designs. And on the other, the 'Talents Hotspot' in Hall 11.0 will have a temporary new focus. This year, the title, theme and overall aim is 'Ethical Design' and this provides the framework within which international newcomers to the scene will be promoting their draft designs for a contemporary, sustainable and ethically challenging set of products.
"For a long time now, the question as to how we can treat the earth, its resources and its people better has been the driving force for many more people than simply the pioneering and the avantgarde. It has become a basic tenet of the modern consumer. In introducing 'Ethical Design' as a key feature of the 'Talents' section, we are responding to this development and are deliberately creating a space for young designers and their ground-breaking new solutions," says Nicolette Naumann, Vice President Ambiente. The area in Hall 4.0, with its focus on the dining table, kitchen and luxury foods & consumables remains unchanged. Altogether, the three promotional areas will provide 37 young designers, design studios and university graduates from 16 countries with their big chance to introduce themselves and their ideas to an international public, within the framework of the world's largest consumer-goods fair.
Hall 11.0: Talents present 'Ethical Design'
How industrial waste can be re-introduced into the value creation chain is well demonstrated by the 'PUNĀH' project run by Godrej & Boyce, one of the largest conglomerates in India. 'PUNĀH' is Sanskrit and means 'again'. Based on this premise, any waste produced is reassessed, reprocessed and reworked into other high-quality products. As a result, gloves have been made from copper wire and fashionable jackets, shoes, handbags and chairs from offcuts and clippings.
British designer Beau Birkett is thinking along similar lines. With his 'Håll' he has achieved an exciting mix of thermoformed plastic (PET) bottles and natural wood. The lamps, wardrobes and chairs that he produces in Sweden appeal to people not only because of their relaxed, Scandinavian look. They are also lightweight, collapsible and recyclable.
With their 'Forest & Found' products, the design duo Max Bainbridge & Abigail Booth, also British, have their eyes focused on direct experience of the creative process and the material used. This most individual of product lines includes plates, spoons and bowls made of driftwood and textiles. Their designs reflect both the craft process and the landscapes and architecture of the products' origins.
Further examples of 'Ethical Design' from the Refugee Project to jewellery, furniture and home accessories will be presented by 18 young 'Talents' in Hall 11.0.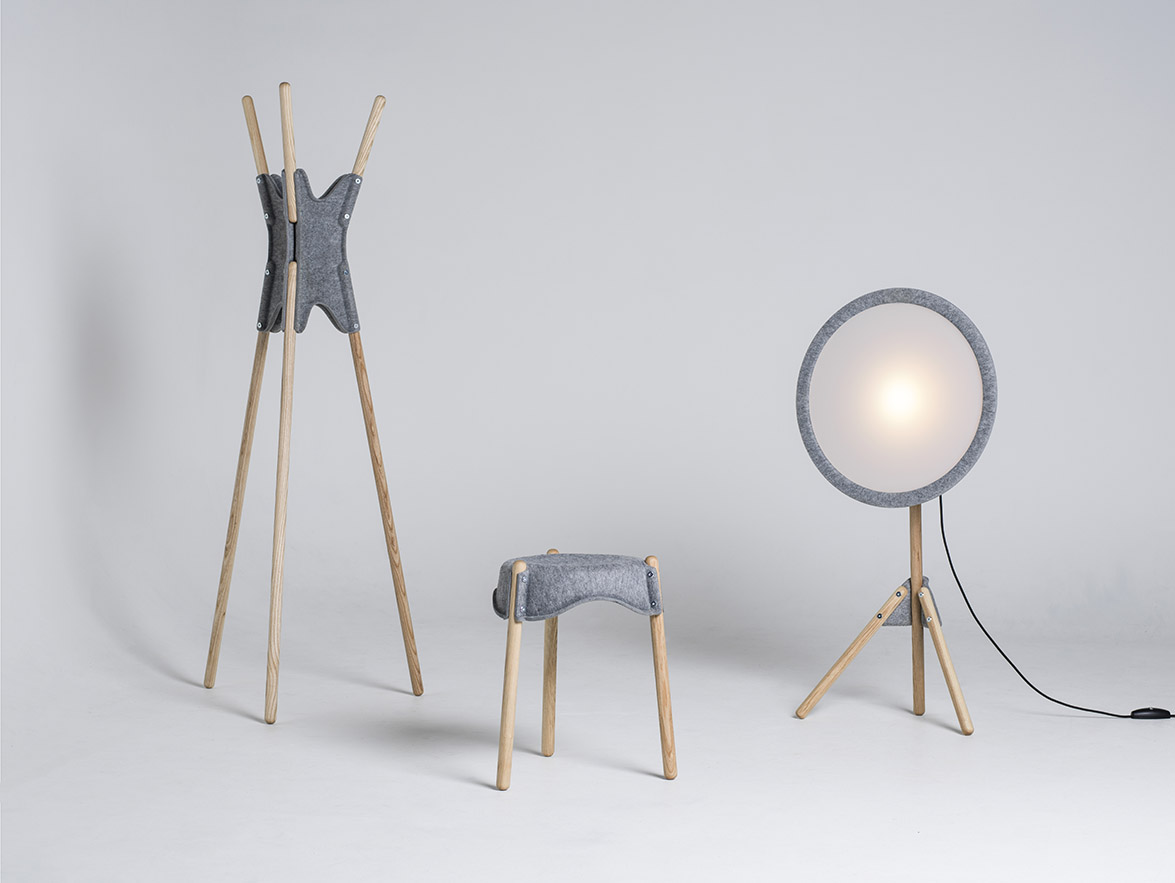 Talents 2017: 'Håll' products by British designer Beau Birkett
Hall 9.2: Personal stories
How personal 'reused' accessories and jewellery can be, is displayed in a demonstration by Angelo Verga of his poetic project, 'My Jeans'. In this project, the designer casts off his own jeans, in order to resurrect them in a new form. The process of the removal, dismemberment, destruction, and reworking of his clothing blossoms into unusual and unique items such as rings, brooches and bags.
'Sui Generis' is a 'class of its own'! With her label, Michaela Hahn celebrates the different ways in which each individual perceives his or her own self. In the process, her collection of rucksacks, bags and shoes for men stands out from the crowd because of, amongst other things, its dark, very 'masculine' and, at the same time, multifunctional design.
Altogether, there will be six young designers and studios making their début in the new 'Talents' area in Hall 9.2.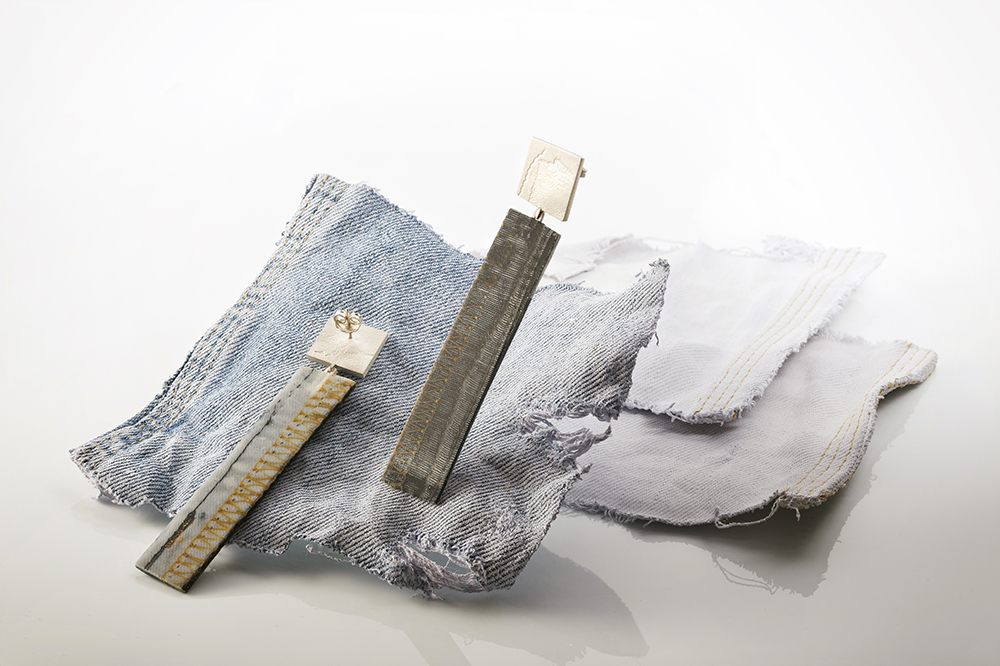 Talent Angelo Verga with one of the products from his ' My Jeans' project
Hall 4.0: Innovation amongst tradition
Somewhere in the space between individuality, industry and craftwork, the 13 young Talents in Hall 4.0 will be providing some impressive insights into the huge fascination that the topics of kitchen, cooking and luxury foods exert on young people involved in product design.
Designer José Maria Salgado, for example, who now lives in Great Britain, currently has a number of very desirable items for the dining table in his 'Ante Plate' range. The shape of his plates emerge from a 3D printing process, the surfaces exhibit abstract graphics ranging from porcelain to building bricks and, on the reverse side, various symbols, invented by the designer himself, provide information for the consumer about the manner of production.
Czech designer, Martin Jakobsen, on the other hand, draws his inspiration principally from minimalism and innovative solutions. At Ambiente, he will be demonstrating the result of five years of creative experimentation and will be exhibiting his re-interpretation of bar, cocktail and lemonade glasses in high-quality uranium glass.
The socio-cultural Bisarro Project is pursuing another approach. It is dedicated to the traditional pottery of Bisalhães (Portugal), which is known for its black clay, and skilfully creates a bridge between local craftwork and Asiatic design. Amongst a number of things to emerge from this are some extremely modern designs for vases, wine and water carafes, as well as tea and coffee services.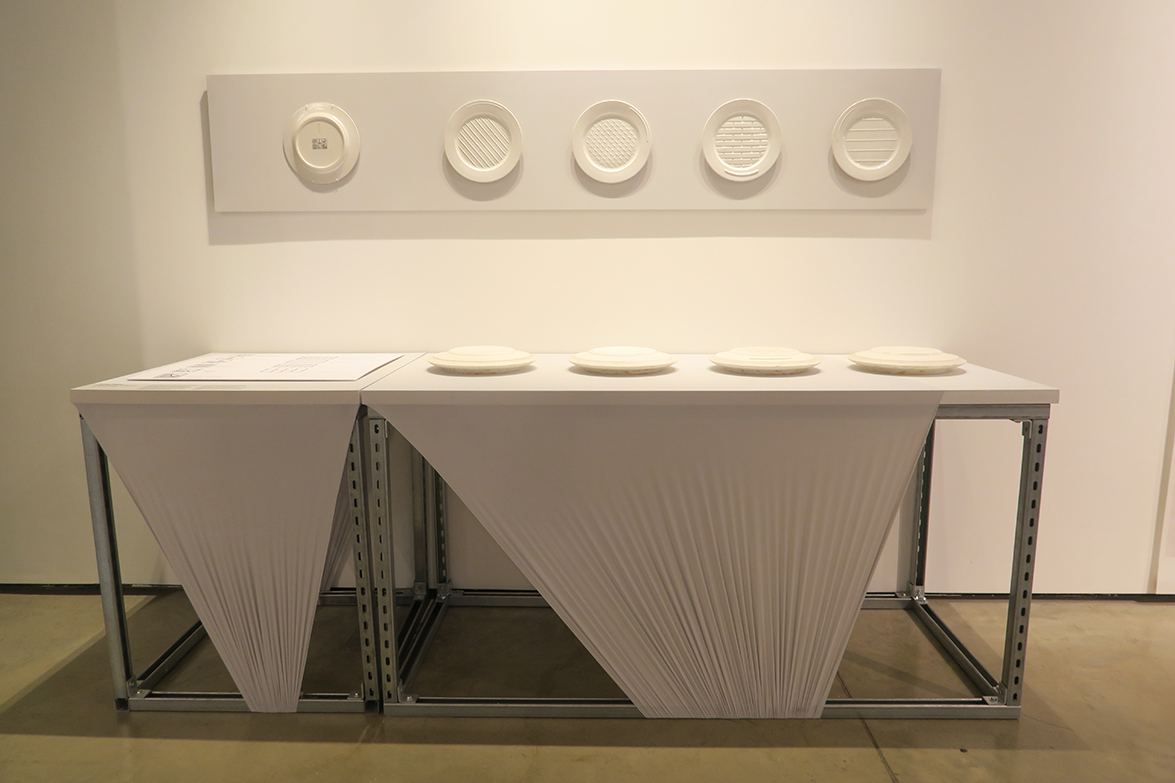 The 'Ante Plate' range from young 'Talent' José Maria Salgado
'Talents' - a story of success
For what is now a period of 16 years, Messe Frankfurt has, both at Ambiente and Tendence, been promoting young designers from all over the world. As part of the programme, the carefully selected participants not only have the benefit of the exhibition space they are given free of charge; they also benefit from a top-flight platform for international networking, direct feedback from an expert and professional public and an opportunity to establish important contacts with industry and the retail trade. Well-known 'Ex-Talents' include, amongst others, Mark Braun, Sebastian Herkner and design duo Francesca Lanzavecchia and Hunn Wai.
Source: Ambiente
Top image: The Talents area at Ambiente 2016

Read more news related Ambiente published at Infurma
Visit the Ambiente website