The port of San Sebastián goes into the Txalupa Gastroleku Restaurant, designed by El Equipo Creativo
Keeping the San Sebastian charm of these traditional premises has been the focus of the award-winning studio El Equipo Creativo for this project that combines two bars in the same place. That's how they explain us,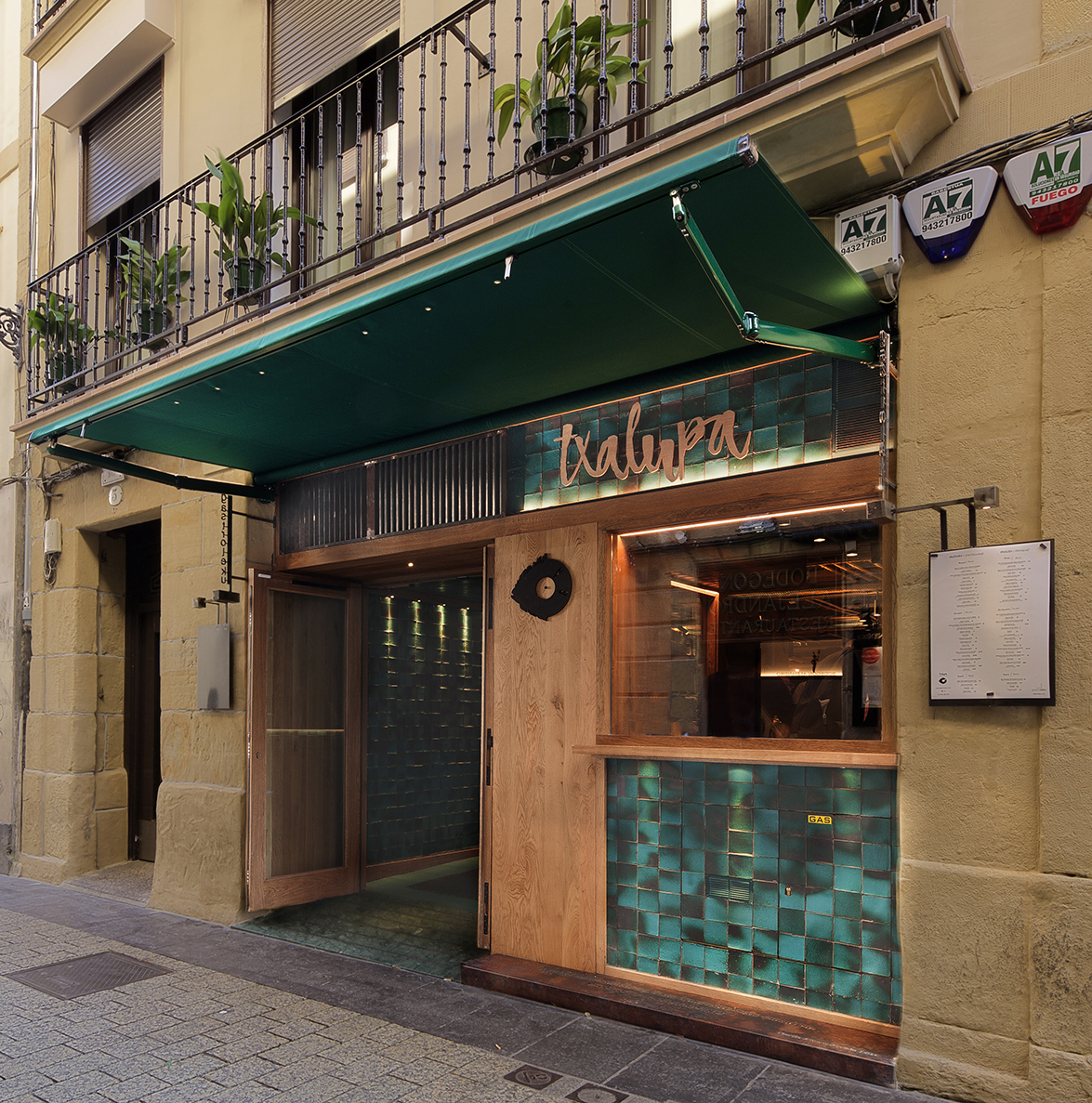 TXALUPA GASTROLEKU
The project begins with a pintxos (small tapas) bar in the old part of San Sebastian, which has to be transformed entirely due to a change of ownership, but without losing part of the essence of these traditional pintxos bars, with their long bars full of exposed tapas and their lively and casual atmosphere.
The bar is located on Fermín Calbetón Street, a classic street of pintxos in San Sebastian. This street literally connects the port, where small fishing boats still dock, with La Bretxa market, the old fish market in the city which still maintains the use of the gastronomic market.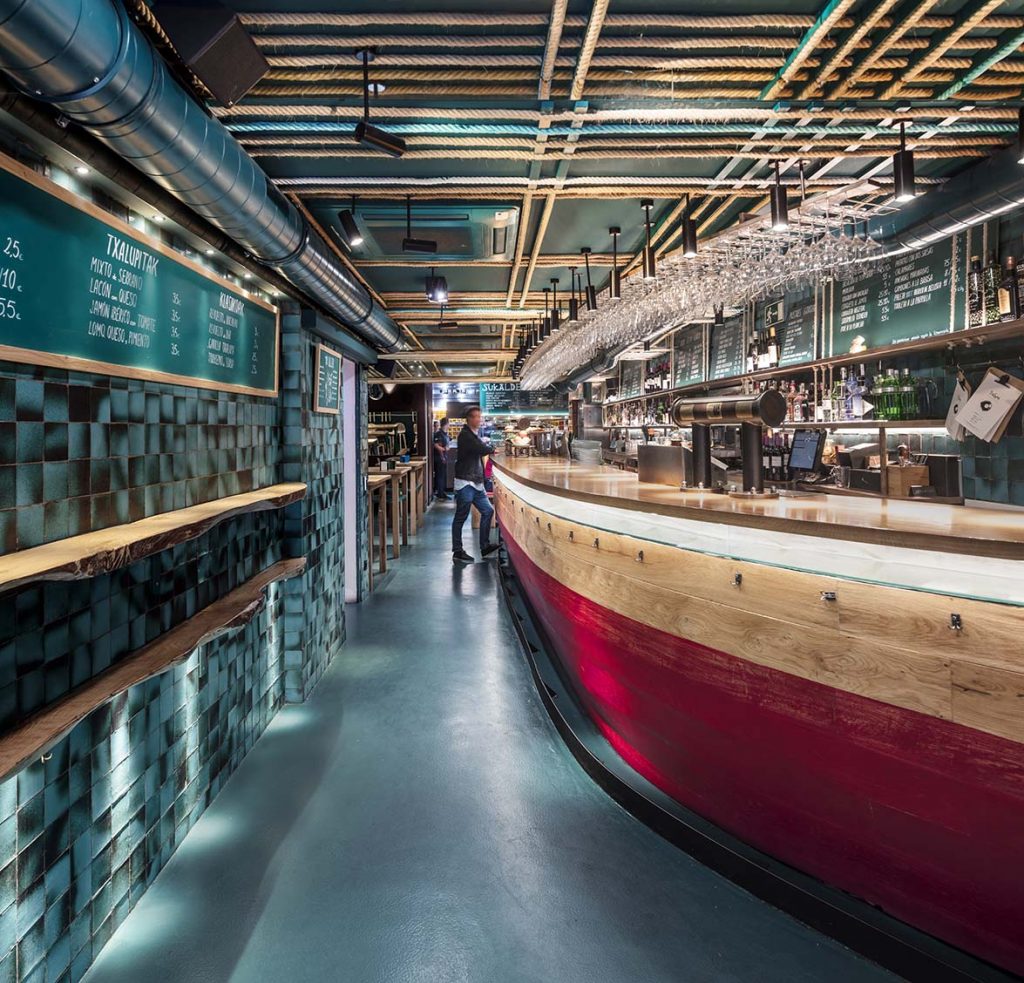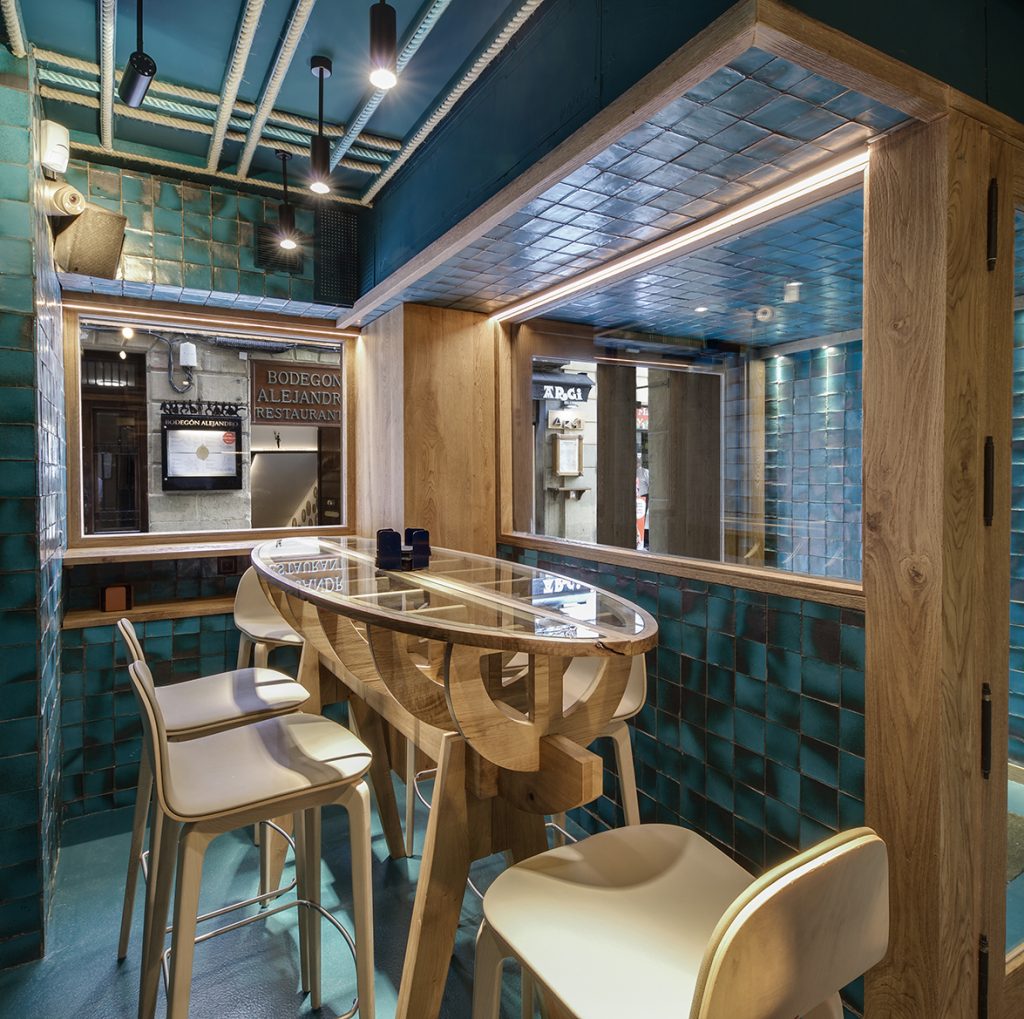 Its old name, Txalupa, is the name with which the small and colourful fishing boats are called. The name became an opportunity to talk about the essence of this neighbourhood, inseparable from the sea.
The bar on the ground floor has been designed with a clear reference to the port and its colour. The water of the port of San Sebastian, with a certain depth and calm, acquires a dark greenish hue, which becames the main tone of the space. The curved wooden bar references the txalupas, both in its tones and in its materiality.
The handmade ceramic pieces, designed specifically for the project, help us introduce an aquatic effect, through its intense turquoise colour, its imperfections and its brightness.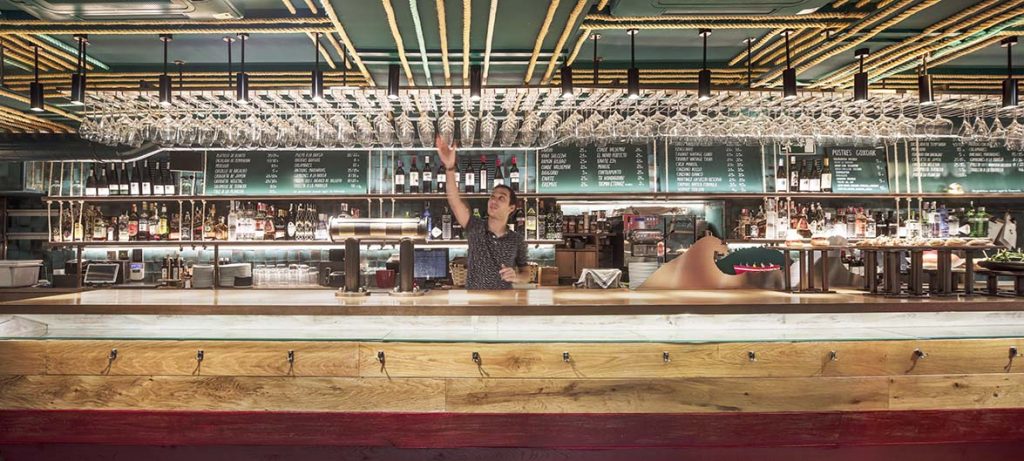 As a colour counterpoint, we introduce the ropes, a typical material in traditional fishing nets. These strings help us give some privacy and personality to the tables, at the same time, they provide contrast to the depth of the turquoise background, thanks to their light and warm tones.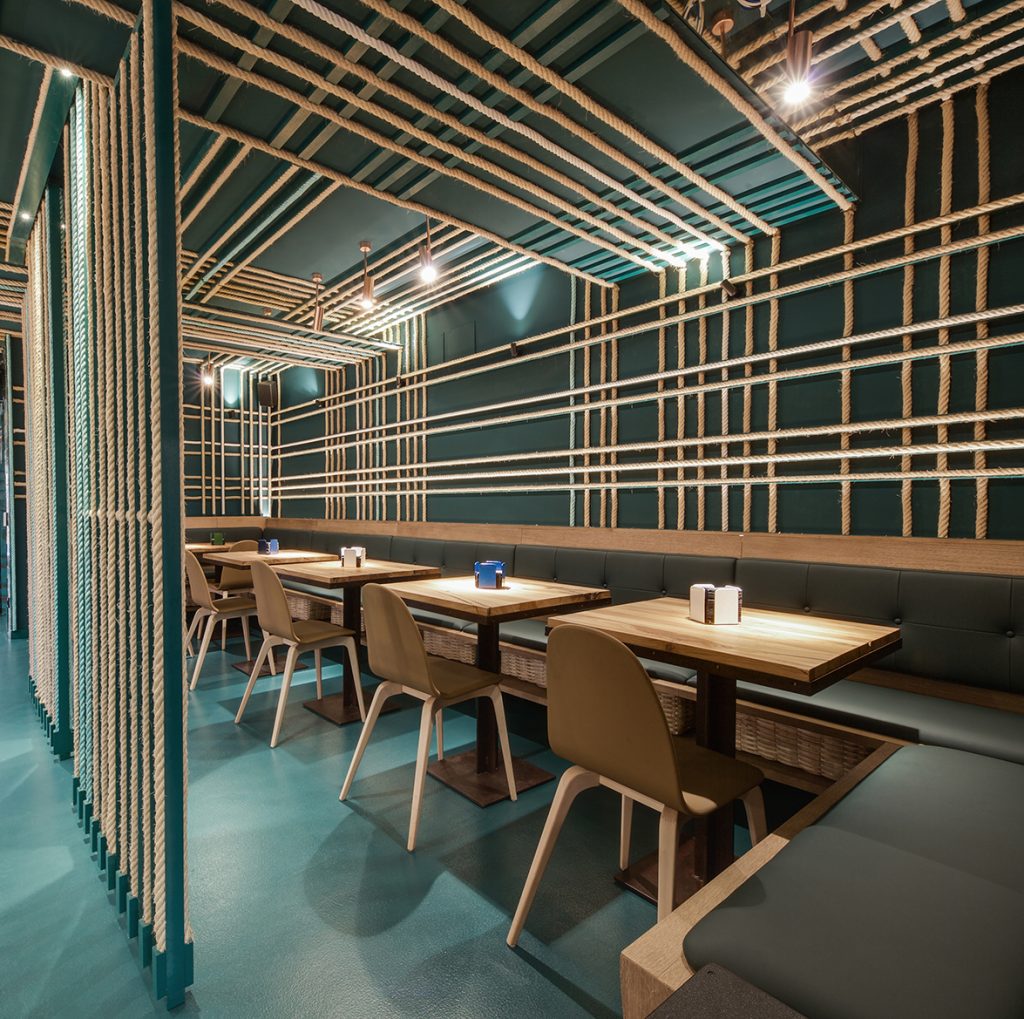 TX CLUB
In the underground floor we needed to create an antagonistic space: a small private club, with a nocturnal and sophisticated atmosphere, were selected snacks and cocktails are offered.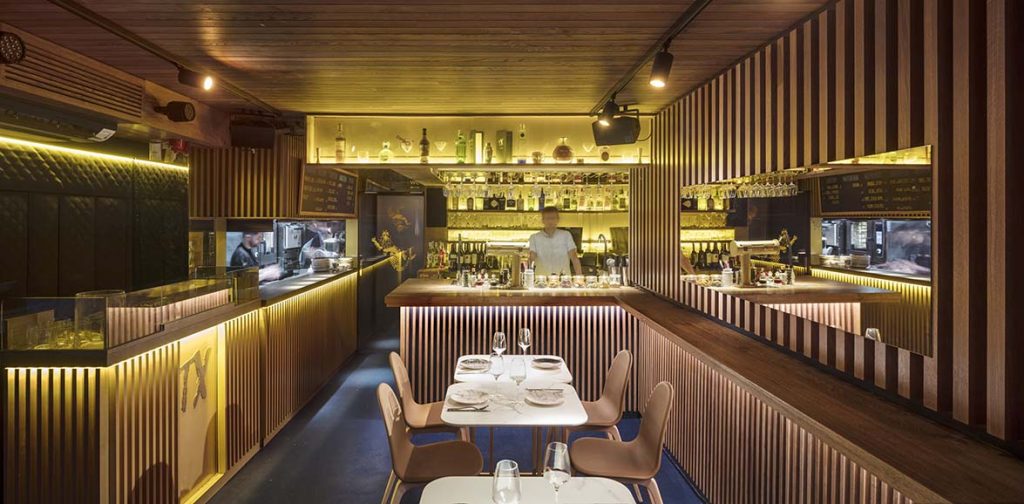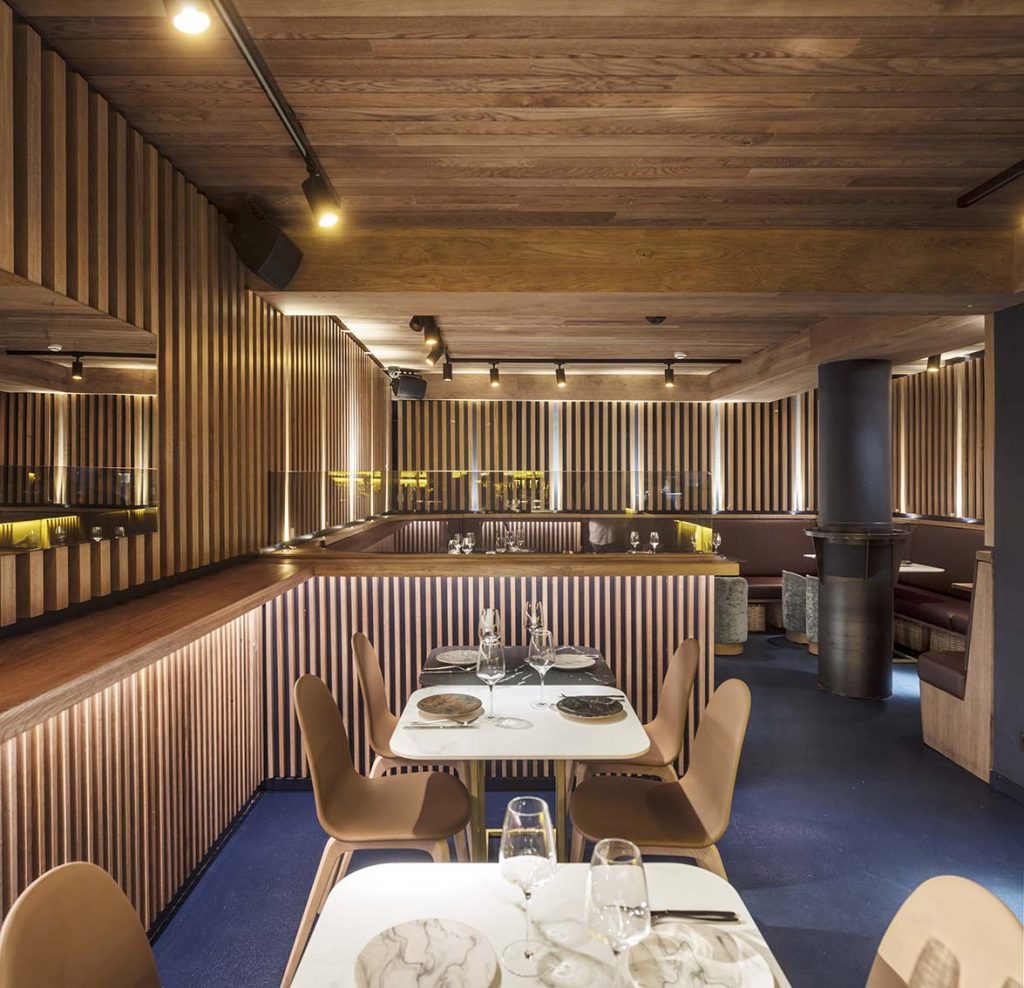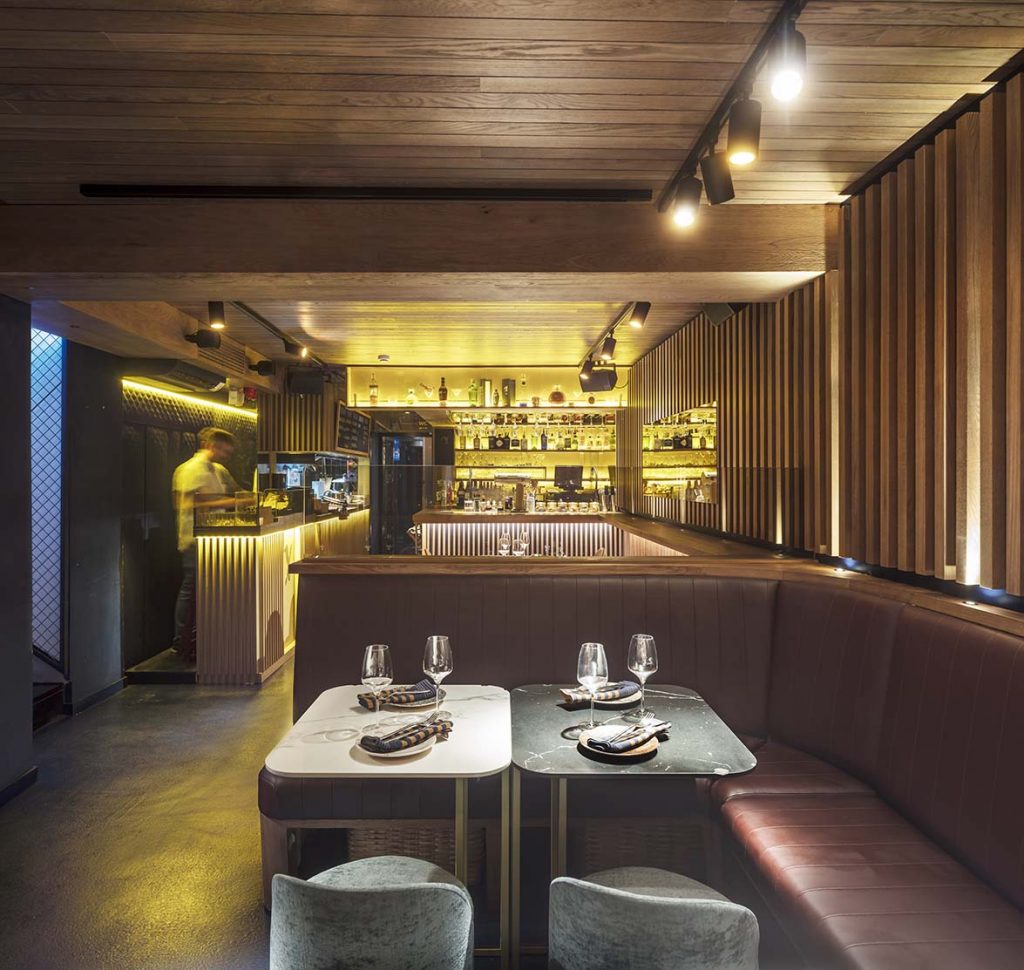 Our design finds inspiration in an old boat cellar, where the warm golden wood-tone envelops us, in contrast to the blue maritime floor.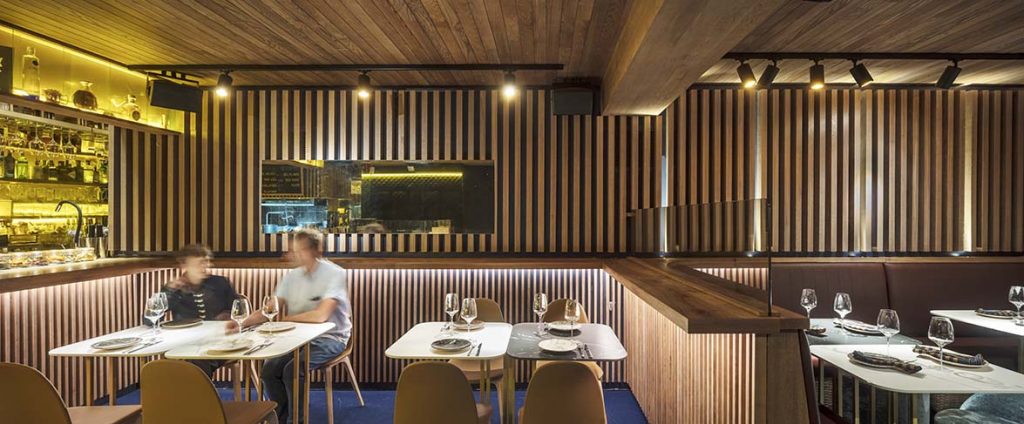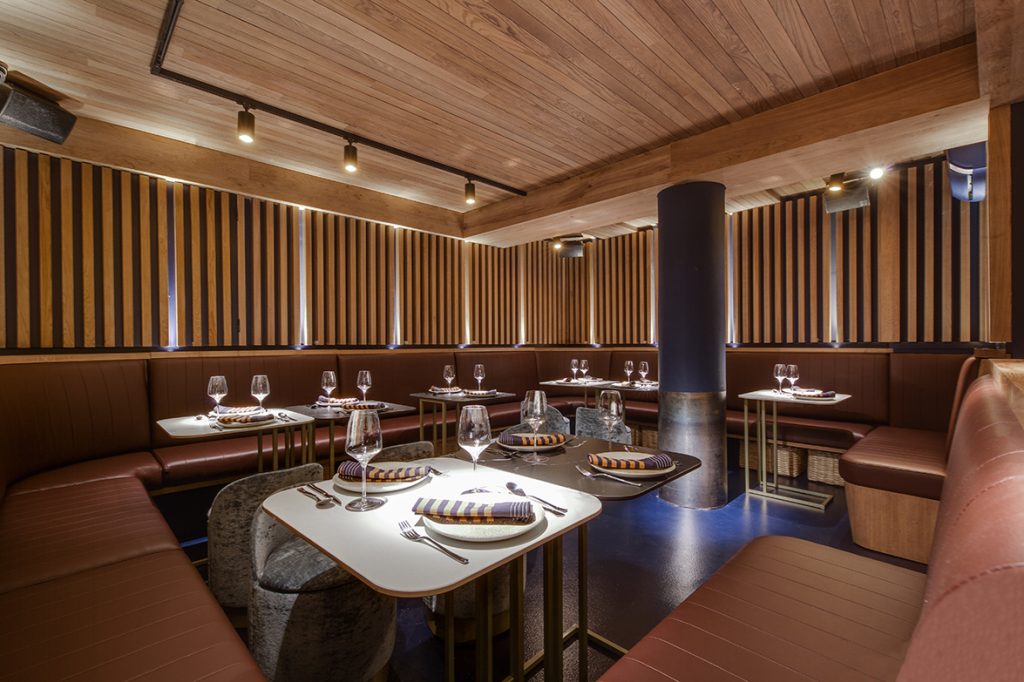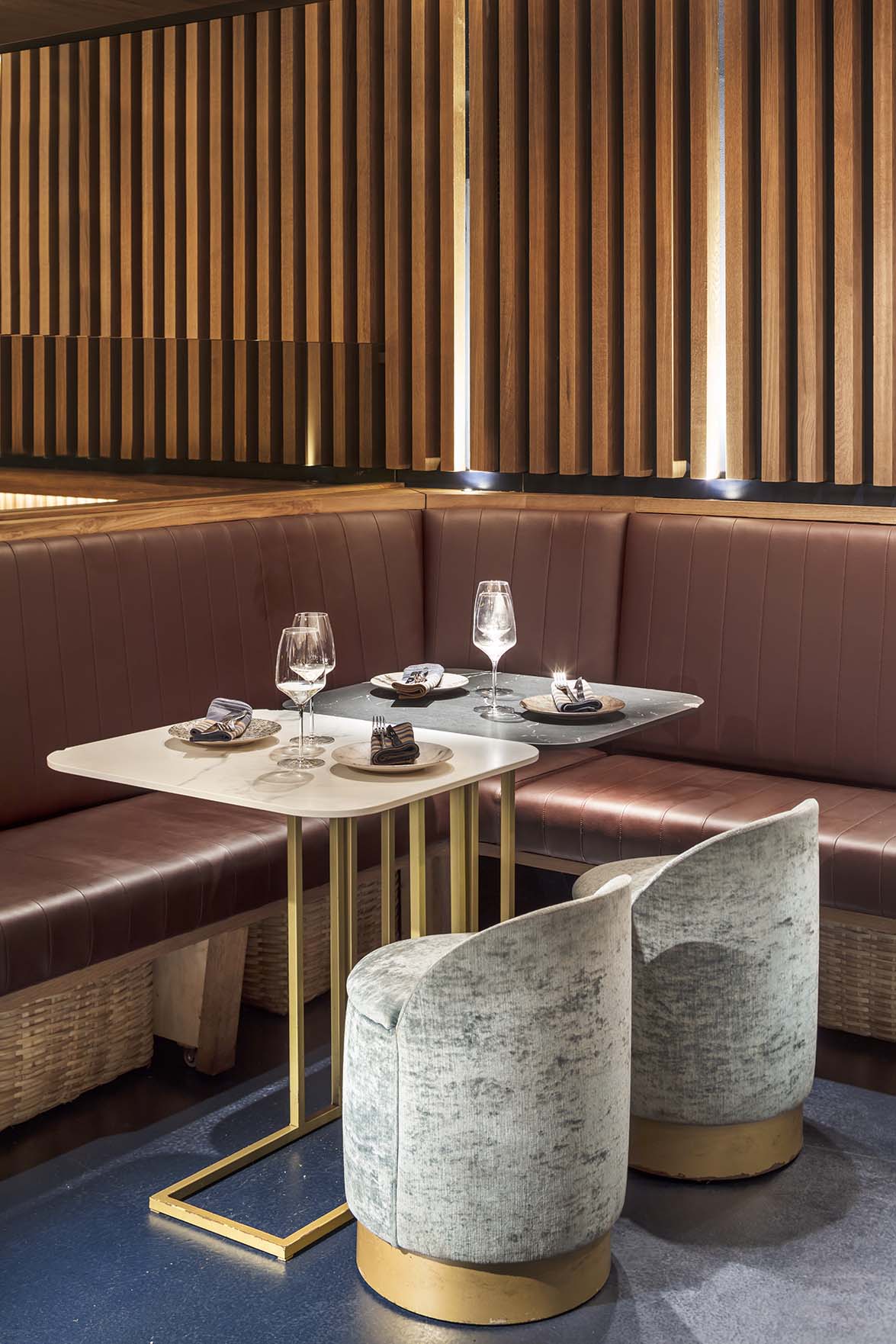 THE RED STAIRWAY
The connecting stairway between the two spaces becomes one of the main protagonists of the project. A narrow and mysterious tunnel tinted with red light helps us attract, thanks to its symbolism, customers in search of a more nocturnal and forbidden experience...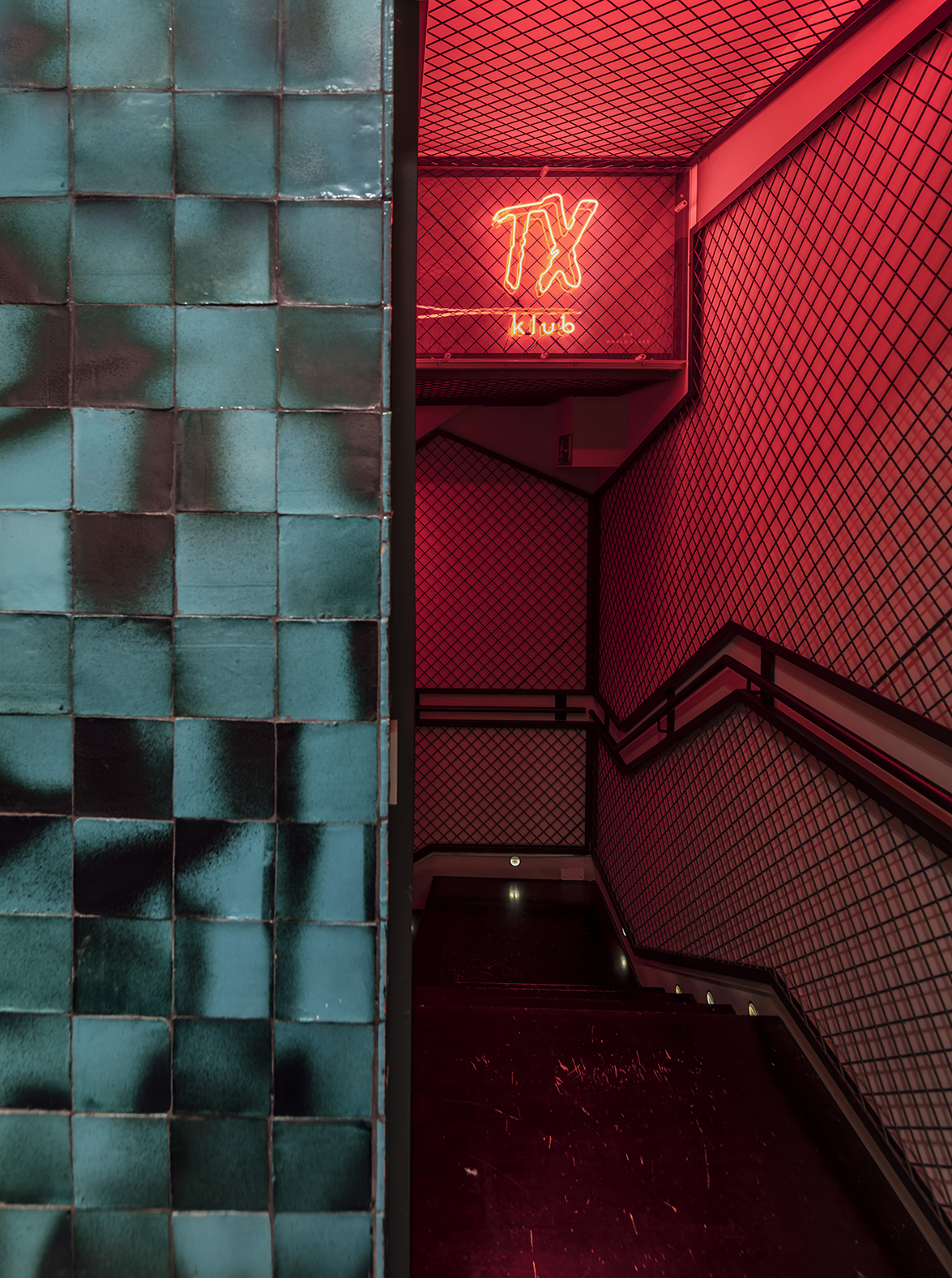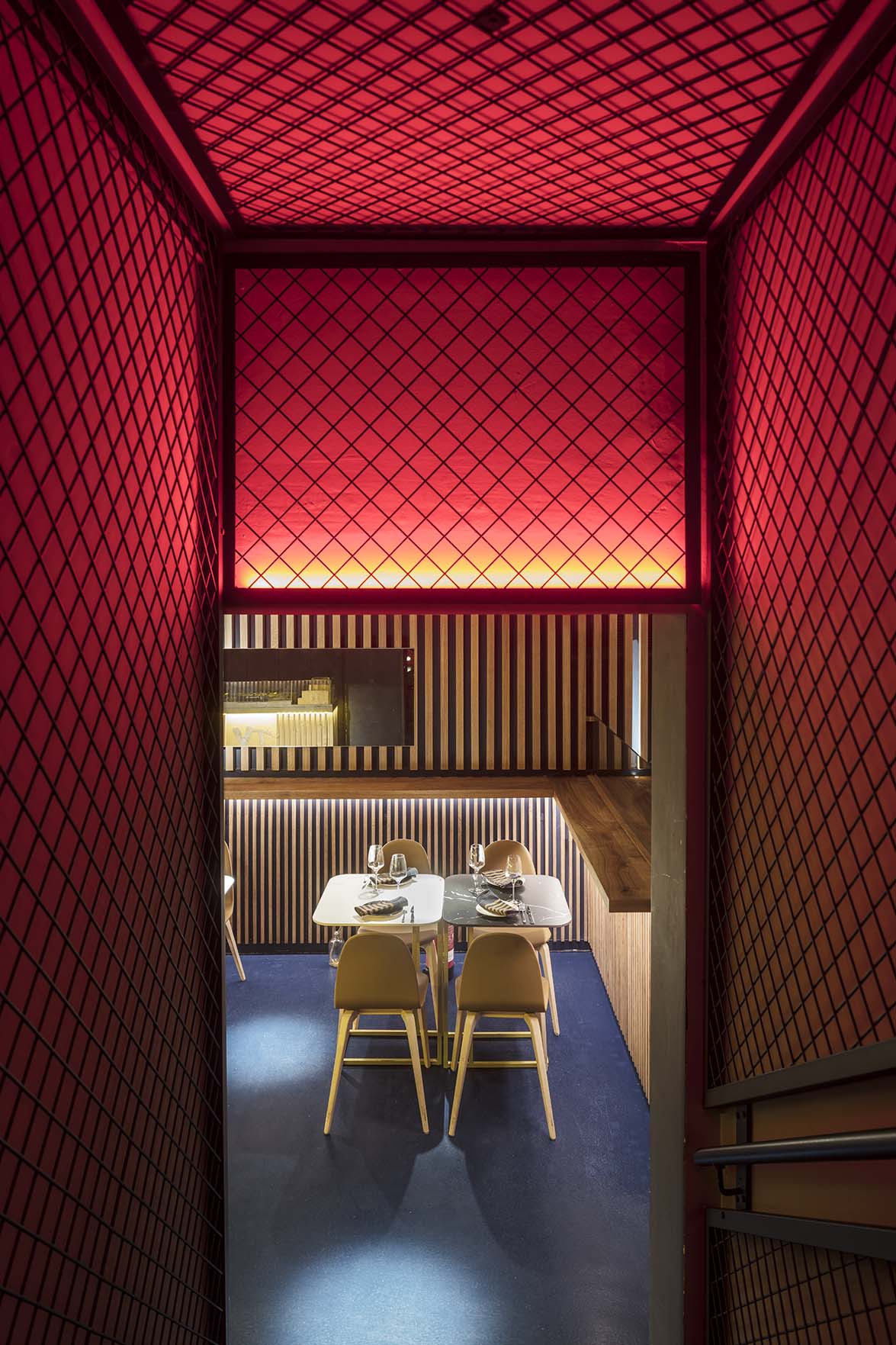 EL EQUIPO CREATIVO _ Oliver Franz Schmidt + Natali Canas del Pozo + Lucas Echeveste Lacy
RESTAURANTE TXALUPA GASTROLEKU
Address: Fermin Calbeton Kalea, 3, San Sebastián
Client: Gastroleku Group
Floor area: 190 m2
Photography: Adriŕ Goula
Source: El Equipo Creativo
Read more news related El Equipo Creativo published at Infurma
Visit the El Equipo Creativo website