It was my birthday. We were celebrating in the kitchen, chatting and eating, until we went upstairs to the library. My father was preparing cocktails. My grandmother was dancing. When she saw me she stopped and said: "Come, I have something for you". It was the porcelain mermaid! I was 30 years old but I was instantly transported back to childhood.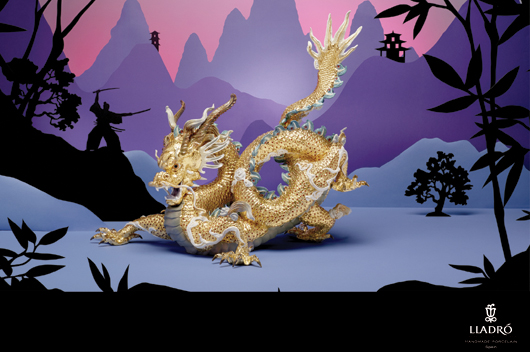 title="Más..." />
Transmitting the magic of memories summoned up by Lladró porcelains. This is the leitmotif of the new advertising campaign being launched by the Spanish brand this fall. And the truth is that there really is something magical in the bond created when we fall in love with a Lladró piece, when porcelain takes us by surprise and transports us to our fondest memories. From that instant, the piece will forever more evoke that person, that moment, that experience or that tradition which is as unique as each one of us.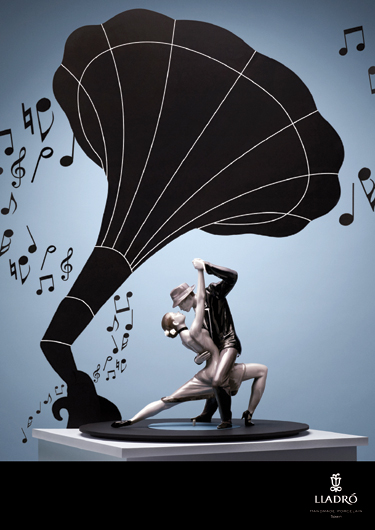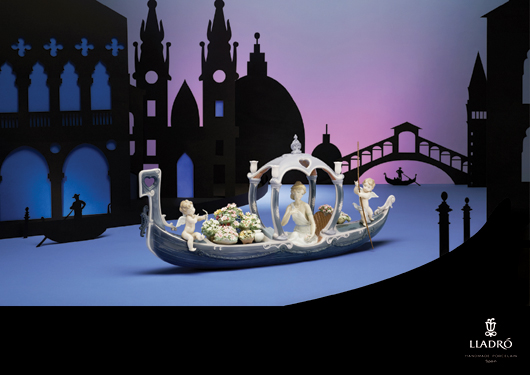 Fascinating stories in porcelain
Dragons that mesmerize us with their beauty, mermaids that cast a spell on us with a simple look, majestic horses that recall our ancestors, gods that defend a new romanticism... The campaign, designed within the brand's international relaunch, tells us fascinating stories with a focus on the value of classics, and the delicate rhythm that is found in each and every Lladró creation.
The fantastic setting lends the spotlight to the piece itself, placing it in a magical and surprising background. Like Lladró works, the campaign couples pure handmade elements with a modern creative approach. The decorative elements surrounding the pieces have been created by hand, in a process that connects directly with the values of a brand that has been making its porcelains entirely by hand in Valencia for sixty years.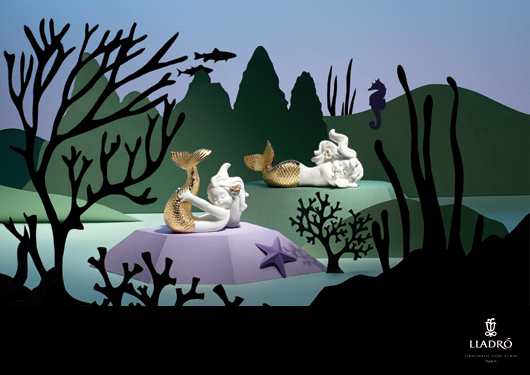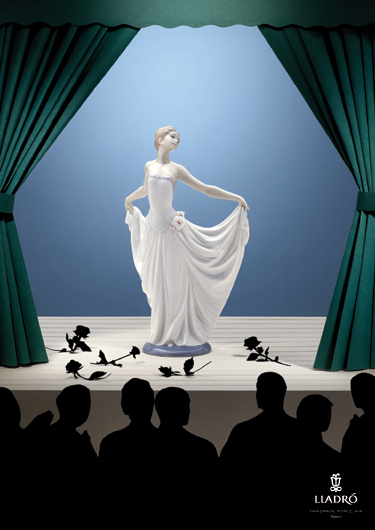 Inspired by the magic lantern
The concept behind the settings for the pieces is inspired by the early filming technique using a magic lantern, an optical device that projected enlarged images from a camera obscura, and a forerunner of cinema.
The technique is also behind the surprising effects of the video created to support the campaign. Fantastic, funloving, inspirational ... sixty seconds of condensed magic.
The campaign can be seen from September onwards in leading international lifestyle and home décor journals.
TECHNICAL DATA
Print advertising campaign
Creative directors: Kees Kreuter & Montse Novau
Artistic director and set designer: Hattie Newman
Photography director: Katy MacGregor
Copywriter: Nenen Ruiz
Art graphic director: Nacho Pérez
Production director: Maisa Batet
Location: Llum Photography estudios, S.L. - Paterna (Valencia).
Video:
Creative directors: Kees Kreuter & Montse Novau
Music: Frans Bertran
Filming and postproduction: Lo nuestro
Production director: Maisa Batet
Location: Llum Photography estudios, S.L. - Paterna (Valencia).
Information and images by courtesy of Lladró
Read more news related Lladró published at Infurma
Visit the Lladró website