Interior architect Casper Schwarz explicitly explores the boundaries of the new working environment. A good example is the interior design for Universal Music Group at the Mediapark in Hilversum Holland. A natural working atmosphere with a home at work feeling.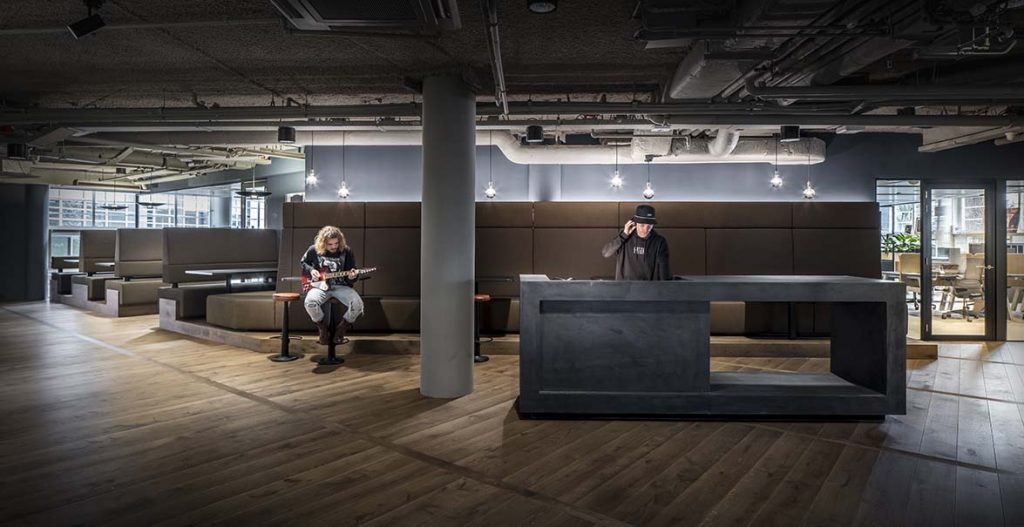 Immediately upon entering one thing is clear; inside here it is all about music. There are hardly any similaritieswith the office spaces elsewhere in the building. For example, the obvious reception deskis missing. Instead, a pontifically placed bar of gray prefabricated concrete is the prelude to an open space with robust train seats, a stage and a plug and play area. The atmosphere on the floor is cafe-like, almost smoky. An effect that is enhanced by the darkened oak floor. It is an interior beyond the standard establishments.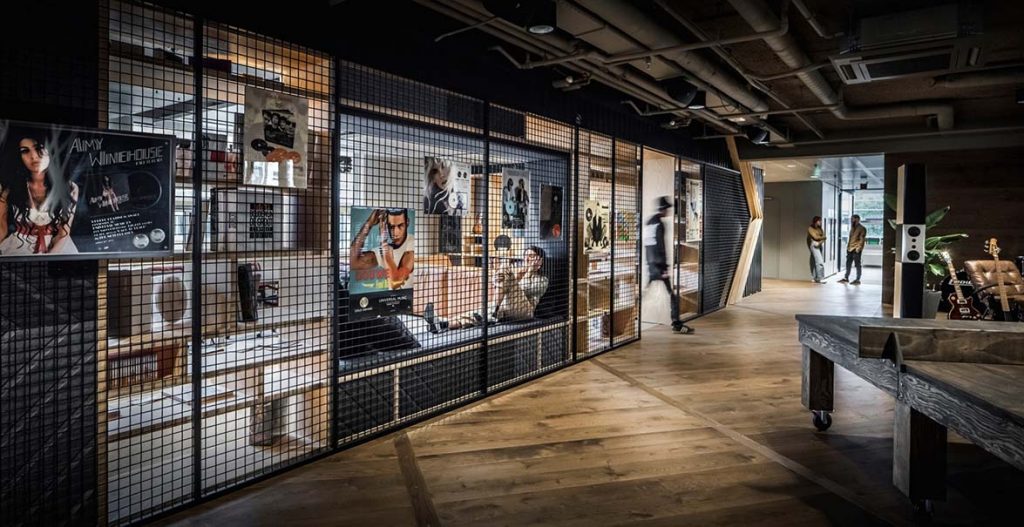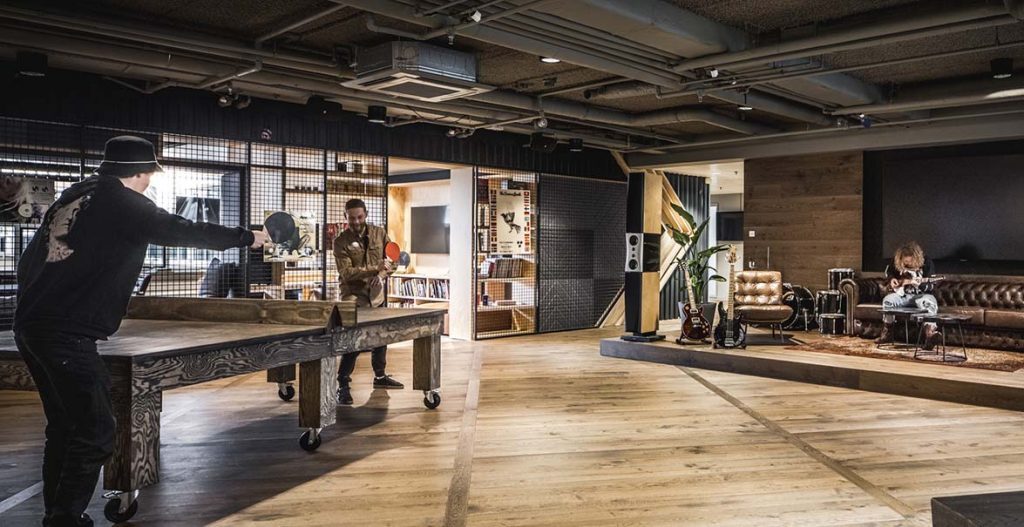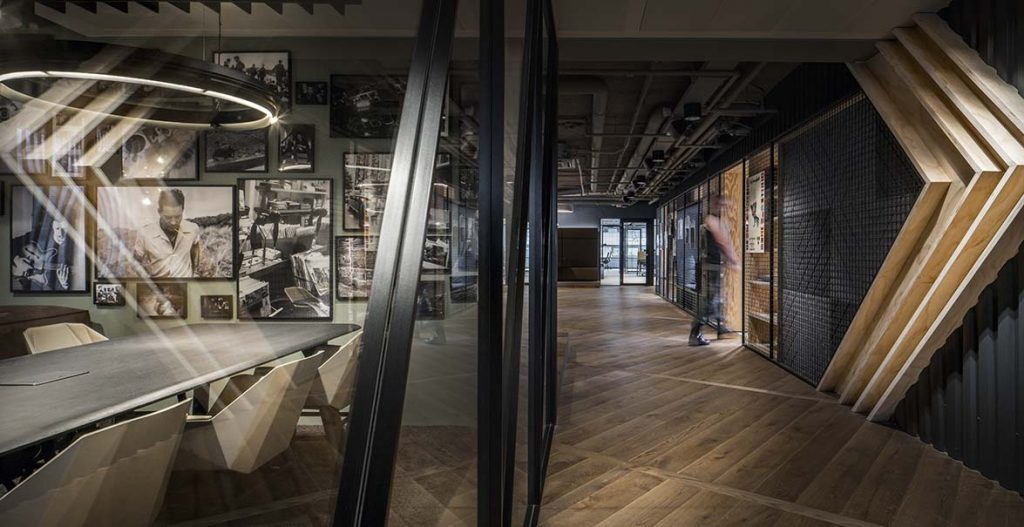 Added value
"Universal Music Group is a dynamic company that contracts musicians and releases albums. Their previous office was clinical and colorless. You couldn't tell from anything that it housed a creative company. We demolished, covered or hid everything that looked like an ordinary office. You have to imagine it a bit like this: Universal Music Group asked for a space that breathes music, where artists would spontaneously play a track. Which actually happens, because apart from a bar,open workplaces, a listening room and a music library, a stage has also been projected right in the middle."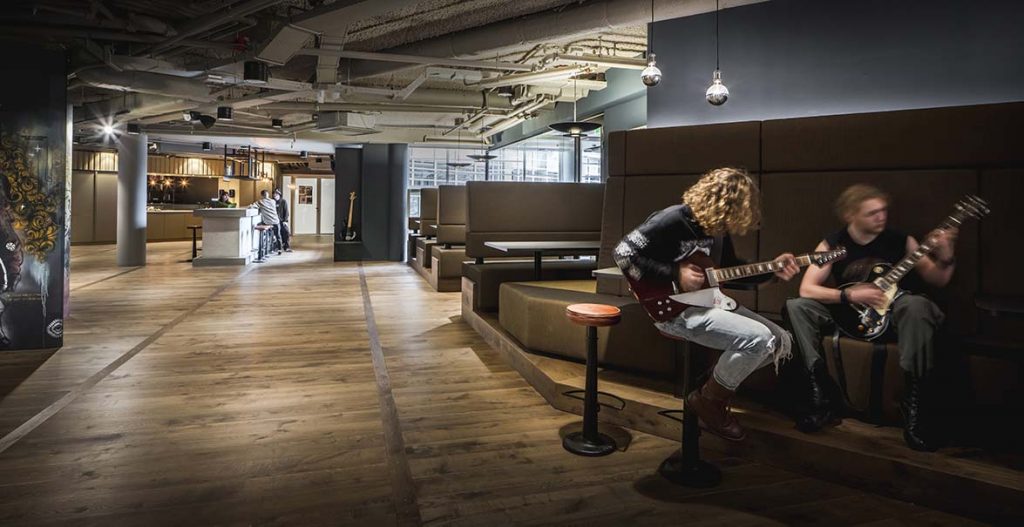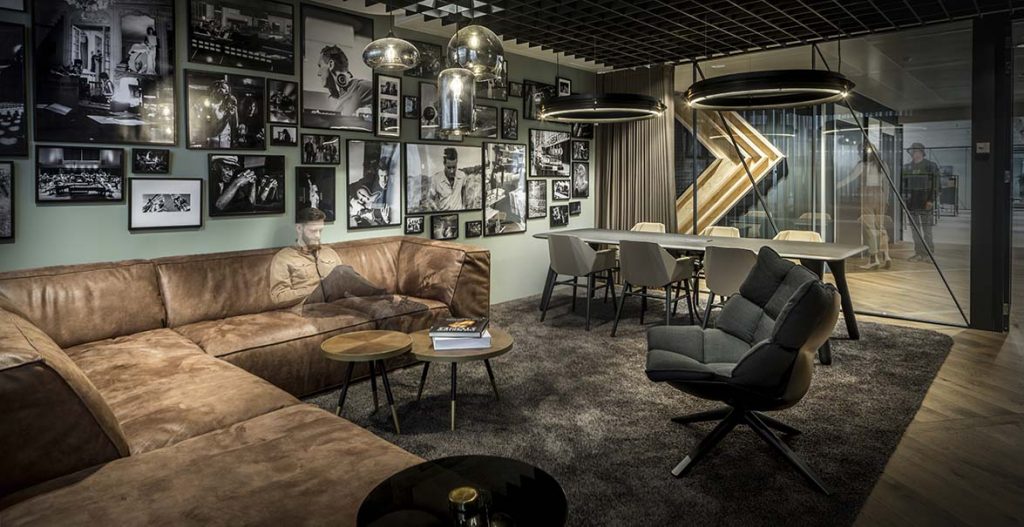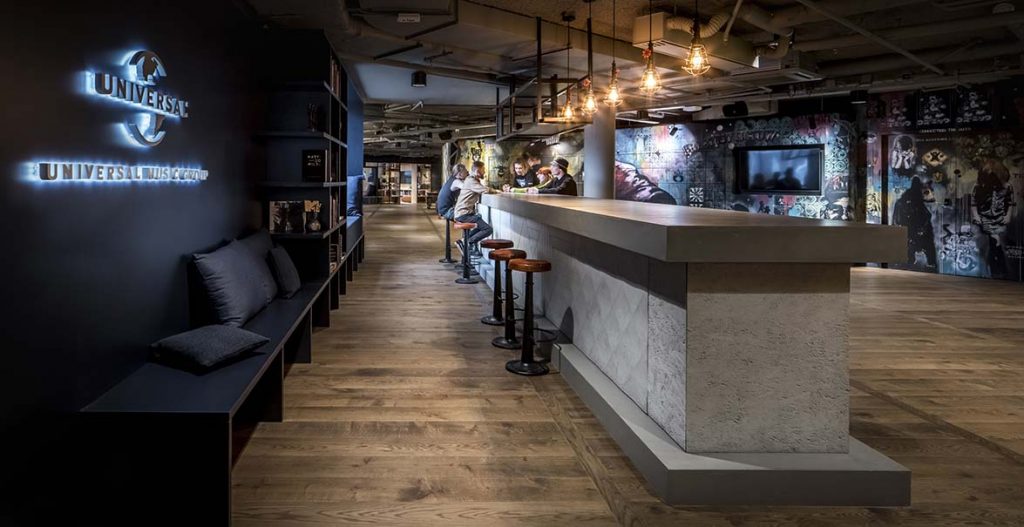 Intimate
The metamorphosis was accompanied by drastic measures. Music thrives best in intimate spaces. Think, for example, of small performance halls, attic rooms or rehearsal rooms in basements. The aim was to find the right mix of 'café and mini-concert' atmosphere, supplemented with facilities that people need in their work. "The open workspaces are slightly more functional but certainly do not look like offices. A plank-shaped herringbone carpet pattern and dark acoustic paneling create a refined contrast . The glass walls also contribute to atmosphere and experience. You don't do creativity in seclusion. And if you do need it, there are spaces with privacy available. So everyone can find the openness or intimacy as required."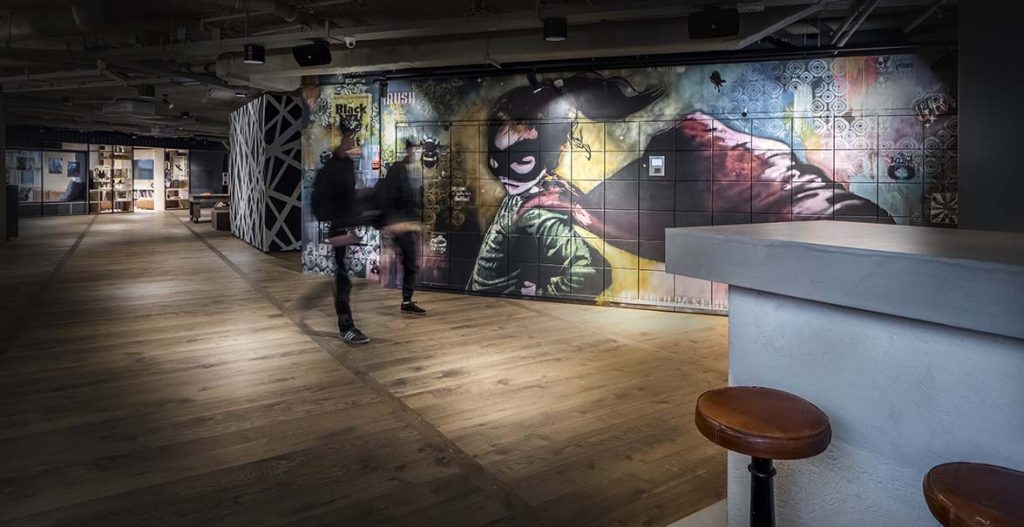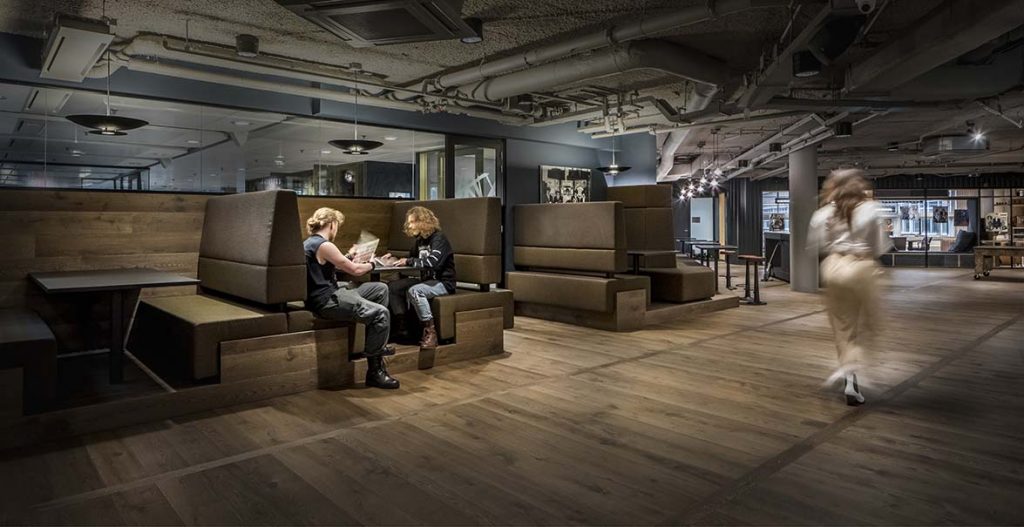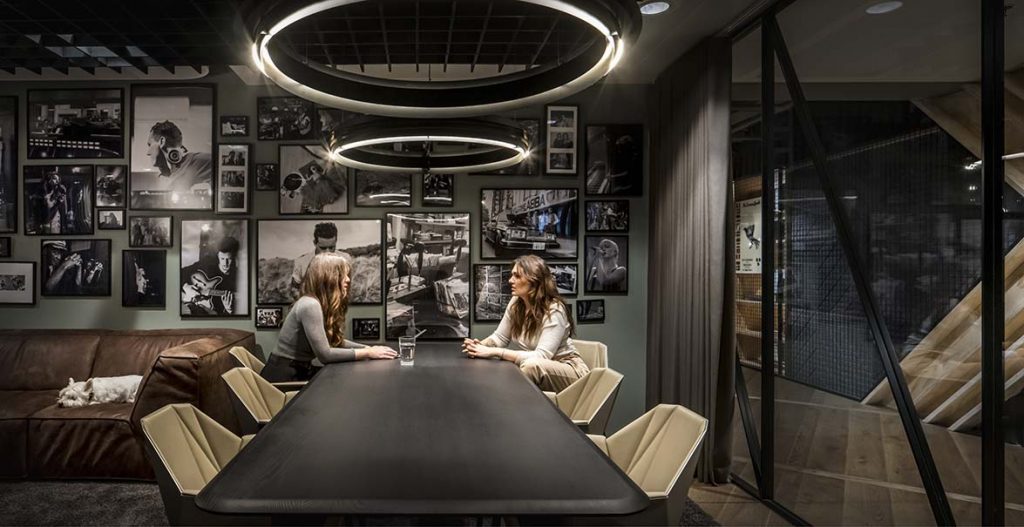 Freedom
Yet the eye-catcher of the interior remains the open central space. Some elements can be called unique, like the graffiti wall. Artists of Pipsqueak have gone wild on this. It fits with the liberal atmosphere surrounding musicians. Furthermore, Schwarz's preference for certain materials is clearly visible. Wood, steel, concrete and glass are mixed together to form tough, defining elements, in which the visible installation components also play a role. Schwarz himself is particularly pleased with the wall that separates the central space and the music library. A mix of grating, sheet pile profile and a wooden arrow construction combine for an equally colorful and exciting wall spectacle.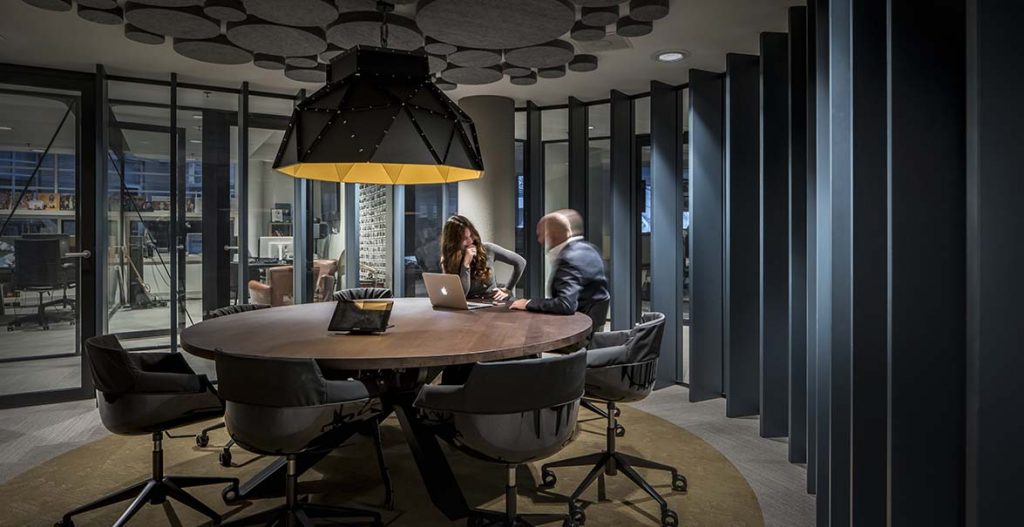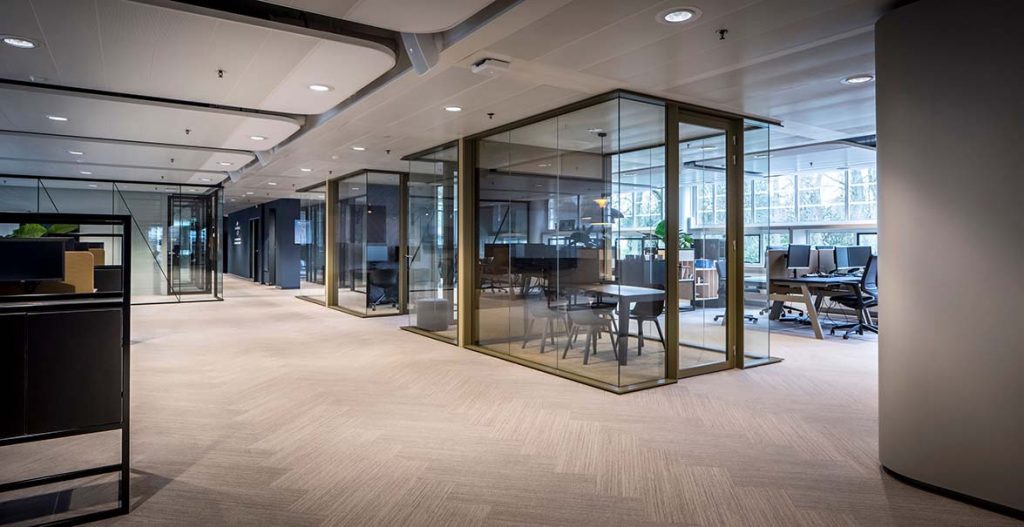 Habitoor
Recently Casper Schwarz wrote a whitepaper about the new natural working environment, in which he argues that the traditional office is out of date. Instead, the "Habitoor" will take its place.During the 2020 lockdown, we have discovered how well we can work independently of time and place. "I strongly believe that from now on people can decide for themselves when and where they work and when they join their colleagues. The new workplace is a home of the organization, a meeting point, a crucible, a clubhouse, supplemented with quiet and dynamic places. A place that binds the employees in their freedom. A Habitoor is no office any longer. It can be in a restaurant, a monumental building, a theater or a modern transparent pavilion." Read more about this concept on www.habitoor.com. This new working lifestyle will lead to more creativity, more space for the individual and ultimately to a happier society.
Interior Design: Casper Schwarz Architects
Photography: Peter Baas
Project management: Sure projectmakers
Source: Casper Schwarz Architects
Visit the Casper Schwarz Architects website
Read more news related Casper Schwarz Architects published at Infurma