Nanimarquina presents at Qubique in Berlin, for the first time ever the international premiere of the largest Losanges rug, designed by Ronan & Erwan Bouroullec. Nanimarquina is a leading company designing rugs and its collections are distributed successfully in over 40 countries in all five continents.
The Bouroullec brothers continue their study of simplicity and elegance with their new Losanges collection. It's about reinterpreting the traditional Persian rug using the ancient kilim technique.
Technically complex, the Losanges collection requires great skill as it involves combining 13 colours through the geometrical rhombus shape, a great challenge for the craftsmen of Northern Pakistan. As well as being crafted by hand, the Afghan wool is also spun by hand, which allows for some unique colour tones to be highlighted which make each rhombus different and each rug a unique item.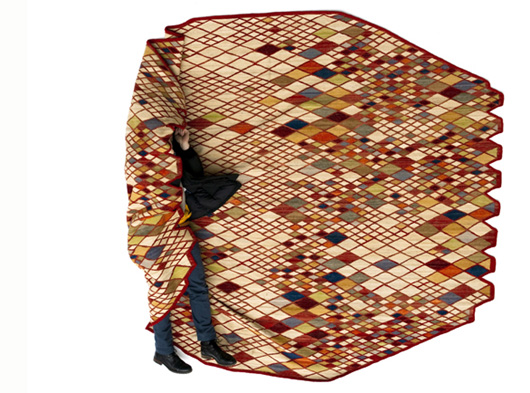 Qubique, the new generation tradeshow for furniture and design, will be held in the decommissioned Tempelhof Airport of Berlin, from 26th until 29th October.
Nanimarquina at Qubique: Stand 5 Hangar 6