This lighting design project was completed at The Vanderbilt Avenue lobby of 200 Park Avenue in New York City, the landmark building that straddles Park Avenue at 42nd Street [a.k.a. MetLife building and previously known as Pan Am building]. The impressive space -approximately 2,800SF and double-height 30-foot ceilings- shelters the poetic presence of "Flight" a wire sculpture by American master Richard Lippold.
The scope of this lighting design project was to make the space exist with the sculpture and transcend its role of container. Thus, the sculpture vibrates and performs in light...oscillating between technology and humanism.
The materiality of the sculpture, a series of strung brass wires spanning the entire space both in width and length, demanded a carefully calibrated contrast between daylight [coming through the large glazed façade] and the artificial lighting.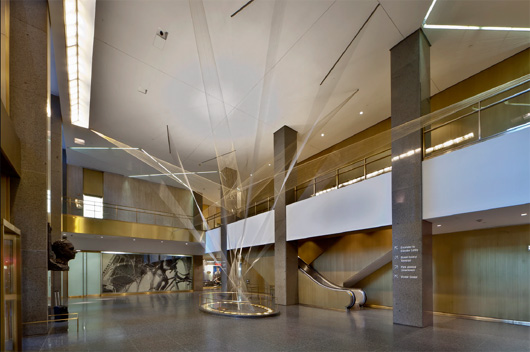 We created a lighting scheme that adjusts to accommodate the varying lighting conditions of the seasons and the daily cycle of natural lighting by writing custom software that modulates the levels of luminous energy, luminous intensity, and color temperature. Daylight is then part of the overall lighting scheme and not an interference. In the summer, the photometric levels will accommodate the warmer hues of a persistent sun angle, while, in the winter, the software will, for example, warm up the color temperature to compensate for the coolness of daylight and lack of contrast.
The software operates via DMX controllers which instruct the LED fixtures to perform as needed throughout the day and throughout the seasons. The LED fixtures also vary in specification [angle of illumination, power, color temperature, etc.] to respond to the form of the sculpture. Complementing the main LED apparatus are a series of HID fixtures at the west side, and crisscrossing fluorescent fixtures at the ceiling.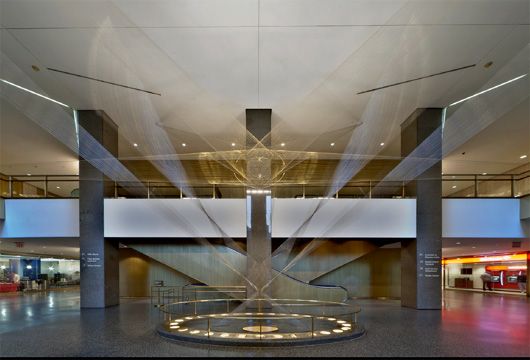 The ultimate design goal of making light perform in the background to exalt the presence of space was achieved here through the creation of an intelligent lighting system that responds to the unique lighting conditions of the site.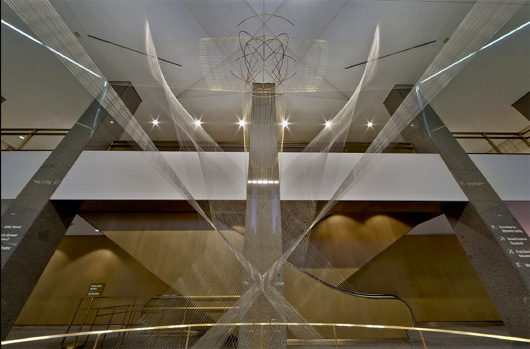 Access to bluarch architecture + interiors + lighting website