The HEMAA architecture studio carried out this residential architecture and interior design project in Mexico City, protecting it from the noisy and urban environment of the city. The studio explains the development,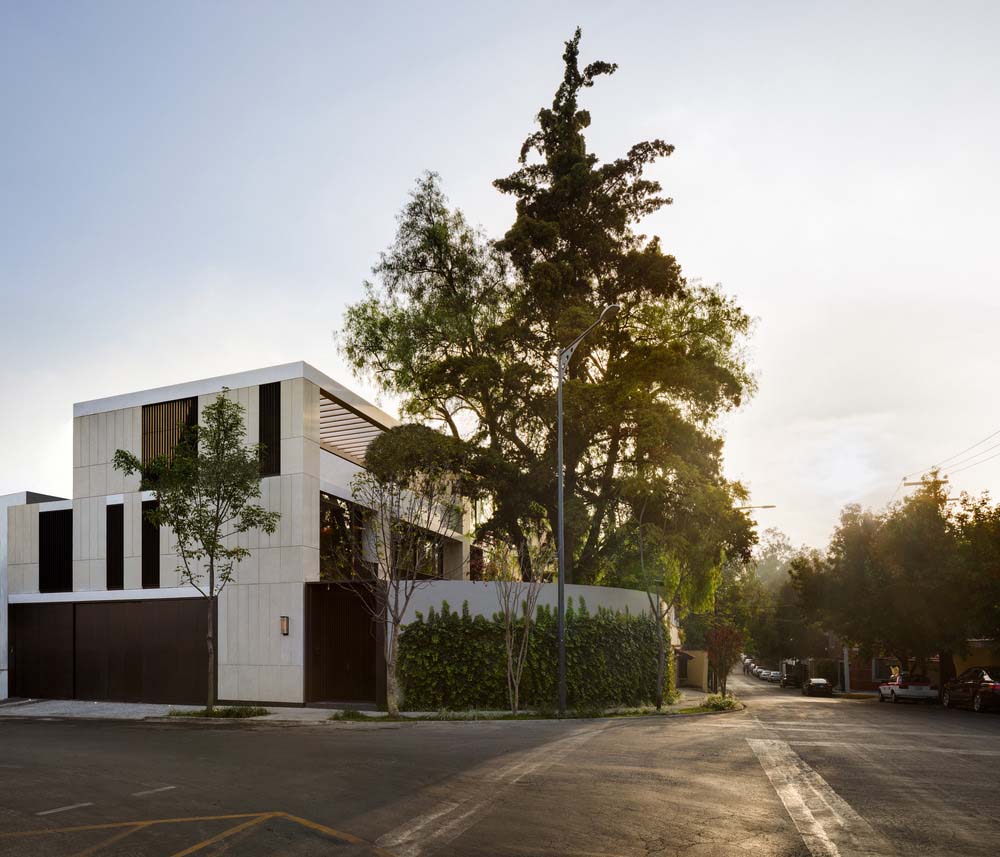 The house is located on a corner in the West side of Mexico City. It responds to three key premises: the preservation of previously existing trees as core elements of the project, the isolation from the street's inherent transit, and the incorporation of an ample architectural program on a plot with limited dimensions.
Within its clearly urban environment, the sense of privacy is successfully achieved thanks to a monolithic and nearly blind façade which extends out the street, only interrupted by some openings at specific modules for lighting and ventilation purposes, which respond to the interior's architectural design plan. In contrast, the South façade is more open, offering a broad view of the garden and its long-standing trees, while it bathes the interior of the house in light and provides natural landscapes to each and every habitable area.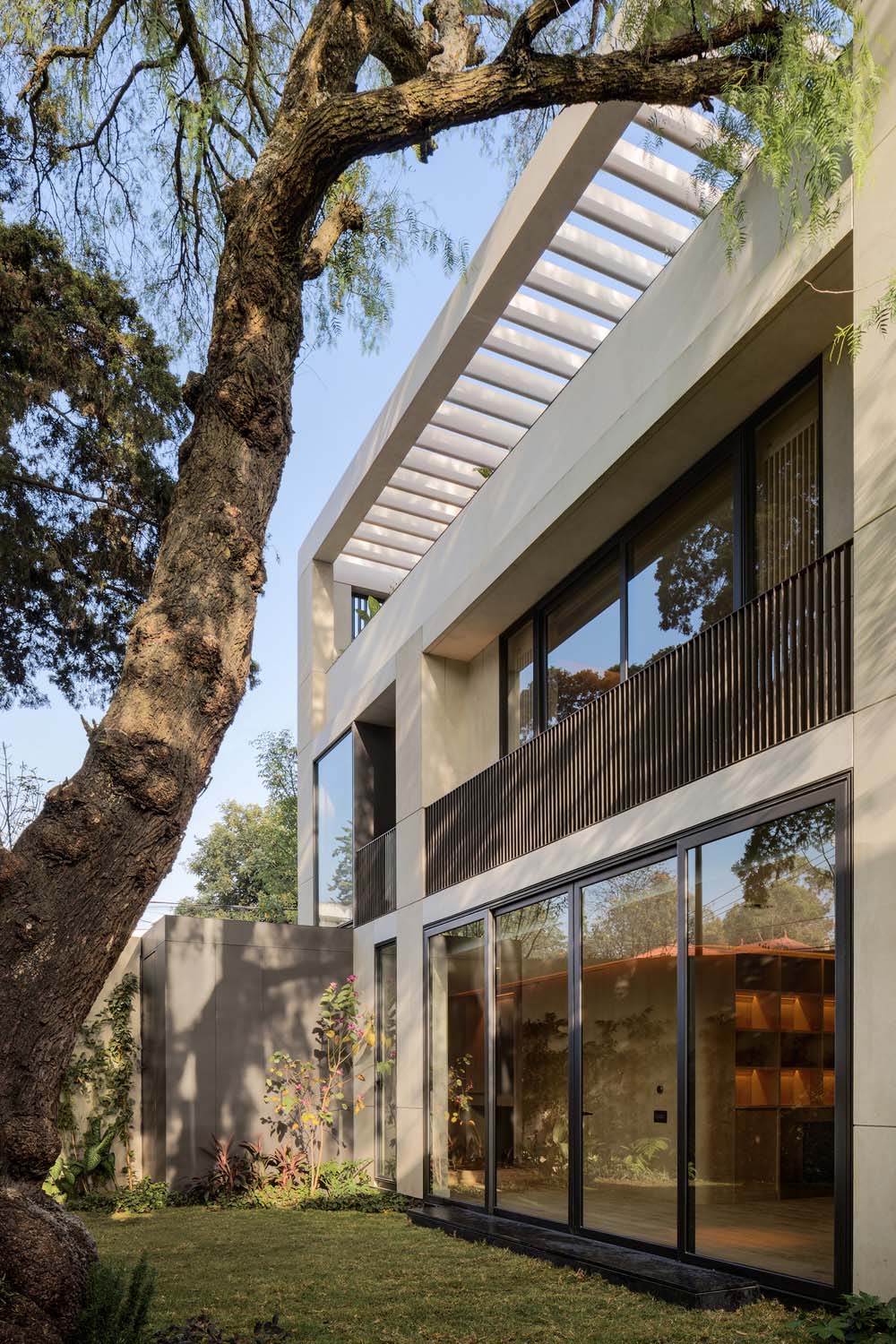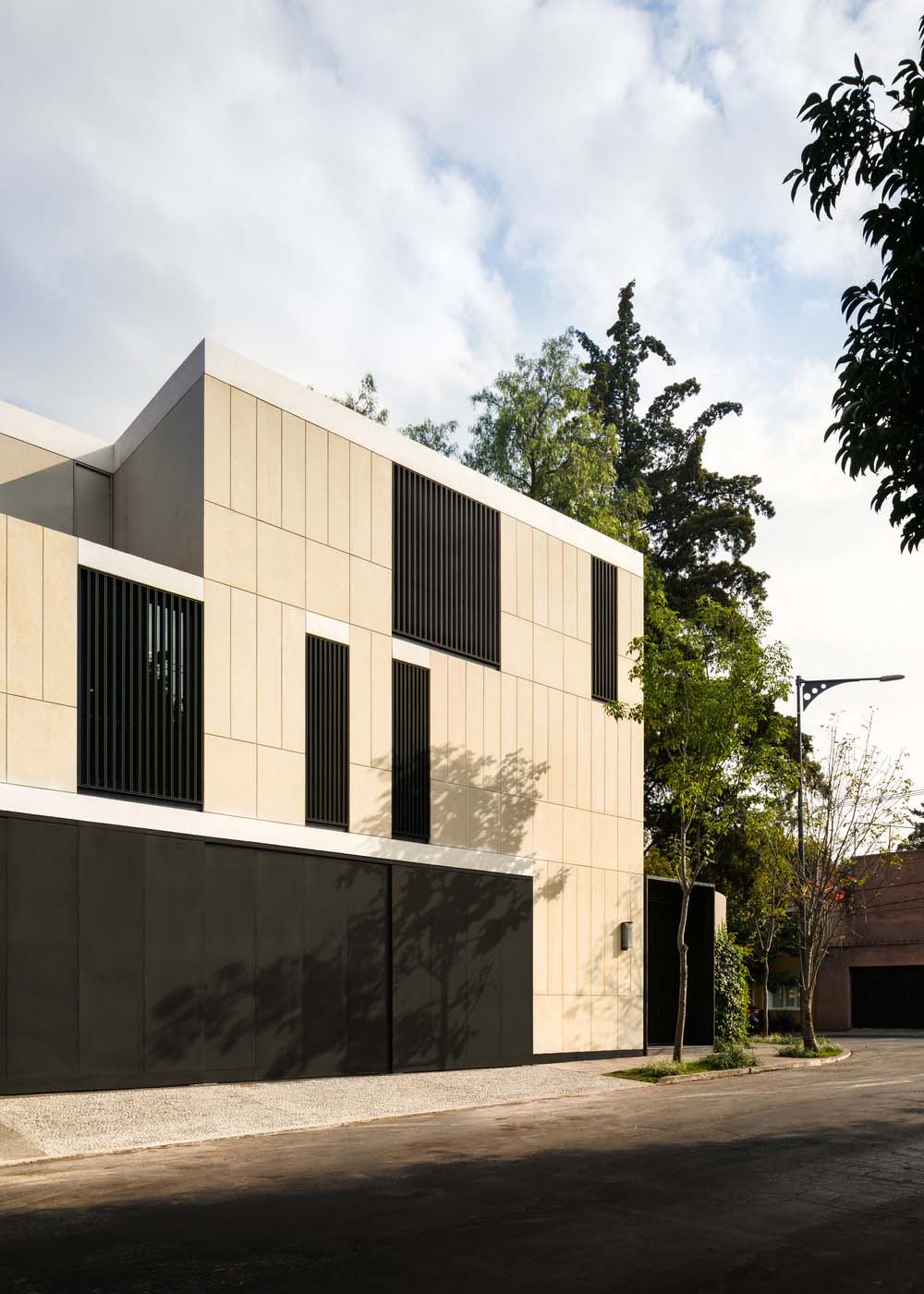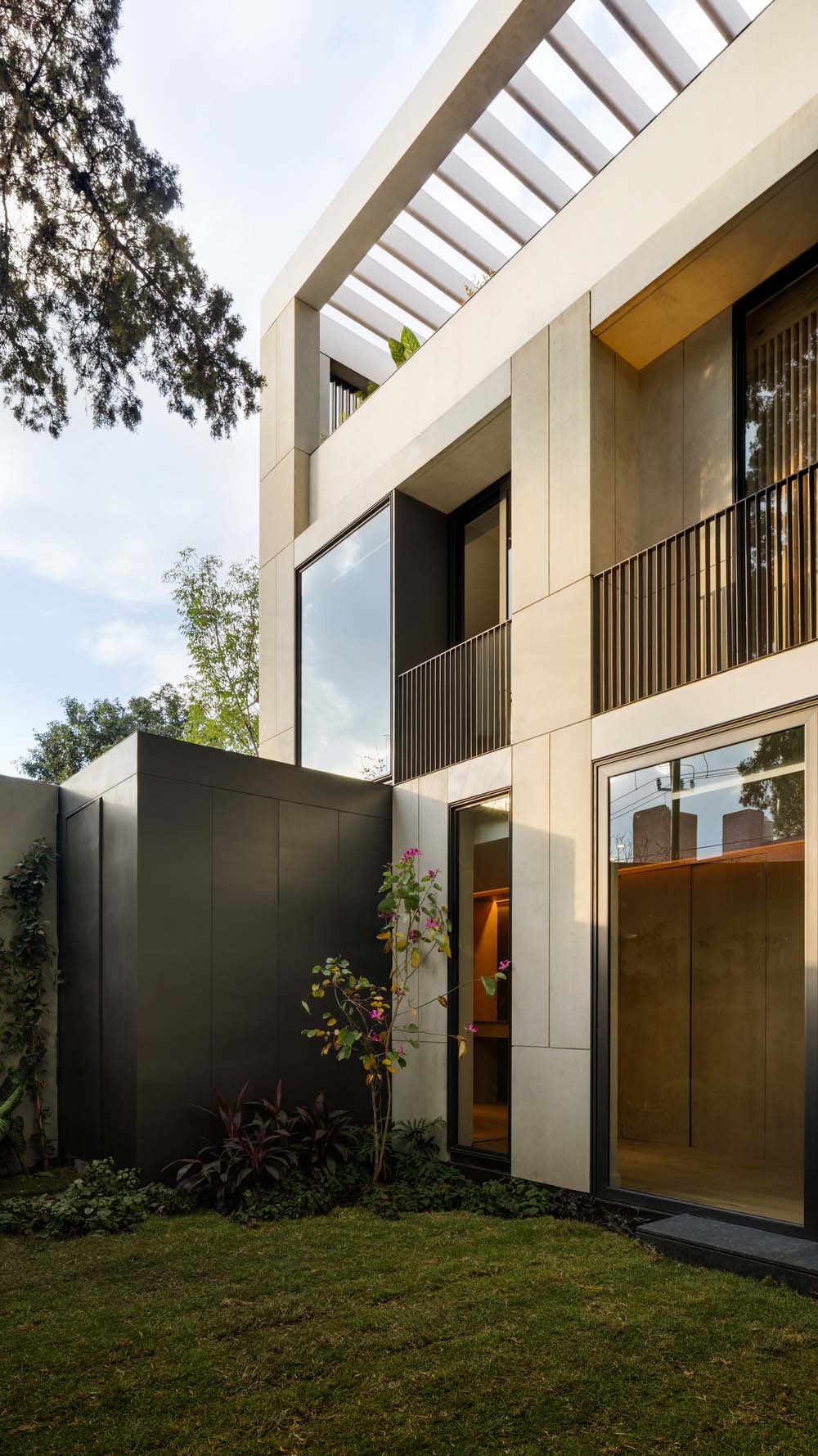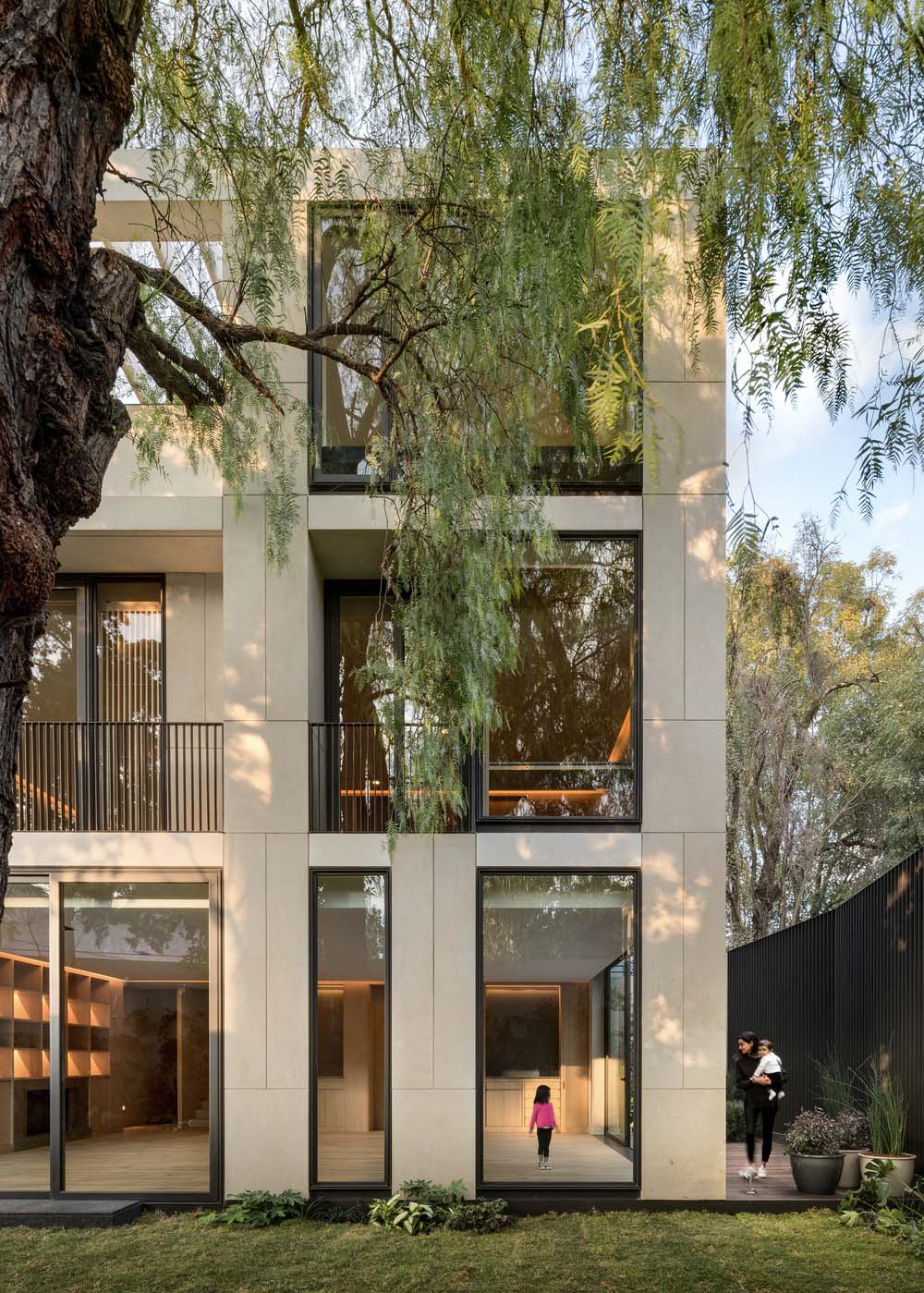 The house responds to a structural order consisting of base, body, and capital. Its exterior evinces such order through the use of white exposed concrete structural elements that crown the openings, work as enclosures, and clearly define the house's levels. The limestone articulation covering the façade is the result of its distribution, which regulates the architectural volume and, in itself, responds to a canvas that adds rhythm within the façade's assemblage.
A transition threshold that works as a hinge-connection between the exterior and the interior leads to the main entrance situated on one of the sides of the construction. The central space consisting of living room, dining room, and kitchen opens up to a full view of the garden and its impressive visual core element: a three-trunk Peruvian Peppertree, which proudly steals the spotlight as this land's five-decade guardian.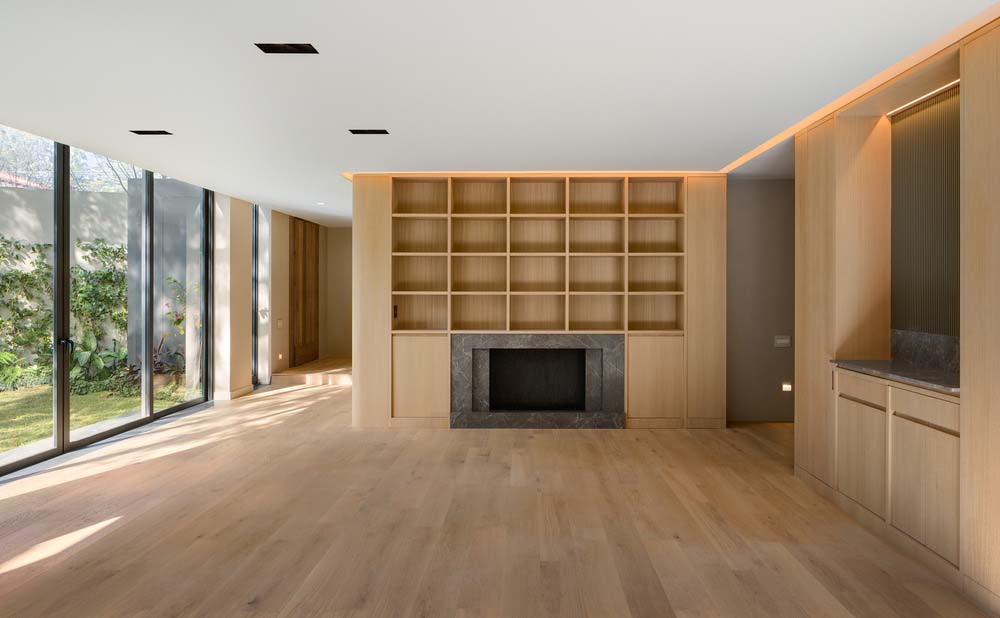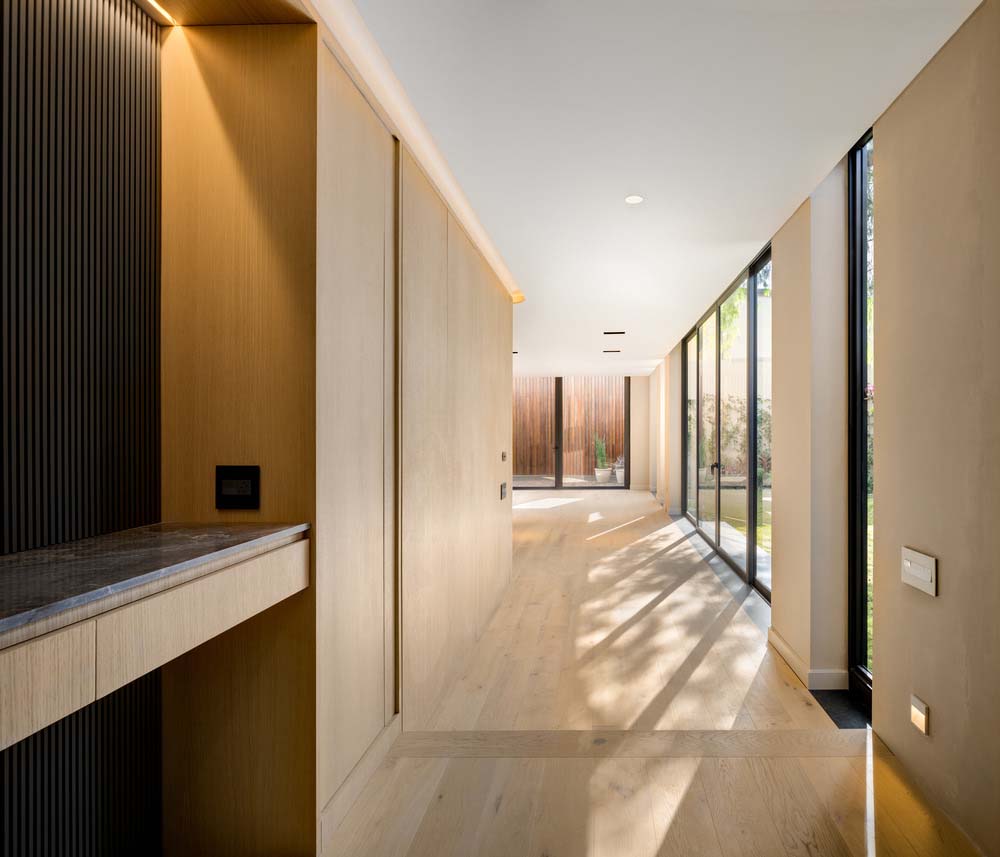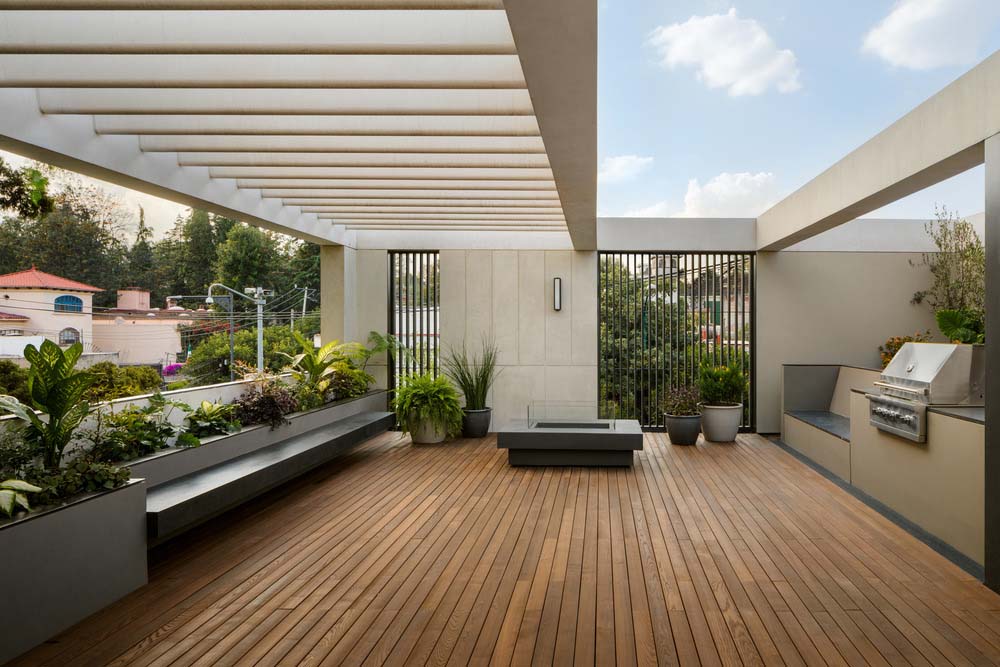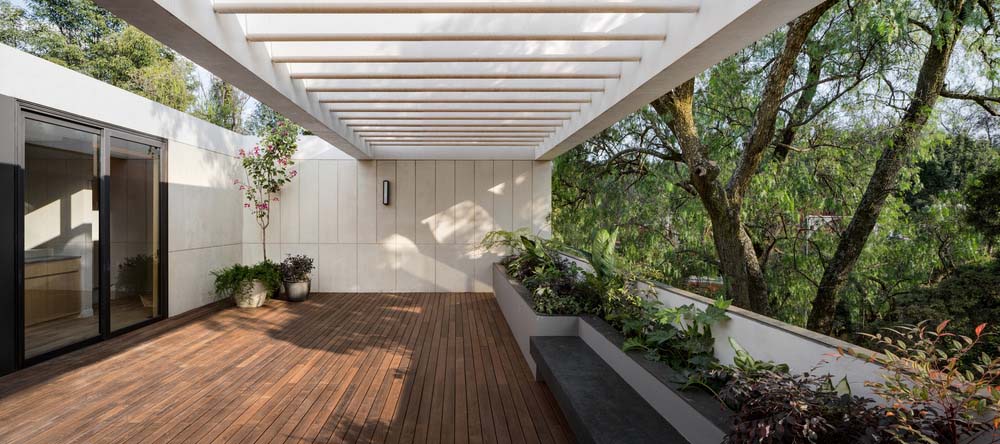 The vertical circulation indicates the path towards the family area and the most private areas of the house, always framed by exterior garden views. The second floor accommodates the main terrace, topped by a white concrete pergola, as the tree canopy weaves and blends with the structure's beams, creating a light and shadow grid.
This is how we define this project's intentions: discovering evergreen views of the garden in sequential order, while the limits of the architectural creation fade into its immediate natural context.
A neutral color palette in the interiors, along with natural-source illumination generate a spatial quality that promotes a calm atmosphere and reaffirms the project's residential character.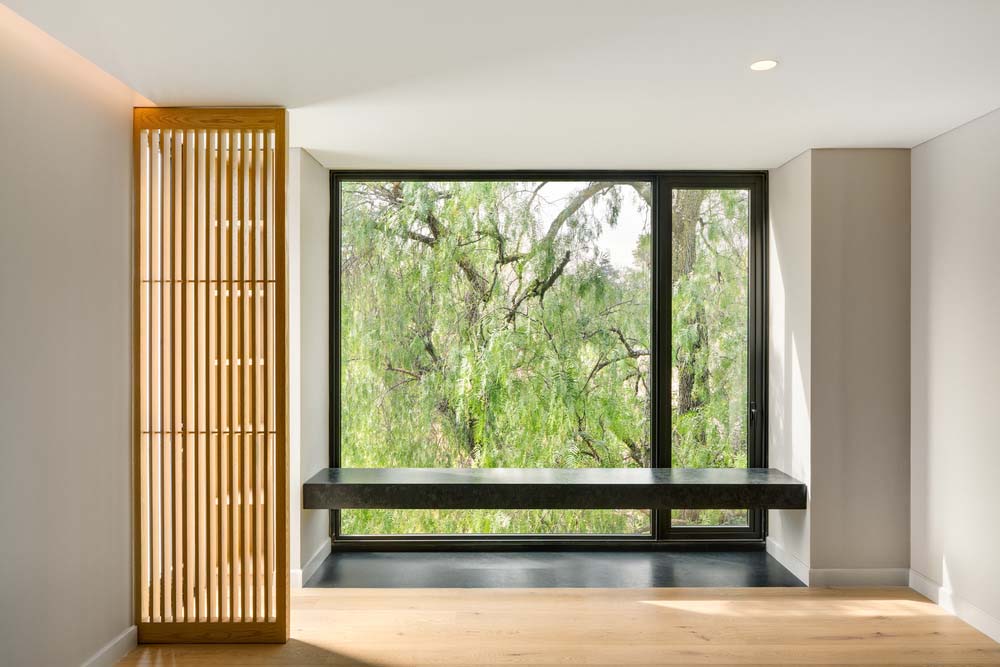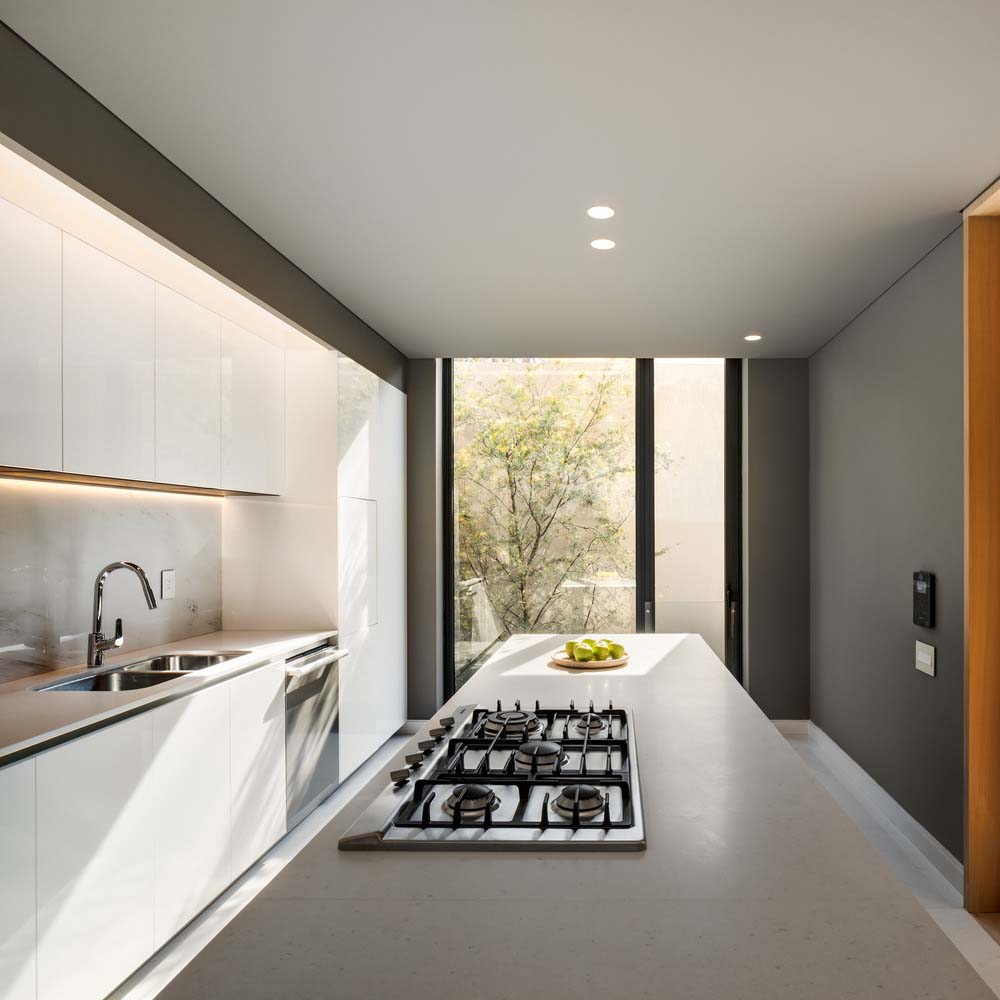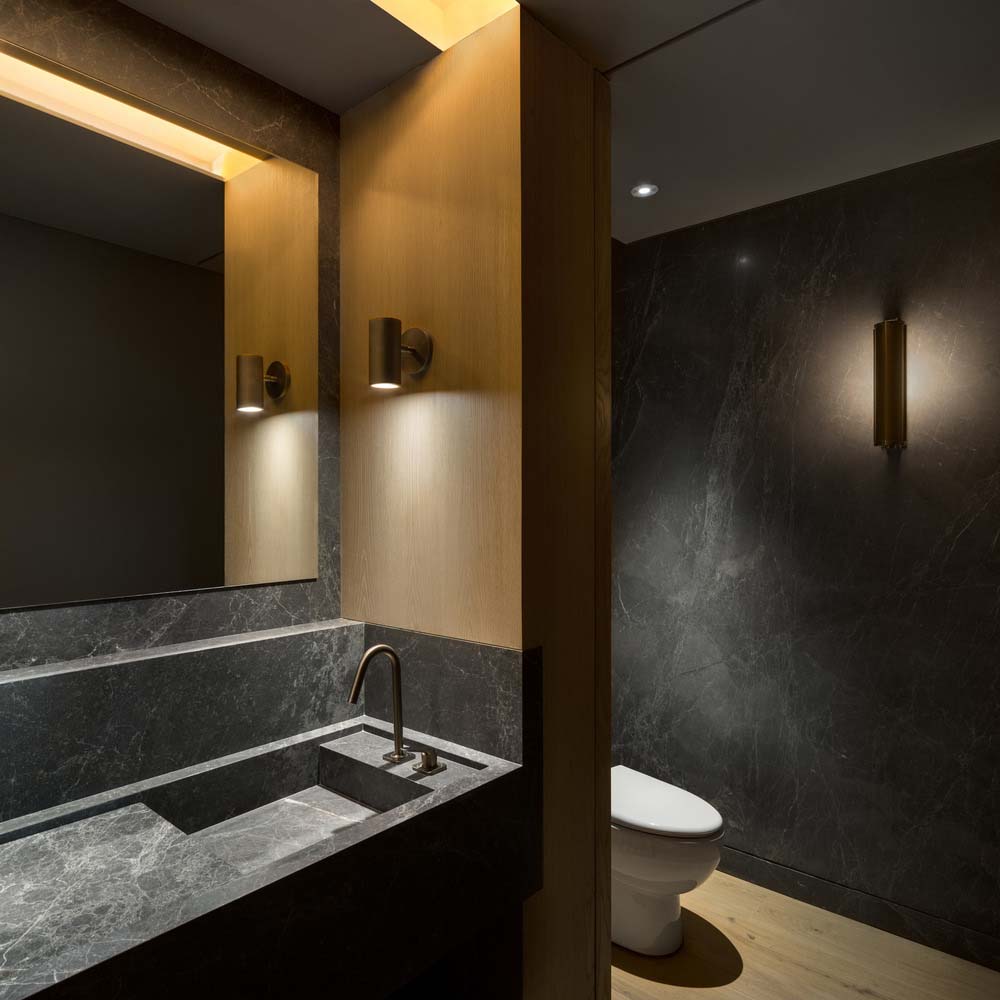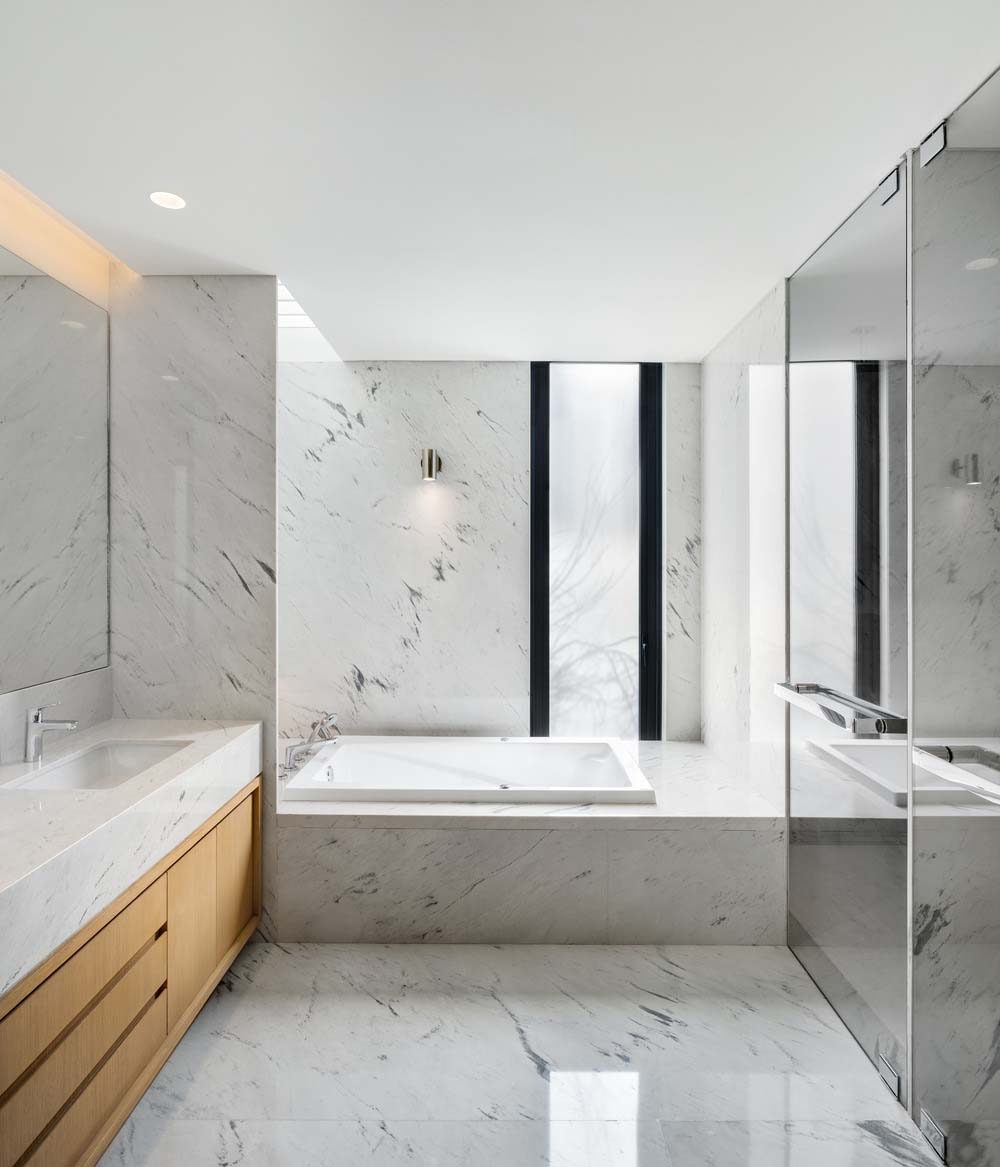 H E M A A team
Arq. Andrea Motilla
Arq. Fernanda Quintana
Arq. Agustín Vera
Arq. José Pedro López González
Arq. Alejandra Tornel
Arq. José Miguel Fainsod
Arq. Santiago Hernández Matos
Photography: Rafael Gamo
Structural Design: Grupo BVG
Engineering: Grupo BVG
Landscaping: Olympia Frangos
TECHICAL SHEET
Property Area: 325 m2 / 3,498 square feet
Floor Area Ratio: 171 m2 / 1,840 square feet
Construction: 608 m2 / 6,544 square feet
Source: HEMAA and v2com
Visit the HEMAA website