The design project by Lagranja for the Chic & Basic Ramblas Hotel is based on the old hotel that Lagranja had to transform. It directly reminded them the hotels of spanish films in the 60's and 70's, talking about the incipient tourist in our beaches'. This was the concept Lagranja used as inspiration for the whole hotel project.
Lagranja explains,
"Another tricky project on lagranja's way: low budget, an uncharming building from the 60's few steps away from the emblematic Barcelona's Ramblas, and almost four years of execution. For those reasons - instead of going for the so called good design - we decided to project an experience around the fantastic Spanish 60's."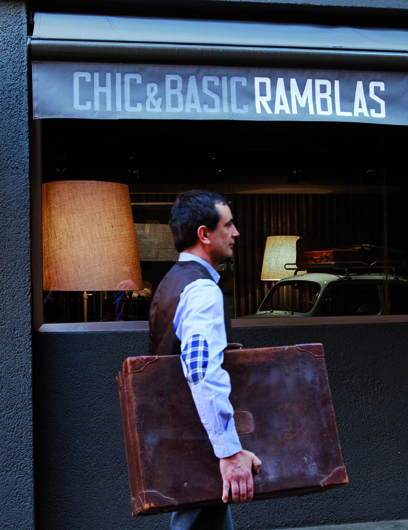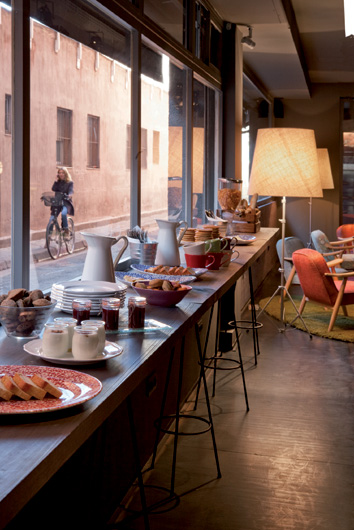 To give the hotel's guests the taste of it, we transformed each corridor into a little exhibition on a particular issue of that decade: Culture and Society, Design Icons, Tourism, Mass Consumption, Folklore, Intellectual Jet set... using room's doors as exhibiting panels.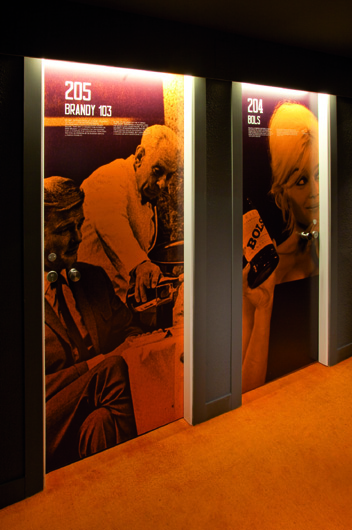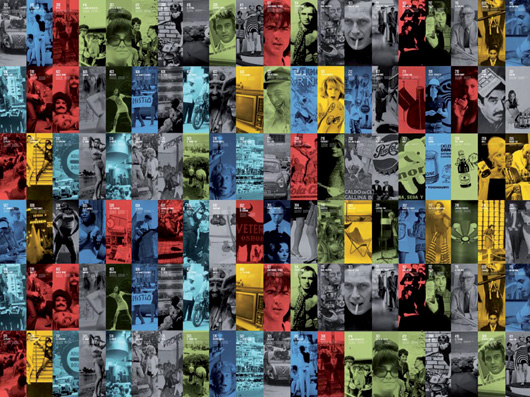 In the lobby we played with iconic objects from those years: a Seat 600 - the first mass produced Spanish car - a huge Peseta - Spanish old currency - used as a table and a panel with very big magnetic key-rings, as used back then in the local hostels.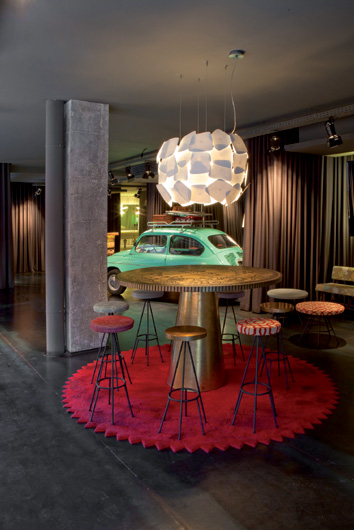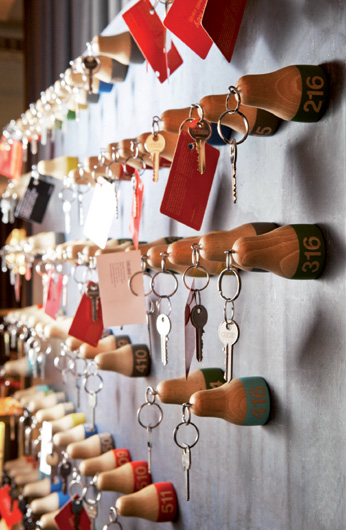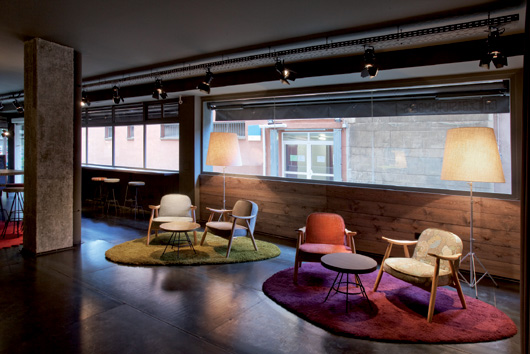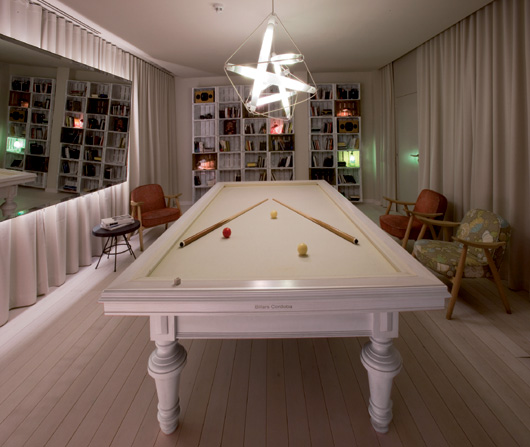 Three of the six room's floor has been done during the first stage of the works in 2009. The rooms were distributed in six colours (red, light blue, dark blue, orange, grey and green). The colour chosen for every room was repeated in the bathroom's tiles, the paint of some of the walls and the carpet that also apears as a presentation of every bedroom in front of their doors in the corridor.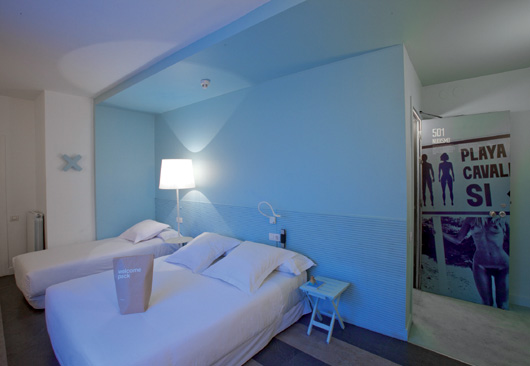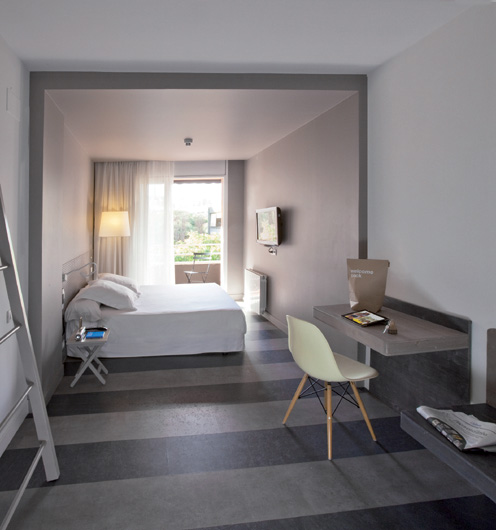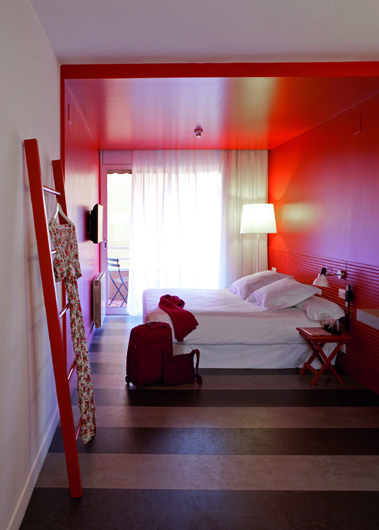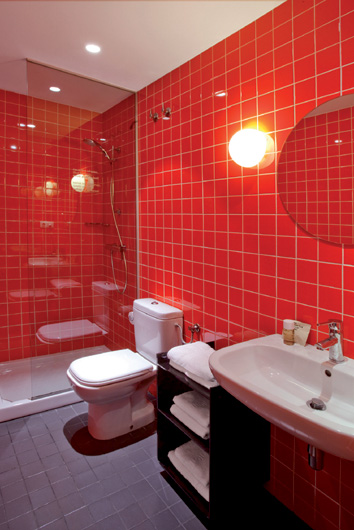 Comercial furniture
ROOMS
- Lavatory model: D-CODE brand: DURAVIT colour: WHITE
- Toilte model: D-CODE brand: DURAVIT colour: WHITE
- Bathroom faucet brand: NOKEN by PORCELANOSA.
- Beach loungers model: HAMACA brand: MANUFACTURAS DE LA MADERA ARANAZ
GROUND FLOOR
- Restaurant chairs model: BELLOCH brand: SANTA & COLE colour: GREY
- Table model: BELLOCH brand: SANTA & COLE colour: WHITE
- Looby armchairs: model: BASIC ARMCHAIR brand: LAGRANJA DESIGN upholstery: IMAN COLLECTION by GÜELL LAMADRID.
- Carpets model: CALDER / NEWS brand: NANI MARQUINA
Furniture made to measure
ROOMS:
- The floor lamp used also as a bed table, has been made in iron painted in white. The lamp shade has been made in parchment. (manufactured by ART AND DISSENY CÀLID GROUP)
- Wood wardrobe made in MDF board painted. (manufactured by BCS)
- Wood hand-stair made in beech wood tinted in colour. (manufactured by BCS)
GROUND FLOOR:
- Reception Desk made with old leather bags (bought in "LAS PEPITAS"). The top of the desk has been made in golden brass (manufactured by ESSAPUNT)
- Keys panel made in natural iron. The Keyrings made in beech wood have been also design for this project by Lagranja.
- The 'peseta' table has been done in brass with the tabletop printed with a real peseta's drawing in black colour (manufactured by ESSAPUNT).
- The tools (made in two sizes) has been done with a natural iron structure (circular profiles) and upholstered in diferent kinds of fabric (manufactured by ESSAPUNT, fabrics from IMAN COLLECTION of GÜELL-LAMADRID).
- Restaurant tables made with laminated board and iron structure. (manufactured by ESSAPUNT).
- The Seat 600 car, placed in the middle of the looby has been painted and restored for this project.
- The billiard table has been manufactured and painted in white colour by BILLARES CÓRDOBA.
Technical Lighting
ROOMS:
- Bathroom downlights. Model: DIRO ST OK S1 brand: DELTALIGHT colour: WHITE.
GROUND FLOOR:
- Looby spotlights.. Model: PAR 30 brand: VELLEMAN. Colour BLACK.
- Looby downlights. Model: RING THINNER brand: DELTALIGHT colour: BLACK.
Decorative Lighting
ROOMS:
- Bed lamps. Model: MAMBA Brand: METALARTE. Colour: WHITE.
- Wall lamps. Model: 5250 20 BRILLO brand: VITUBER colour: WHITE GLASS.
GROUND FLOOR:
- Suspension lamp. Model: BISCUIT brand: MODISS. Colour WHITE PORCELAIN.
- Suspension lamp. Model: BUCKY brand: PALLUCO. Colour: WHITE GLASS.
The old images search has been done by Lagranja design in collaboration with Maneko, Espluga and also the client. Some of these photographs have been found in the client's or the designers personal archive. The rest belongs to the photographic archives of Xavier Miserachs and Oriol Maspons.
Source: Lagranja
Read more news related Lagranja published at Infurma
Visit the Lagranja website
Visit the Chic & Basic Ramblas Hotel website