Alivar, the Italian company renowned to produce the furniture and furnishing accessories designed by some of the great past masters, presents us main novelties that will show at next edition of the Salone Internazionale del Mobile in Milan, with new design of its own team.
Board Table and Dorothea Bookcase
Board Table
Lacquered wood or heat-treated oak frame. Acrylic stone or marble top.
Square: W 150, D 150, H 73 cm
Rectangular: W 220, D 95, H 73 cm
Dorothea Bookcase
Heat-treated oak or matt lacquered MDF bookcase with drawer. Hide shelves. Tempered glass door. LED lighting.
Dimensions: W 122,D 41, H 220 cm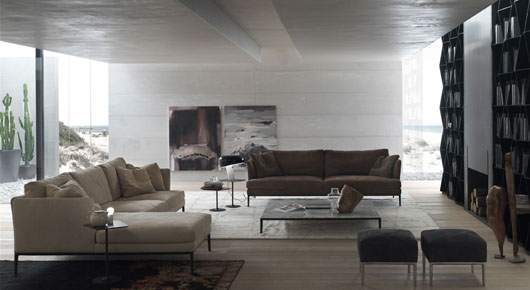 Portofino Sofa
Portofino Sofa
Tubular steel frame, chrome-plated or painted. Seat and back in moulded polyurethane foam, covered in leather, woven leather, synthetic leather or cow hid.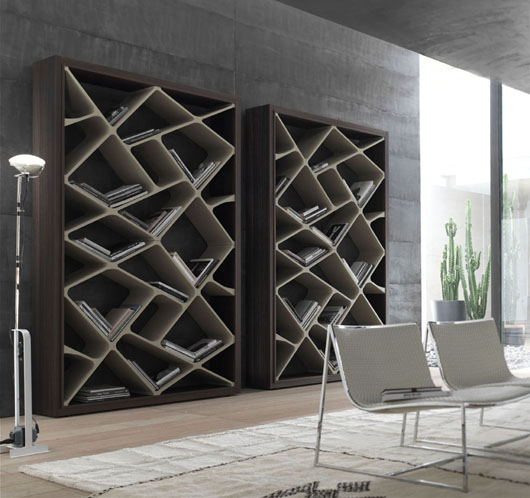 Shanghai Bookcase and Samoa Armchair
Shanghai Bookcase - New MDF version white laquered, Beige laquered shelves
MDF external structure lacquered in dull white or black or black oak, or thermo-treated. MDF inner shelves treated with DUXILON® process, lacquered dull, lightly embossed, in concrete grey, white, black and beige.
Dimensions: W 162, D 31, H 237 cm
*DUXILON® is a revolutionary patented process which allows you to shape wood to create design furniture for interior decoration. Shaping MDF or chipboard panels it is possible to make radial corners on your choice, to realize furniture components with rounded edges and without visible joints, to combine different thicknesses, to intersect panels and create soft shapes.
Samoa Armchair
Tubular steel frame, chrome-plated or painted. Seat and back in moulded polyurethane foam, covered in leather, woven leather, synthetic leather or cow hid.
Dimensions: W 70, D 78, H 66 cm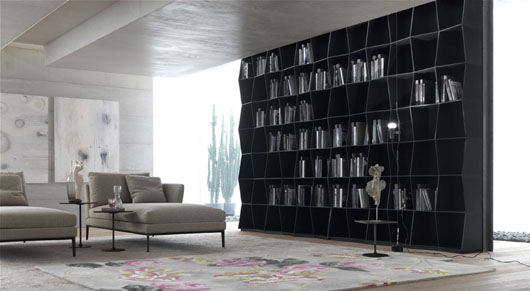 Wavy Bookcase
Wavy Bookcase - New Black version
WAVY is a bookshelf system that rigorously combines design and function. It is a minimalistic product in which the thin structure and the wavy design, both vertical and horizontal, gives the ensemble an image of great solidity and lightness. With its extremely characteristic accuracy of detail and use of materials, Wavy is made entirely of "HI - MACS Natural Acrylic Stone" by LG in S28 Alpine White colour. Composed of blocks that can be laid one upon another and combined, Wavy conceals any kind of joint, thus becoming a highly elegant furnishing element with an extremely formal linear nature. It may be arranged as desired: superimposed vertically with module H.36, or horizontally, composed of 3 elements which may be combined: cm. 63 - cm. 124 - cm. 185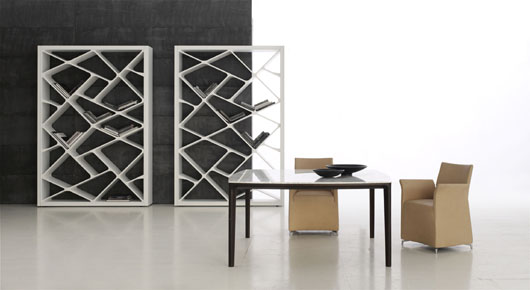 Board Table and Shanghai Bookcase
All collections has been designed by Giuseppe Bavuso
Further information at the Alivar website