The technical innovation, the master craftsmanship and the new generation of solid surface come together on a practice design for small spaces.
The french firm Maminicuisine® offers a high-end mini-kitchen, specially thought for small spaces, offices and tourist accommodations. Designed by Charlotte Raynaud and created by the cabinetmaker Felix Hegenbart, both professionals choose HI-MACS® to develop the project for their intrinsic qualities. The result is a rectangular block defined by a balanced, comfortable and efficient design.
Comfort and design
The mini-kitchen is extraordinarily practic, all is thought to provide the maxim comfort for cooking into such a small space. At least in one square metre, it brings toghether all the essential elements of a kitchen: induction cooker, refrigerator, dishwasher and sink. When it is no longer being used, the kitchen can be closed and, in this way, there is not exposed, turning into a contemporany sideboard. The set is a white and sofisticated surface that it mixes design, elegancy and funcionality.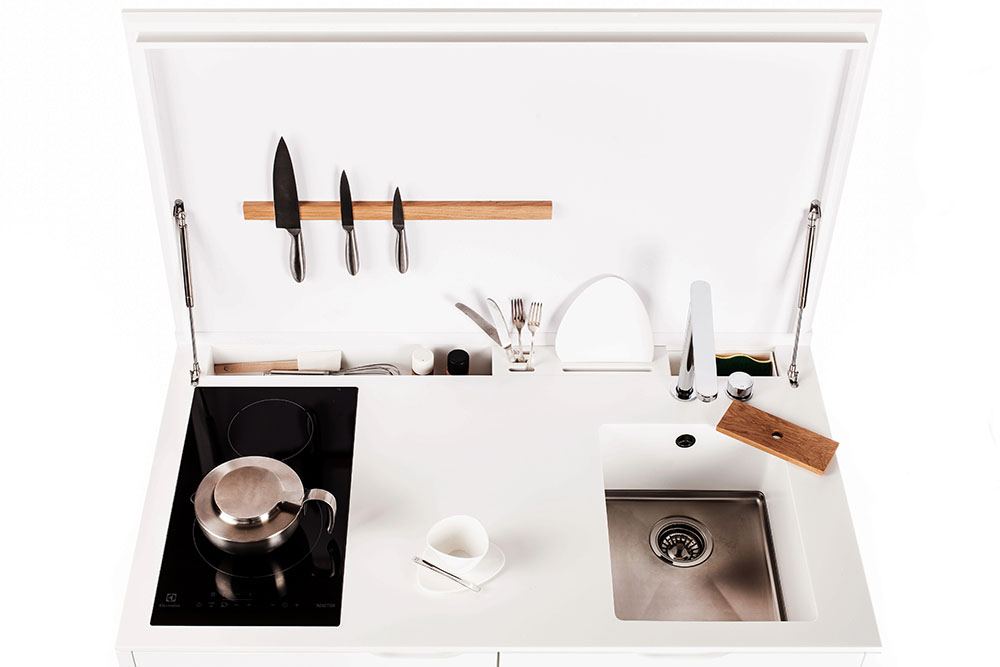 Innovation and technique
HI-MACS® worktop is thought to the last detail. It offers intelligent solutions to organize all the elements, as well as a big quantity of useful accessories, for example, a magnetized hanger of knives, an Ipad support for reading cooking recipes and a cleft to safe kitchenware
The model is available in two different HI-MACS® colors. On one hand, the untainted Alpine White that it gives a special touch of modernity and light. On the other hand, the counter in Cima, a black color with white small particles, that gives deepness on the material and combines seamlessly with the whole wood furnishing, adding a lot of personality.


Hygienic and easy to clean
With clean and straight lines, this kitchen of minimalism tendency, meets all the extraordinary properties of solid surface. Lacking of visible joins, it provides finishes of unique esthetic qualities. In addition, it gives an impeccable hygiene due to the extremely smooth, non-porous and impermeable HI-MACS® surface. It doesn't absorb the moisture, is very resistant to spots and easy to clean because the dirt can't infiltrate on it. For this reason, the material is especially suitable to be used in these sites in constant contact with food.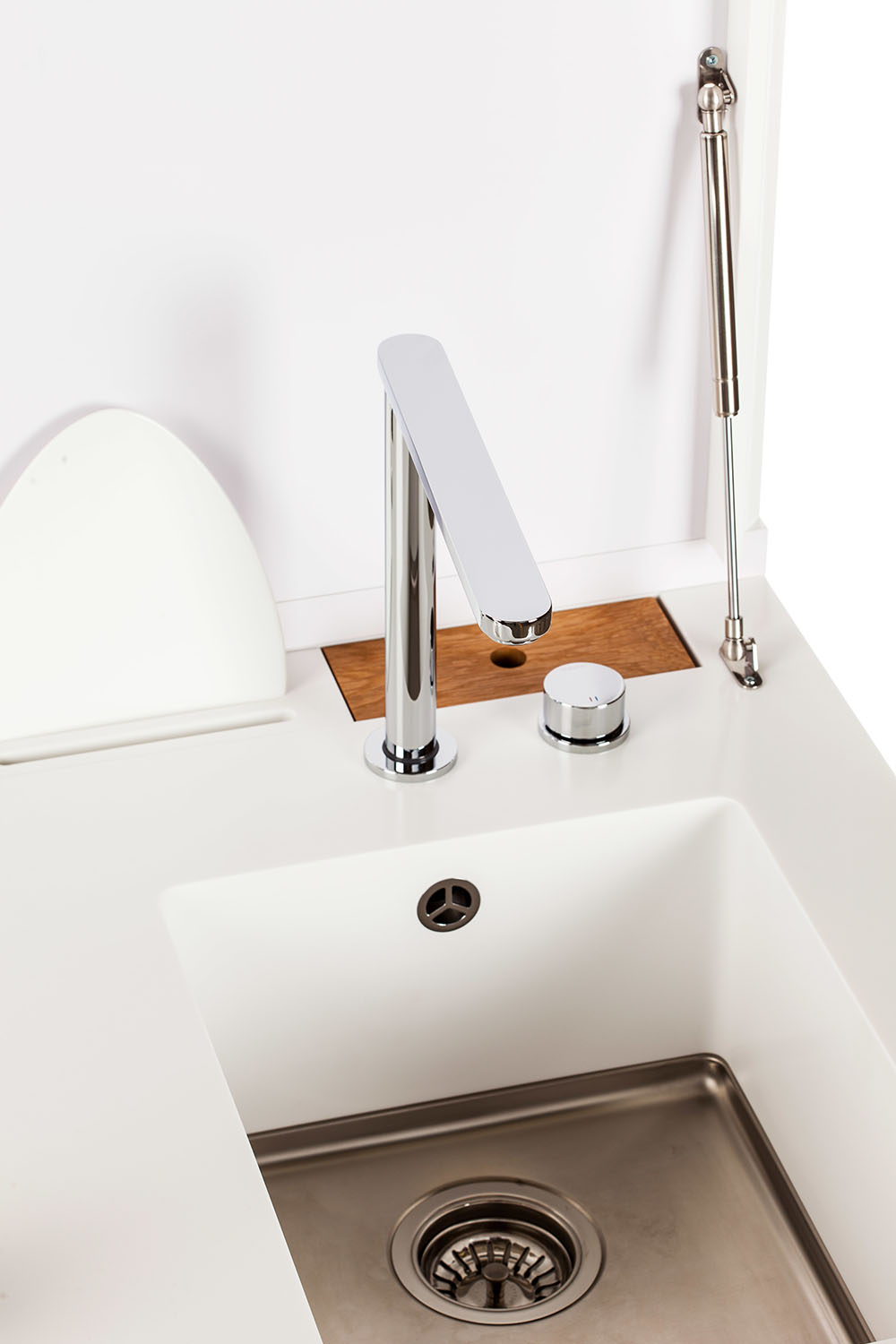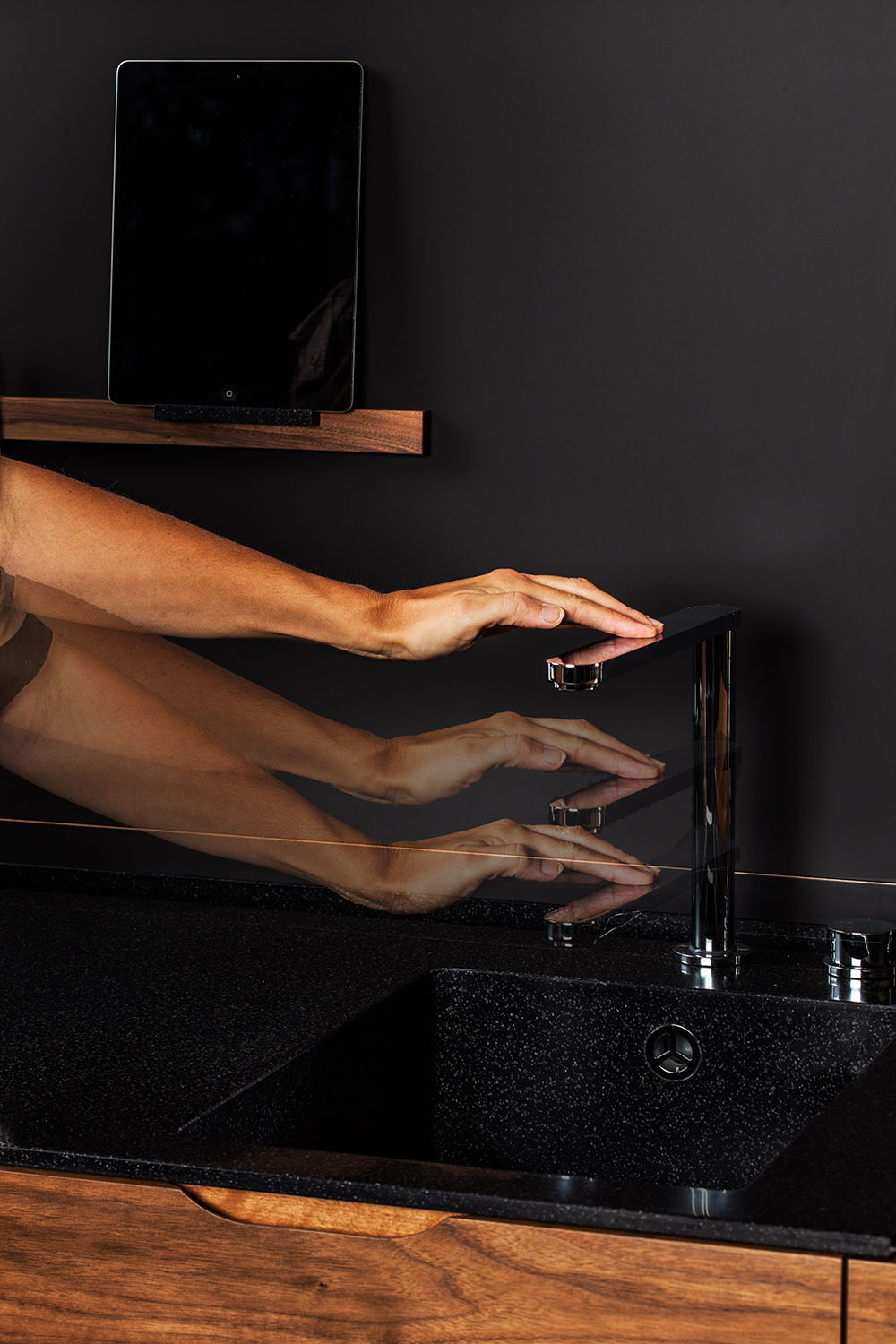 PROJECT REFERENCES
Design: Charlotte Raynaud
HI-MACS® manufacturer: Felix Hegenbart SARL
Firm: Maminicuisine®
Material: HI-MACS® Alpine White S028 and Cima VB02
Photograph: ©Denis Dalmasso
Source: HI-MACS®
Read more news related HI-MACS® published at Infurma
Visit the HI-MACS® website