The wood protagonist in The Hungry Fox, a Café in Melbourne designed using biophilic principles
The link between our physical environments and our emotional wellbeing has been substantiated by a number of studies. Australian designers seem to have a unique affinity with the natural environment and an innate understanding of how best to bring nature closer to life and leisure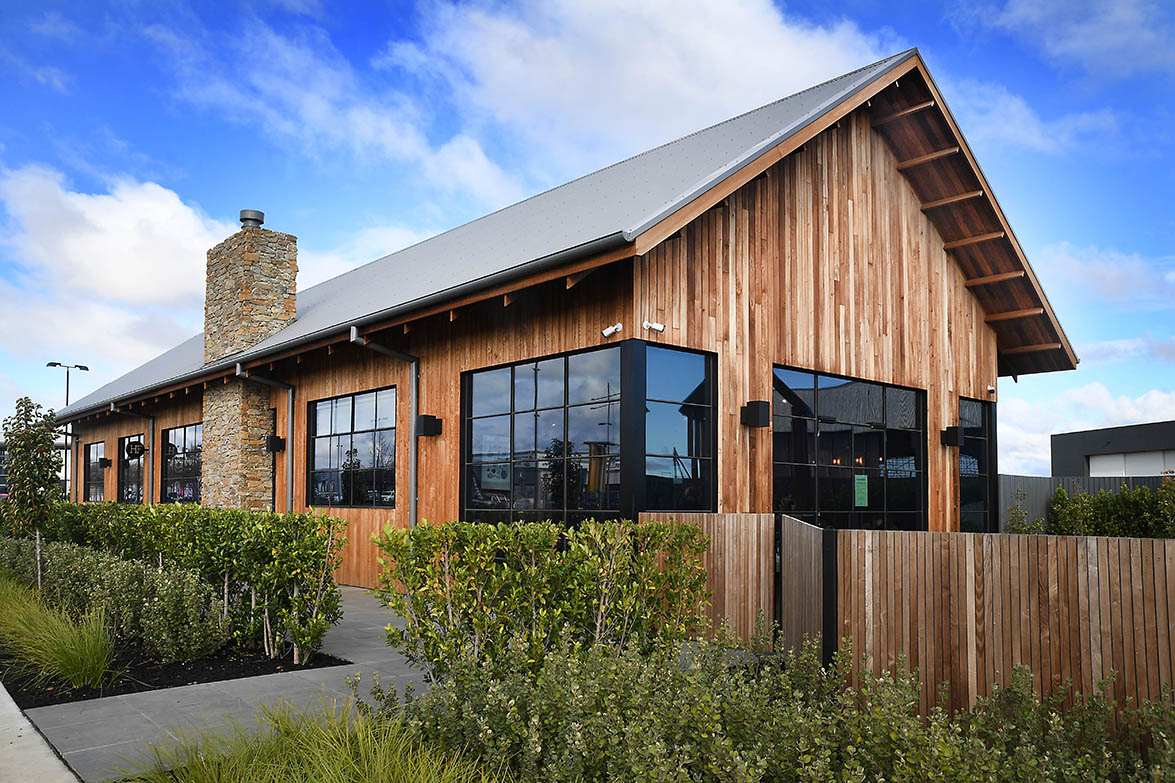 Photo: Tizia May Photography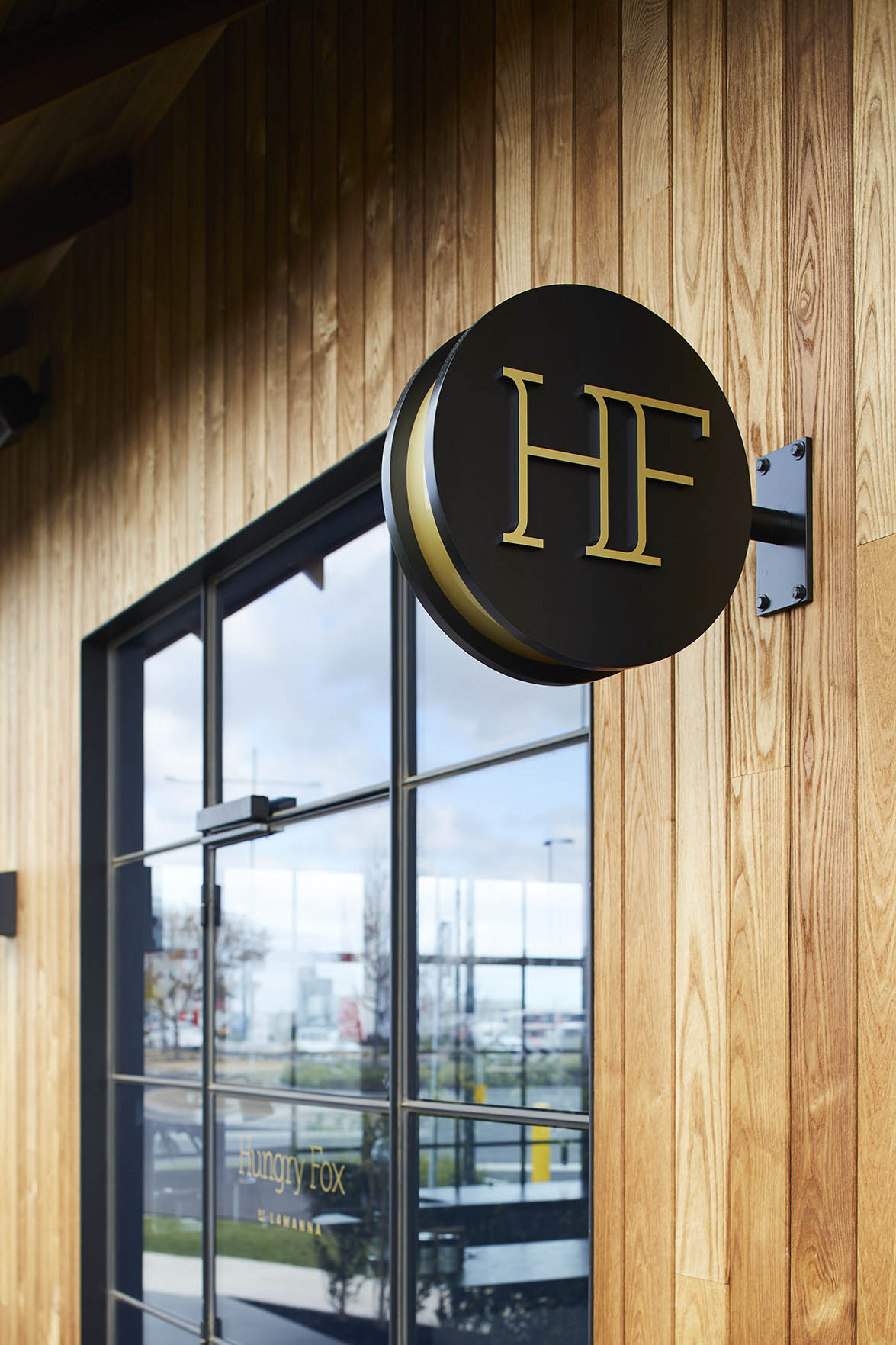 Photo: Peter Tarasiuk
The latest example of this skill is a café which recently opened its doors in Melbourne. The Hungry Fox (by LaManna) at Autocentro at Essendon Fields has been designed using natural materials from around the world and has a mouth-watering global menu (Peking duck bao buns and homemade ricotta gnocchi) that combine to provide an uniquely uplifting Australian experience.
The café is the first project in Australia to use thermally-modified American tulipwood in exterior cladding. Selected for its rich colour and uniform texture, American tulipwood provided not only the aesthetic impact sought by Bruce Henderson Architects, but also the stability. The thermal modification process heats the tulipwood to almost the point of combustion. This changes the molecular structure of the timber and results in a material that durable for outdoor use. It requires minimal attention once outside which makes it a perfect choice for a project such as this.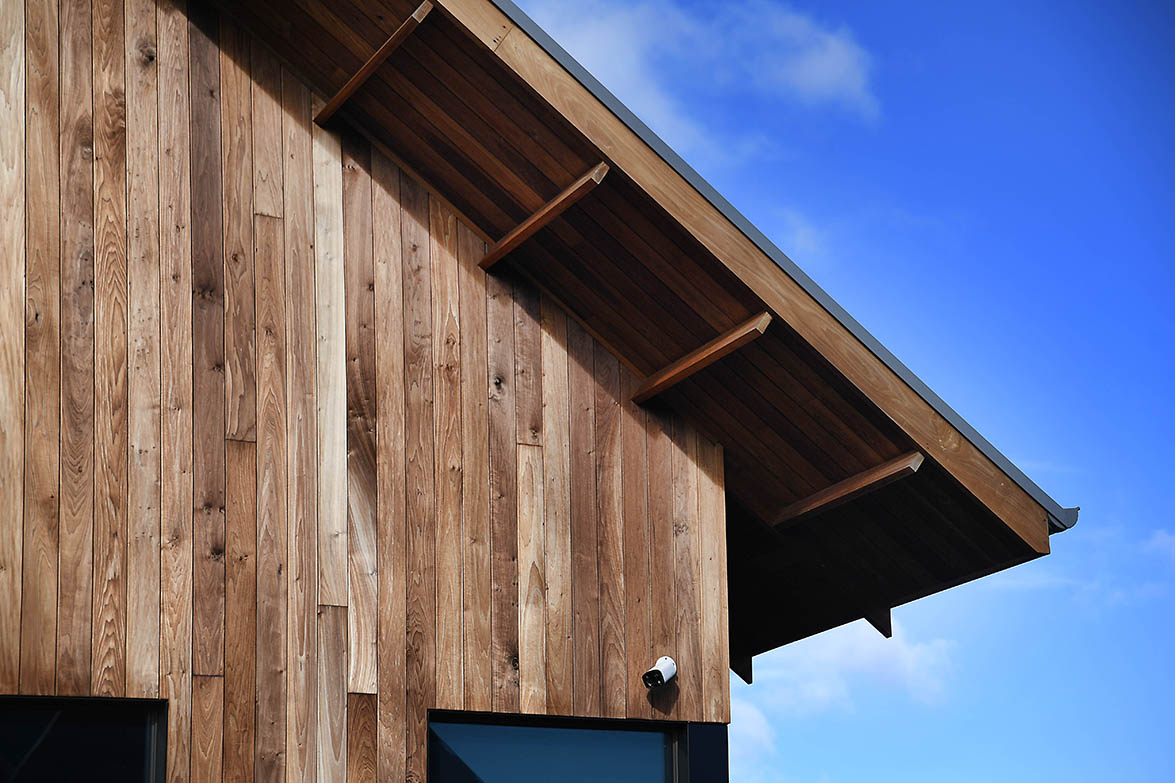 Photo: Tizia May Photography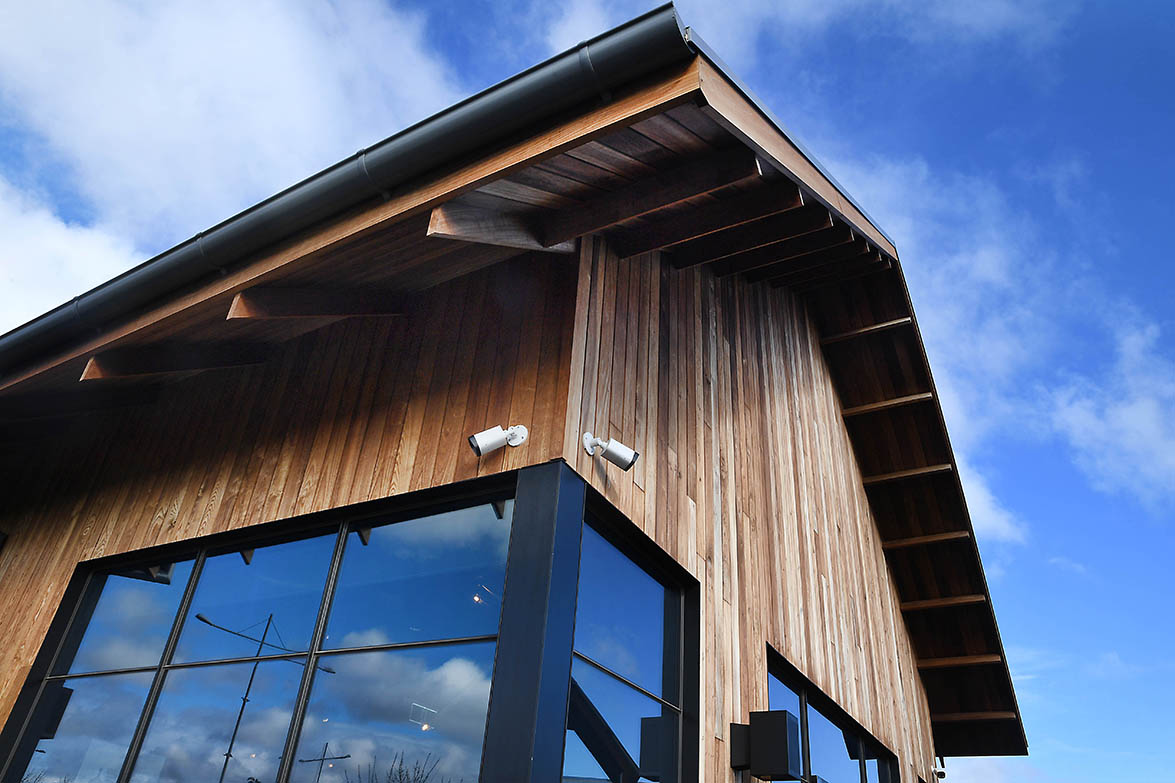 Photo: Tizia May Photography
Interior Architects, Lukas Partners, took on the challenge of creating a contemporary, warm and inviting interior for the café. Aware of biophilic design principles and their emotional impact, the mood they looked to capture was one of earthy Australian fauna. Their focus was on natural materials, inspired by gum nut and eucalyptus tones. The vaulted ceiling, taking its lead from the exterior design, is also an expanse of thermally-modified American tulipwood.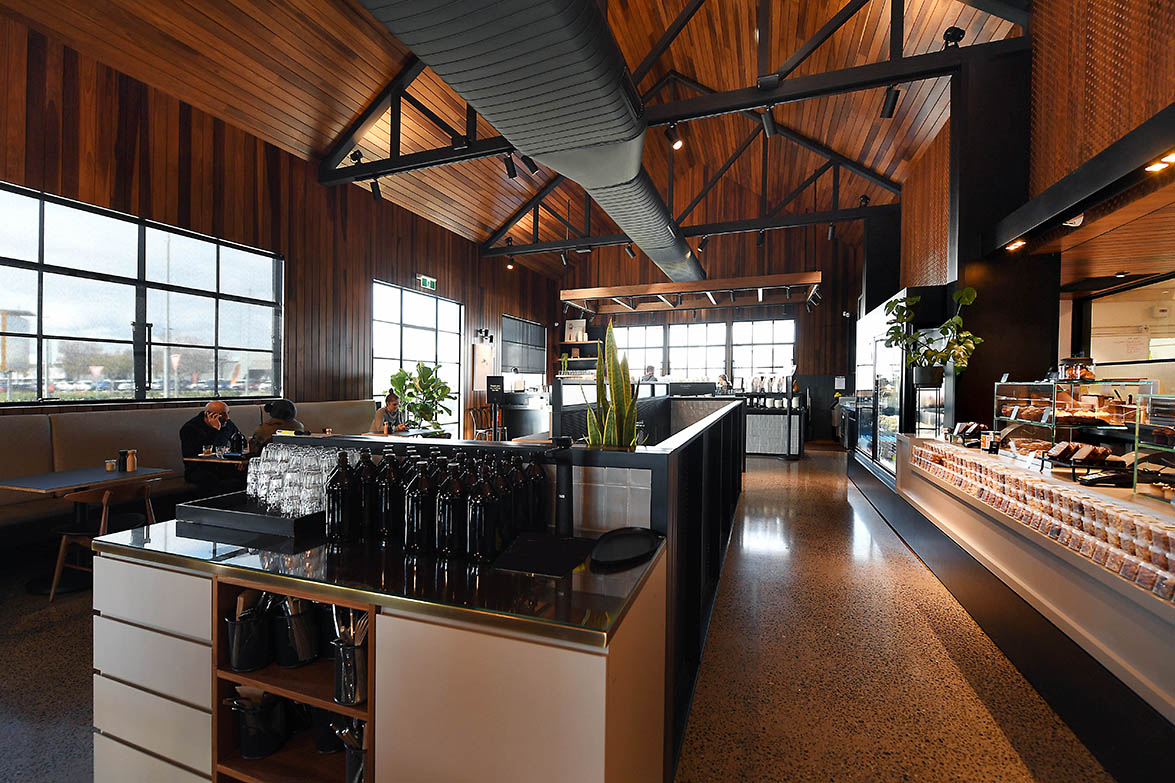 Photo: Tizia May Photography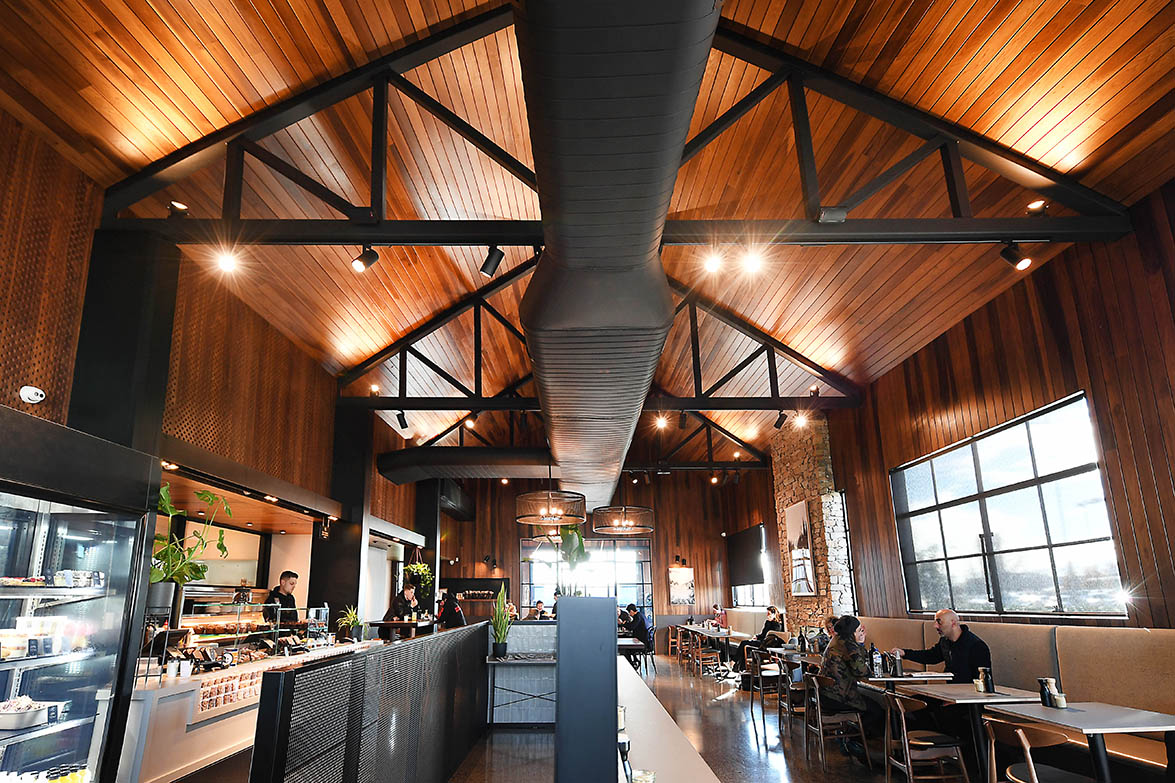 Photo: Tizia May Photography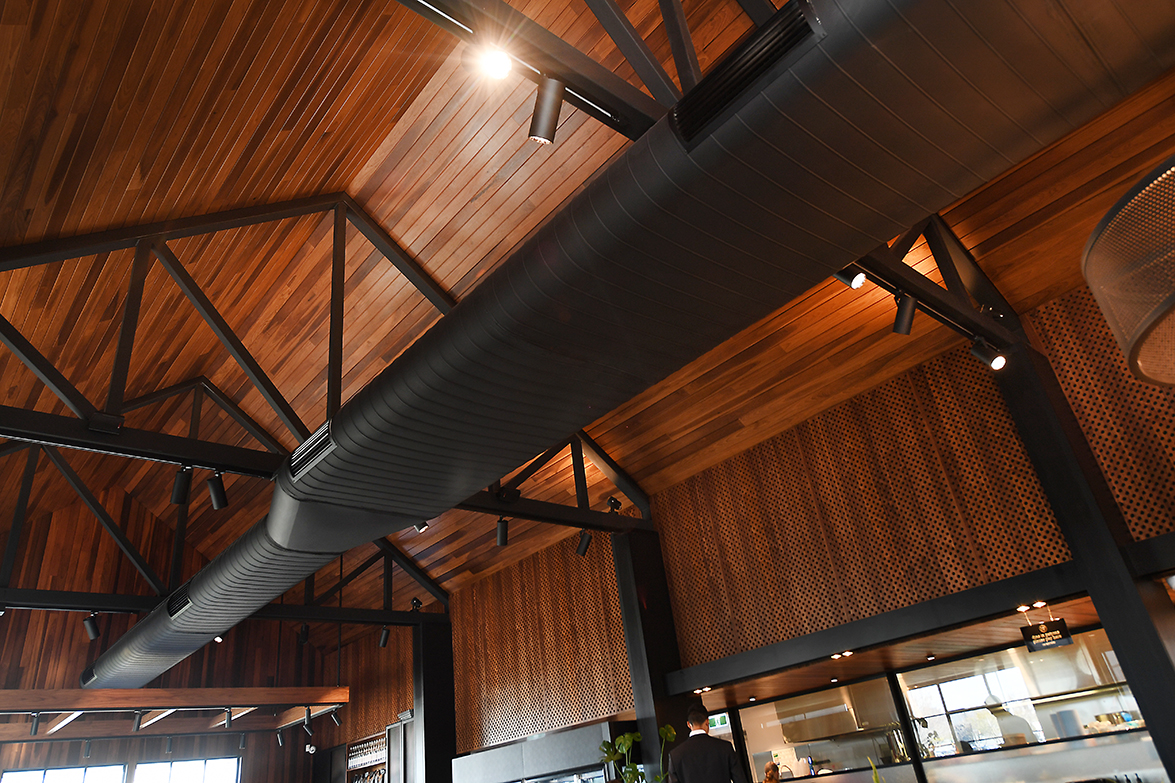 Photo: Tizia May Photography
This richness is offset by a stone counter. A velvet-finished granite with a steel edge adds impact front of house and counterbalances the exposed concrete floor.
Photo: Tizia May Photography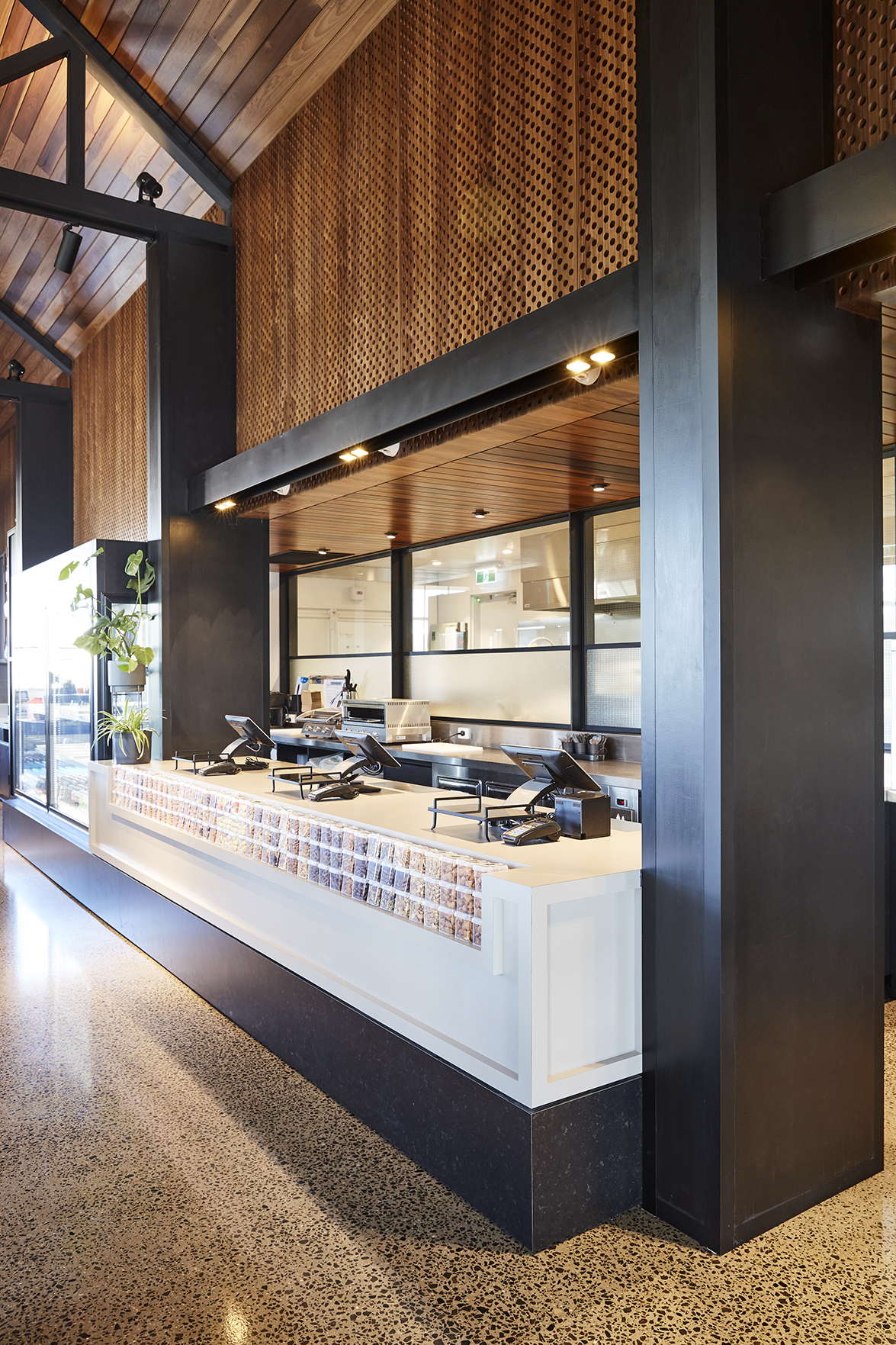 Photo: Peter Tarasiuk
Chunky American ash tables, created by local high-end manufacturer Charles Sandford, are accompanied by chairs created from the same timber with perforated leather seating and wool which has retained its natural colour variation.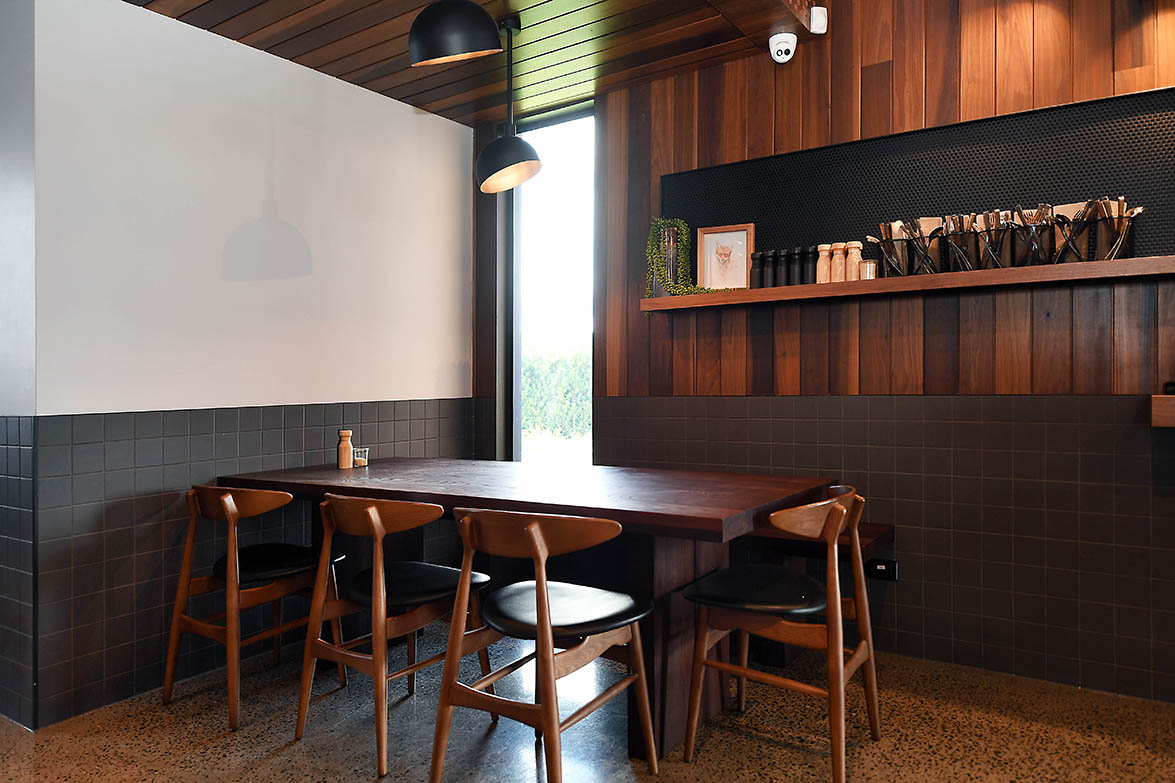 Photo: Tizia May Photography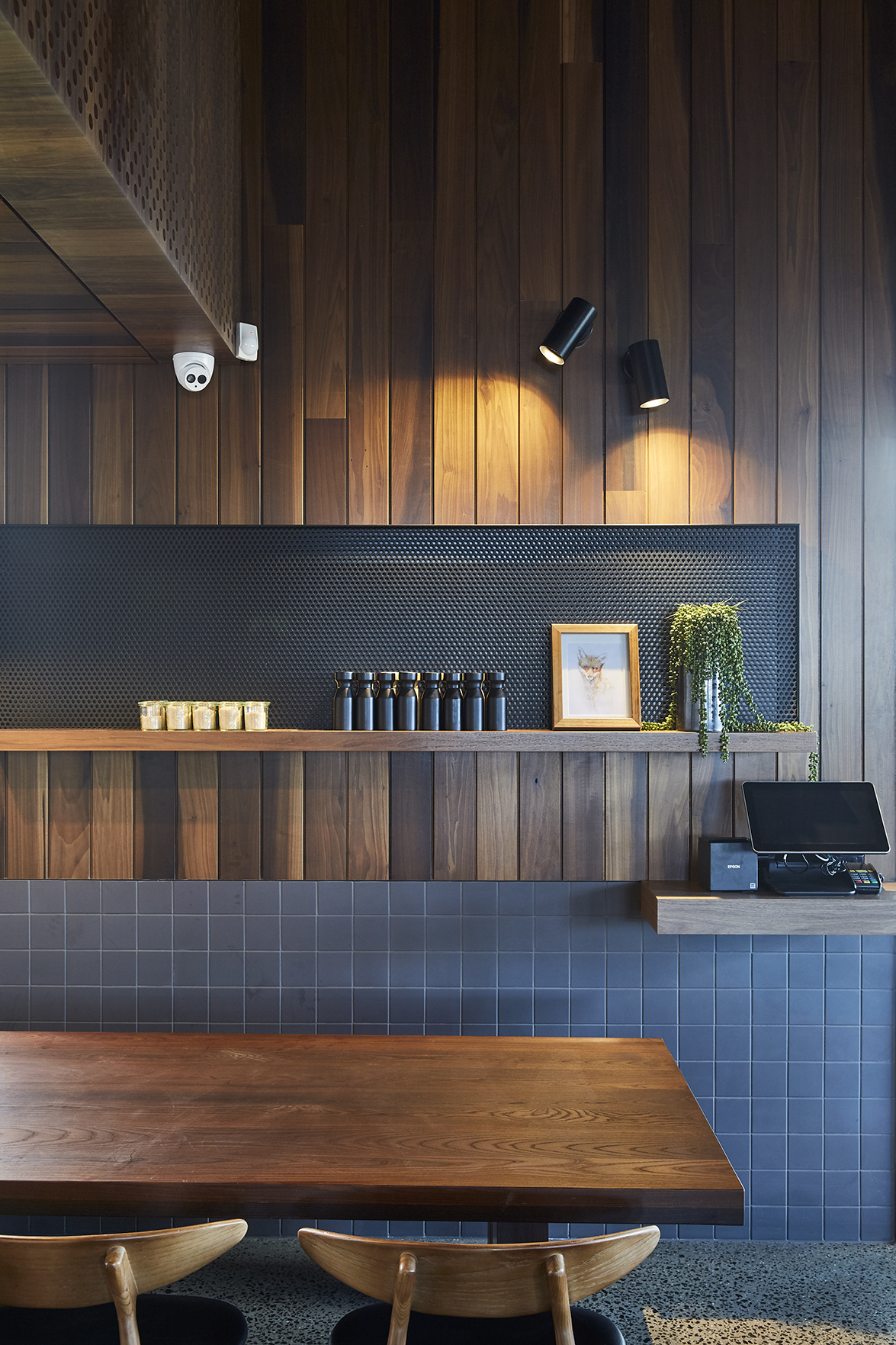 Photo: Peter Tarasiuk
This perforation forms a motif throughout the space, the screens in the waiting area and the laser cut American walnut veneer panels that mask an acoustic board with style, making the café the perfect venue to meet for relaxed conversation. The look is completed with vast drum pendants created to Lukas Partners' design by local bespoke lighting specialist Bad Wolf.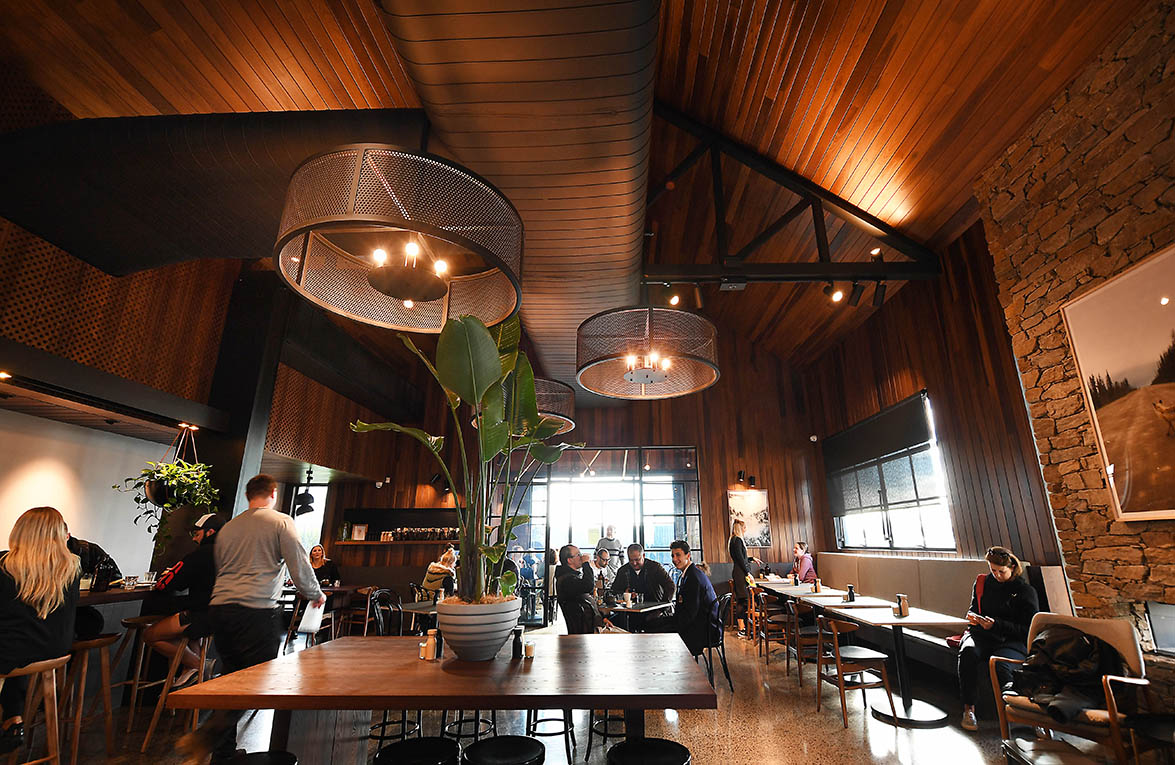 Photo: Tizia May Photography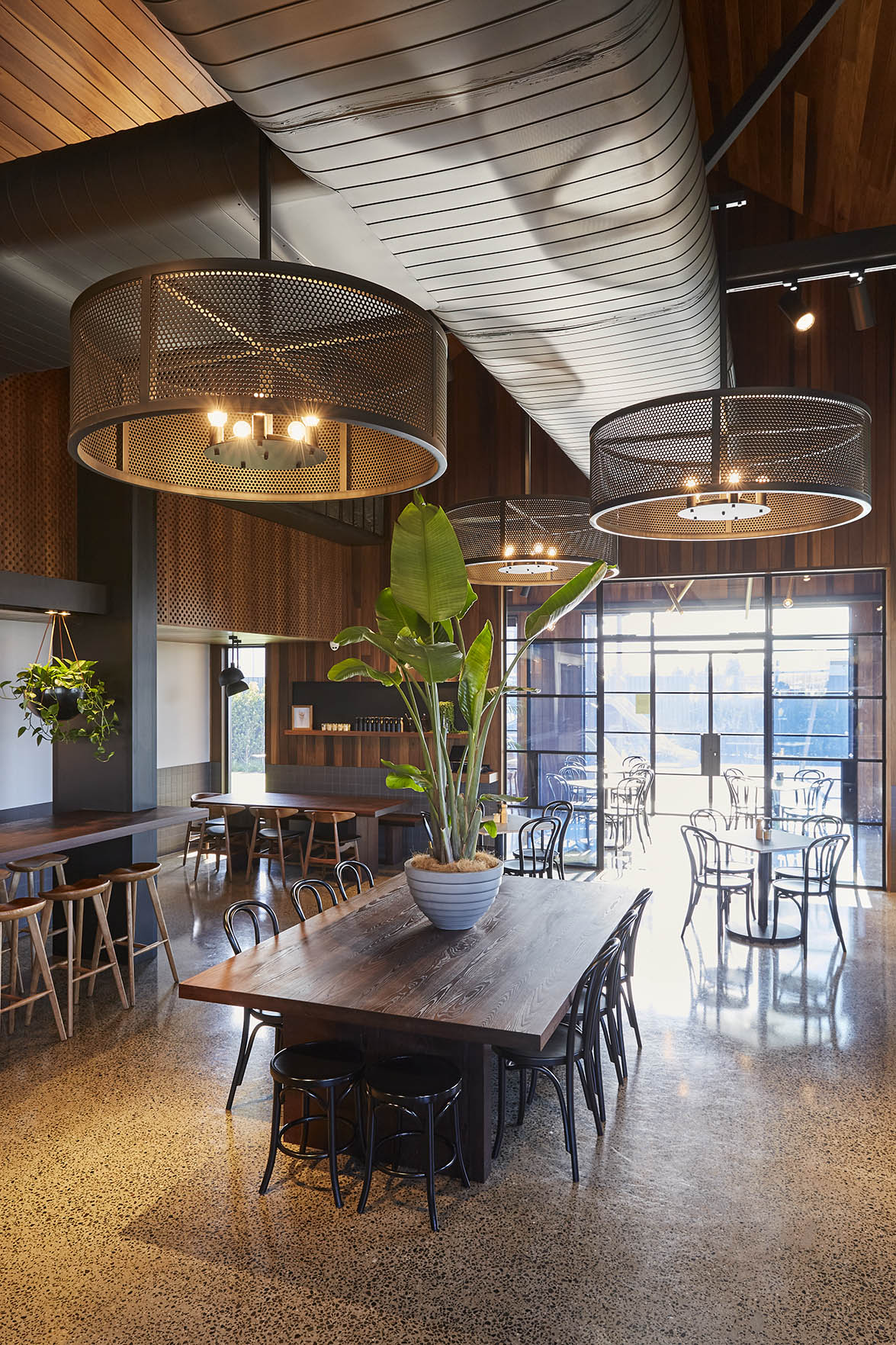 Photo: Peter Tarasiuk
The playground adjacent to the café has been created by Adventure+. Australian white cypress thoughtfully treated with a tint to match the American tulipwood cladding means that the Hungry Fox is a magnet for families in addition to local professionals and shoppers from the nearby LaManna supermarket.
The rich and welcoming space creates a true sense of wellbeing. Perhaps the biggest accolade is from the staff themselves. "I love coming to work here. It feels like a log cabin and it's really cosy. Especially in winter" says Hayley Cardis, who has worked at The Hungry Fox since it opened. It's a healthy habitat in every way for all who visit.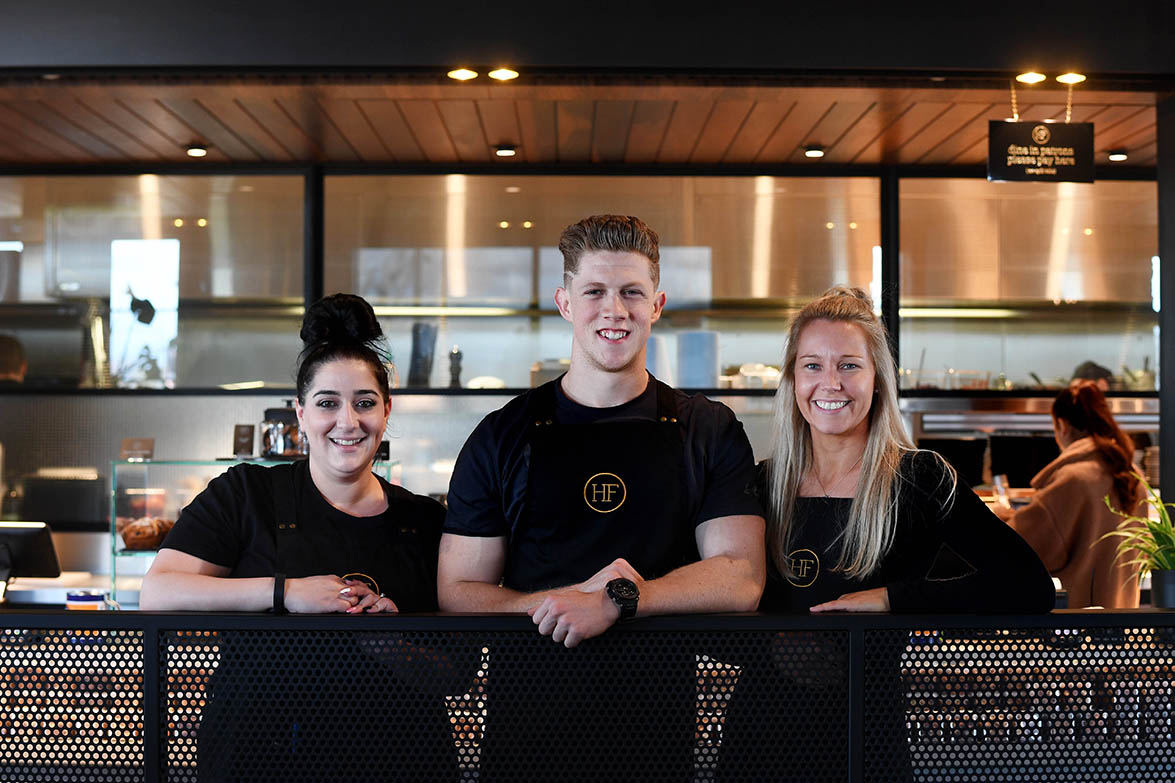 Photo: Tizia May Photography
Architects: Bruce Henderson Architects
Interior Architects: Lukas Partners
Fitout Contractor: F.A.Stow & Co.
Timber Supplier: Hazelwood & Hill
Timber Importer: American Hardwoods
Playground Design & Constructuion: Adventure+
Furniture Manufacturer: Charles Sandford
Timber Volumes
Thermally Modified American tulipwood
Fascia and other mouldings c. 4m³
Cladding c. 26m³
Thermally Modified American ash
Source: AHEC
Top image by Tizia May Photography
Read more news related AHEC published at Infurma
For more information on American hardwood species and case studies, visit www.americanhardwood.org