There are some exciting offers here for contract business: tailor-made solutions for furnishings and equipment in the hotel, restaurant and catering trades will be on display from around 270 Ambiente exhibitors in Frankfurt am Main. Suppliers in this sector are clearly identifiable at the trade fair because of the 'Contract Business' label and, in the Dining section of the show, the 'Horeca' label on their exhibition stands. This distinction means that they have demonstrable experience and expertise in equipping commercial projects such as hotels, restaurants and cruise ships.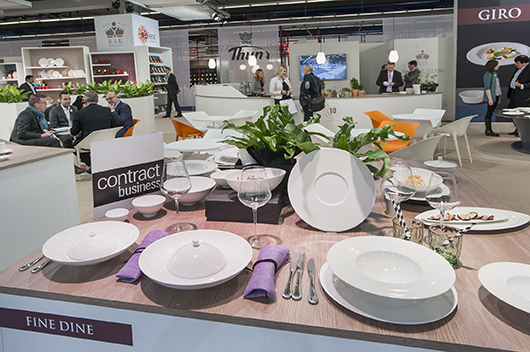 The 'Contract Business Guide' contains all the exhibitors, who work in the field of contract business, including the contact details for the companies' contract business experts. It will be available, free of charge, everywhere in the Fair and Exhibition Centre throughout Ambiente. Ambiente is becoming increasingly important as a trend platform for designers, interior furnishings experts and interior architects, as well as for buyers in the hotel, restaurant and catering industry.
The fact that this segment of the market has enormous economic potential for the future, too, was clearly shown by the management report entitled "Contract business - a growth market. A study of contract business in Horeca supplies and furnishings", which was published by Messe Frankfurt in 2015. According to the Ifo Institute, contract business in the 'Dining', 'Living' and 'Giving' product segments in Germany are worth something of the order of two billion euros. The results of the poll indicate that further growth in sales to commercial customers in the hotel, restaurant and catering industry can be expected in the future.
And for the exhibitors, too, the range of contract business opportunities at Ambiente proved to be a very valuable seam. Claude Pfeiffer, Managing Director, RAK Porcelain Europe: "We were very pleased with the trade fair. I must say that contract business for the Horeca trade, which was, indeed, quite widespread, had a significant impact. For me it is an open and shut case and I hope that this development continues from the Exhibition Centre's side, too." Renate Möller Managing Director of Scholtissek has a similar view: "Last year we focussed even more strongly on contract business and have been very successful with our approach to the whole area. Ambiente is just the place for it."
Buyers from the Horeca segment will find an attractive spectrum of top brands in Frankfurt. Well-known names such as Dibbern, Porzellanfabriken Christian Seltmann, Rak Porcelain Europe, Steelite International and Zieher are representative of the high-end, international ranges of goods for the Horeca sector on display at Ambiente. In terms of interior design, there are also companies like Deknudt, Dialma Brown, DPI, Exotica Cor Mulder, Fink, Kare, Lambert and Rica Riebe, who will be presenting a broad range of quality products and concepts for the design and decoration of commercial spaces.
Source: Ambiente
Read more news related Ambiente published at Infurma
Visit the Ambiente website