PA House by Olmos Estudio. Rationalize the space in a house between party walls
The young Spanish studio Olmos Estudio, formed by the architects Alberto and Carlos Olmos, shows us one of their latest projects, the comprehensive remodelling of a house in Alzira (Valencia), with an elegant and timeless result. So they explain us,
This Project was a big challenge for the Studio as we had to design a 125 m2 house for 80.000 €.
In order to keep the budget, we tried to identify the most expensive elements. Then, we decided to rationalize the space with the minimum possible partitions and to reduce the number of bathrooms.
The house is composed of a ground floor with patio, a first floor and attic room. On the ground floor, due to the small size of the house, service elements as kitchen, bathroom and stairs are placed together in a wooden volume of 450×180 cm. On the other side, a single element coated with the same material define different spaces, integrating the TV and the storage area.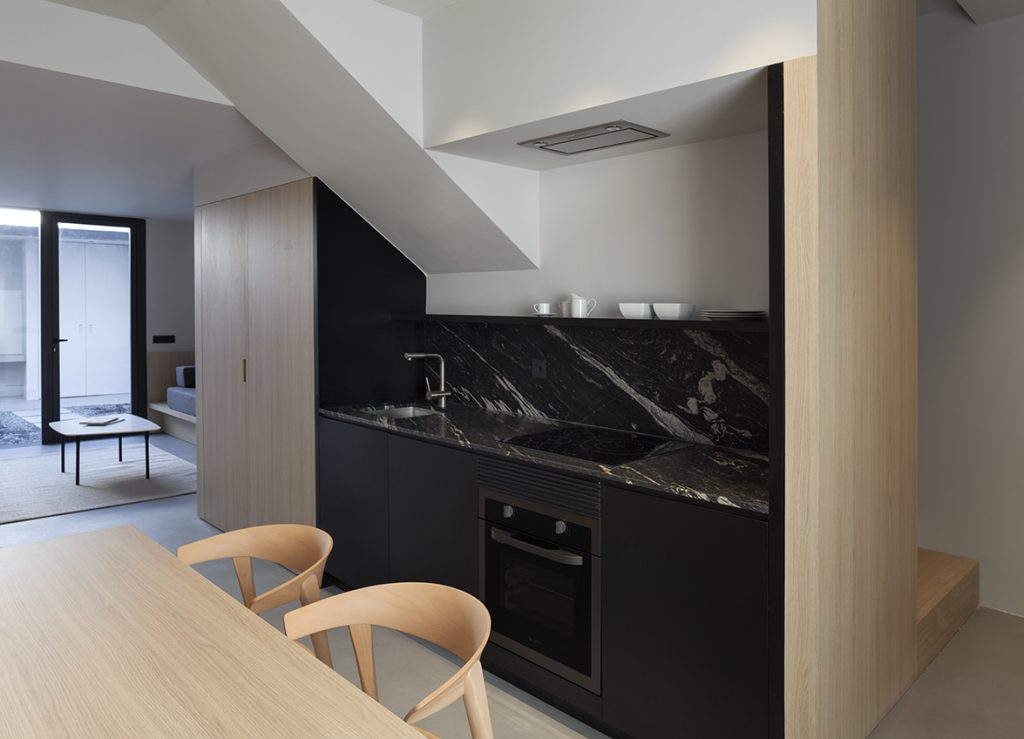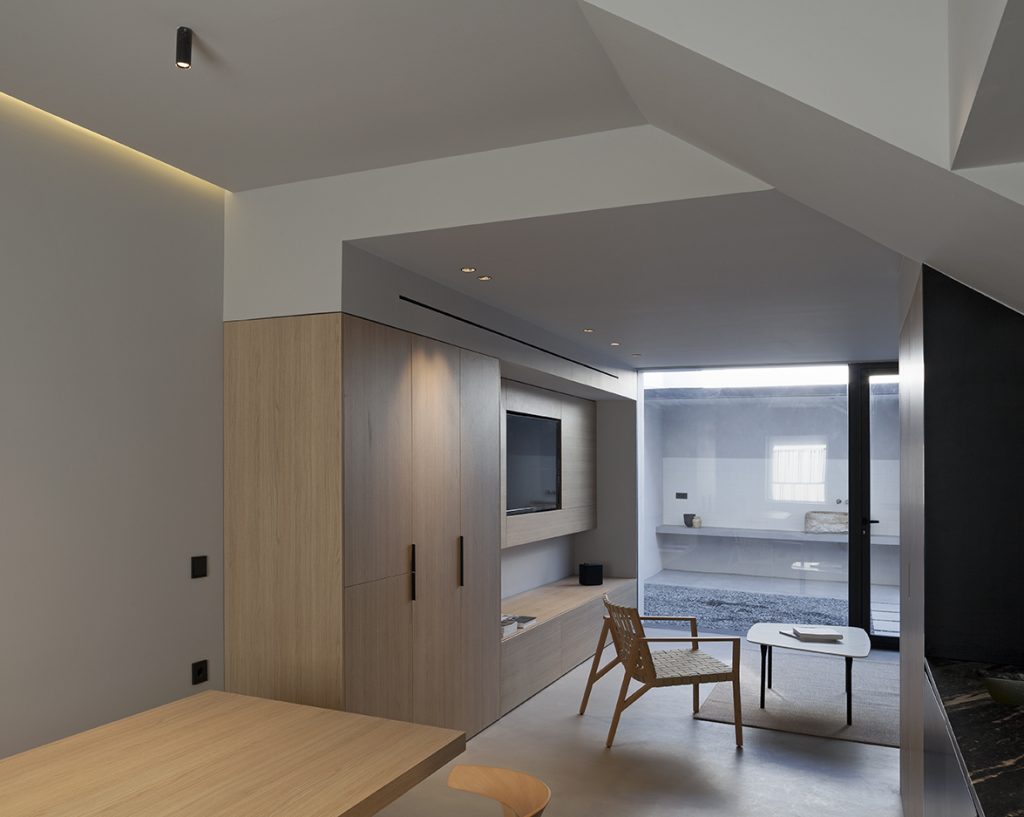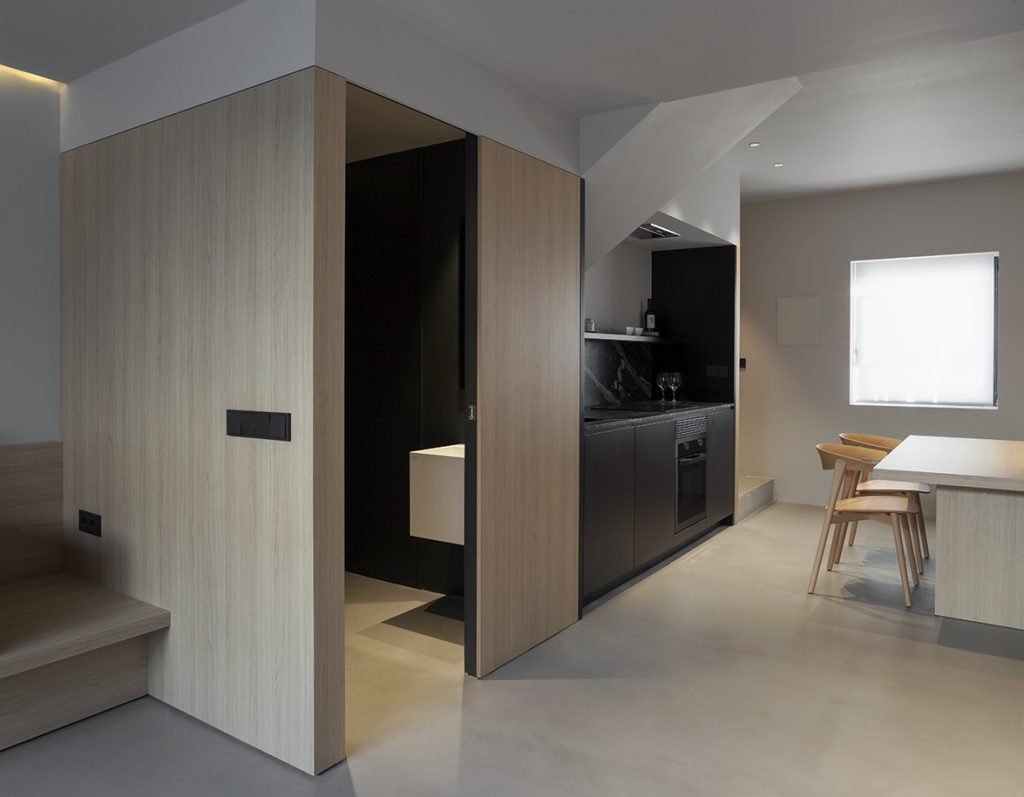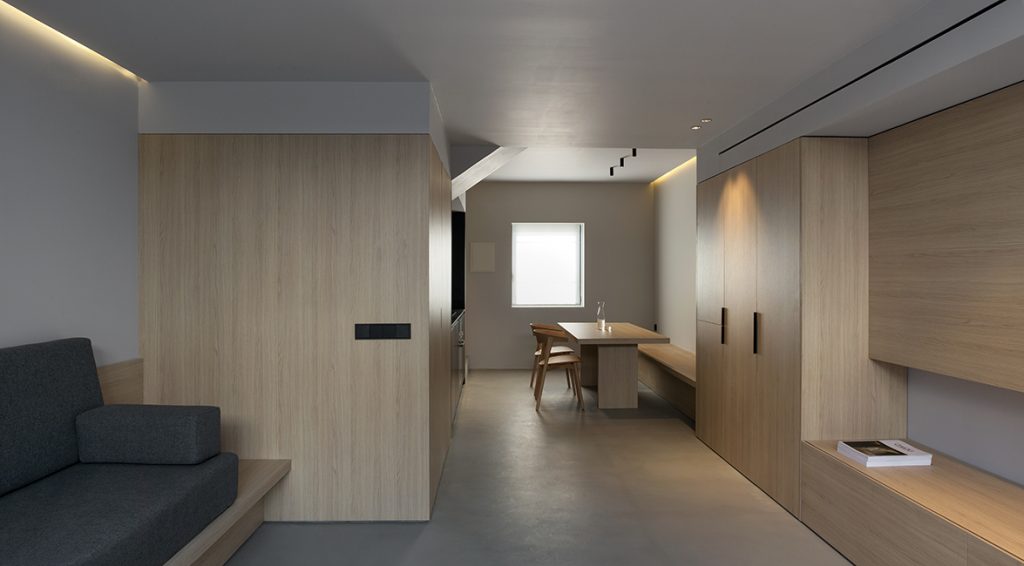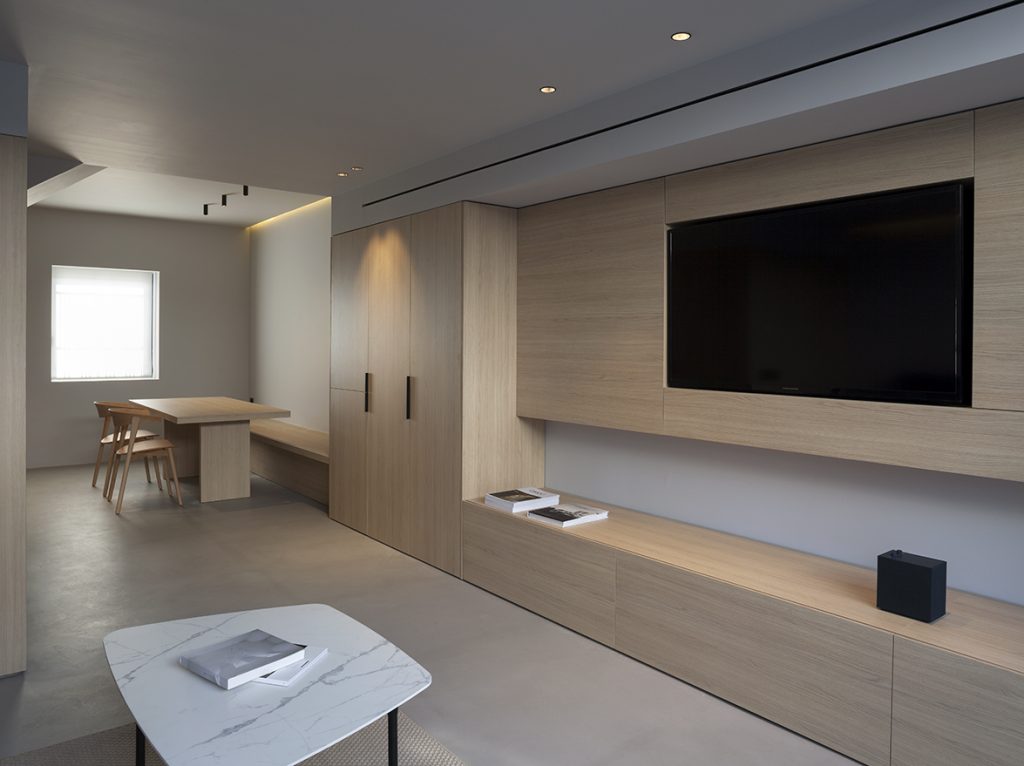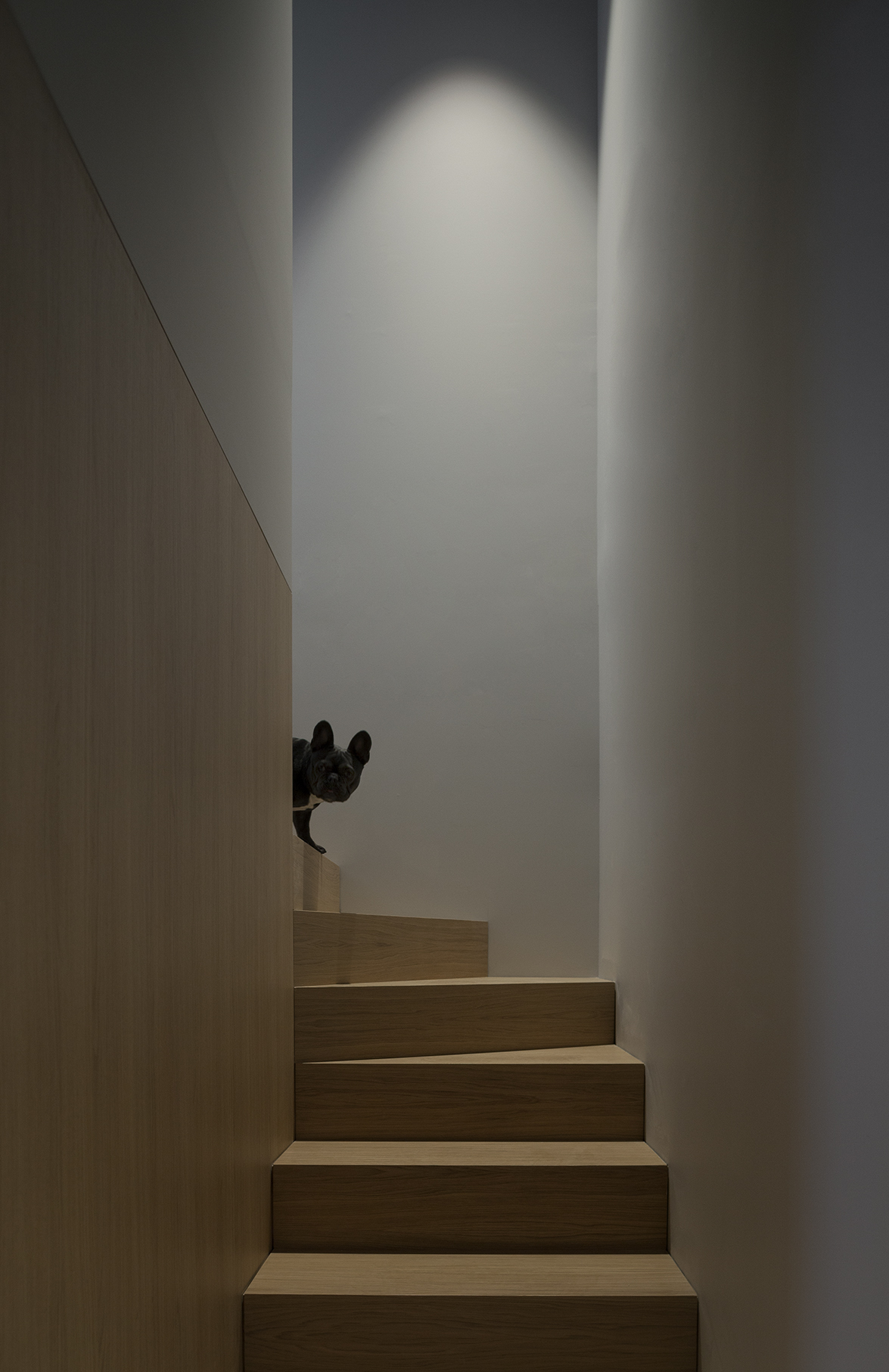 The whole floor opens onto an interior patio through a large window, which at the same time provides light to the entire space and serves as a backdrop to the house.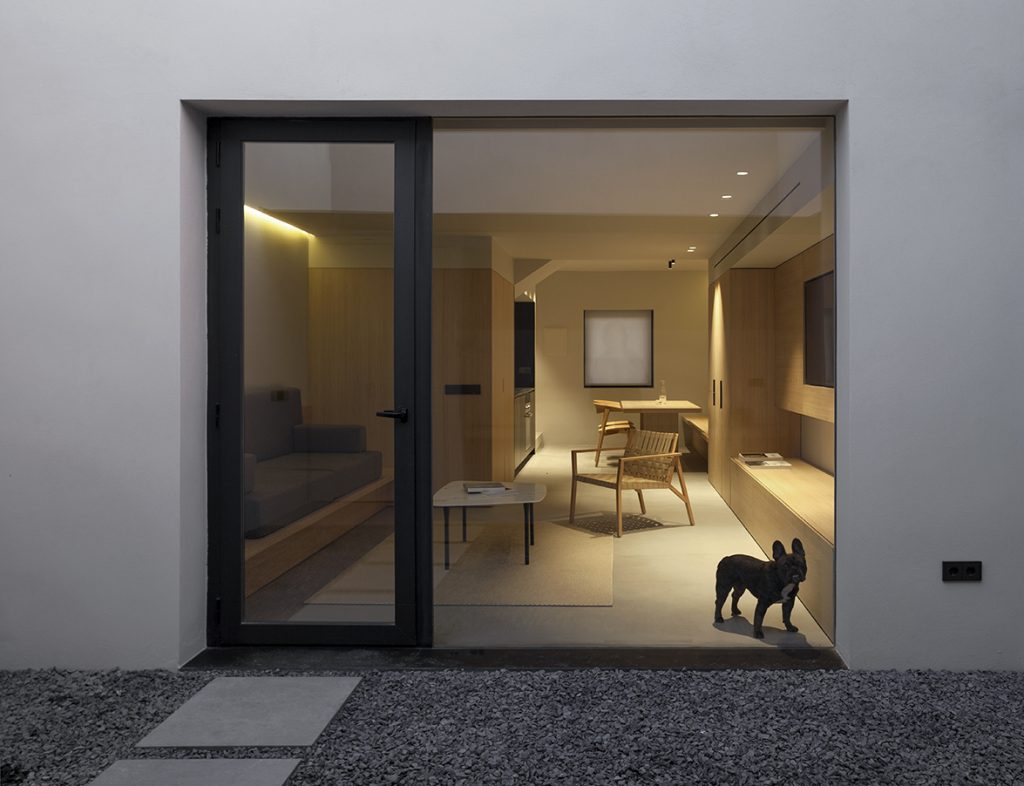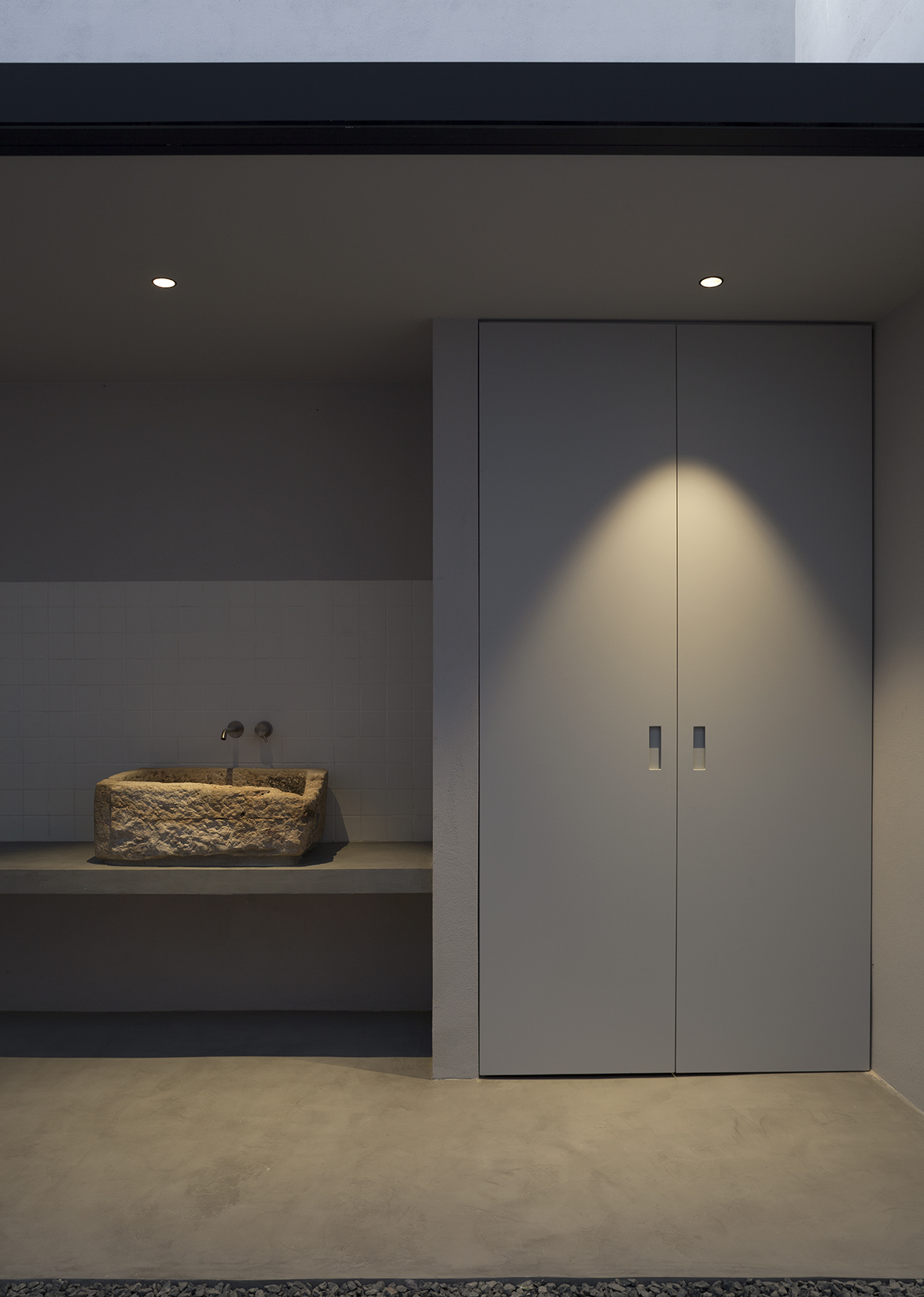 Night area is entirely located on the first floor along with a small hallway that organizes the different rooms. Master bedroom, with views over the main street, integrates a separate dressing area. The second bedroom and the main bathroom open through the private patio.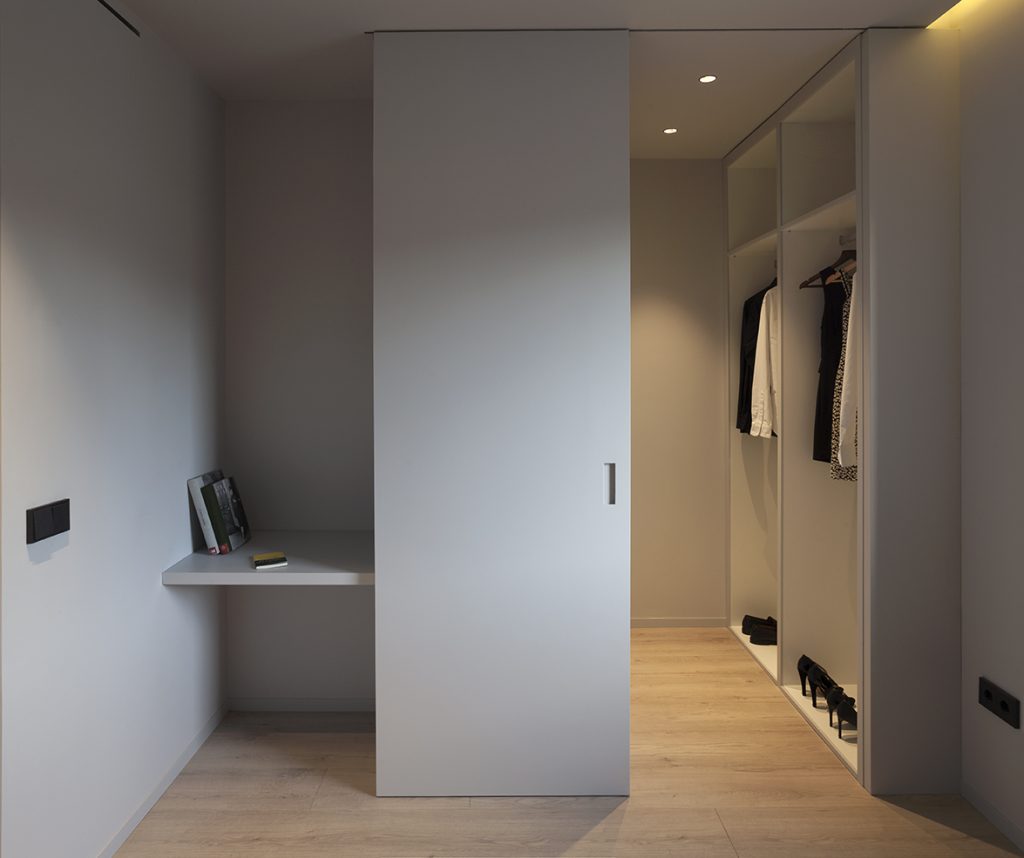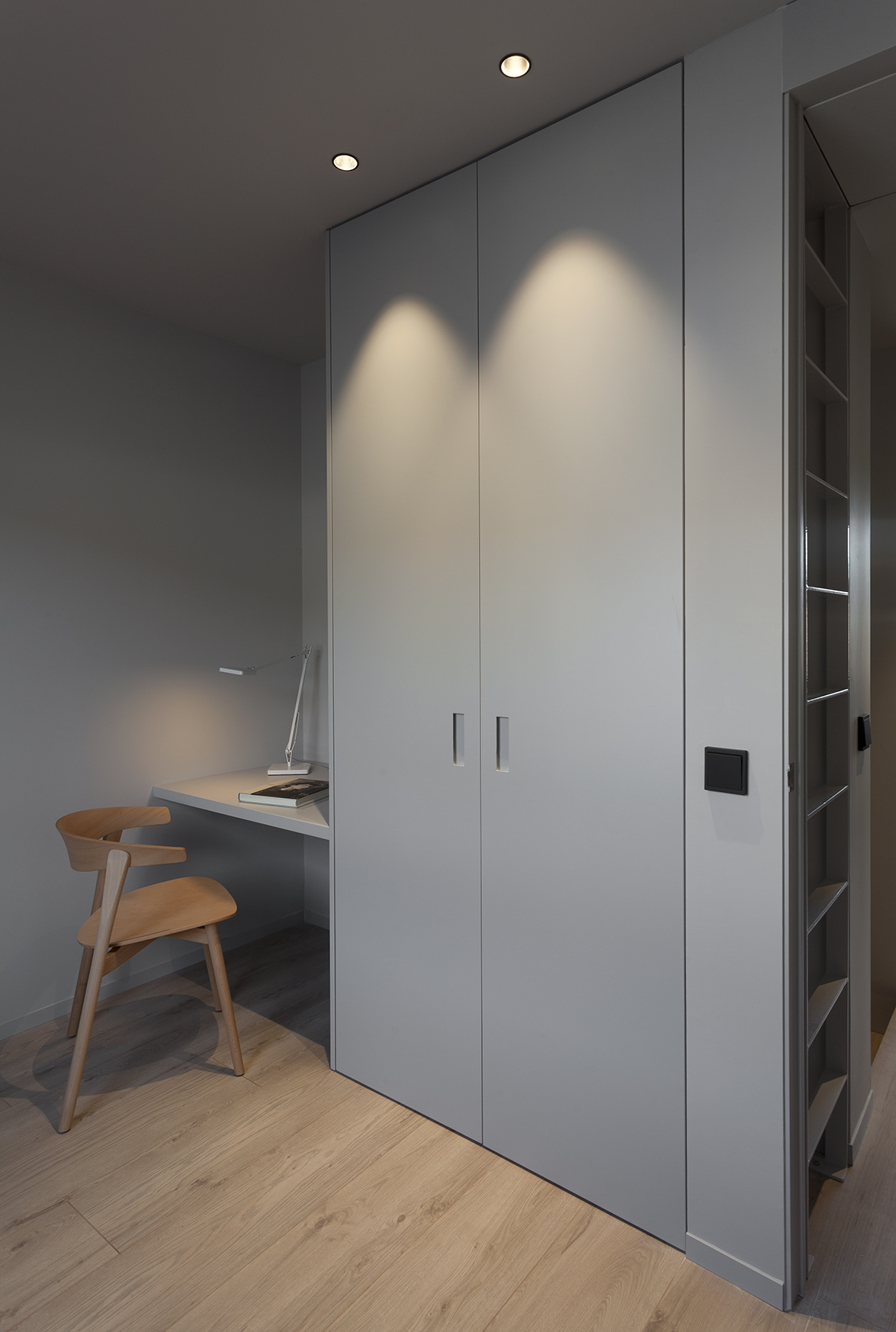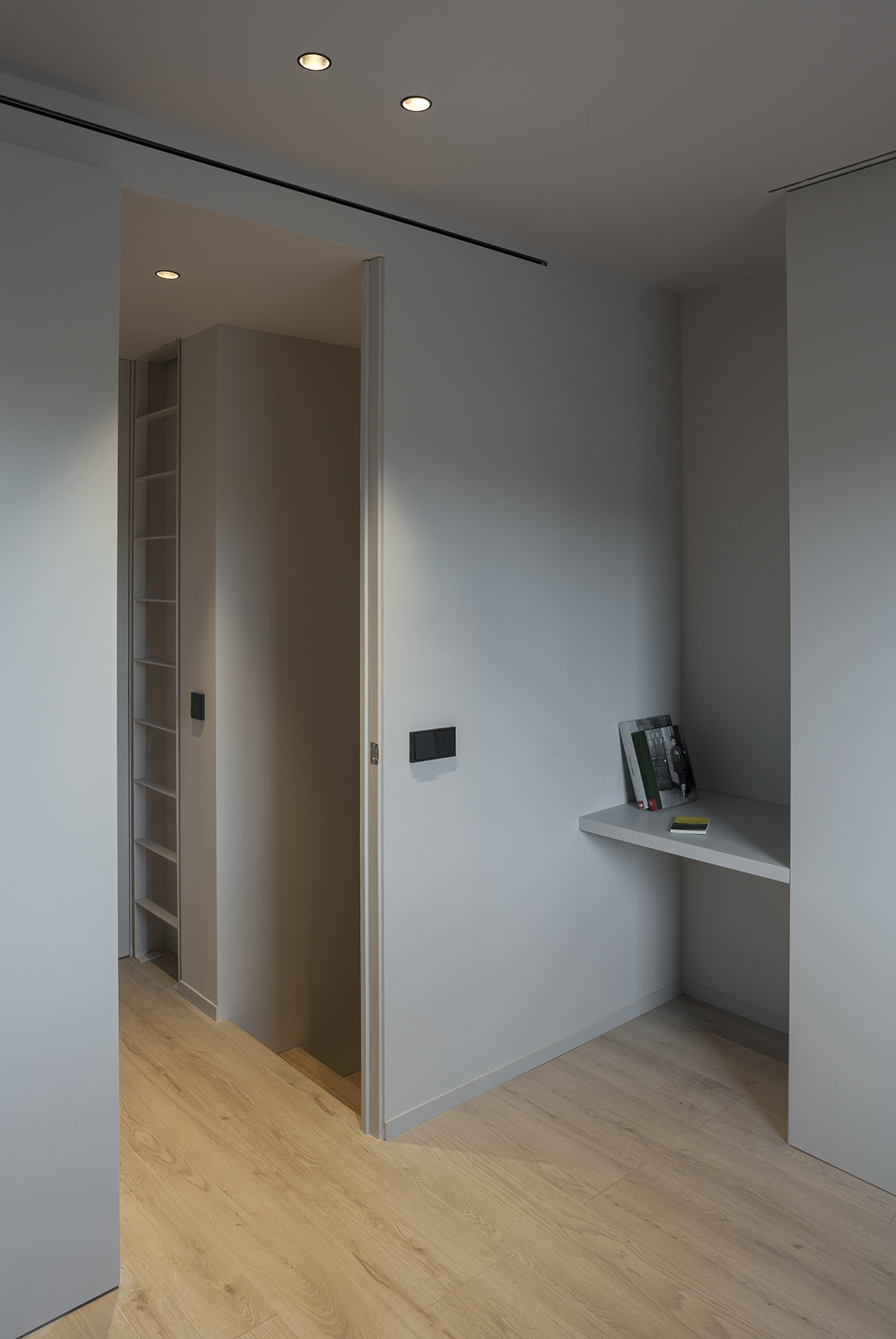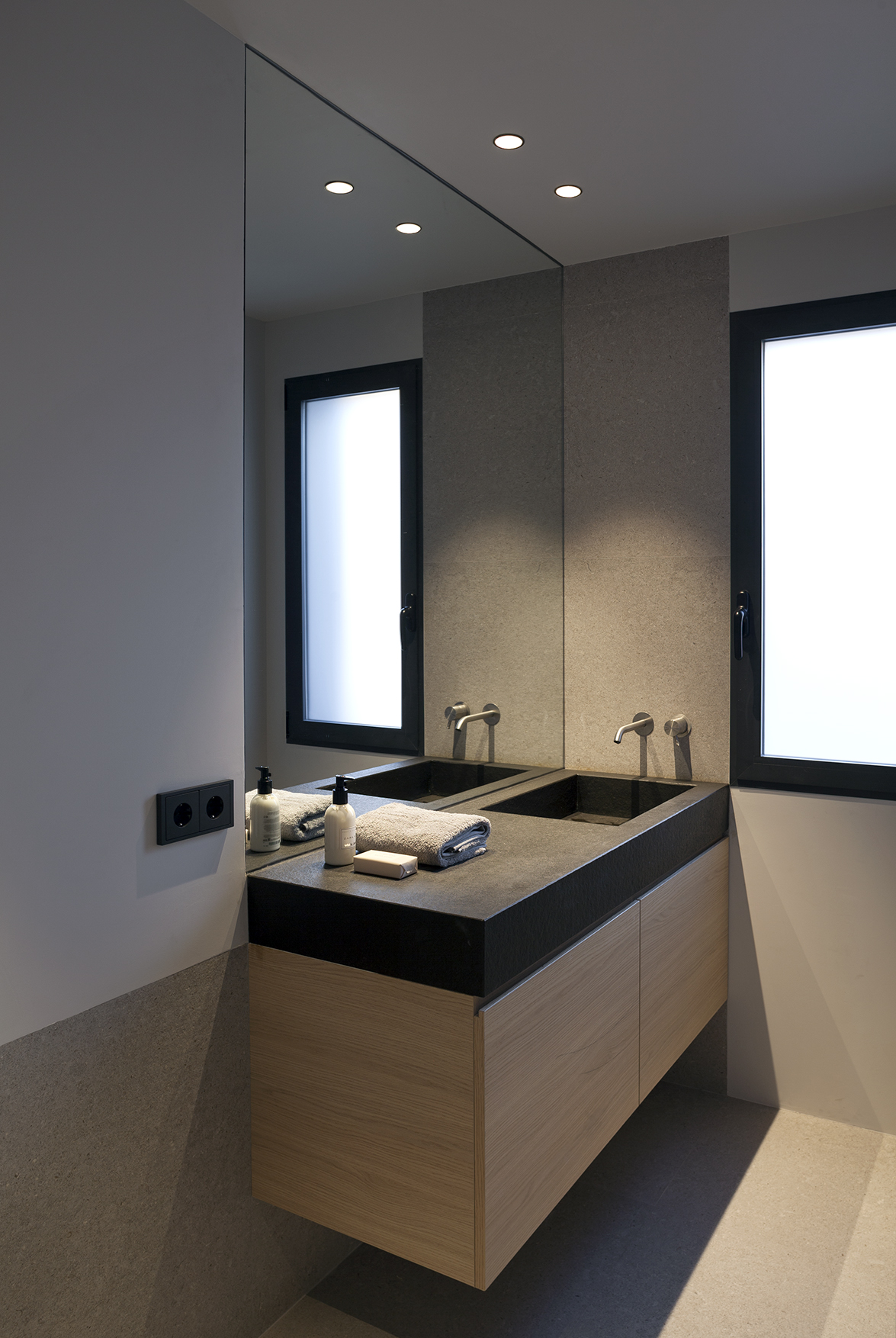 The attic, a requested area by the client, allows him to have an intimate space for disconnection. The access is through a staircase made with lacquered steel plates integrated into the wall. This solution helps to have a free space, otherwise it couldn't be possible to connect both floors.
The Project keeps a neutral and timeless appearance. Continuous concrete pavement, together with the warmth of the wood, are the main line of the project, providing serenity and sobriety to the space.

Ground floor

First Floor
AA Section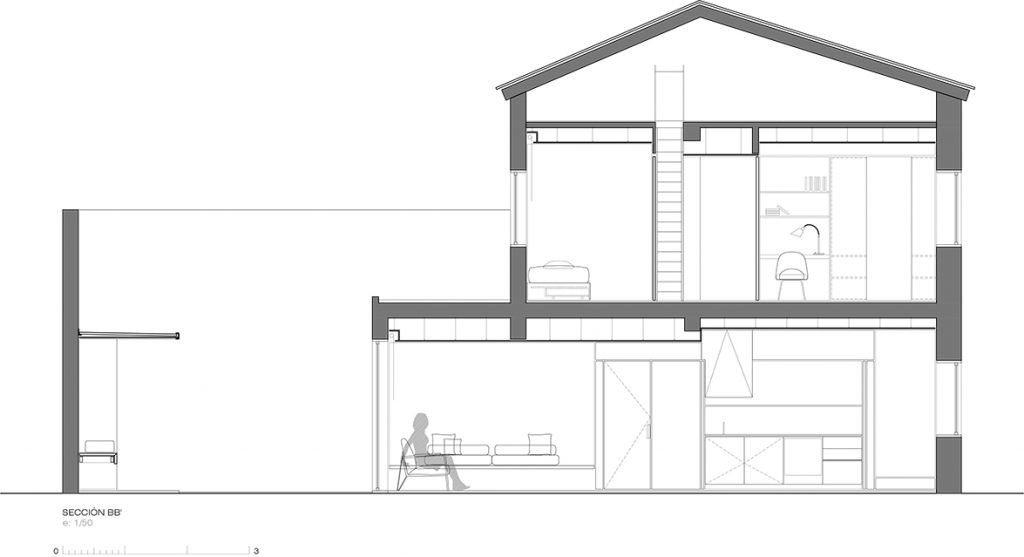 BB Section
TECHNICAL INFO:
Built area: 104 m2vivienda + 21 m2terraza (Patio interior)
Budget: 80.000 €
Photographer: Diego Opazo
Building company: STR, Soluciones Técnicas Obras y Rehabilitación SL
Furniture: Capdell
Lighting: Arkoslight. Modelo Swap S, Modelo Top
Bathroom fittings: Ritmonio, Porcelanosa (Krion Bath), Roca
Coatings: Levantina, Tarimas del Mundo, Cifre
Source: Olmos Estudio
Visit the Olmos Estudio website