With designers ever conscious of how their projects will appear on Instagram, a host of jaw-dropping interiors that push the design boundaries define the twelfth edition of INSIDE, the World Festival of Interiors. Whether it's a novelty cat café in Guangzhou, or a global heritage brand such as Fortnum & Mason inside London's Royal Exchange, across the board we're seeing design with a capital D

INSIDE, is the sister festival of the World Architecture Festival and celebrates the world's finest examples of interior design.
In this year's 'Bars & Restaurants' category are the interior concepts for new restaurants by some of the world's most innovative chefs. Bjarke Ingels Group are behind the design of the second incarnation of renowned Copenhagen restaurant, Noma. The unconventional layout, including greenhouses and outhouses, is imagined as an intimate culinary garden village, designed to give diners glimpses into the natural ingredients and fermentation processes behind the restaurant's New Nordic cuisine.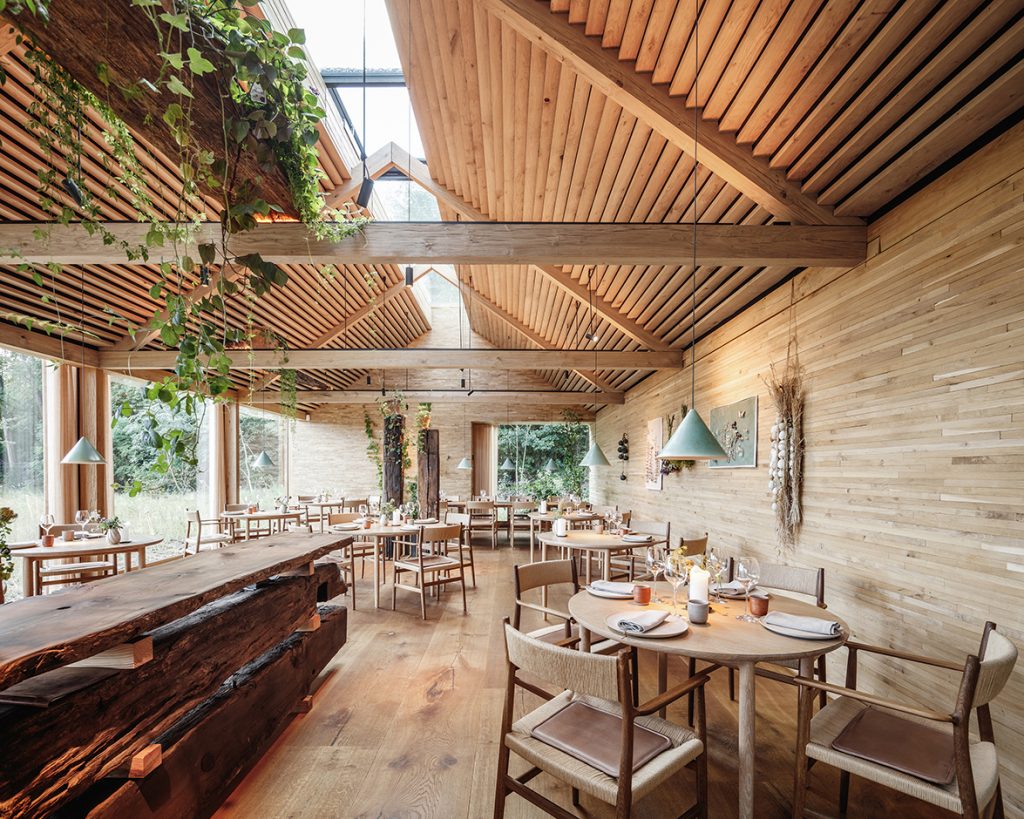 noma by BIG-Bjarke Ingels Group. Photo credit: Rasmus Hjortshøj
Over in Manhattan's Meatpacking District, Buro Ole Scheeren's fast food concept for Dean & DeLuca's chef-led eatery, 'Stage', uses a sculpted high-tech white Corian and steel centre-piece, to celebrate the artistry of food, and to create a stage for those who make and those who consume it.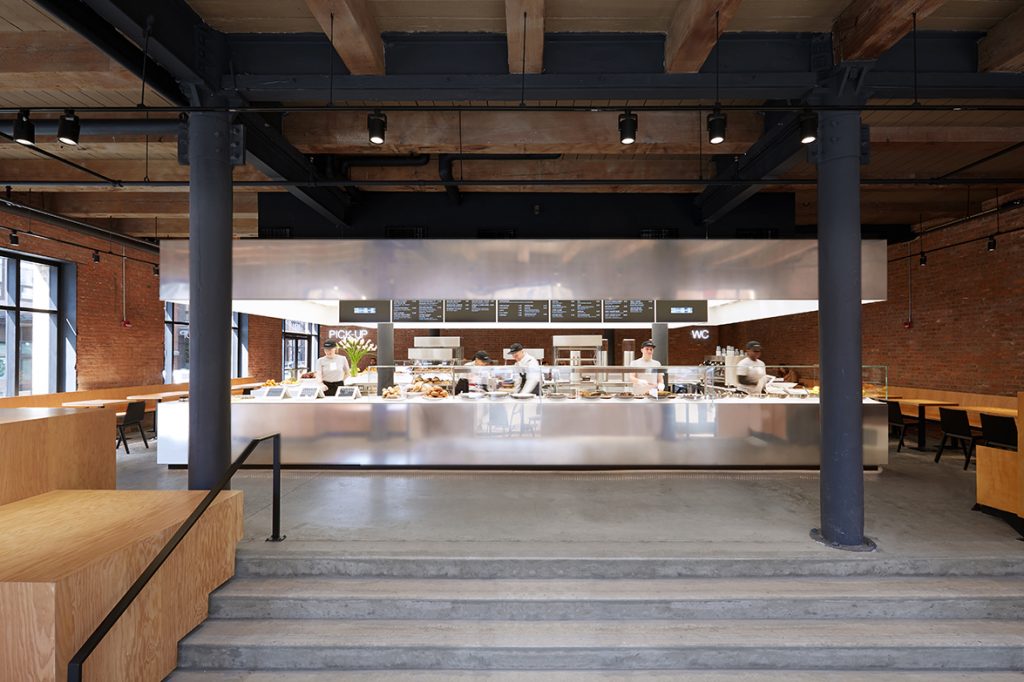 Dean & Deluca STAGE by Ole Scheeren by Buro Ole Scheeren. Photo credit: Julian Faulhaber
And in the City of London, Universal Design Studio are behind Fortnum & Mason's new 360-degree bar, shop and restaurant in the Grade I Listed Royal Exchange courtyard, complete with a bespoke curved metal canopy.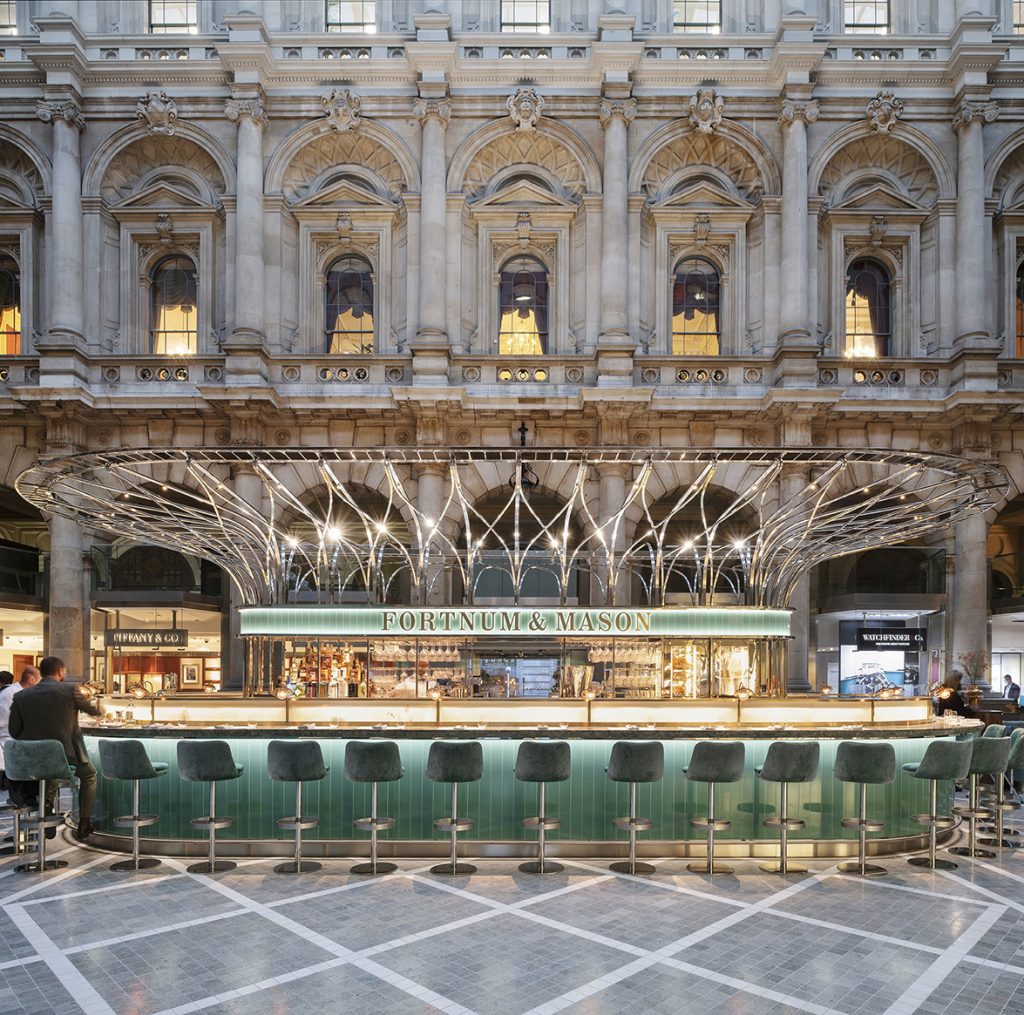 The Fortnum's Bar and Restaurant at The Royal Exchange by Universal Design Studio. Photo credit: Andrew Meredith
These big hitters go up against novel projects, such as the cat-themed café, Meow Restaurant in Guangzhou, China, that embraces cats' love of heights in its interior design.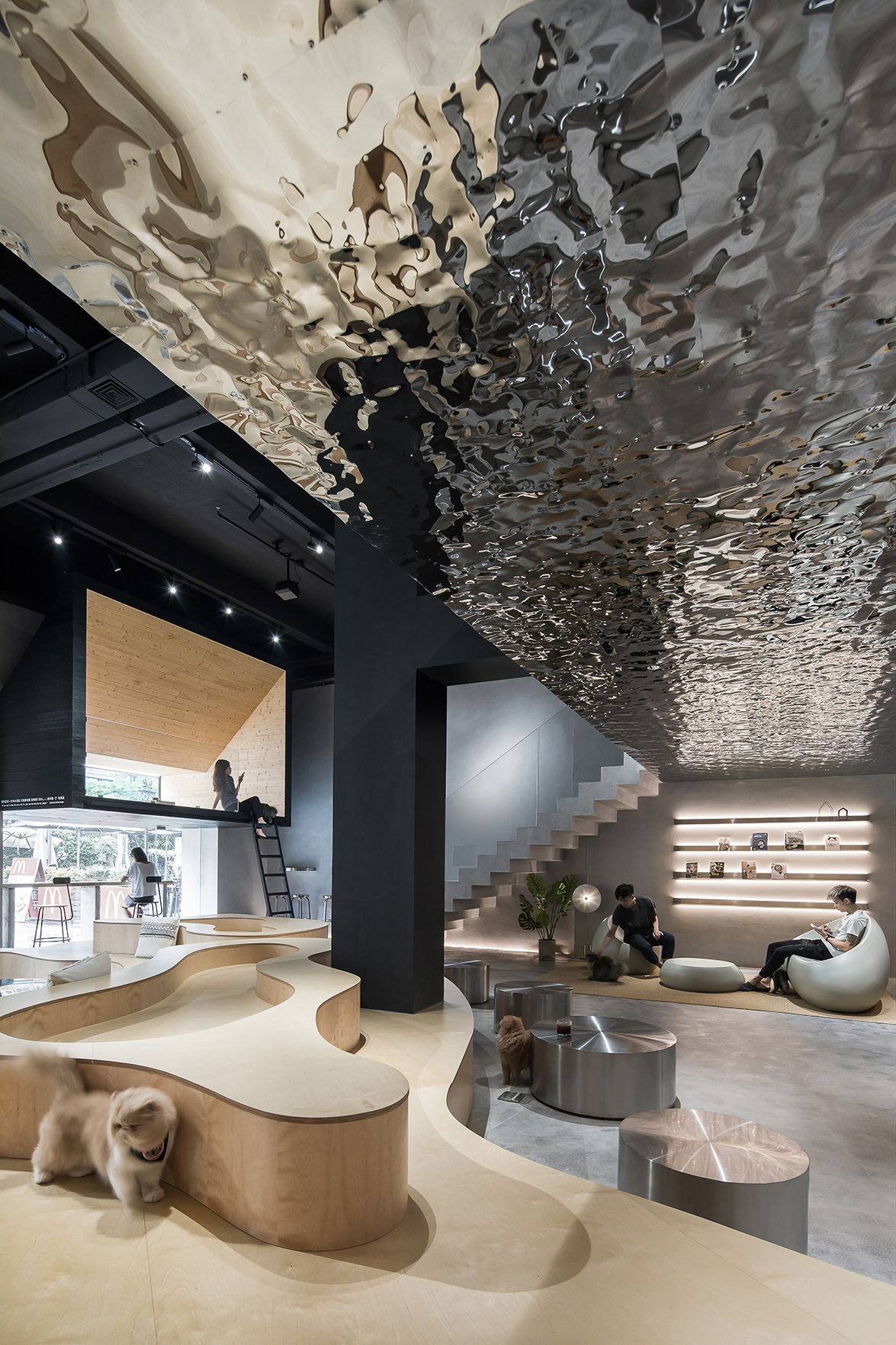 Meow Restaurant by E Studio. Photo credit: E Studio
And Karavanstop Café, a lifestyle café by One Bite Design Studio at Hong Kong International Airport, that puts social media at the heart of its design, with an iconic green ceiling, abstracting the city's topography, and an 'instagrammable' logo wall, both designed to capture the spirit of the area's outdoor leisure activities.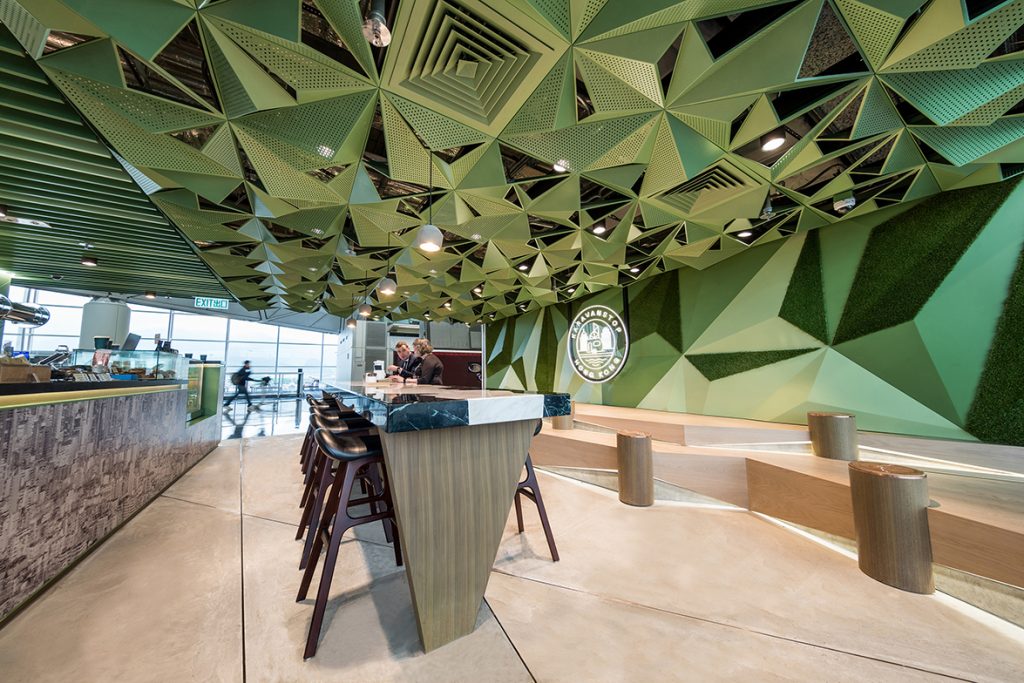 Karavanstop Cafe by One Bite Design Studio. Photo credit: Tai Ngai Lung
Meow Restaurant is joined by another pet-themed project in China, this time a private home interior in Shanghai, designed to accommodate a family's high pet ratio, giving freedom for both pet and owner to enjoy the living space freely.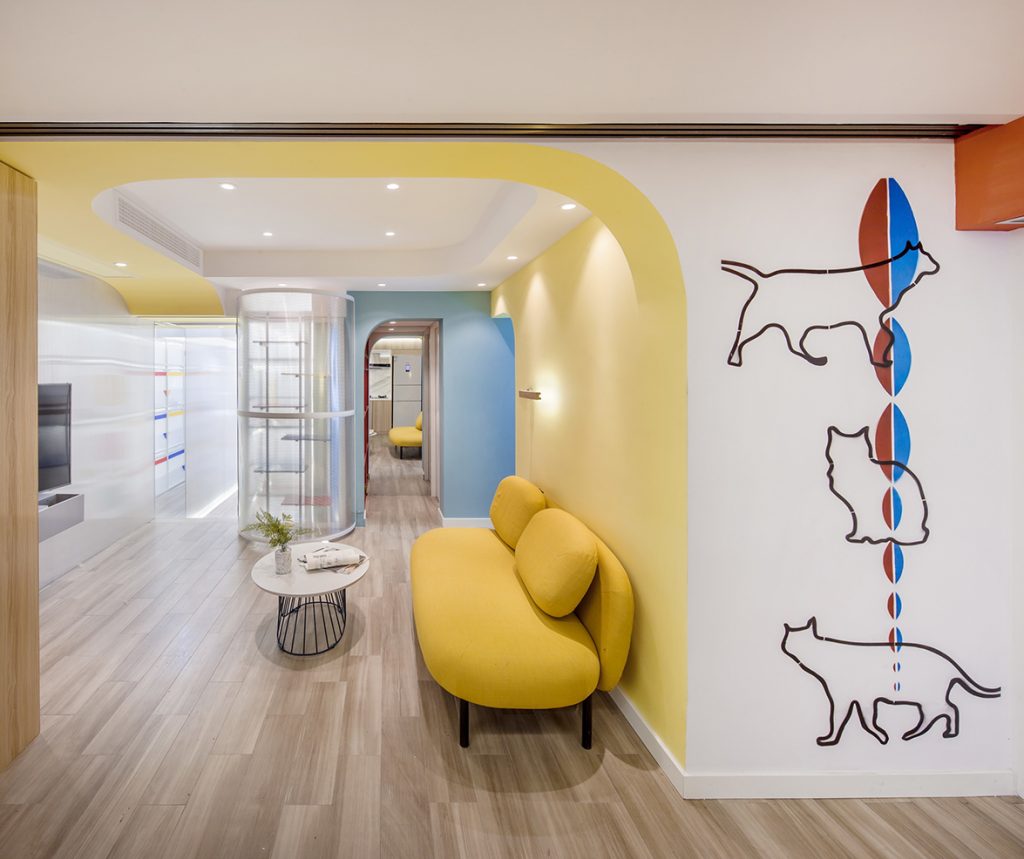 Pet House by Zhang Hai'ao. Photo credit: Zhang Hai'ao
In the Civic, Culture & Transport category, entries range from a cloud shaped, glass wedding chapel in Japan, to a library with an 'Alice's Adventures in Wonderland'-themed section in Singapore.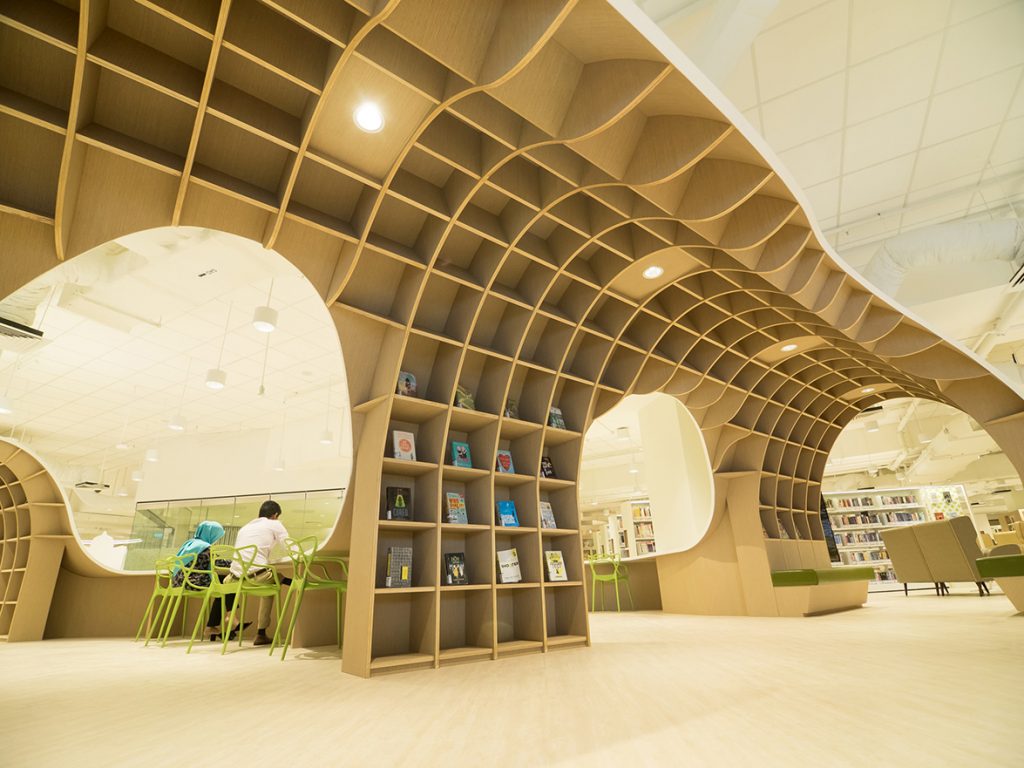 Bedok Public Library by ONG&ONG. Photo credit: ONG&ONG and National Library Board
And highlights from the Health & Education category include a multi-sensory room in Thailand for pre-school children with visual impairments.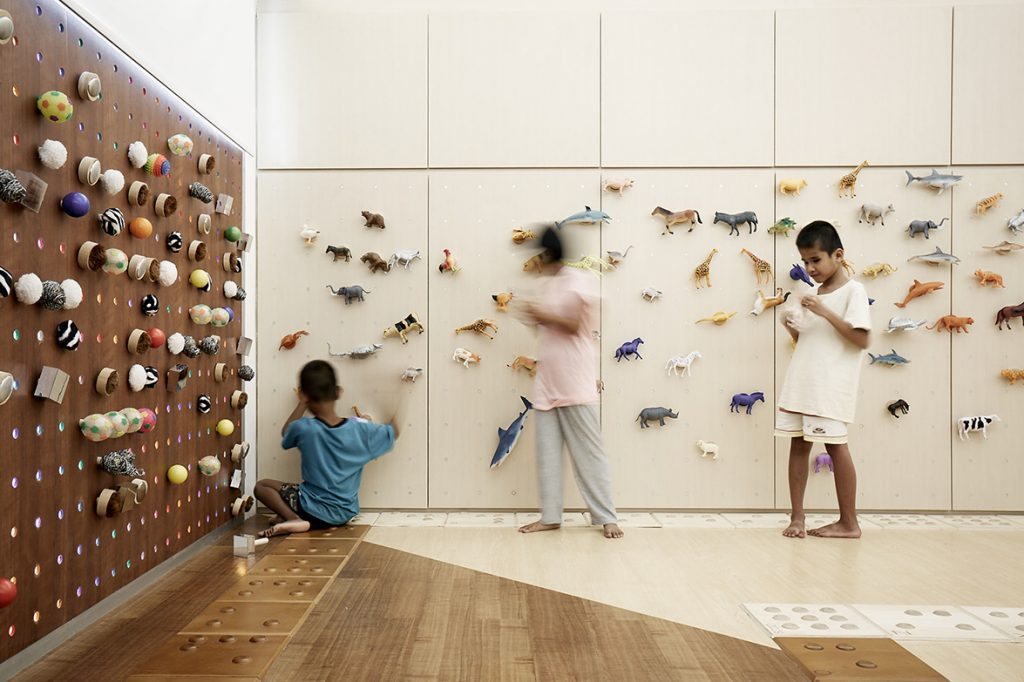 Classroom Makeover for the Blind by Creative Crews. Photo credit: Creative Crews
Embracing a more organic approach to interior design is the National Museum of Qatar Gift shop by Koichi Takada Architects, which features curved timber ceilings and walls, inspired by the natural Qatari desert-scape, and engineered from 40,000 3D-modelled parts.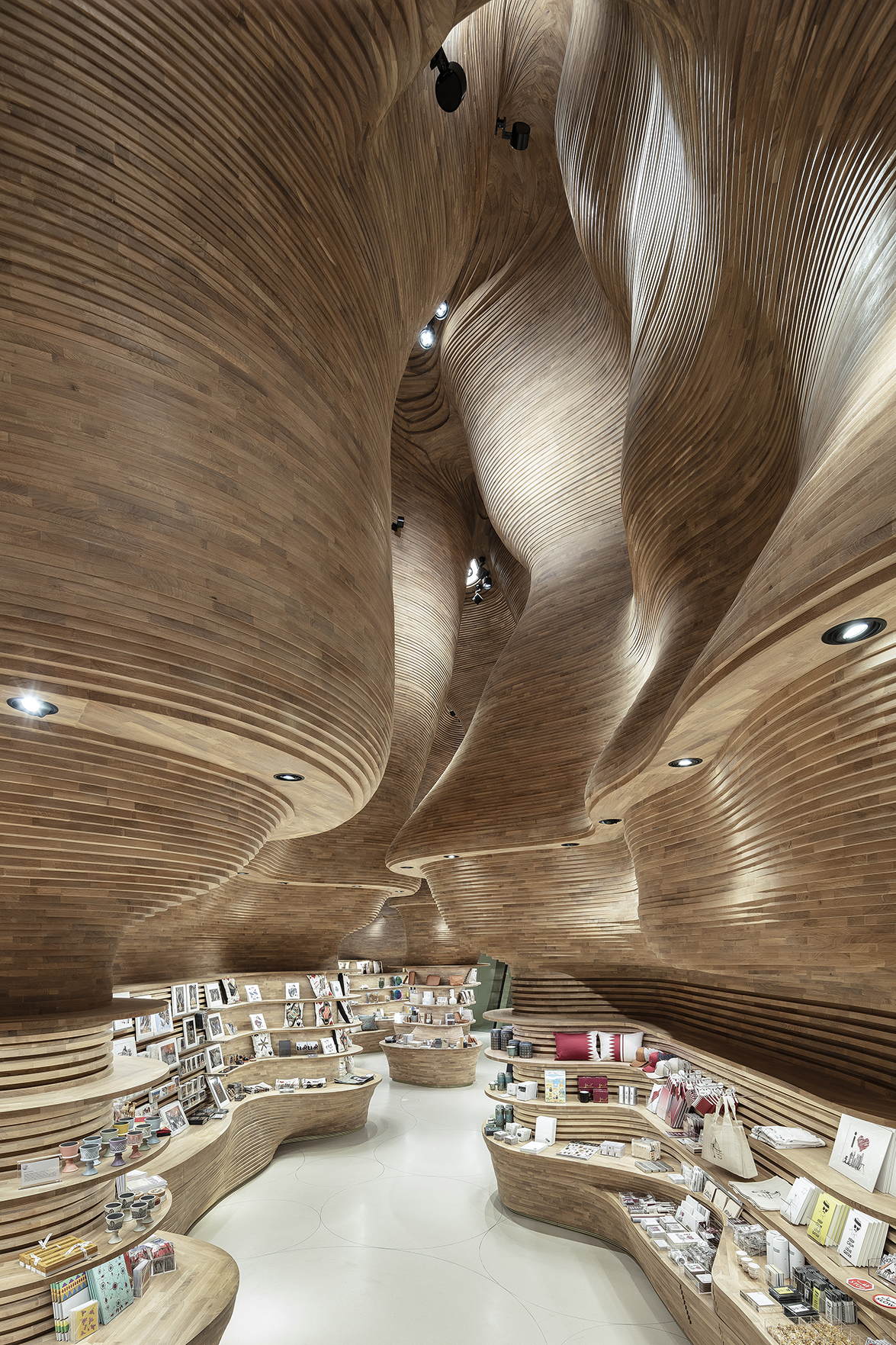 Gift Shops of National Museum of Qatar by Koichi Takada Architects. Photo credit: Tom Ferguson, Oscar Rialubin and Koichi Takada Architects
St Andrews Beach Villa by Woods Bagot takes the organic approach to interior design to an even greater level, using a mixture of newer elements and old, worn materials from the villa's previous iterations, to create a deliberate juxtaposition of eroded and resilient surfaces, and mundane and exquisite materials.
St Andrews Beach Villa by Woods Bagot. Photo credit: Trevor Mein
Major world architects and designers shortlisted include BIG-Bjarke Ingels Group, Woods Bagot, Universal Design Studio, Buro Ole Scheeren; alongside others such as E Studio, KTX archiLAB, ONG&ONG, Snuper Design, Koichi Takada Architects and more.
INSIDE will reconvene in Amsterdam, The Netherlands, from 4-6 December this year. This is the second time the event has been hosted in the Dutch capital, following previous editions in Barcelona, Singapore and Berlin.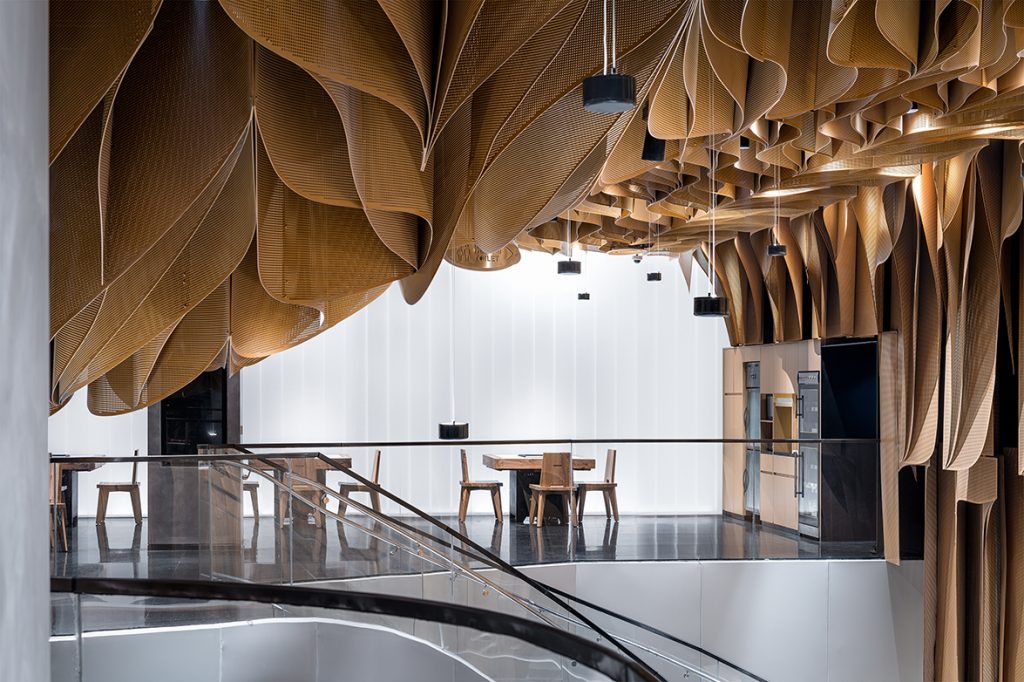 Banu Flagship Restaurant by Studio Link-Arc + Kane A|UD. Photo credit: Quingshan Wu
All nominees will present their projects to distinguished international juries that include Johan Carlsson of Jac Studios, Annabel Kassar of AKK, James Grose of BVN and Weng Shanwei of AN Design during the Festival to compete for one of the nine INSIDE category awards. Open to all festival attendees, the presentations are followed by a live exchange between the designers and jurors. The overall winner of the 'World Interior of the Year' will be announced at an exclusive gala dinner on Friday 6th December at Beurs van Berlage.
WAF programme director Paul Finch commented: 'INSIDE has been a growing part of the overall World Architecture Festival programme since 2012 and continues to grow in terms of quantity and quality. We are delighted with the intriguing designs and geographical spread of this year's entries and look forward to the live judging in Amsterdam.'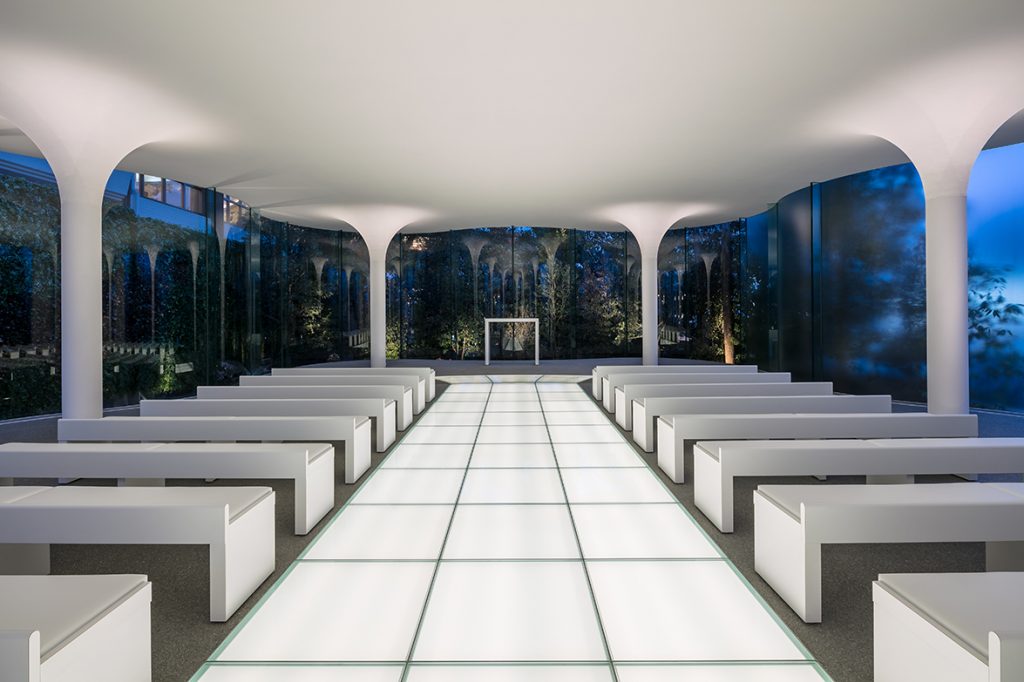 Cloud of Luster by KTX archiLAB. Photo credit: Cloud of Luster by KTX archiLAB
INSIDE World Festival of Interiors and its co-located event, WAF, will welcome more than 2,000 of the world's leading architects and designers to Amsterdam for three days of conference programmes, awards, exhibitions and fringe events from 4-6 December.
The full shortlist for this year's INSDIE awards can be viewed here
Source: INSIDE and v2com
Top Picture: B/Hive, Smales Farm by BVN in association with Jasmax. Photo credit: John Gollings