Marchi Group keeps a keen eye on the latest trends and this has allowed us to develop new ideas in kitchen design aimed at satisfying the needs of an ever-increasing number of people. And this has given rise to "VINTAGE STYLE" , the brand new collection which includes models with a strong character that evokes authenticity and a love for tradition. These new collections has been seen at latest edition of Eurocucina trade fair in Milan.
NOLITA model
In NOLITA , the quality of the design and construction can be seen in the care of every single hand-crafted detail. This project is in fact characterized by prestigious details such as a lacquered chestnut wood structure (also available in beige, white, or chalk and powder), "britanio" alloy handles made to customer spec and marble surfaces available in different finishes.
The Nolita composition perfectly combines tradition and modernity. There are two star objects in this composition: the special grey anthracite colour icebox and the ventilation hood positioned above the cooking unit (its door is fitted with a magnetic blackboard on which to jot down useful reminders).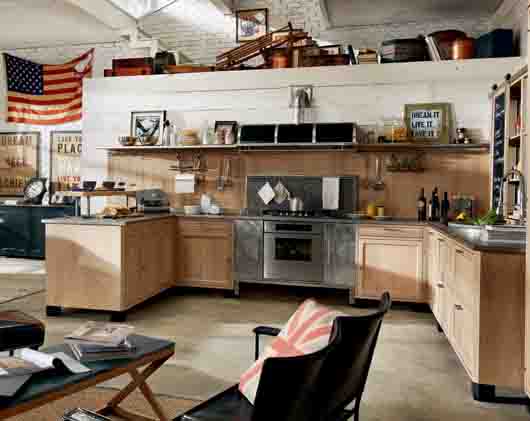 PANAMERA model
The PANAMERA kitchen has been designed for those who favour a life-style, which is cosmopolitan, elegant, yet at the same time, informal.
The composition is produced with the sides and structure in bleached national walnut with a Zero Gloss finish. It is characterised by key items that make it stand out: a 120cm long cooking unit fitted with studded brushed steel doors , a ventilation hood with steel belts, an old washand-basin style grey sandstone (pietra Serena) sink unit fitted with steel belt and handles for removal. Lastly, the fridge column features brushed steel double doors with diamond abrasive finished lower ones.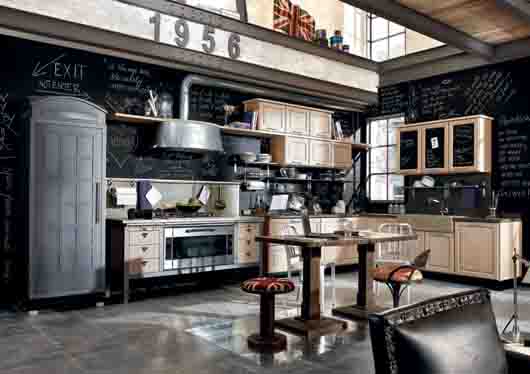 1956 model
1956 is a kitchen with a metropolitan character that draws from other cultures. The design features an original British touch which is provided by the fridge being housed inside a London-style telephone box This feature is destined to key feature of one's house.
The natural tones of the solid wood gives the composition an elegant style, made special by significant details such as: a treated Cement top with steel edging, the terrazzo sink, a patchwork- effect riveted-aluminium ventilation hood and the doors with magnetic blackboards which are a handy accessory for decorating with fun notes.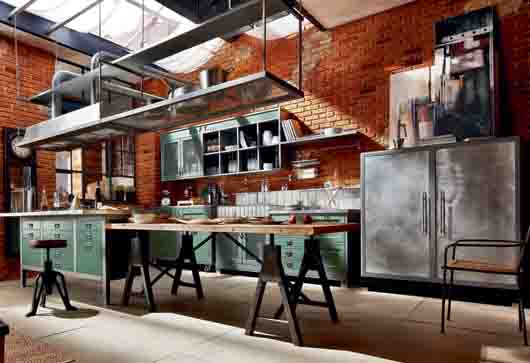 LOFT model
LOFT is inspired by new urban spaces that are direct, essential and textural.
The decisive touch that distinguishes this kitchen, made in American Walnut, makes it ideal for those who love objects with a strong personality. Practical and functional, LOFT comes in blocks, so that it can be fitted easily into any environment.
The available paint finish colours (forest green, jeans blue, corn yellow and beige) and the rounded forms featured in the range recall the Fifties revisited and interpreted from a modern point of view.
Special attention should be given to some key features such as a cabinet/cupboard on wheels with a steel surface and back so that it can be used to divide the centre of the room; a steel ventilation hood and double-door fridge/freezer with an original patchwork effect.
In all MARCHI CUCINE kitchen layouts, all spaces are fully-optimized through the use of made to measure bespoke equipped areas.
Visit the Marchi Group website