The 20th LIGNA Hannover came to a close on Friday, May 10, achieving impressive results across the board. Over 40% of the show's visitors came from abroad, topping the figure from the last LIGNA in 2011. And LIGNA once again lived up to its reputation as a showcase for innovations and global meeting place for industry decision-makers.
"This event has resoundingly reaffirmed its status as the world's foremost trade fair for the forestry and wood industries and extended its lead on the competition," stated Dr. Jochen Köckler, member of the Managing Board at Deutsche Messe AG.
"All the pieces were in place: outstanding exhibitors, high-caliber trade visitors, an abundance of innovations and outstanding international turnout on the part of exhibitors and visitors alike. More than 90,000 professionals from 100 nations attended this year's LIGNA. Any company aiming to boost its international business was sure to be here in Hannover," commented Köckler. A particular highlight was the 52 percent upsurge in attendance from North America, to more than 3,000, establishing "a new record for LIGNA". Russian attendance was also found to be notably on the rise. Visitors were particularly impressed with the scope of solutions on offer: "With everything from high-powered forestry machines to iPad-controlled furniture fabrication systems, the 1,637 exhibitors from 46 countries filled the 124,000 square meters of display space with a stunning array of high-tech innovations," remarked Köckler.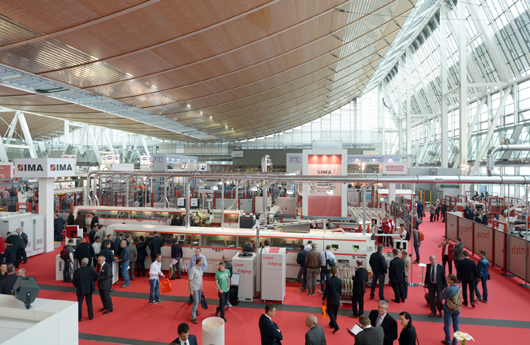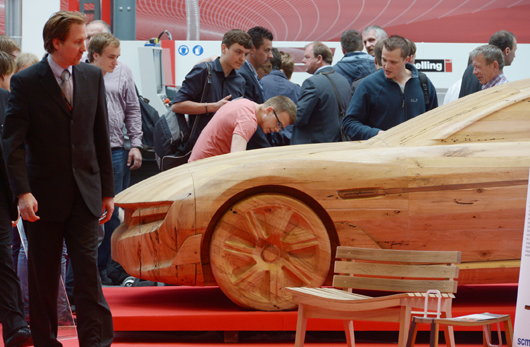 "We are highly satisfied with the run of the show," said Dr. Bernhard Dirr, Director of the German Woodworking Manufacturers' Association within VDMA, based in Frankfurt/Main. "LIGNA 2013 has demonstratively underscored its standing as the global marketplace for machinery and fresh ideas. In 99 percent of all cases, our members have found that the appreciable time, effort and money they invested in LIGNA have produced a major return on investment", he added. The revamped site layout, featuring a more compact treatment of topics throughout halls 11 to 17, proved to be the right move, and could well be retained for future events, he indicated. Both exhibitors and visitors welcomed the shorter walking distances.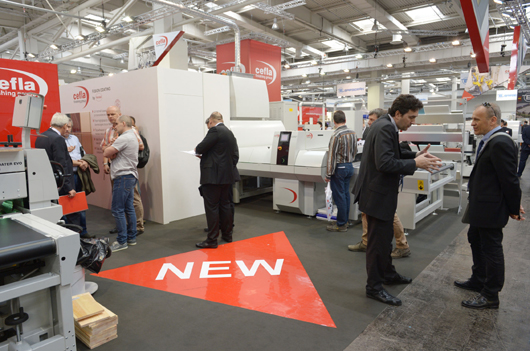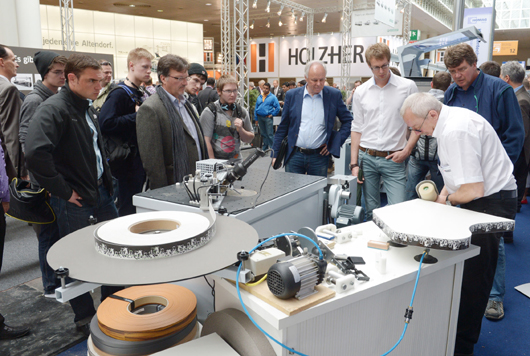 Wolfgang Pöschl, CEO of Michael Weinig AG and Chairman of the German Woodworking Machinery Manufacturers' Association, sized up LIGNA 2013 as follows: "We were especially impressed with the caliber of the international visitors. We experienced a major turnout by professionals from Eastern Europe, particularly Russia, and huge attendance from the U.S. and other key export markets. We are seeing strong demand for advanced machines with new functions, and are pleased to note that a great deal of momentum is coming from the wood construction sector, as a result its efforts to take sustainability to new heights."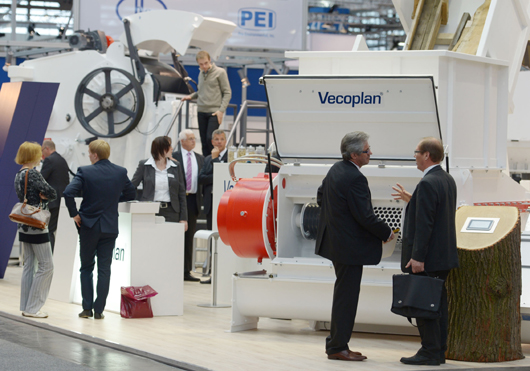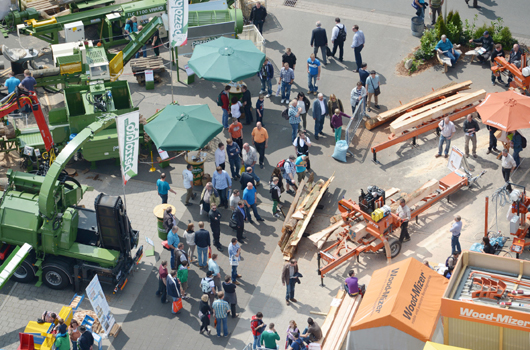 Across every display category at LIGNA, decision-makers were found to be making excellent use of the show's potential for growing their international business. Markku Koivisto, Sales Director at Veisto Oy - a global Finnish manufacturer exhibiting its sawmilling technology - endorsed LIGNA by saying it delivered "the right type of visitor." Lars Schmidt, General Manager and Secretary to the Board of the German Association of the Sawmilling and Timber Industry, agreed: "We see LIGNA as the central industry networking hub in Europe. This is the only forum where suppliers can meet all their potential customers face to face."
And in the words of Hubertus Flötotto from chipboard specialists Sauerland Spanplatten Consulting: "The many talks with top managers I have had at this event will save me months of traveling around the world. In view of the fact that 80 percent of our business is done with foreign clients, LIGNA is absolutely vital for us as a global, high-quality showcase."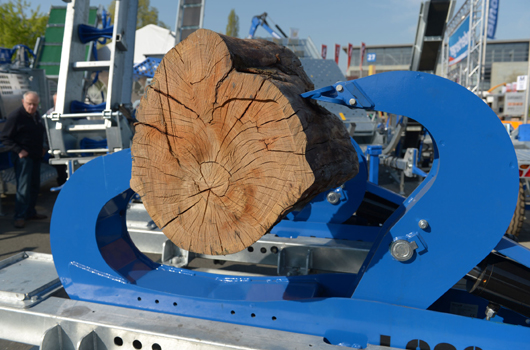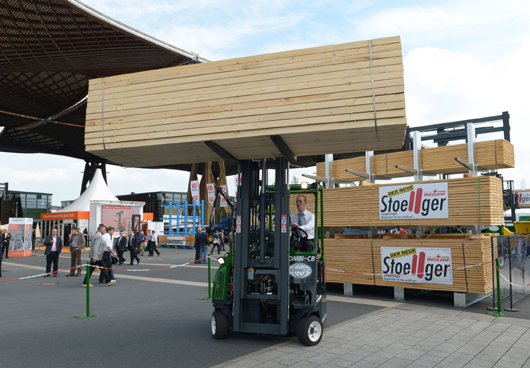 Making more out of wood: Innovations, Solutions, Efficiency
Efficiency was a keynote theme at this year's fair. In the Wood Materials, Veneer Production and Solid Woodworking display categories, leading suppliers revealed how high tech mixed with a little ingenuity can improve a company's competitiveness. "Cut your costs", was the watchword.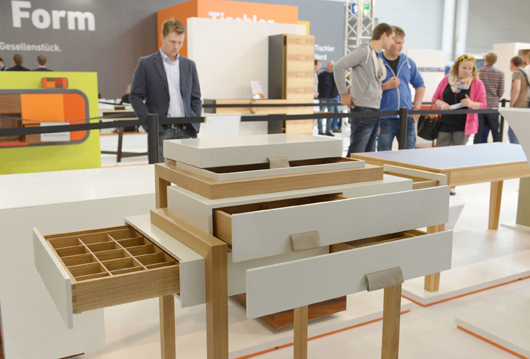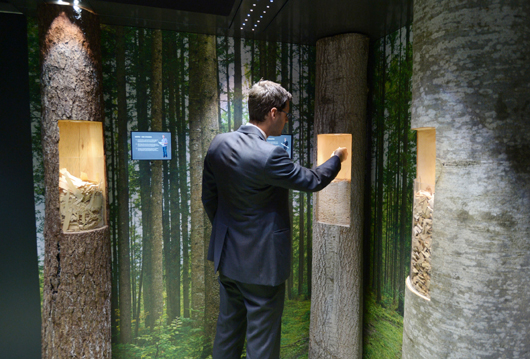 New and lightweight: Surface technology and innovative materials for the furniture industry
Other hot topics included a diverse range of printing processes, seamless veneer systems and adhesive-free plasma processes in the surface technology sector. The special "lightweight.network" showcase at LIGNA focused on efficient lightweight construction. The displays included lightweight construction solutions which weigh up to 30 percent less than conventional chipboard and ideally suited to a wide range of applications in the furniture and interior finishing sector. "LIGNA provides an ideal platform for us to get our innovations out in front of a global audience," said Stefano Porcellini, CEO of Italian furniture manufacturer Biesse S. p. A.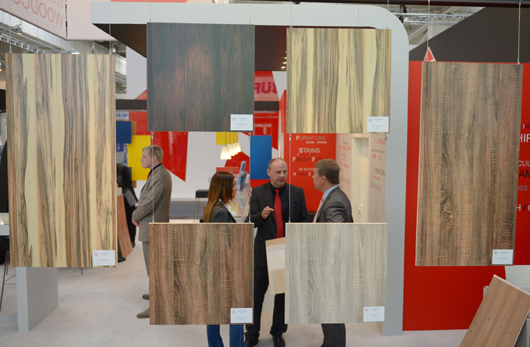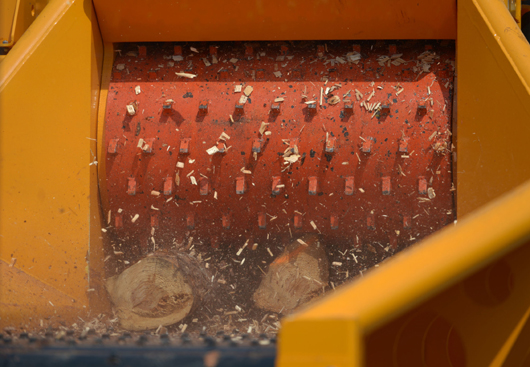 Show within a show: Handwerk, Holz & mehr
The Handwerk, Holz & mehr showcase served as a networking hub for skilled trades professionals, who were primarily interested in machines that could boost productivity and profitability. To quote Hansjörg Felder, proprietor and CEO of the Tyrol-based Felder group: "LIGNA provides an outstanding opportunity to showcase our woodworking machines to an international audience, particularly the skilled trades and wood crafts sector."
This year's Handwerk, Holz & mehr focused more than ever on window production technology. Heinz Blumenstein of the ProHolzfenster wood window association described the show as "a perfect setting for us, made possible by the joint efforts of window manufacturers and component suppliers from Germany, Austria and Switzerland."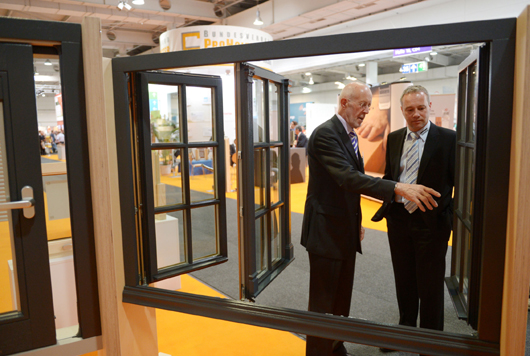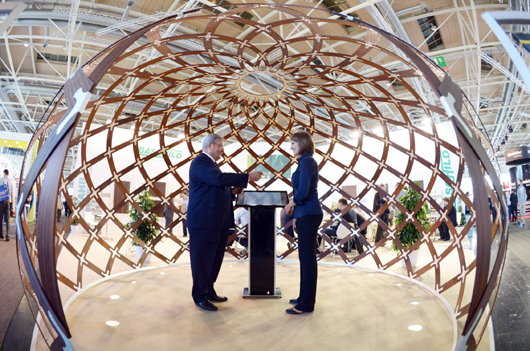 Exciting trends for the future: Wood-based bioenergy systems and sustainable forestry and forest technology
The "Bioenergy from Wood" segment at the event put the spotlight on uniform quality and processing standards for wood fuel materials, heat and electricity generation, enhanced logistics and services and ensuring a secure supply of raw materials.
Meanwhile, under the EXPO canopy and in the pavilion buildings, the focus was on sustainable forestry and forest technology. This included the sixth special presentation by the German Forestry Council (KWF). Topics covered included digitization and high-speed data flows along with a wide range of applications for convertible forestry vehicles and getting the most out of wood through optimum material flow management as well as sorting and processing. The many and varied uses for wood chips were the keynote theme under the EXPO canopy.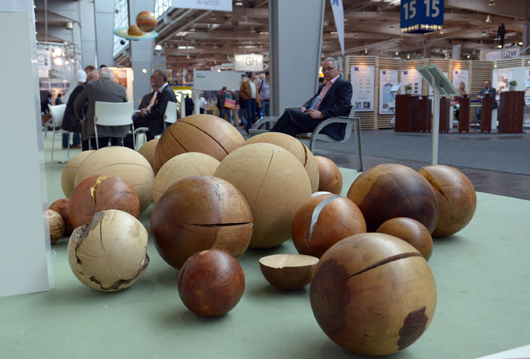 The next LIGNA will be staged from 11 to 15 May 2015, once again in Hannover, Germany
Source: LIGNA
Read more news related LIGNA published at Infurma
Visit the Ligna website
At the first photo: Closing Press Conference LIGNA 2013 on Friday, May 10, in Hannover (l-r) Anja Brokjans, LIGNA Spokeswoman, Deutsche Messe AG, Hannover, Dr. Jochen Köckler, Member of the Board, Deutsche Messe AG, Hannover, Wolfgang Pöschl, Chairman of the VDMA's Wood Processing Machines division, and Chairman of the Management Board of MICHAEL WEINIG AG, Tauberbischofsheim, Dr. Bernhard Dirr, Managing Director of the German Woodworking Machinery Manufacturers' Association within the German Engineering Federation (VDMA), Frankfurt/Main, Heiner Wemhöner, Managing Director, Wemhöner Surface Technologies GmbH & Co. KG, Herford, and Raphaël Prati, SCM GROUP Communications Manager, Rimini