Porcelanosa announced winners for the XII Architecture and Interior Design Awards 2019
The jury of the twelfth edition included Manuel Aires Mateus, Beatriz Silveira, Abel Matutes, Carlos Valverde, Alejandro Zaera-Polo, Andrés Jaque and Kike Karasola. The awards were presented at a special gala on May 30 at Zalacaín La Finca (Madrid)

The national and international prestige acquired over these 12 years has turned the PORCELANOSA Awards into a broad promotional platform. Here you can learn about the most outstanding architectural projects in the world, as well as those that emerge from young talents. This rule applies to both sections of the competition: 'Future Design' and 'Design of the Year'. Designed to foster the creative activity of young professionals and disseminate their work, PORCELANOSA's Architecture and Interior Design awards have become a benchmark both in Spain and abroad.
The twelfth edition of this competition was held at Zalacaín La Finca (Madrid) and featured some of the leading figures in architecture, interior design and the hospitality sector as members of the jury, Manuel Aires Mateus, Beatriz Silveira, Abel Matutes, Carlos Valverde, Alejandro Zaera-Polo, Andrés Jaque and Kike Karasola. They have been in charge of evaluating the projects in the two award categories: 'Future Design' and 'Design of the Year'.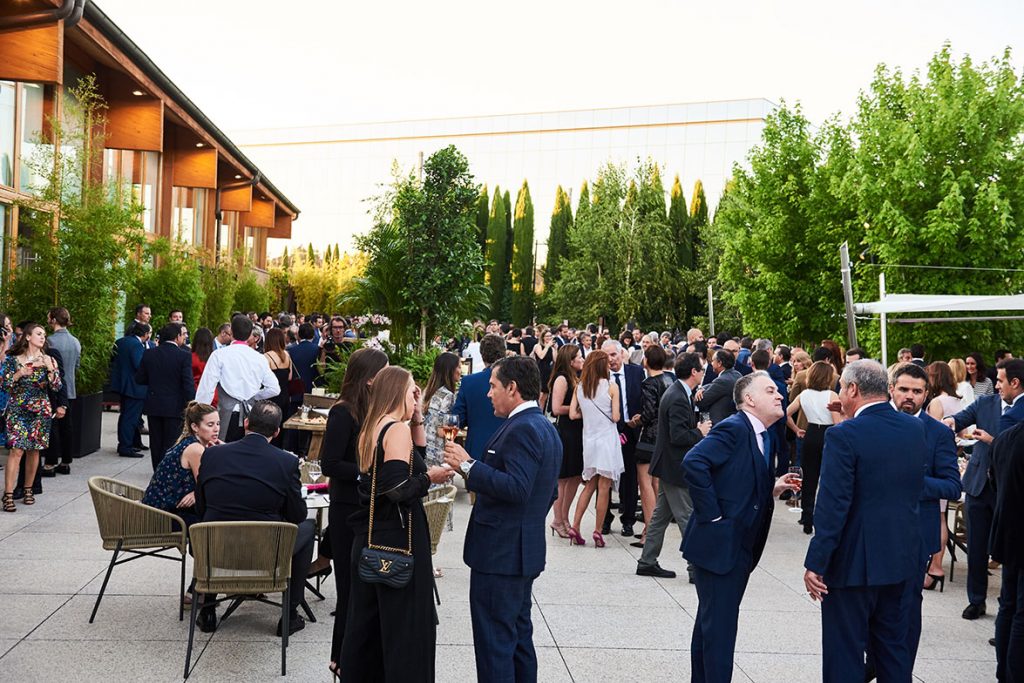 In the 'Future Design' category, the award goes to the best solution for the retail sector in two subcategories: professionals and students. While 'Design of the Year' awards are given to the best works carried out between January 2018 and February 2019 with materials or pieces from the eight PORCELANOSA Grupo firms: Porcelanosa, Venis, Gamadecor, L'Antic Colonial, Butech, Noken Porcelanosa Bathrooms, Urbatek and Krion®.
As a new feature, this year the best project recognizing the work of new creators with the 2019 Special Prize has been chosen from these two categories. The award consists of a trip to Paris to visit the design exhibition MAISON&OBJET and the PORCELANOSA Grupo store in the French capital and has been awarded to Ángel Fito Arquitectos.
WINNING PROJECTS
FUTURE DESIGN
PROFESSIONAL SECTION
PROJECT: EL NIU
STUDIO: CIMBRA ARQUITECTOS
PARTICIPANTS: MARAR NOGUEIRA, PABLO ROZADAS, MIREIA GARCÍA, RAQUEL TOLEDO Y EFRÉN BLANCO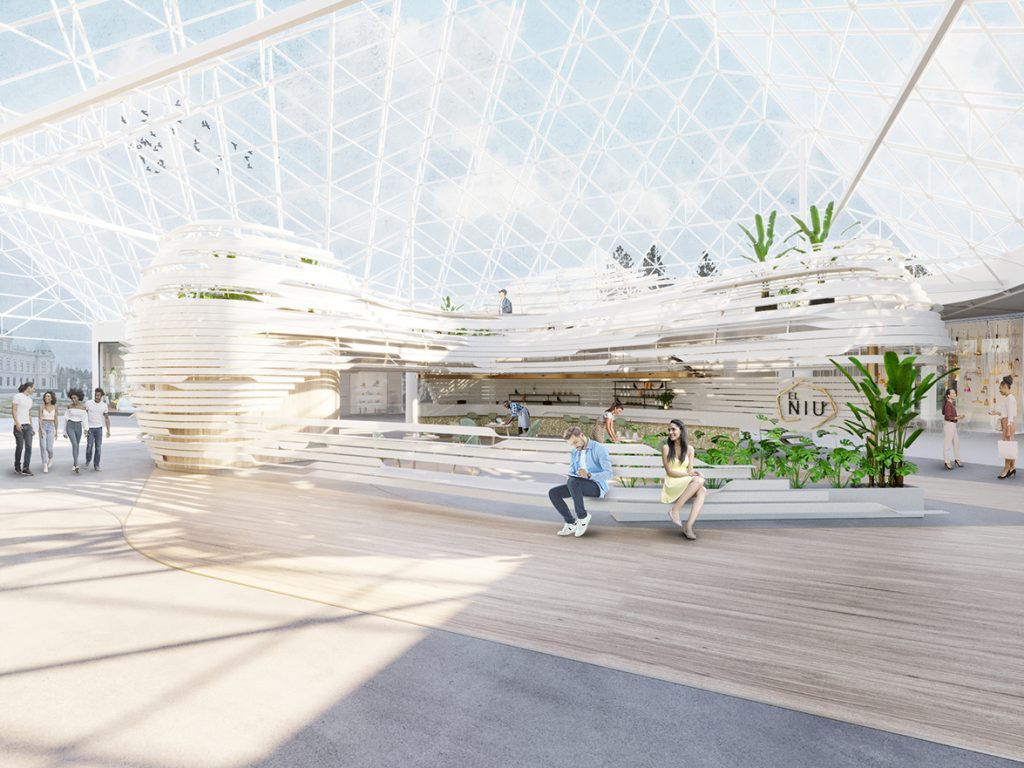 El Niu reformulates the traditional concept of retail. Biomimetic architecture with nature as inspiration.
This public food court divides the areas of long or short use, the pathways, the play areas, the events associated with music...
This is a restaurant where the customer experience and its pathways mark the different culinary proposals and the different areas of use.
It then becomes, within a commercial space intended for catering, the generator of the customer experience and the pathways. Through its shapes, colors and textures it defines, without the need to delimit them, the different areas of use.
Distributed in two floors with interconnected spaces for public and statial uses, the material of its façade causes light to enter and exit permanently, sifted by its peculiar way of folding and "unthreading".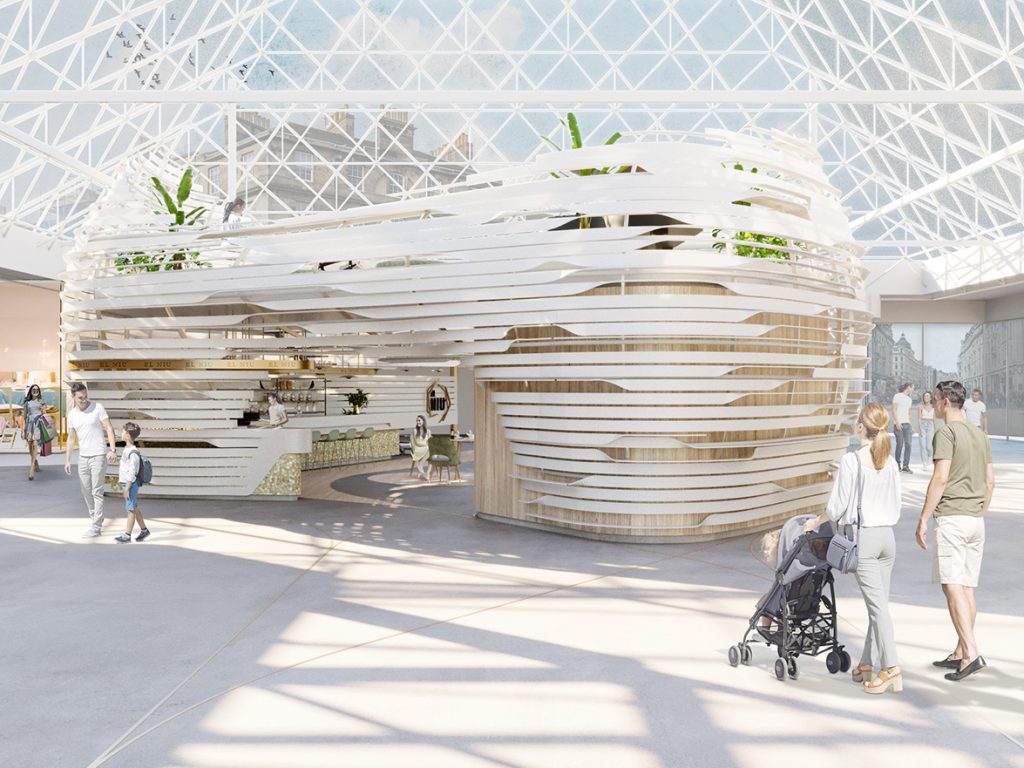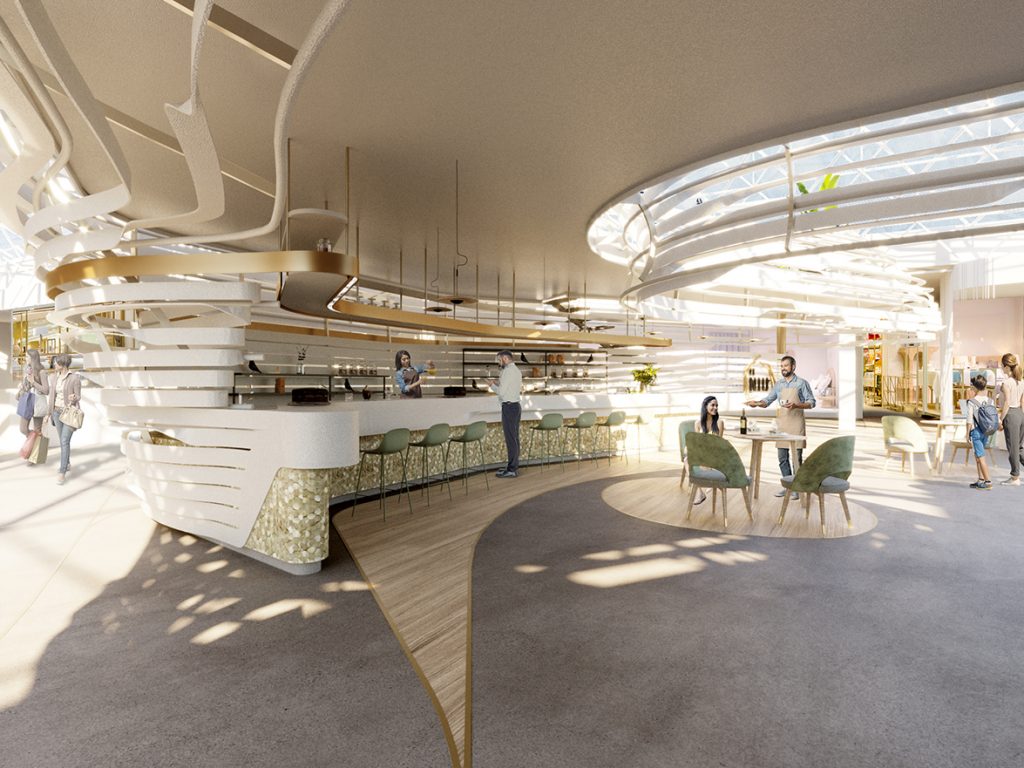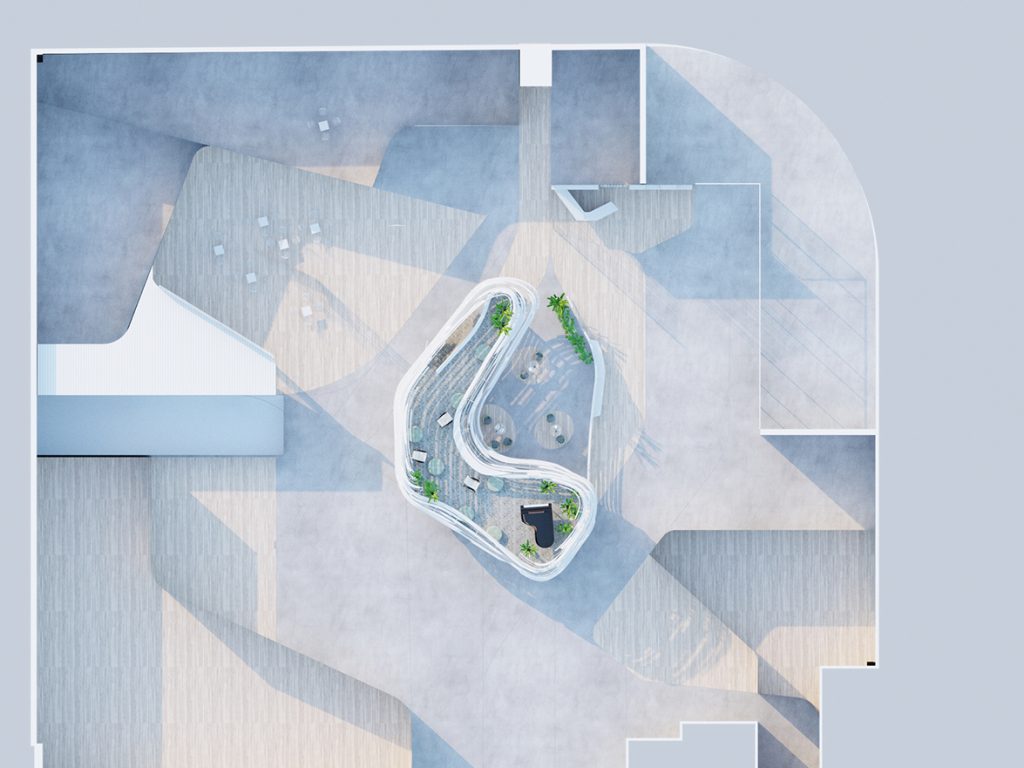 STUDENT SECTION
PROJECT: LA CANTERA: NATURALEZA HUMANIZADA
COURSE: MÁSTER BIM EN GESTIÓN Y PRODUCCIÓN DE PROYECTOS
CENTER: CICE MADRID
PARTICIPANTS: SOFÍA PÉREZ DE AMEZAGA Y MIKEL GOÑI LOS ARCOS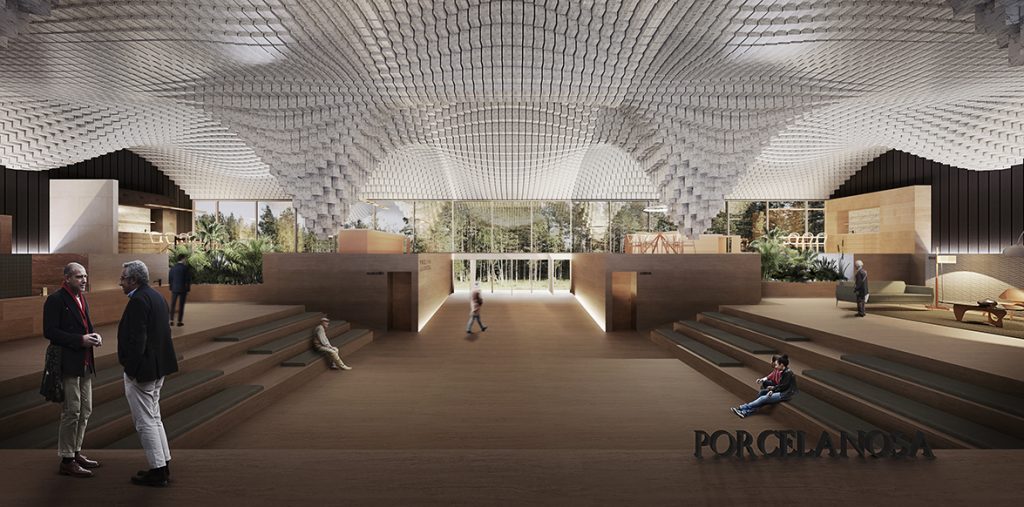 Quarries are amazing places because in them human beings can use nature according to their needs and discover new architectural resources. The landscape is no longer organic and disordered, but a rational, linear and orderly emptying that transforms the materials according to its purest state. La Cantera: Naturaleza Humanizada pays tribute to this particular place through constructive heritage, product quality or value for work. Values shared by PORCELANOSA Grupo.
Based on this reflection, the project proposes a dichotomy between TECTONIC and STEREOTOMIC architecture.
• In the EARTHLY line you will find the ground. An extrusion full of fills and voids that generate a series of platforms at different heights and that recall those traces found in quarry excavations.
•The ESPIRITUAL line is formed by the roof. An ethereal, lightweight element with organic lines that reproduce the formations that occur inside a mountain. This element is composed of a reticular mesh of solid prisms that compress and expand the space with waves and various plays of light and shadow.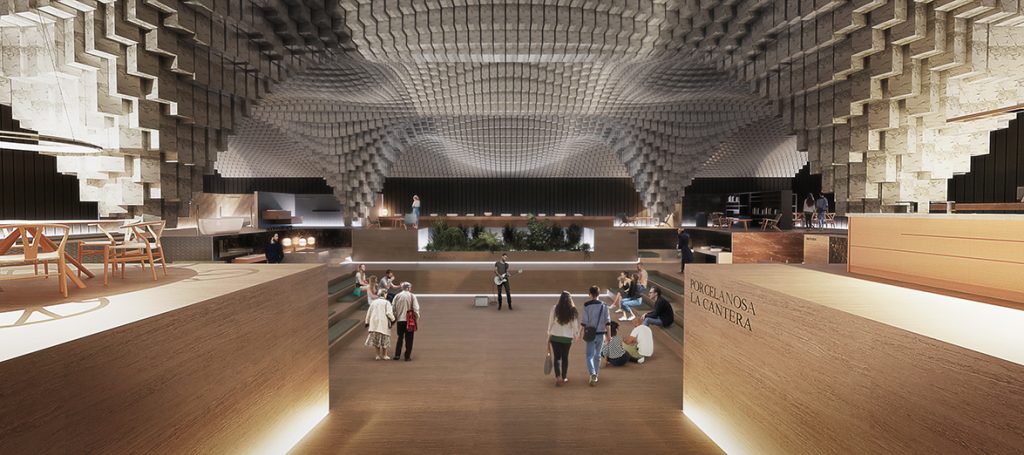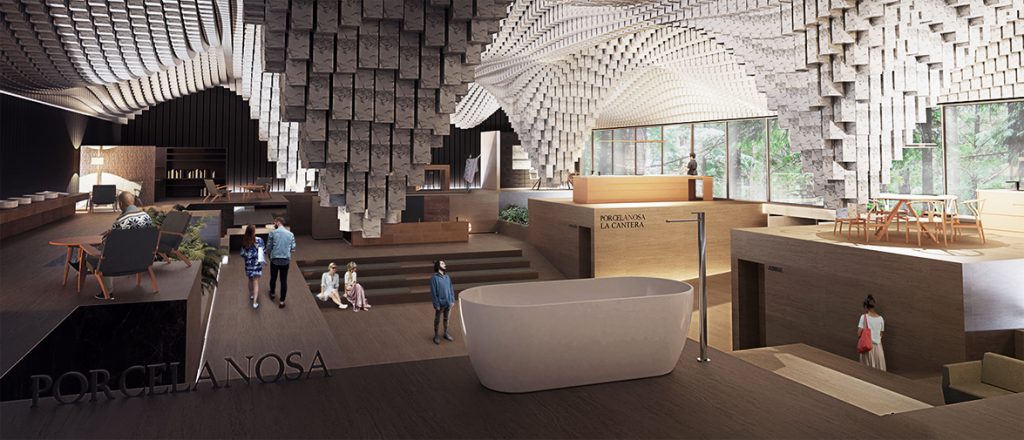 WINNING PROJECTS
DESIGN OF THE YEAR
PROJECT: GOM, UNA VENTA FRENTE AL MAR
STUDIO: ÁNGEL FITO ESTUDIO
PARTICIPANTS: ÁNGEL FITO LÓPEZ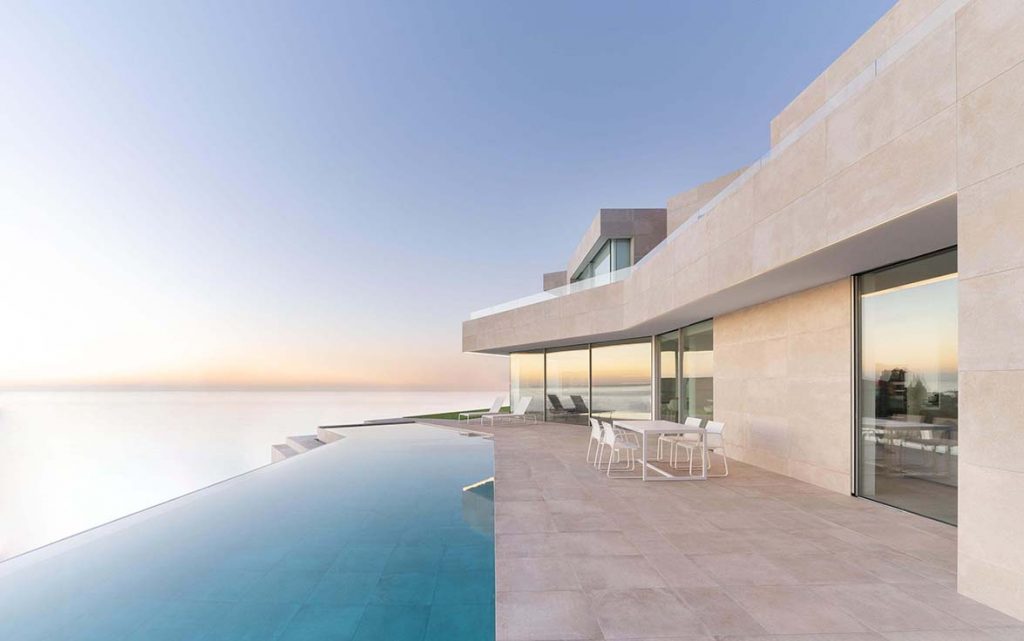 Located in La Gomera, facing the Teide and facing the Atlantic Ocean, this project takes advantage of the views and elevates its natural swimming pool in the upper part of the site with the south-east front.
The geometry of the project adapts to the irregular shape of this plot open to the sea. The floor turns the curved lines into straight lines on the floor of the first storey dwelling. The upper height is formed by four macerated volumes that are born from the simplification of the line that forms the ground floor. Each volume belongs to a space independent of the night zone.
The interior of the house presents a central hub that gives access to all the rooms of the house. This generates a lengthwise axis at each level, separating the spaces and directing them towards the sea.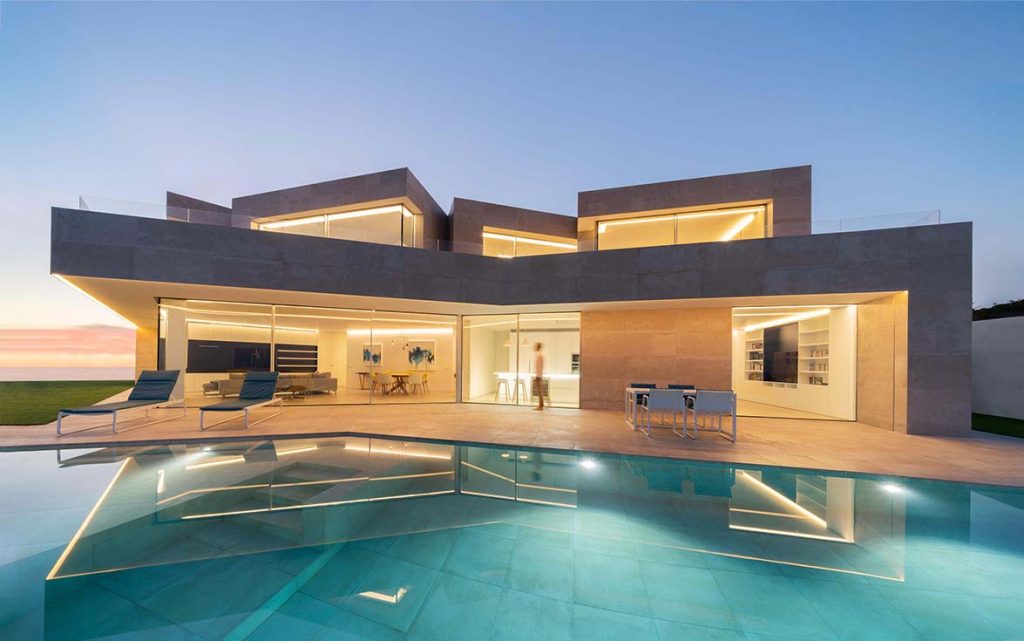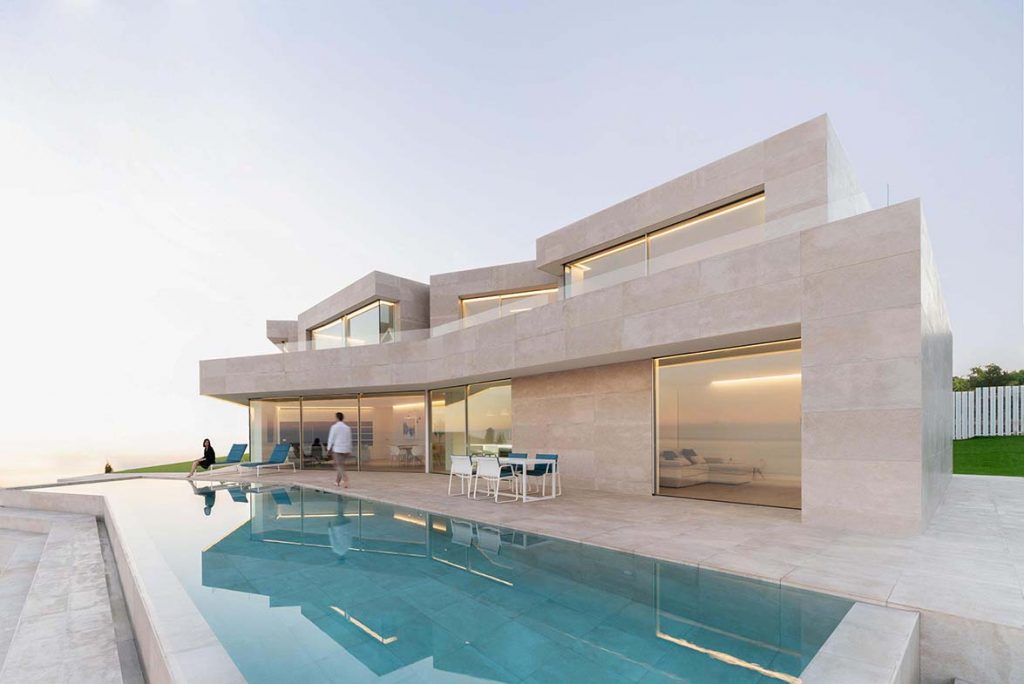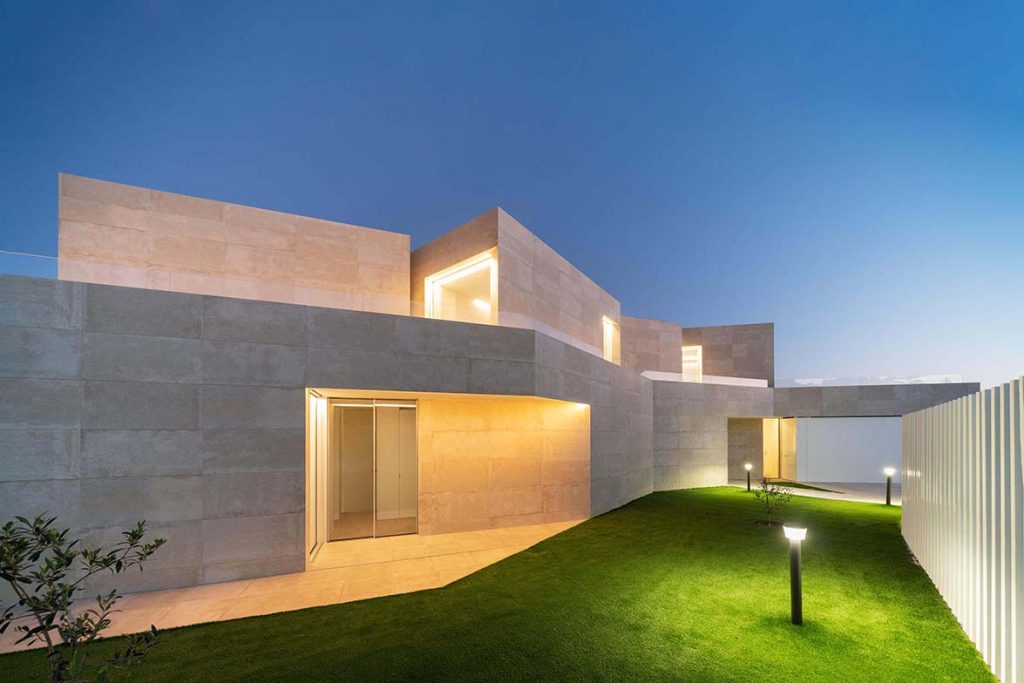 SPECIAL MENTIONS
AEDAS Homes
SPECIAL MENTION TO ARCHITECTURAL QUALITY IN RESIDENTIAL DEVELOPMENT OF NEW BUILDINGS
AEDAS Homes is a new residential building developer that was born in July 2016. Since then it has centred its activity on developing projects in an excellent land portfolio.
Its presence in the most dynamic real estate and economic markets in Spain (Madrid, Barcelona, Seville, East Coast, Majorca or Costa del Sol) reaches more than 4,000 homes distributed in 86 promotions launched, with an availability of more than 15,000 throughout the territory.
Integrity, quality, excellence, transparency, innovation, sustainability and commitment to its customers are the basic values of AEDAS Homes which are based on six key points: access capacity to finalist land banks, decentralization, scalability, customer orientation, sustainability and designer housing.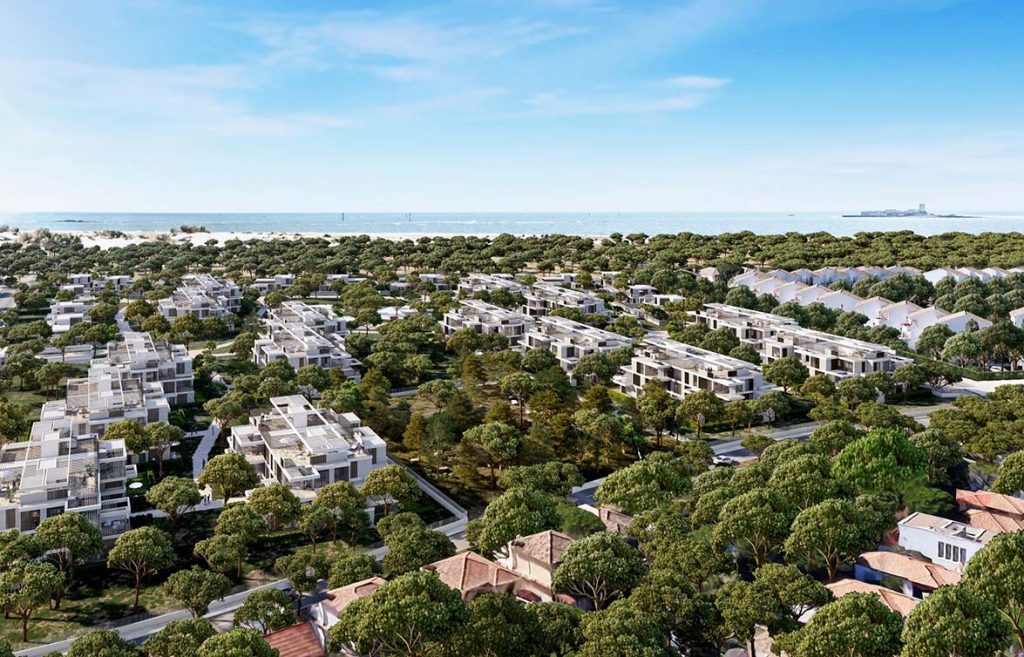 Promoción Sancti Petri Chiclana de la Frontera, Cádiz
BATLLEIROIG Arquitectura
SPECIAL MENTION TO SUSTAINABILITY AND ECOLOGY IN BUTECH FACADES
BATLLE & ROIG is one of the architectural firms most committed to the environment. Their work stands out for the energy savings they incorporate into their projects through ceramic ventilated façade systems.
Its careful design and architecture would not be possible without Enric Batlle and Joan Roig, founding partners of the firm. Batlle has been a Doctor of Architecture since 2002 and has collaborated in numerous internationally prestigious universities such as Harvard University-Graduate School of Design, Copenhagen University, Oslo School of Architecture and Design or Beijing Forestry University. He is currently directing the Master's Degree in Landscape Architecture -MBLandArch- taught at the ETSAB (Escuela Técnica Superior de Arquitectura de Barcelona - UPC).
In turn, Roig, also an architect from the Escola Tècnica Superior d'Arquitectura de Barcelona, has been guest lecturer, among others, at the Academie van Boukunst, Rotterdam; the Delft University of Technology; the ILAUD (International Laboratory of Architecture and Urban Design), Urbino or the IUAV Istituto Universitario di Architettura de Venezia.
As a result of this work, BATLLE & ROIG has been awarded with the highest recognition in Spain for an architectural firm: the Superior Council of the Colleges of Architects of Spain-MEDALLA CSCAE 2017 "for being a great study of Architecture, consolidated as a reference of quality and professional rigor".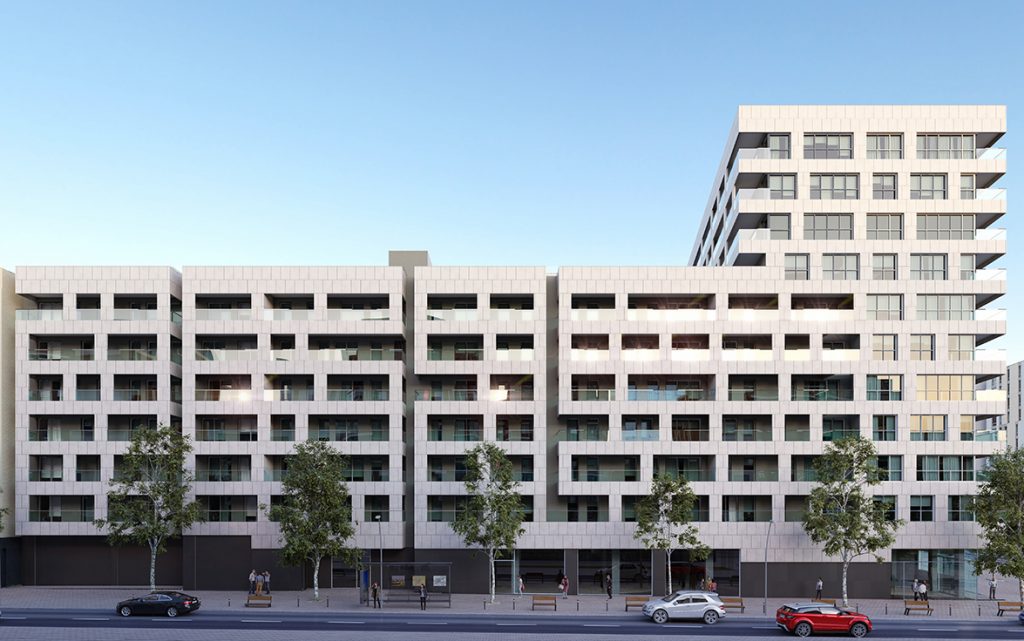 Viviendas Sagrera Barcelona
La Finca
SPECIAL MENTION TO THE BEST REAL ESTATE PROJECT OF THE YEAR CARRIED OUT WITH PORCELANOSA PRODUCTS
LAFINCA LGC3 is conceived as a goldsmith's work in which the advantages of detached and collective housing are intertwined. With exclusivity, comfort and safety as the backbone of the urban concept, the project is located in an incomparable location. 42.000 sqm of green areas and unlimited views to LAFINCA Country Club that make the day to day experience unique. A discreet and quiet environment, with absolute privacy, guaranteed by excellent security measures.
Each one of the 144 houses of LAFINCA LGC3 has been designed taking care of every detail. A design in which natural light takes center stage. The double north-south façades, the interior and exterior architectural design, the wide, modern and versatile spaces, as well as the most exquisite selection of materials and finishes or the highest energy efficiency, are just some of the exceptional features of these homes.
After more than forty years at the head of the luxury real estate sector, "LAFINCA" stands for exclusivity, quality and avant-garde construction design. An achievement reached from a solid premise: each one of its projects puts at the customer's disposal the excellence taken to its maximum exponent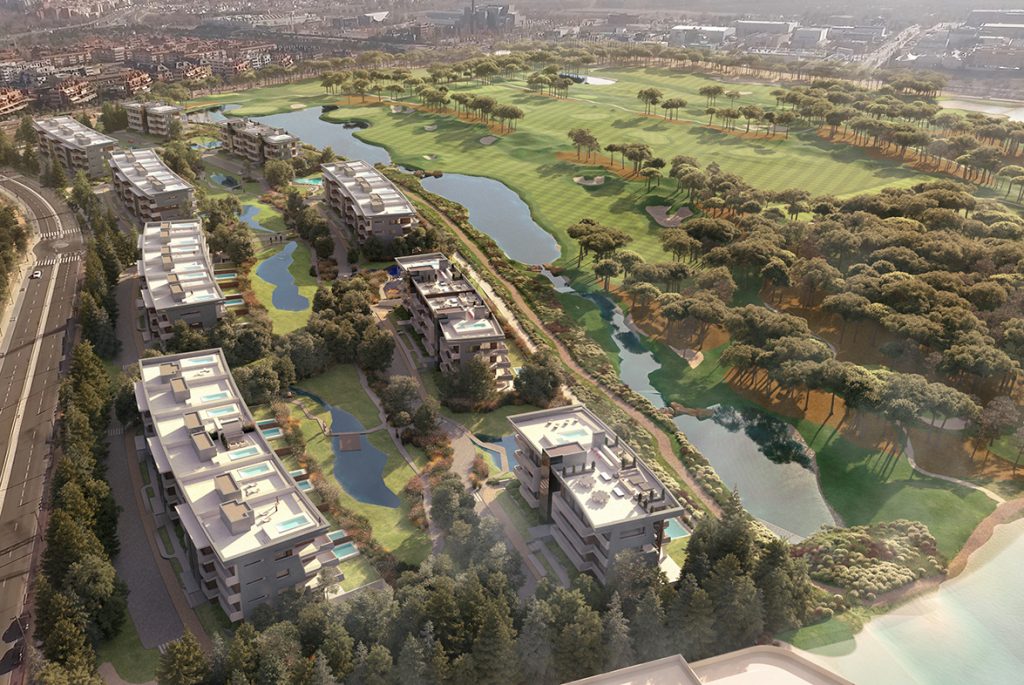 La Finca LGC3
Grado Inmobiliario ASPRIMA-UPM
SPECIAL MENTION TO THE DEGREE IN INTENSIFICATION IN REAL ESTATE PLANNING AND MANAGEMENT
The Real Estate Degree is a new educational proposal, promoted by the Association of Real Estate Developers of Madrid, the Polytechnic University of Madrid and professionals in the education and real estate sector. It is the result of the university-company relationship and the involvement of great professionals, with the student as the central player. A different education, necessary, practical and with a human connection.
The people who are part of this project do so as volunteers. More than 70 teachers and tutors from companies, industry associations, the management of the Real Estate Degree and the European School of Coaching, accompany the student on the road to professional and personal success.
Currently, 39 companies benefit from the Real Estate Degree, having in their staff enthusiastic, brilliant, hard-working young people with a real estate training that responds to their needs. 100 % of the students do internships in leading companies in the sector, and to date, after their completion, all of them have obtained an employment contract.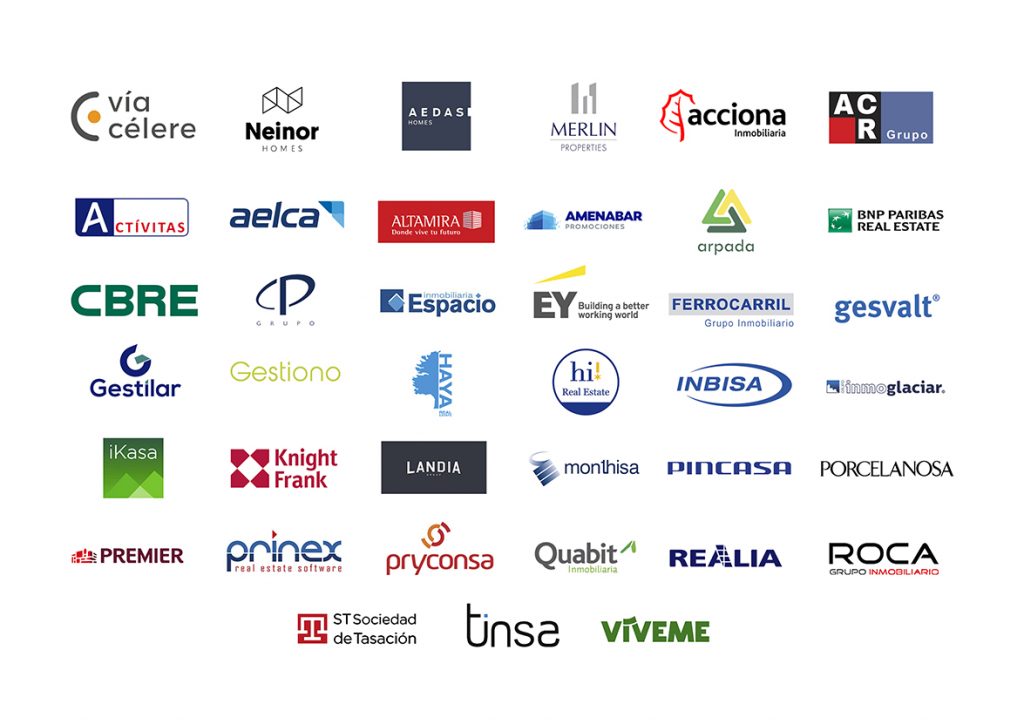 ADR
SPECIAL MENTION TO THE USE OF PORCELANOSA MATERIALS AT ROME AIRPORT
The Rome-Fiumicino Airport, or also known as Leonardo da Vinci, is the most important in Italy with more than 35 million passengers per year. It is located only 26 kilometers southwest of Rome and has four terminals. It offers both domestic and international flights to the most important destinations in Europe and the rest of the world.
In its last remodeling Krion has been used for the making of the checkin counters from 111 to 140 and the arches through which the conveyor belts pass. The capacity of Krion® for being thermoformed has made it possible to generate very aesthetic and differentiating elements that make it possible to integrate information screens. In addition, this project has been carried out with K-life which contributes to the creation of safer and healthier spaces. Its KEAST technology has photocatalytic properties that help eliminate environmental pollution, bacteria and improve cleanliness.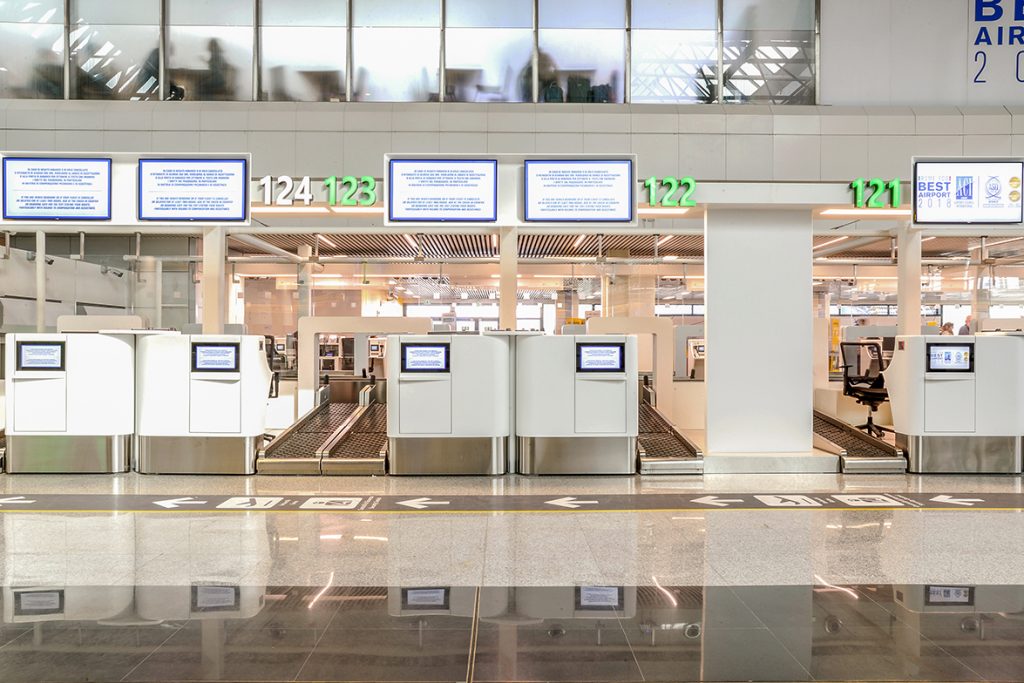 Aeropuerto Roma Fuimichino
Javier Higueras - HCP Architecture & Engineering
SPECIAL MENTION TO PROFESSIONAL CAREER
HCP Architecture & Engineering is a different architecture studio. It is an integral architecture and engineering consultancy that analyses every detail before starting a project. With beauty, firmness and usefulness as the basis of their work philosophy, they seek customer satisfaction at all times, which guarantees success in the buildings created.
Far from the sole prominence of the architect, HCP Architecture & Engineering bases its methodology on a multidisciplinary team made up of more than 100 professionals. Architects, engineers, technical architects, perspectivists, draughtsmen, administrative staff, and so on who combine experience and youth to develop competitive, reliable and honest projects that speak for themselves.
This philosophy is a faithful reflection of Javier Higuera Yela. Founding partner of the firm in 1986, he has transmitted his knowledge and experience with great thoroughness and professionalism, achieving a more than deserved international recognition.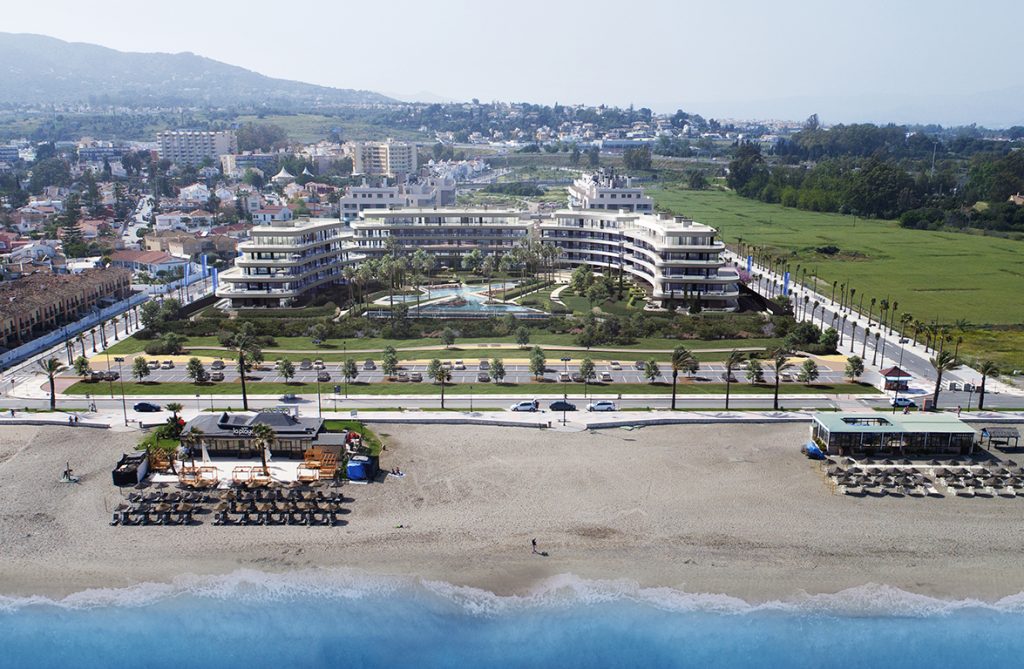 Nereidas Torremolinos
EDDEA
SPECIAL MENTION TO INITIATIVES IN INTERNATIONAL RESIDENTIAL PROMOTION
One of the greatest challenges facing humanity in the coming decades is, along with climate change, to create the necessary infrastructure for the more than 1.5 billion people who will migrate from the countryside to the cities.
Citythinking is the initiative promoted from the EDDEA studio to develop new tools for the design and management of large affordable housing projects in developing countries. A Cross Industry Alliance, formed together with Galia Grupo Inmobiliario and Ghenova Ingeniería, which focuses on the design and construction of Residential Extensions through PSP (Parametric Smart Planing) software. The tool, which has the collaboration of the Ministry of Energy, Tourism and Digital Agenda, speeds up the construction of residential urban scenarios to speed up decision-making. In addition, it incorporates a system of Ecosystemic Urban Planning indicators that guarantees efficiency and sustainability.
The first major EDDEA project with Citythinking will be completed this year in Moscow with 5,200 homes. Integrated within the so called Spanish Quartal, these have been carried out with standardization techniques that began in 2015.
HONORARY AWARDS
Carlos Lamela - Estudio Lamela
HONORARY AWARD TO PROFESSIONAL CAREER
Estudio Lamela is an architectural firm founded in 1954 by Antonio Lamela (1926-2017) and currently managed by Carlos Lamela with international presence and offices in Madrid, Warsaw, Mexico City and Rotterdam.
Since its inception, and on an ongoing basis, it has been considered one of the most prestigious studios in Spain. Estudio Lamela has developed more than 2,000 projects in 32 countries. It is a founding member of the European Architects Network (EAN), considered to be the most prestigious organization of architectural firms in Europe. Some buildings that define its work and trajectory are the T-4 of Madrid-Barajas Airport and the Santiago Bernabéu Stadium.
It is currently developing, in addition to Centro Canalejas, the Airbus headquarters in Madrid and several exclusive housing projects in the Spanish capital, Schiphol Airport in Amsterdam and Tijuana Airport in Mexico.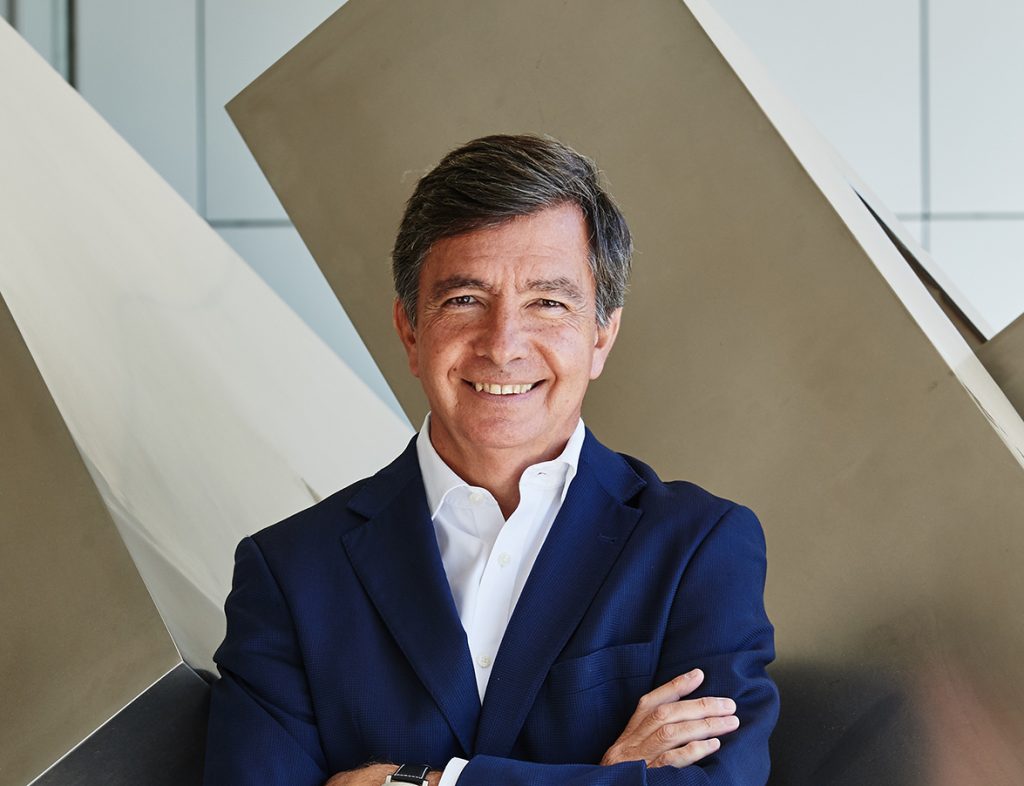 Kelly Hoppen
HONORARY AWARD TO THE DEFENCE OF COSMOPOLITAN INTERIOR DESIGN
Kelly Hoppen has been defending 'British' interior design based on mole tones and vintage décor for over 40 years. A tireless traveller and lover of art and words, her creations combine the richness of the Western world with the exoticism of Eastern culture.
With a cosmopolitan and transgressive vision of interior design, it specialises in large residential projects, yachts (Pearl 95, Pearl 80, Pearl 75 and Pearl 65), sports centres (Royal Mougins Golf Club), luxury hotels (Lux Grand Gaube or the Murmuri Hotel in Barcelona), restaurants (Rhodes W1 in London) or British Airways flight cabins.
A defender of aesthetic minimalism, linen, velvet, leather or neutral tones, her personality and insight into interior design has attracted the attention of Victoria Beckham, Gwyneth Paltrow or Anthony Hopkins. Her interest and professional ambition led her to embark on audiovisual, literary and educational projects.
Activist and committed to sustainability, respect for the environment, the fight against bullying or breast cancer, the causes and jobs in which Hoppen has been involved have been recognised by the Order of the British Empire, of which she is a member. Ranked 35th out of the 100 most influential British entrepreneurs (Richtopia list of 2015), Hoppen's track record has been rewarded worldwide. Outstanding awards include the Andrew Martin Interior Design Award (1996), the European Woman of Achievement Award in 2007 or the Natwest Everywoman Ambassador Award in 2013.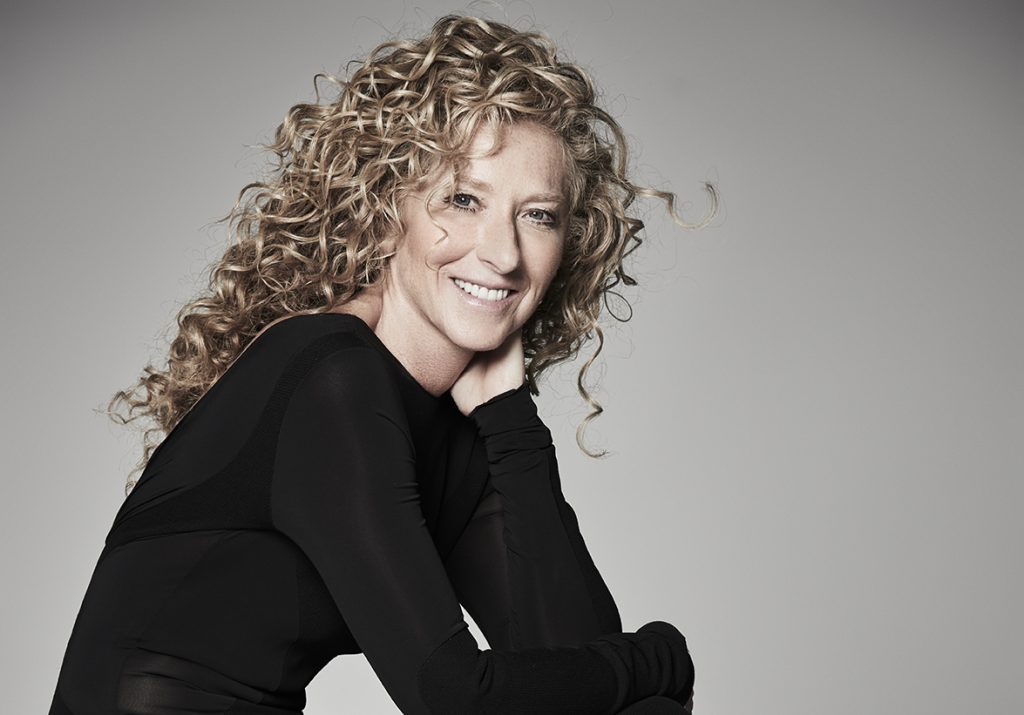 William Sofield
HONORARY PRIZE TO AUTHOR's DESIGN
William Sofield's brilliant career began in 1983 when he earned a degree in Architecture and Urbanism from Princeton University. His artistic perspective inspired his early projects until he founded Studio Sofield in Los Angeles. A turning point that has led him to international success thanks to his works marked by clarity, quality and wit in all disciplines: architecture, engineering and industrial design, interior design, graphics and landscapes.
The experience of the studio is based on the artistic concept it provides, giving aesthetic and functional solutions adapted to the needs and tastes of each customer. Work on residential and commercial projects includes different customers such as Ralph Lauren, Yves Saint Laurent, Gucci and Salvatore Ferragamo, among many others.
His vision of redefined modernism and his taste for decoration have made him a benchmark in the sector. The interior design of the SoHo Grand Hotel in Manhattan is one of the most emblematic works of the American designer. The magnificent fusion of industrial and modernist styles make the hotel an enveloping place reminiscent of New York's golden age: the 1920s. It is currently working on three apartment towers also located in the Big Apple.
William Sofield has been able to create a unique style where past, present and future coexist in total harmony.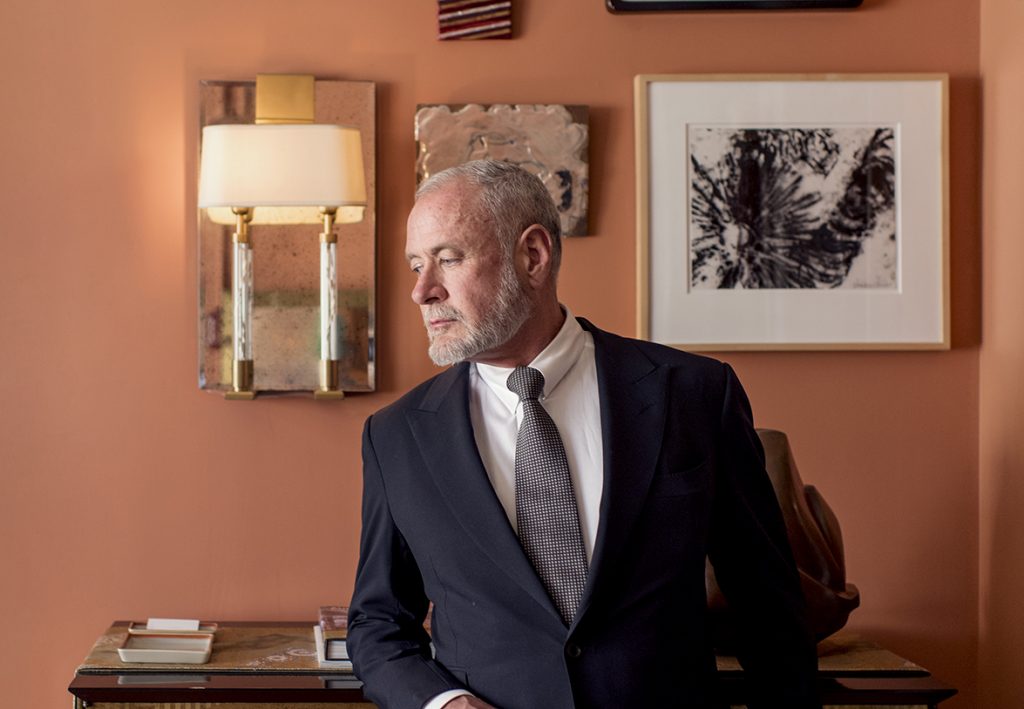 Source: Porcelanosa Group
Visit the PORCELANOSA website
Read more news about PORCELANOSA at Infurma