"made in Spain" design is set to enjoy its best and biggest showcase at Feria Hábitat Valencia. The trade fair has managed to involve Spain's most prestigious companies in the field of design in its project to style the space dedicated to contemporary interiors. The practices in question are distinguished players such as Nani Marquina, Amat-3, Andreu World, Mobles 114, Punt Mobles, Santa & Cole, Sellex, Stua, Escofet 1886, BD Barcelona and Metalarte. All share one common denominator and that is that they have all won the National Design Prize, the highest recognition that the Spanish government awards to companies that have been successful in combining innovation and design as a strategy.
The directors of these companies met this morning with the Feria Hábitat Valencia team, headed by the fair's president, José Blasco, as a working party where, on the back of their experience and knowledge of the industry, they offered extremely interesting ideas and suggestions regarding exhibiting at the trade fair in its broadest sense - from the styling of the pavilions to inviting buyers and priority markets. They also gave suggestions regarding the parallel events.
There were also two highly regarded professionals on the Feria Hábitat Valencia team: interior designer Pepe Cosín and Juan Mellen, director of the Spanish Design Companies Association, RED-AEDE. As they explained, "what we want to do with this working party and with the involvement of the National Design Prize winners is create a joint project that everyone can feel a part of." In their view this is "a profound change in the concept of what the fair is about, so we will be supporting all Spanish companies where design is part of the structure of their business DNA."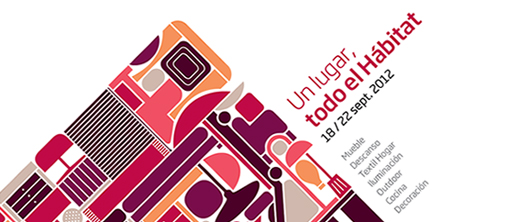 The president of Feria Hábitat Valencia, for his part, maintains that "We know that the way forward, if we want to create value, is to boost our investment in design and this is why we will be supporting these companies with an entirely business centred project tailored to their needs."
Following the meeting the business leaders went off to see the new location of Feria Hábitat Valencia's Design zone for themselves - pavilions 3 and 4 on level 2 of Feria Valencia - where they continued to share ideas.
As well as the Design project, Feria Hábitat Valencia is also working on the other four sections of the exhibition that make up the 2012 trade fair: Home Textiles, Contemporary Classic, Haute Decor and Modern & Upholstered Furniture/Rest. All the projects are being run in collaboration with business leaders and professionals from the sector concerned. The challenge: to bring the whole world of made in Spain interiors to Valencia from 18th to 22nd September.
Read more new related with Feria Habitat Valencia published at Infurma
Further information at Feria Habitat Valencia website