At the W.O.K. (World Oriented Kitchen) restaurant in the Parioli district, where Roman high society lives, the Muse lamp by Axo Light decorates and lights the setting almost as though it belonged to another dimension. While diners savour sushi and pasta dishes, the combination of Muse in the suspension and ceiling versions creates discreet and meditative light.
Thanks to the contrast between the dark and minimalist furnishings and the sinuous, almost soft Muse lamps, a wellbalanced ambiance with a cosmopolitan flair is created. The interiors perfectly mirror the restaurant's philosophy: W.O.K. offers light dishes based on a culinary mixture of oriental and Italian recipes.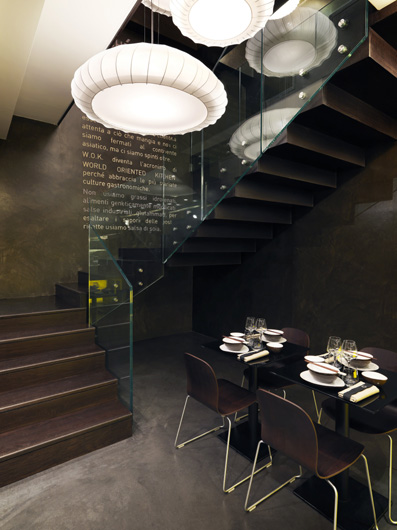 Muse was designed by Sandro Santantonio and consists of a metal frame wrapped in elasticated fabric. The collection includes a ceiling or wall light (40 cm, 60 cm, 80 cm and 120 cm in diameter) and a suspension light (with a diameter of 80 cm and a maximum height from the ceiling of 150 cm). Muse is also available in an energy-saving fluorescent version in yellow, orange, red, pink, fuchsia, purple, light blue, green, blue and white as well as multi-coloured.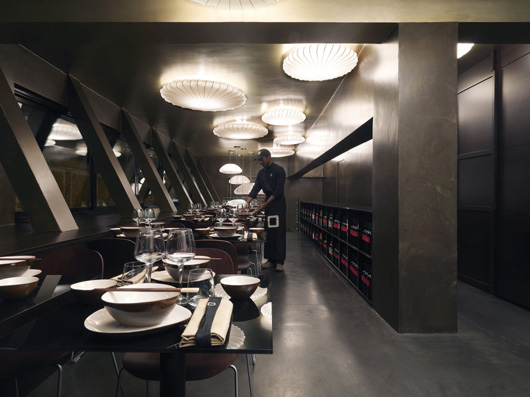 Restaurant W.O.K.(World Oriented Kitchen)
Via Antonelli 39/A - Rome, Parioli district
Project: Daniela Colli of
Colli+Galliano Architects
www.collidaniela.com
Photographer: Matteo Piazza
www.matteopiazza.com