Two of Sydney's most iconic buildings have been given an edgy, contemporary makeover, and re-opened as QT Sydney, a landmark hotel which opened last September 2012. Pointofview Lighting studio has carried out the interior lighting project.
Created from the heritage-listed Gowings Department Store and adjacent State Theatre buildings in the heart of Sydney's central business district, the hotel has got off to a magnificent start.
Over 17 months the original 1920s stone cladding, gargoyles, timber floors and retail showcases - damaged or discarded over decades - were carefully restored and incorporated into a witty and inventive public space designed by Nic Graham & Associates. PointOfView created the lighting for the entire hotel, restaurants and bars.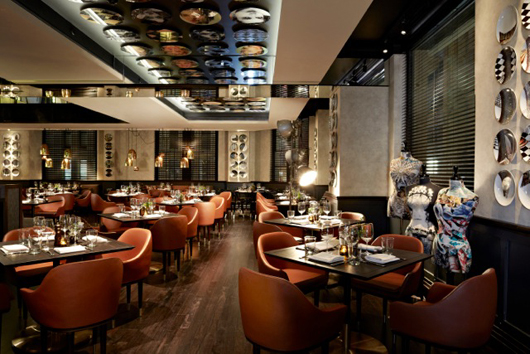 Upstairs the 200 guest rooms were designed and styled by Indyk Architecs, who like Nic Graham & Associates have been frequent collaborators with PointOfView in the past. A guest spends most of their time in a hotel at night, hence the central role of lighting within the discipline of hospitality design.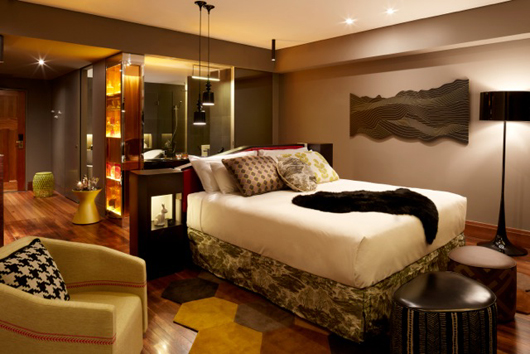 The lighting is integral to a design vocabulary that has been attracting much attention. "QT is a small chain, and we worked on QT Gold Coast too" says Mark Elliott, director of POV Lighting. "They were both great projects to work on, and we're very happy that QT Sydney is such a success with both foreigners and Sydneysiders."
"With every project we work on, we try to push every dollar of the budget to deliver something special. This project had aspirations to be the most talked about hospitality project in Sydney for years," said Elliott, who has lit some of London's leading restaurants and bars including Nobu at the Berkeley. "There were challenges in that it's a heritage building too."
In the public spaces, interior designer Nic Graham created a strong aesthetic, so the goal of the lighting was to complement that. "We tried to enhance the eclectic colours, materials and textures, so that guests can bathe within pockets of light and shade. We avoided unwanted architectural lighting projecting into the space, and supported Nic Graham's team with technical information wherever needed." said Elliott.
The hotel set out to have an international feel, and compete with the best that New York has to offer. The lighting needed to create drama and an experience that would genuinely delight educated travelers.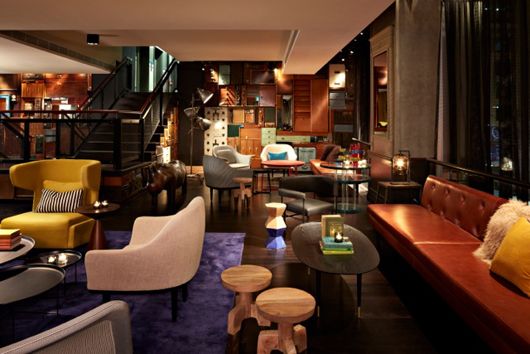 POV used a high quality lighting control system and retained some use of halogen lighting, which provides an ambience that even now cannot be matched by LEDs. They chose to focus on feature elements rather than uniform washes of light. Integrated lighting played a huge role in the Bar and Restaurant, where the hamper over the bar is turned into a focal chandelier, and LED strips illuminate the bottles within. The double height wine wall is washed with light from within, creating a central focus and drawing the eye to the upper bar.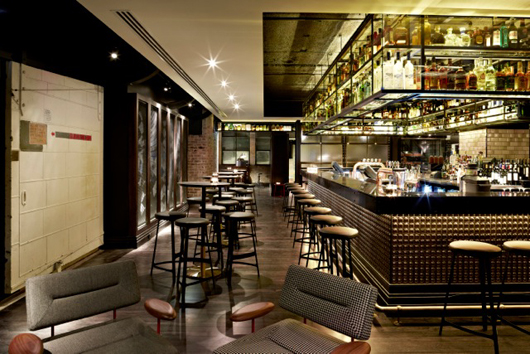 Custom designed fixtures were designed to complement the interior design, driven by G+A with technical assistance from the POV team.
"The part that you don't notice, is usually the part we spent most time over, and probably has the biggest effect on the lighting as a whole!" said Mark Elliott. "When lighting is really successful, people don't notice it, they just respond very warmly to a space."
The Gowings Bar & Grill, late night Gilt Lounge and spaQ day spa attract a lively crowd from Sydney's fashion and entertainment industries. The lobby is linked to Market Street by Parlour Lane Roasters café and wine bar, which creates a buzz from early morning to late afternoon.
On the corner of George Street and Market Street, the QT hotel is in close proximity to Darling Harbour, a tourist and nightlife area.
Mark Elliott came to Sydney from London in 2003, preceded by a reputation for lighting fashionable restaurants. Recent projects at POV Crown Towers Hotel + Spa, City of Dreams Macau, the award winning JWS offices and the Qantas First Class Lounge in Sydney (with Mark Newson).
Source: Point of View
Photos by eszteranddavid
Read more news related Point of View published at Infurma
Visit the Point of View website