Make the right decision: the LifeCare Initiative is giving the Home&Trend Award in cooperation with Messe Frankfurt for the fifth time. This renowned award is an objective seal of quality for more aware purchasing decisions and easy product selection.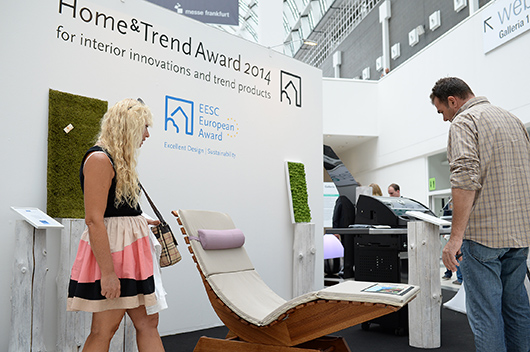 title="Más..." />
The 'Innovation of the Year and 'Trend Product of the Year' awards for innovative, trend-oriented and sustainable furnishing products will be presented at Tendence, which takes place from 29 August to 1 September 2015. The award goes to the products in the following categories: 'Garden & Leisure', 'Bath & Wellness', 'Large and Small Electrical Appliances', 'Building Fixtures & Interior Design', 'Furniture & Decoration' and 'Household & Cleaning'. Additionally, the award will be given in a new category this year, 'Hotel Furnishings', and thus offer professional buyers an orientation aid for suitability for everyday use in hotels, design and sustainability. The new category perfectly rounds off the 'Contract Business' exhibitor segment.
The products are judged in accordance with the following criteria: design, innovation, functionality, product benefits, ergonomics and ecology. The winners are chosen not only by a jury of experts but also by consumers whereby the jury nominates products for the consumer voting. Consumers then vote for the best and most popular products in each category in a poll conducted by an opinion-research institute.
"As the most important national and European new-products platform for the consumer-goods sector in the second half of the year, a source of inspiration and trend barometer, Tendence is the optimum setting for the Home&Trend Award. We are delighted to be able to offer visitors from the retail trade significant value added in the form of the exhibition and the awards ceremony", says Sabine Scharrer, Tendence Living Director.
Manufacturers still have until 19 June 2015 to take advantage of this opportunity to be nominated and be chosen for an award. The award-winning products will be on show in a special exhibition in Galleria 0 throughout the fair. The awards ceremony will be held in Hall 9.2 at 14.00 hrs on the Monday of the fair, 31 August. Further details, an entry form and the competition rules can be found on the internet at www.hometrendaward.com.
All award-winning products are automatically entered for the EESC European Award for Design and Sustainability, which will be presented for the third time during Tendence and goes to products that skilfully combine sustainability and excellent design. As the European consumer-goods platform, Tendence and the concurrent Ecostyle - Trade Fair for Sustainable Lifestyle Products - represent the ideal setting for the award ceremony in cooperation with the European Economic and Social Committee (EESC) and the LifeCare Initiative.
Information & images by courtesy of Messe Frankfurt Exhbition GmbH
Visit the Tendence website
Read more news related Tendence published at Infurma