Truly Truly studio will show a house with its experimental approach to design at "Das Haus" of imm cologne 2019
Guests of honour for "Das Haus" at imm cologne 2019 will be the Australian designer duo Truly Truly
Every year, the international interiors show imm cologne presents a different, very personal vision of contemporary living, created by hot young designers and design teams from around the world. Over an area of around 180 m², "Das Haus - Interiors on Stage" is constructed and fully furnished in accordance with the plans of the respective nominated designer.
The simulated home transports visitors to unique worlds, sometimes cosy or elegant, sometimes minimalist or fantastically designed: to pretty, rustic houses, distinct wooden cubes, intricate architectural structures, circular, stage-like residences or room structures bathed in light. In January 2019, Studio Truly Truly will turn "Das Haus" into an experiment in living itself.
"We're delighted to blaze a trail for inquisitive design with our version of 'Das Haus'. We see the project as an opportunity to question some of the typical ways our living environments operates and to work up alternatives. The space that we're developing for 'Das Haus' will be unfamiliar yet inviting at the same time - in a balance between abstraction and warmth," Truly Truly promise.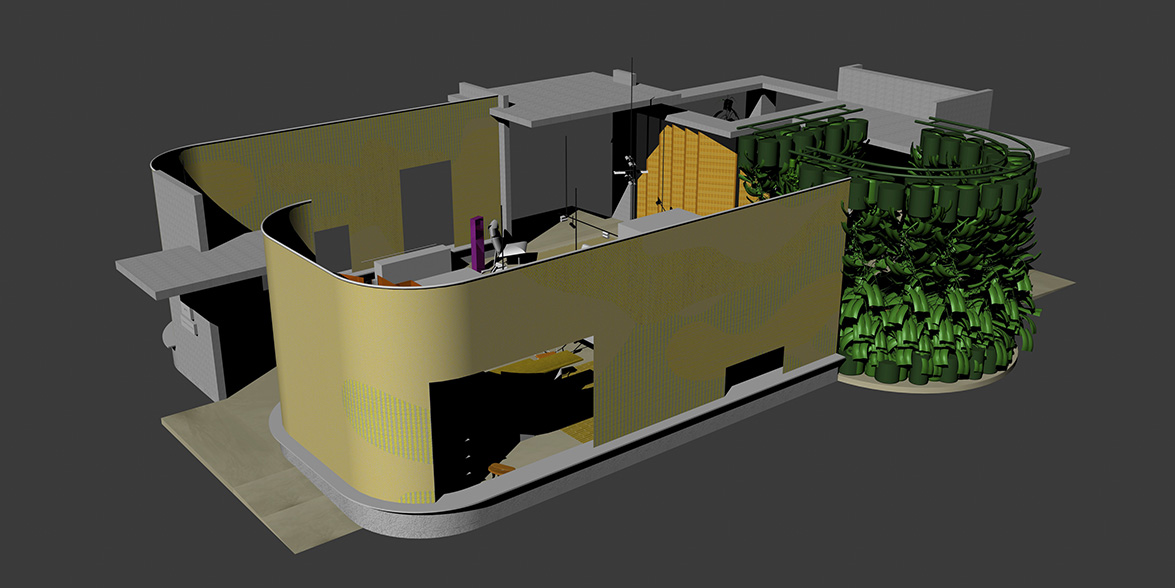 "Living by Moods" is the theme for "Das Haus" at imm cologne 2019. In the vision of home living created by Truly Truly, the use of space is not dictated by walls or conventional room functions - instead, the atmospherically designed zones provide a suitable space for every mood. A space to relax, to withdraw, to sit with others or to be active. Photo: Truly Truly; Koelnmesse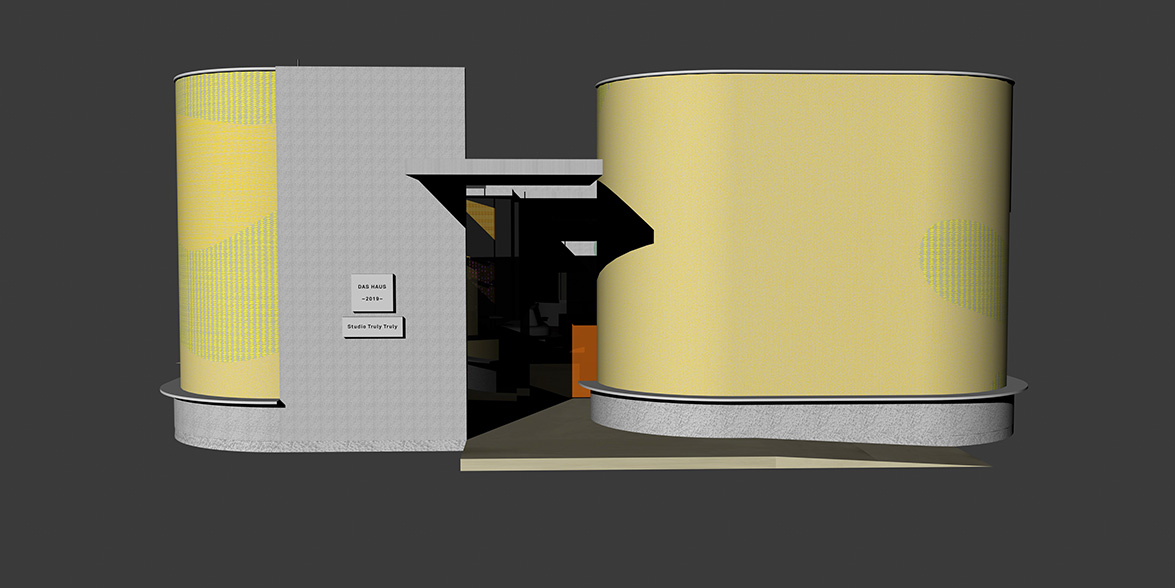 It's all in the flow: a clear architectural body from the outside, the sweep and the fluid pattern of the textile outer shell with its warm yellow tones already hint that an unfamiliar, organic living concept awaits visitors to imm cologne 2019 in the interior of the living space installation "Das Haus - Interiors on Stage" designed by Truly Truly. Photo: Truly Truly; Koelnmesse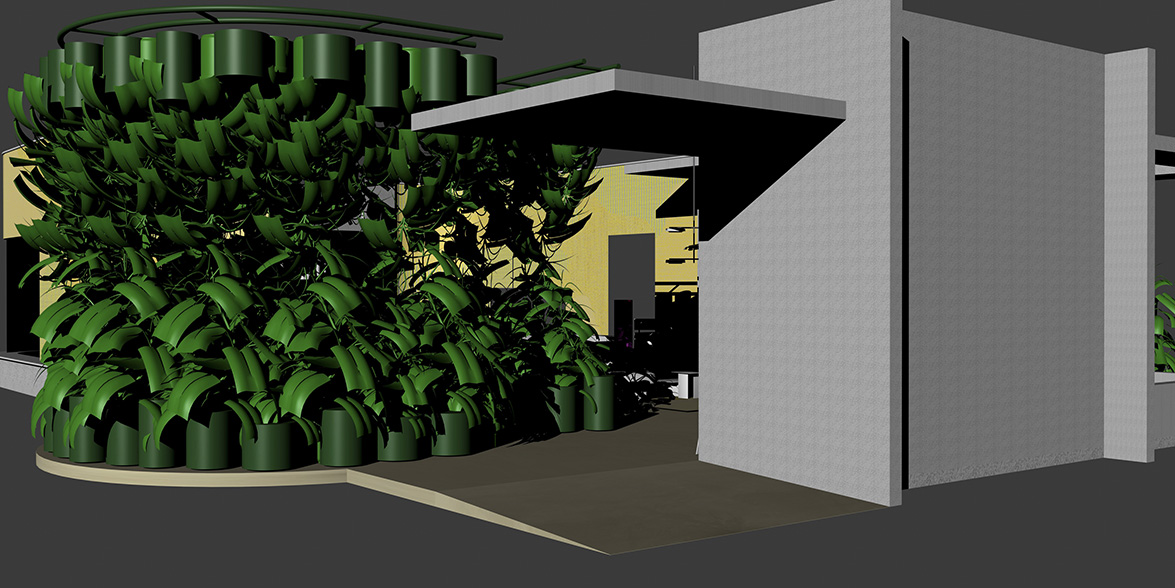 Please come in! The architecture of "Das Haus" at imm cologne 2019 was created by product designers Kate and Joel Booy (Studio Truly Truly) like a Rietveld chair: with assembled wall elements, a vertical curtain with openings for windows and an apse-like wall formed from plants. Photo: Truly Truly; Koelnmesse
With the appearance of Truly Truly in Cologne, the spotlight turns to a studio that is still very new on the scene and whose origins cannot be clearly defined, either in terms of nationality or discipline. Kate and Joel Booy - both born in 1981 - are a couple from Brisbane, Australia, who met when studying graphic design at Queensland College of Art, Griffith University. In 2010, after a few years working and teaching, they moved to Europe, where in 2014, following Joel's degree in product design at the prestigious Design Academy Eindhoven in the Netherlands, they founded their studio Truly Truly, located in the heart of an industrial area around the port of Rotterdam. The name says it all. It is supposed to serve as a reminder to do things properly, honestly and skilfully, and not to lose your own way.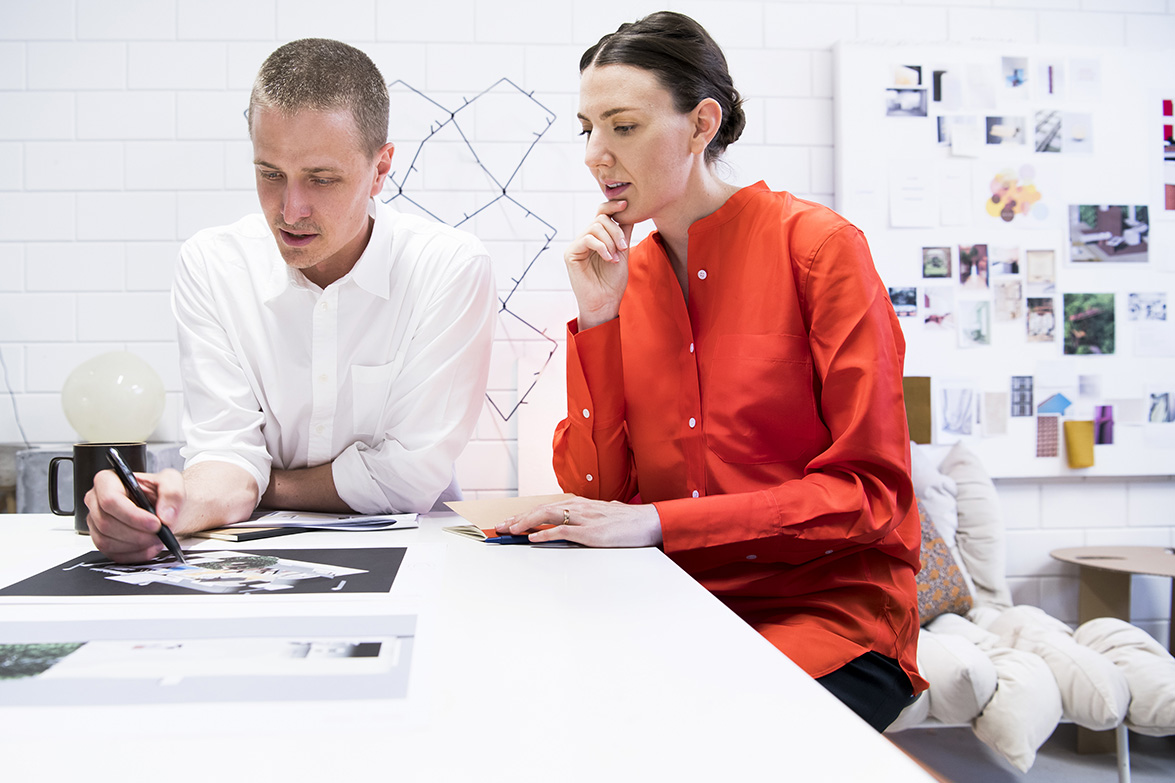 Photo: Lutz Sternstein; Koelnmesse
Since then, they have distinguished themselves not only in their work for institutions such as the Nationaal Glasmuseum in Leerdam and the TextielMuseum in Tilburg, but also through a series of exceptional products for brands like Tacchini Italia, Dexter, IKEA and Rakumba. Working at the interface between the worlds of industry and art, they design products and objects for interiors, lighting, textiles and spaces.
"With Studio Truly Truly, we have secured representatives of the younger design generation who are just as multicultural as they are interdisciplinary," comments Dick Spierenburg, Creative Director of imm cologne. "I'm afraid they're going to turn 'Das Haus' on its head! But that's exactly what we want: to always open new perspectives on living options."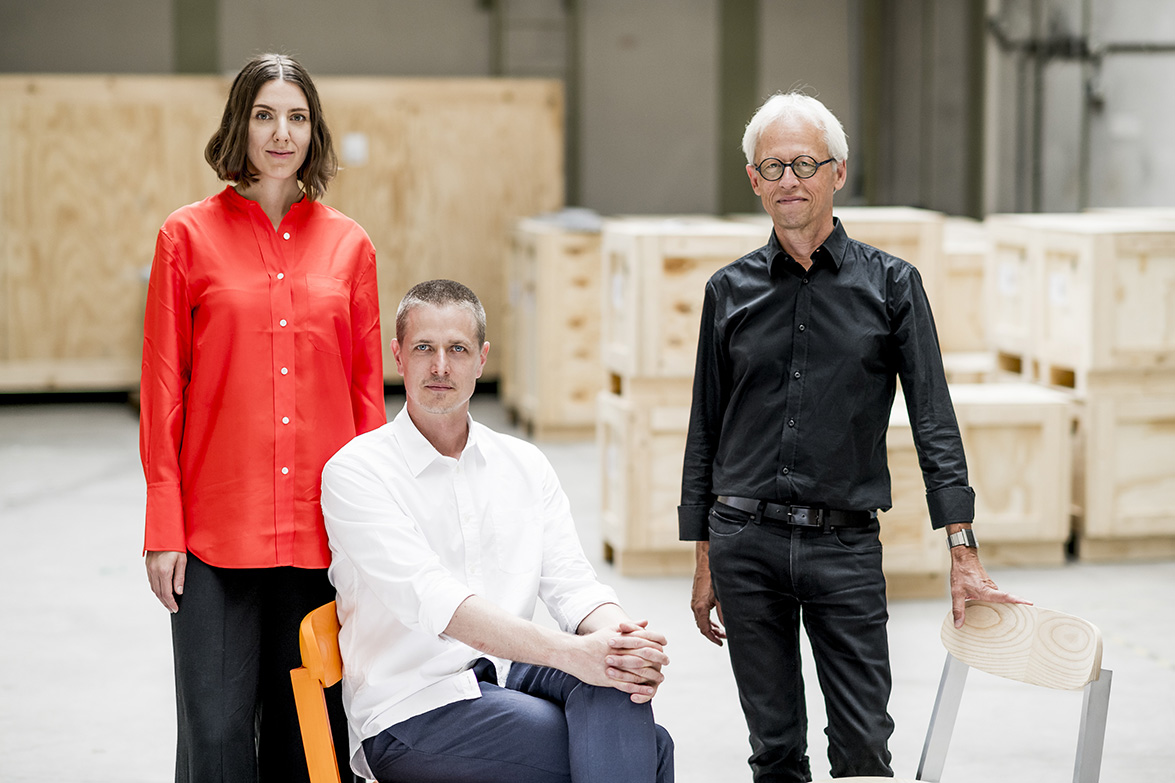 Kate und Joel Booy (Studio Truly Truly), Dick Spierenburg (Creative Director imm cologne). Photo: Lutz Sternstein; Koelnmesse
"Das Haus" - half portrait of the designer, half model home
The "Das Haus - Interiors on Stage" installation is a simulated residential house at the international interiors show imm cologne. Every year, a new designer is nominated and, based on their plans and designs, the fair organises the erection of an approximately 180-square-metre house in the Pure Editions area, Hall 3.1. The furniture, colours, materials, lighting and accessories are also selected by the designer, rendering the finished house an individual, integrated configuration of interior design. The project deals not just with contemporary furnishing trends but also with the aspirations of the viewing public as well as social change.
"Das Haus" from 2012 to 2019 - captivating installations and visionary concepts
"Das Haus" was staged for the first time in 2012 and the Indian-British design team of Nipa Doshi and Jonathan Levien was nominated to introduce the new format. They installed a seemingly organically grown space, which allowed inhabitants and cultures to interact in a spirit of communication. In 2013, the Italian product designer Luca Nichetto carried the design event forward with an elegant ensemble whose construction was open on all sides, welcoming in the natural world. In 2014, the Danish designer Louise Campbell turned "Das Haus" into a low-tech place of calm within the bustle of the fair as well as a model for the reconciliation of conflicting human temperaments and style preferences. In 2015, the Chinese architect couple Rossana Hu and Lyndon Neri challenged traditional home life rituals by taking "cages for living" packed full with classical and modern furniture and setting them in a spatial construction that recalled the narrow alleyways of Shanghai, turning visitor into voyeur and calling for reflection. German designer Sebastian Herkner was on home turf in 2016. With his circular "Haus", he created a house that was airy and fully accessible - with no barriers to people or cultures - and limited only by adjustable curtains in order to permit changing perspectives. The transatlantic "Haus" by Todd Bracher, which trade fair visitors could experience in Cologne in 2017, drew its inspiration from paring down to the essentials. While the Czech designer Lucie Koldova transformed "Das Haus" 2018 into a very specific experiment into the emotional dimension of various lighting compositions, a powerfully conceptual creation at the interface between art and design, abstraction and sensuality is again anticipated from Studio Truly Truly.
Source: Koelnmesse
Visit the Imm Cologne website
Read more news related Imm Cologne published at Infurma
Visit the "Fairs & Events" Calendar on Infurma