The table forms the heart of any kitchen. Here is where life is played out - stories about love and friendship, successes and failures, little comedies and day-to-day tragedies. People are happiest when surrounded by personal belongings. These are what they use to create their own atmosphere. These are the things that turn a kitchen into their kitchen. Nowadays, people increasingly see kitchens as a space in which to spend time, to live - over and above or even instead of cooking.
The requirements placed on their living space vary depending on the time of day or the occasion - perhaps a relaxing breakfast or an evening in the kitchen with family and friends. So as well as considering which functions and applications an individual would like, bulthaup b3 Milan also takes account of when he will need them and/or which atmosphere he may wish to create with them.
When sitting at a table we are more aware of the area at eye level as it is in the center of our field of vision. This is where the new bulthaup b3 system comes into its own. bulthaup b3 Milan 2016 provides atmosphere and makes it possible to create very different room effects using the interplay of material and light. The basic idea involves the creation of different levels which are arranged at different depths and which can be shifted horizontally where required. Within a few seconds, the user can create either an efficient working environment or a comfortable living ambiance.
The basis is provided by the bulthaup wall made of panels in a varied choice of materials, which together with illuminated functional profiles create an atmospheric living ambiance.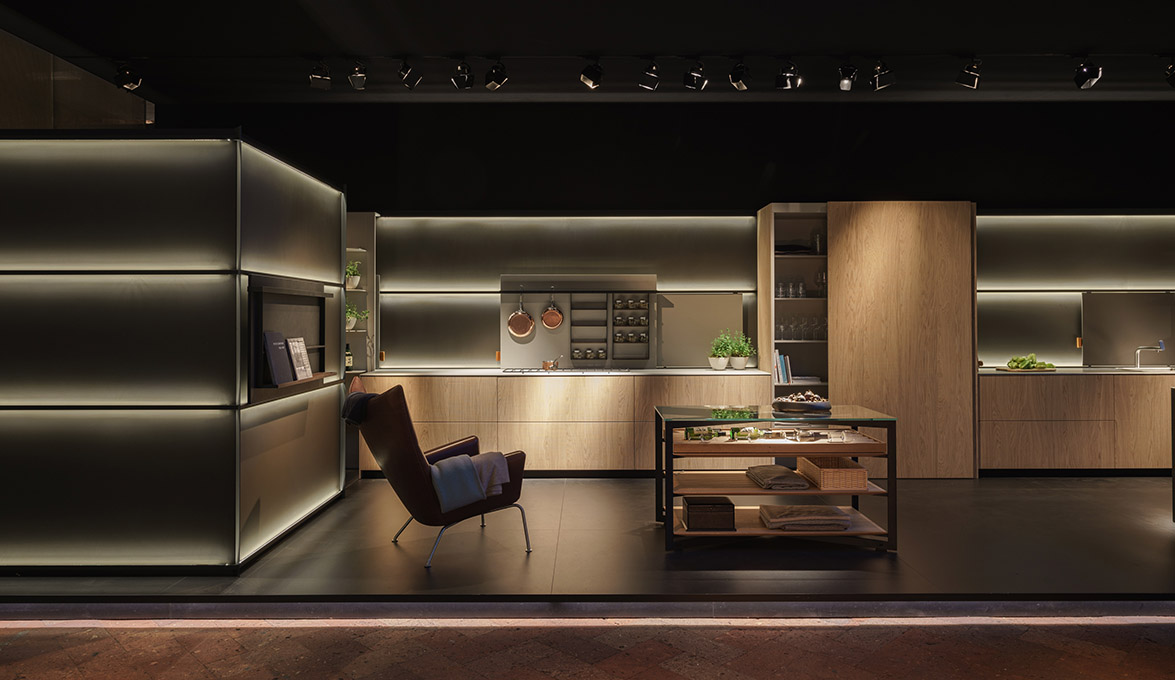 A number of freely selectable functional panels are located behind the adjoining wall shelf, with optional sliding door. If certain utensils are required, the corresponding functional panels can simply be pulled out to bring them within easy reach. Once the meal has been prepared, working tools are simply pushed back behind the shelf wall.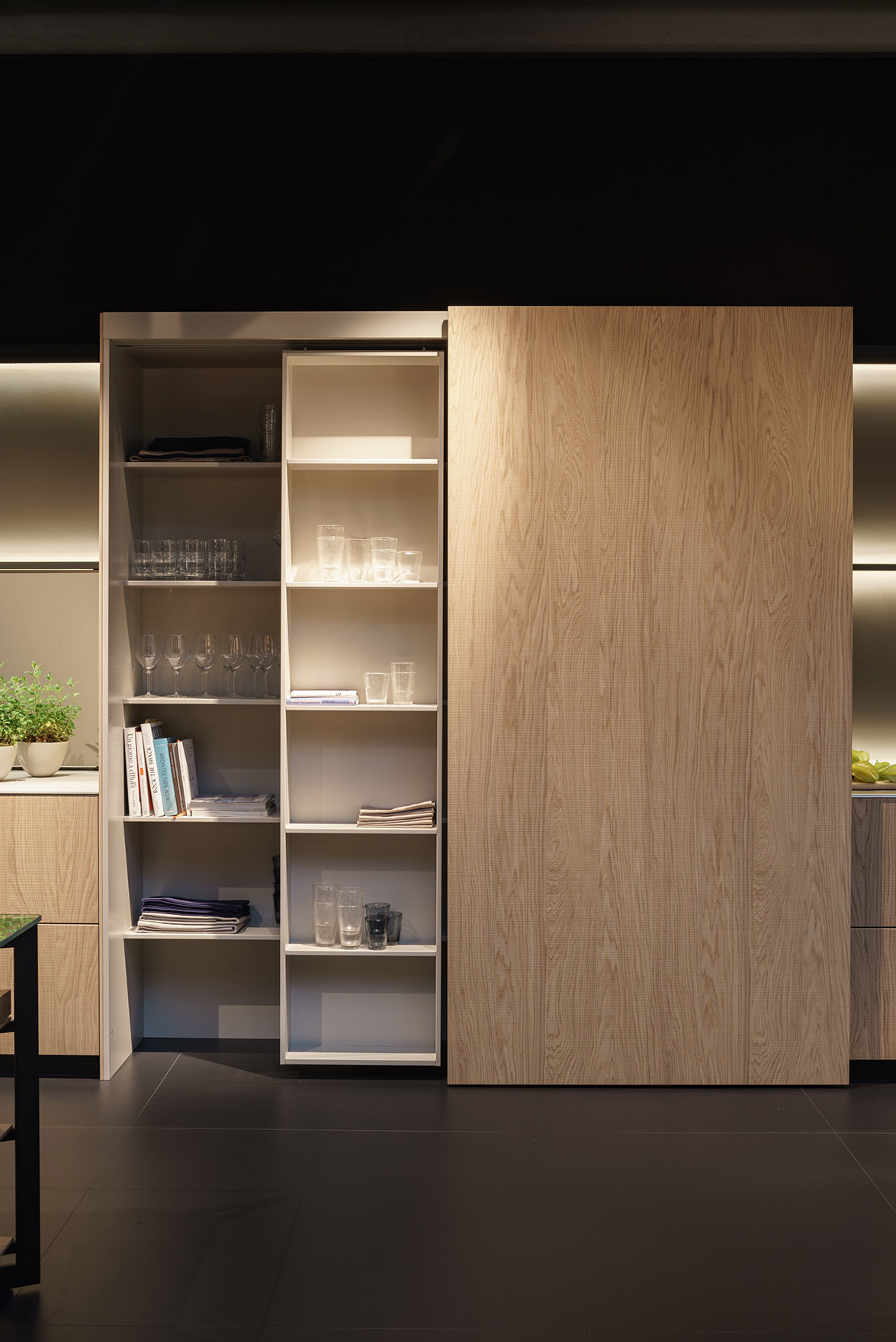 An integrated sliding shelf provides additional storage space. With the sliding door partly open, this element can also be used as an open shelf.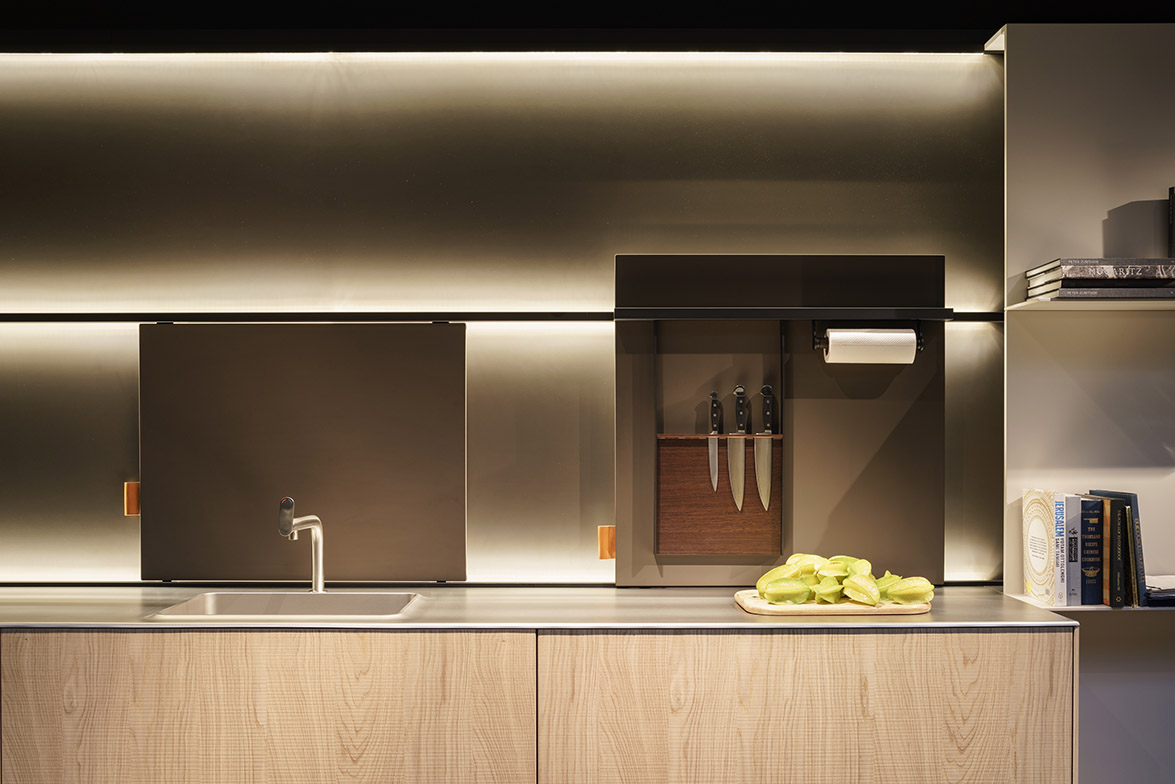 A panel made of resistant materials such as glass or stone which protects against splashes can be pushed to exactly where it is required at the time. It is so thin that another functional panel can even be moved over it.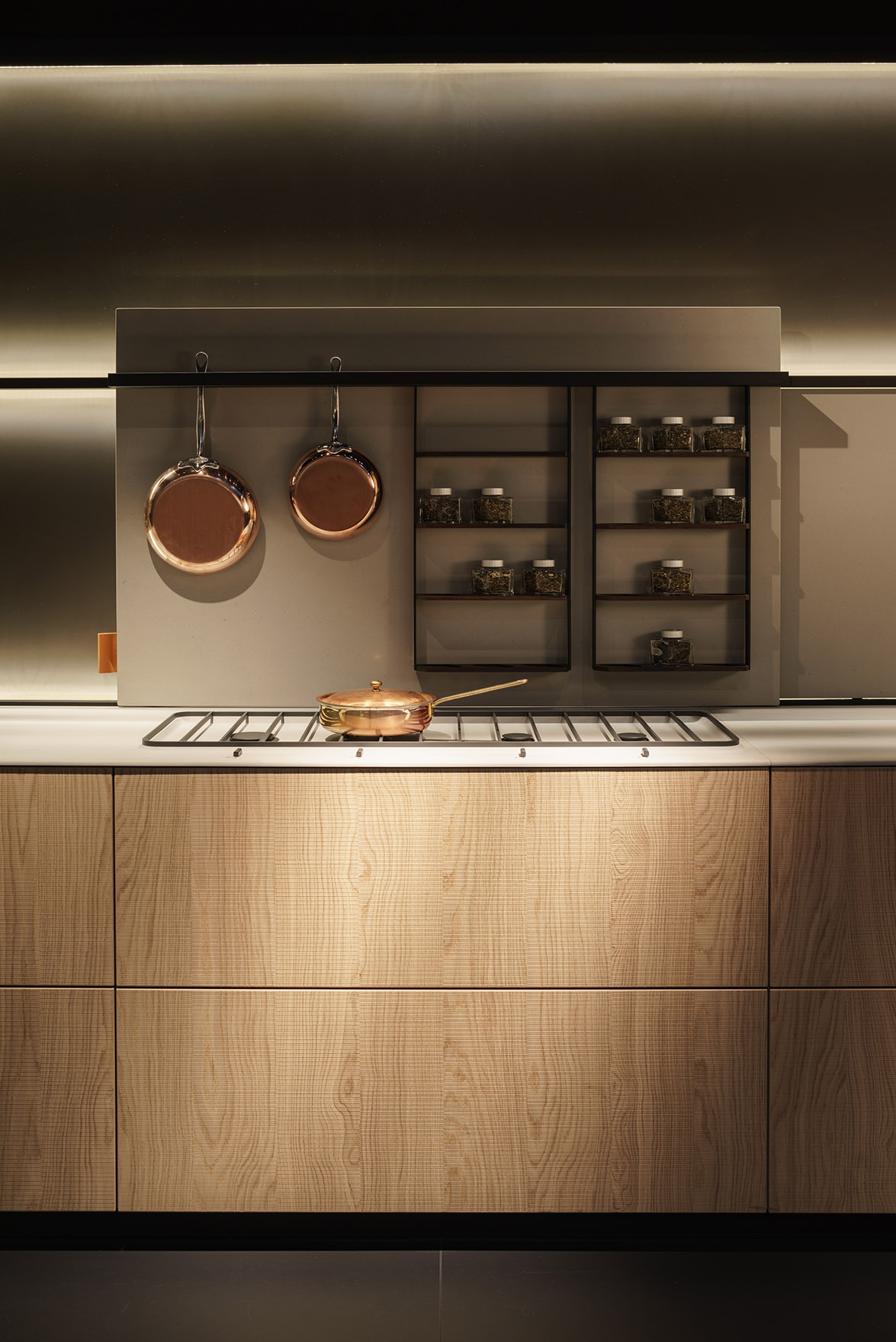 Other functional kitchen panels are fitted with a system rail that can be used to securely hold a spice tray, knife board, kitchen roll holder, or pans and kitchen tools, for example. They are available in various widths and materials.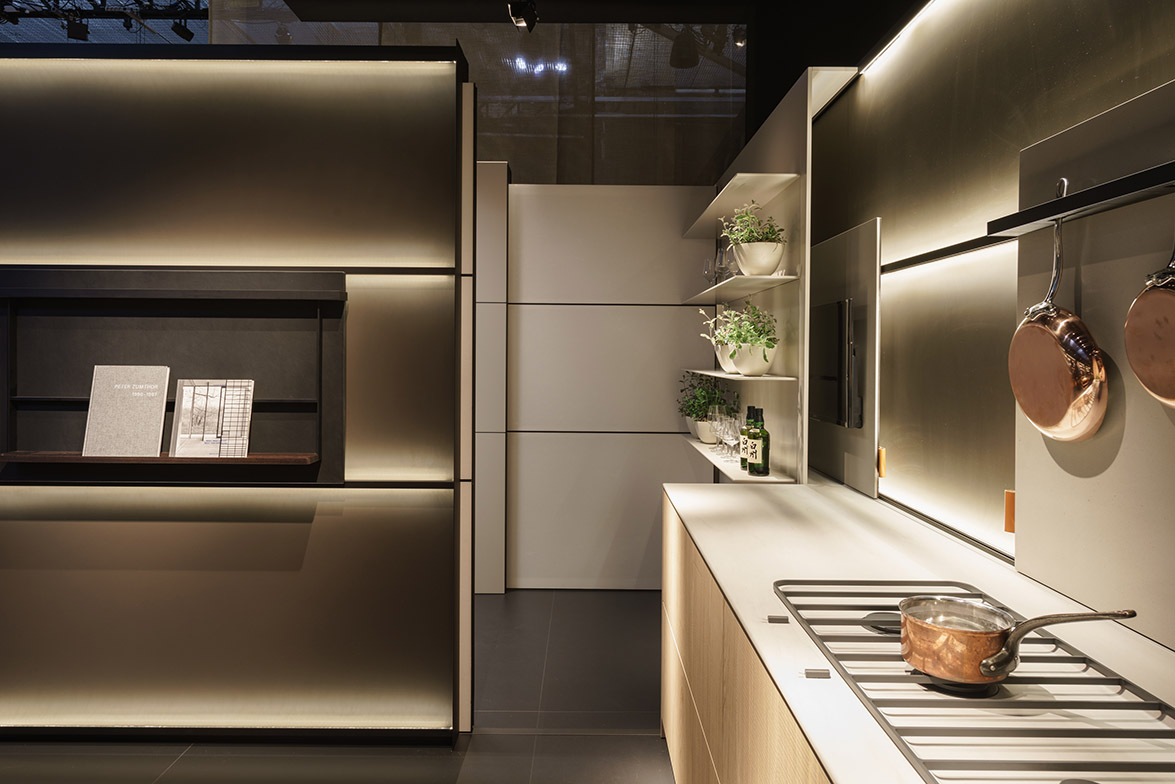 Living room panels are also available in various widths and materials. Whether books, bottles, glasses or screens - the user decides which items are to be given a special place to create a comfortable, personal atmosphere.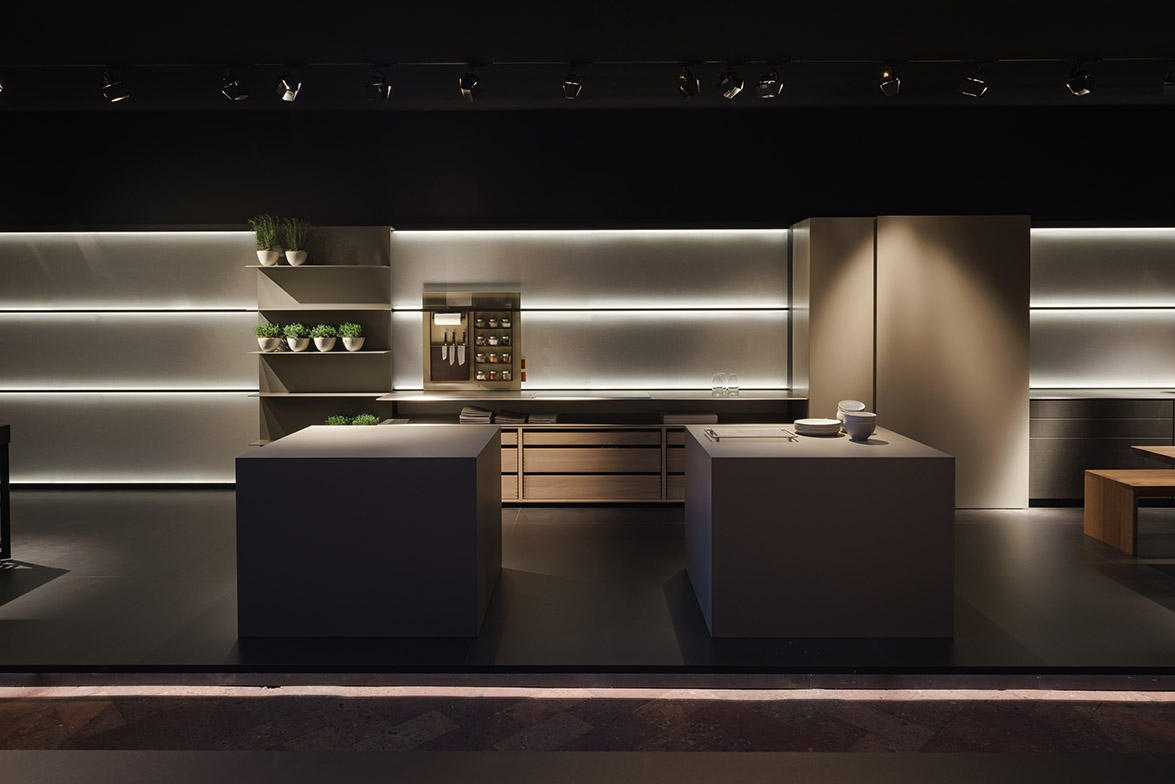 The worktop extending from the wall, shown here in stainless steel, is free-standing and is therefore for the first time independent of any type of substructure. It tapers to the working line, providing a delicate and softly rounded ending.
Storage elements can be placed underneath the worktop. The user can choose if he wishes to have the free-standing worktop with additional open storage space or the classic version with the worktop placed on it.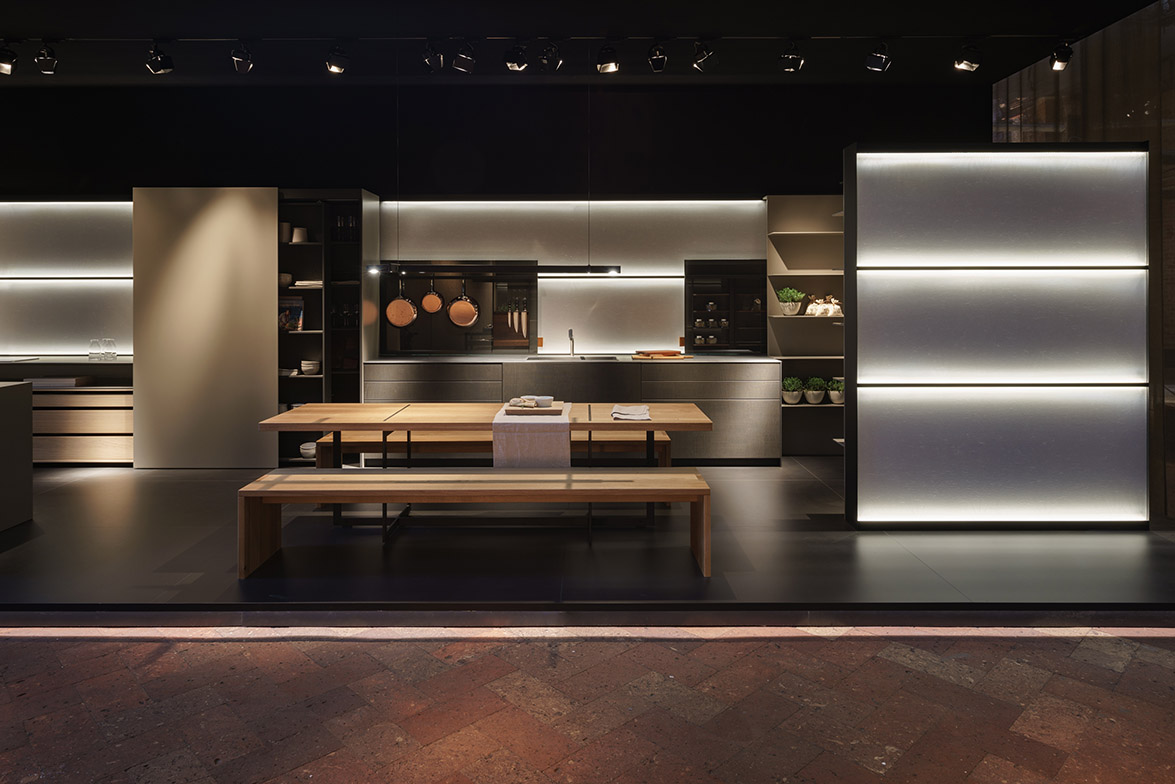 bulthaup b3 Milan eliminates the rigidity of predefined structures, allowing the entire architectural space to be altered. bulthaup walls, shown here in coated Japanese paper, can even be used to create new rooms and spaces, for example for storing provisions or accommodating appliances.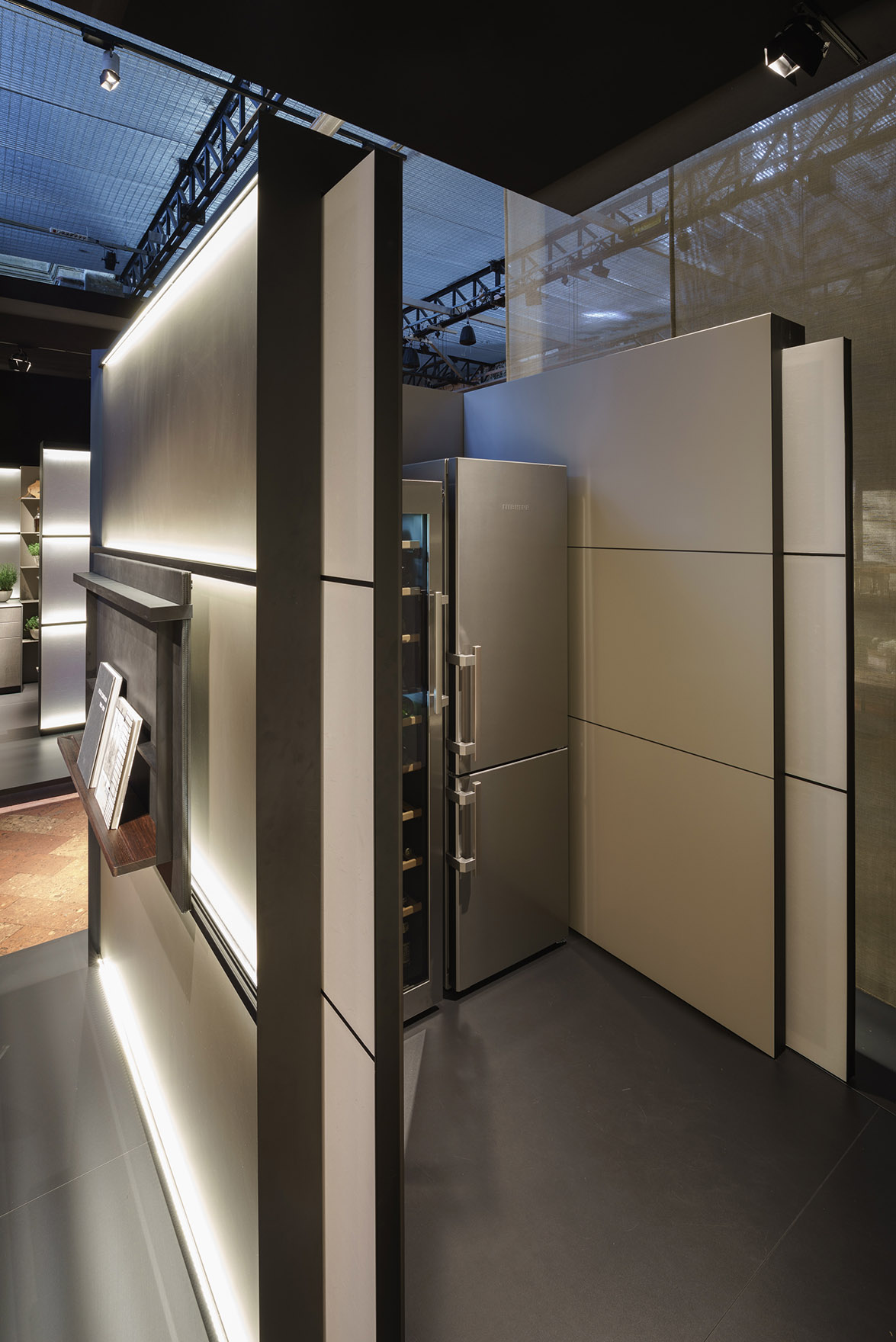 Kitchen appliances like the oven, refrigerator or dishwasher can be placed here so their technical appearance does not distract from the ambiance of the living space. The rooms and spaces can even be closed with sliding doors.
Source: bulthaup
Visit the bulthaup website