The Shaping Silsetone project by Cosentino, has scooped the prestigious Designer Kitchen & Bathroom, Product Innovation award for materials. Now in their 10th year, the awards are committed to celebrating and promoting excellence in kitchen and bathroom design and are dedicated to improving standards across the industry.
Christophe Gontier, Managing Director for Cosentino UK says, "Cosentino is committed to creating innovative materials that inspire designers, the industry and our customers. This award is testament to the time, innovation, passion and dedication that everyone involved in the brand and Shaping Silestone project shares."
The awards were held in an exclusive marquee within the North Moat of the Tower of London. The esteemed judges included, Alan Crawford, architect and founder of the Crawford Partnership, Craig Senel, director of Puro Design, Hayley Tarrington, creative director of Plug In Design, Jo-Anne Wright, editor of Utopia, Renee Mascari, CEO of the KBB National Training Group, Theo Williams, head of design for John Lewis and Vanessa Brady, president of The Society of British Interior Design.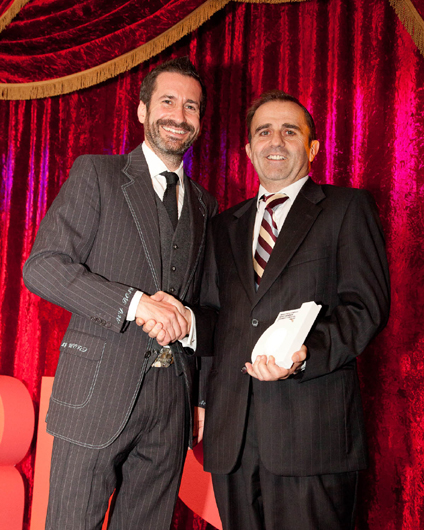 Christopher Gontier collecting the award from Oliver Heath, Interior Designer & TV Presenter
Created by renowned Brazilian designers, Fernando and Humberto Campana, Shaping Silestone is a modular piece of furniture, which combines conceptual and sculptural ideas. Inspired by the idea of a Swiss army knife, the design consists of three main components that transform into a multi-functional furniture unit.
The project is made from the world leading quartz worksurface, Silestone by Cosentino and features the Silestone Integrity sink by Cosentino. The front panels of the design are made from a fine hardwood veneer from a walnut tree that was cut more than a half a century ago. This is the second time that Cosentino has worked with Fernando and Humberto Campana, two renowned experts in the world of international design.
Made from over 90% natural quartz crystals, Silestone by Cosentino worksurfaces have nearly four to five times the flexural strength of granite and a high resistance to scratch, stain and heat. Extremely hygienic, Silestone is available in over 60 distinctive through-body colours with a shade and consistency that is not found in natural stone. With a ten-year warranty, Silestone is the ideal surface for use in a wide variety of applications, including worksurfaces, bar/ reception tops, flooring, splashbacks and wall cladding.
Source: Cosentino
Read more news related Cosentino published at Infurma
Visit the Cosentino website