Alex March is inspired by Ibero-American landscapes to design Oda Restaurant, the new gastronomic space of the Casino de Barcelona
The interior design and industrial design studio Alex March Studio undersigns the interior design project of the Oda Restaurant & Cocktails, a new gastronomic space belonging to the Grup Peralada and located in the Casino de Barcelona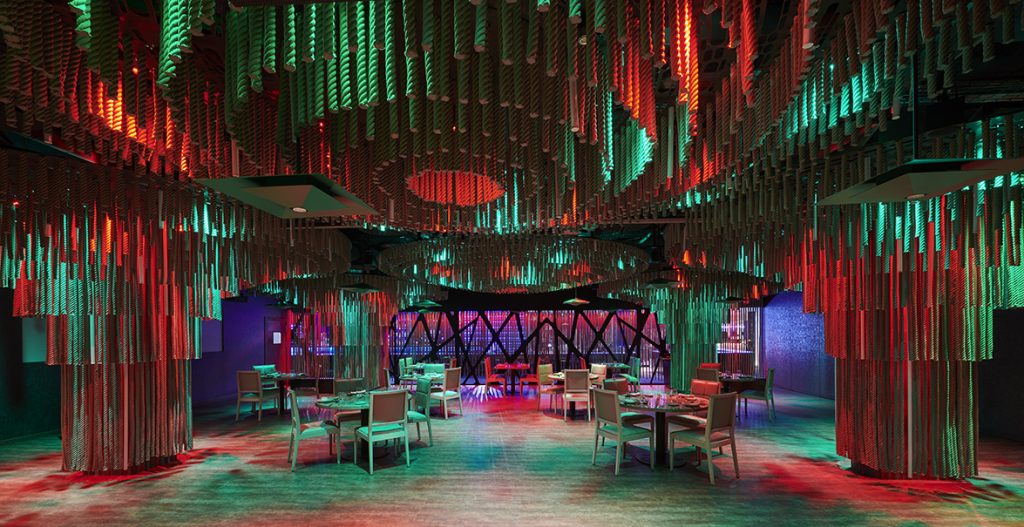 In a space of 252m2 and with a capacity for 60 people, the Oda Restaurant & Cocktails is located on the lower floor of the Casino. Its design has been developed from a combination of organic materials such as iron, oxidized iron, ropes, wood and resins.
The project of the restaurant, designed by Alex March, is an open space where limits are lost with the combination of textures, colors and lighting games. The new Oda Restaurant offers its impressive personality through its materials, the strong commitment to a studied rgb lighting (neutral at dinner time and with an intense color palette at cocktail hours) and the shocking projections on the screens located in two of the sides of the room.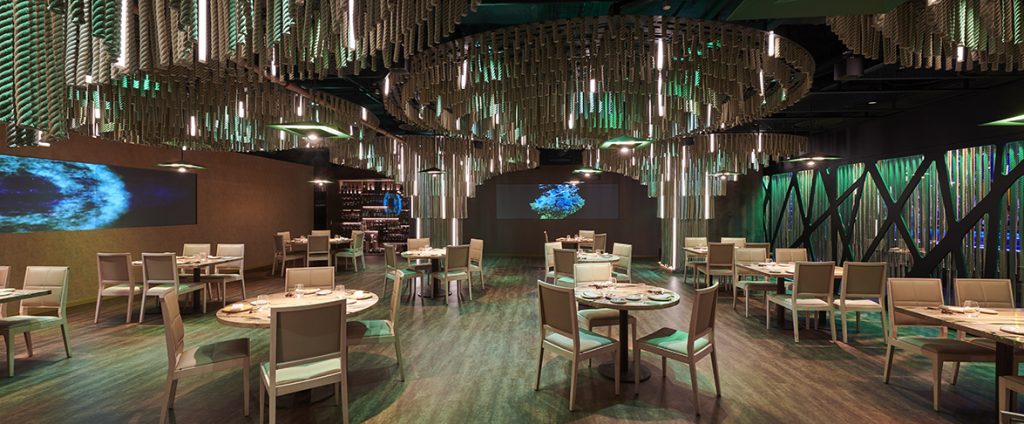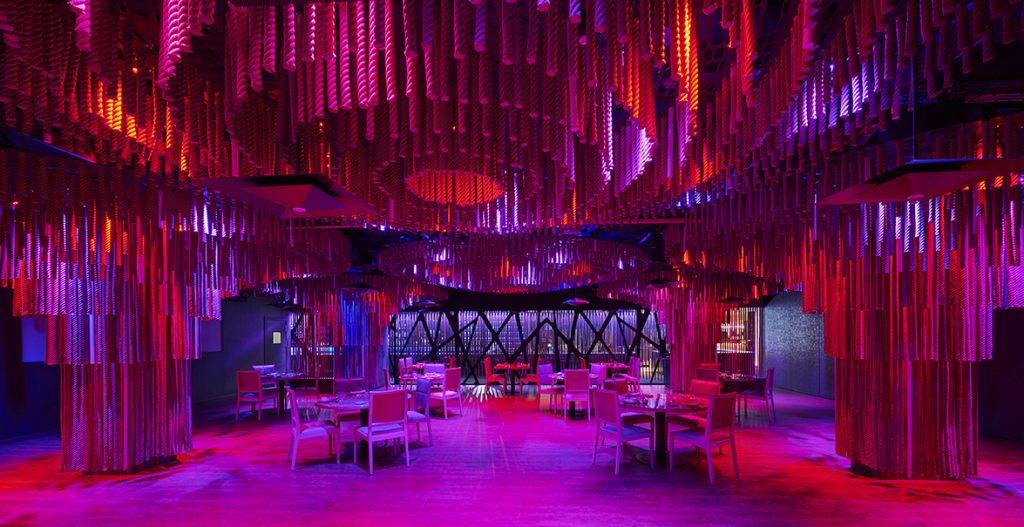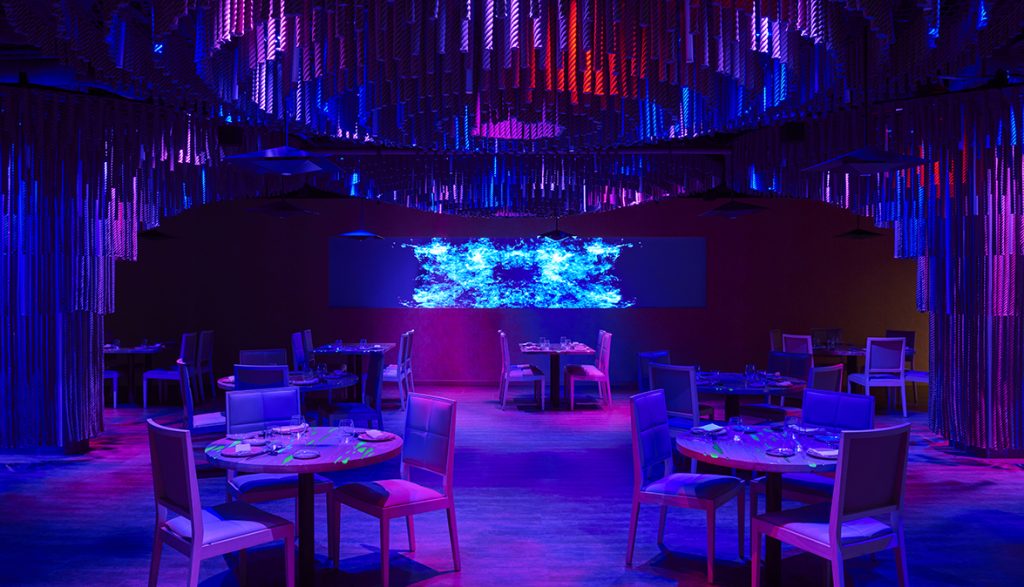 Spacious, original and dynamic, the place is distributed in two environments. The restaurant decoration stands out for the use of 8,000 meters of ropes, suspended from the ceiling. Also, the lighting made by the combination of LED bars changes color and intensity according to the schedule. The double-focus iron lamps have been specially designed for the space by Fugrup, a company that produces furniture and decoration projects mainly out of metal. The firm will market these lamps soon through the designer's new brand. Both the elegant Manila chairs by Andreu World and the chestnut wood tables with luminescent effect in the parts treated with resins, designed by Alex March are distintive elements in this room. And, starting at midnight, the cocktail bar stands out for its ethnic music, the screenings and, especially, the effects of lighting in the space.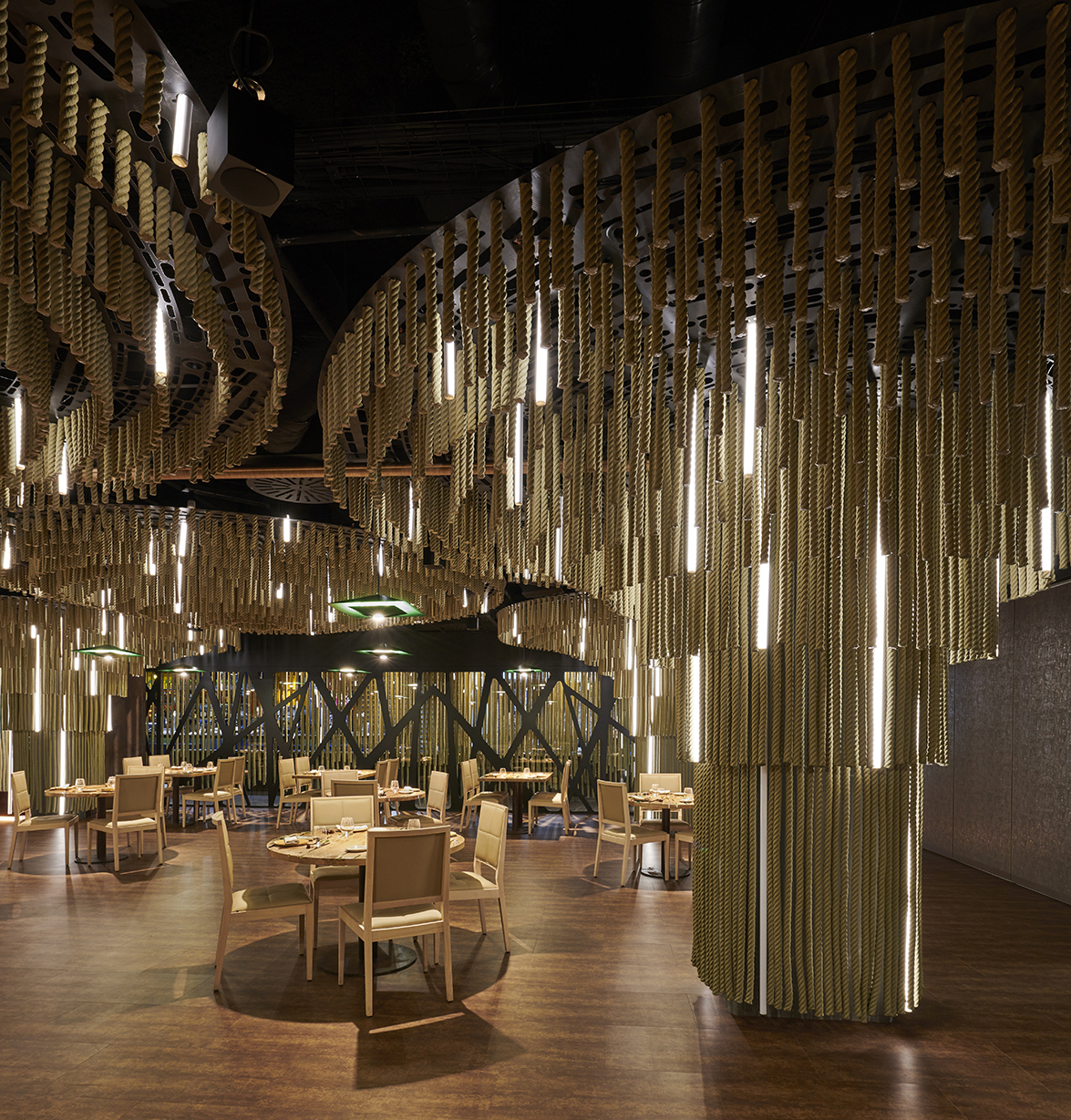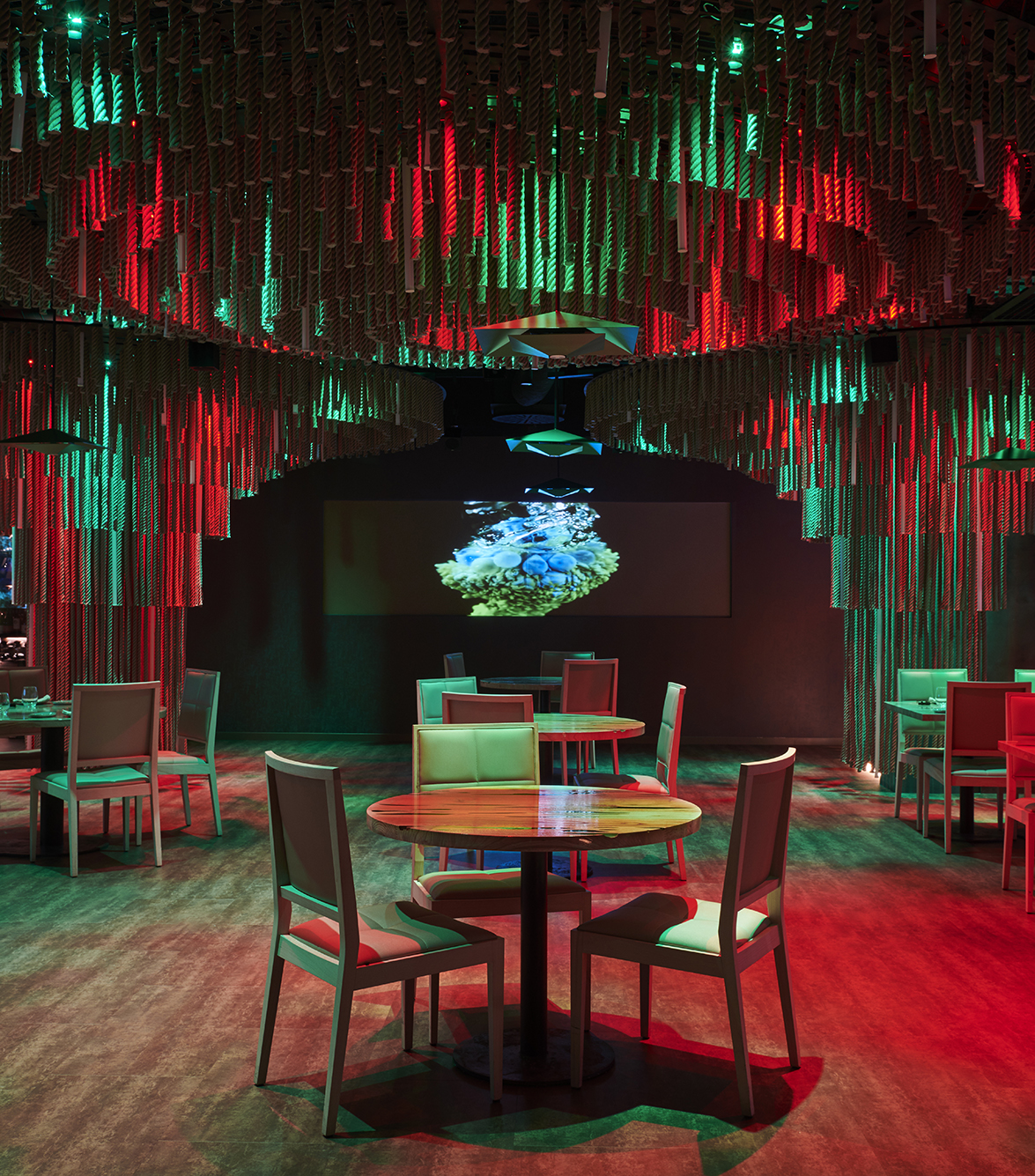 The interior design combines the Ibero-American cultures on which the gastronomy of the new establishment is based. An exclusive design, but friendly and approachable, which is closely linked to the philosophy of Alex March Studio, whose designs convey originality, sensitivity and emotion.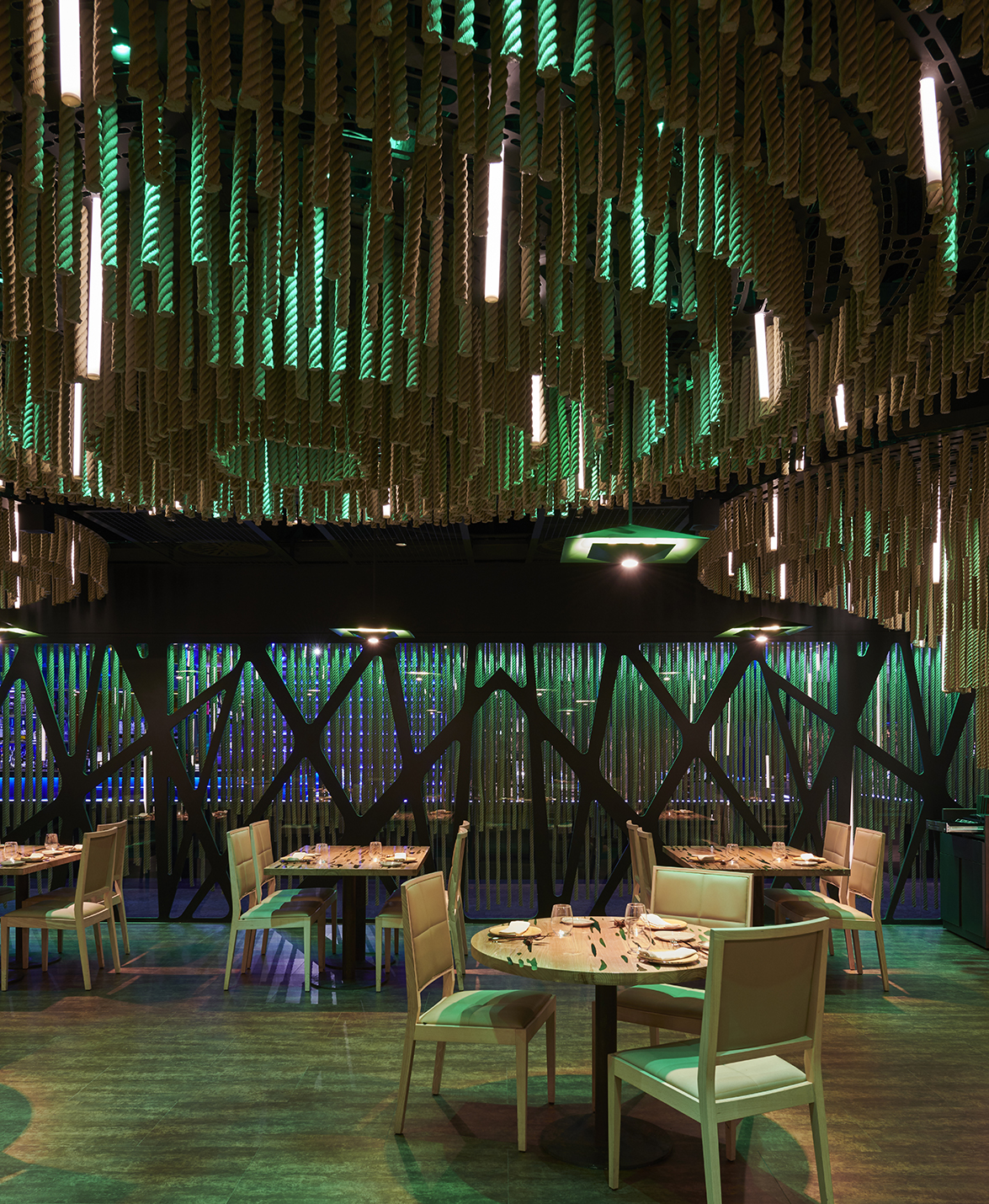 Source: Alex March Studio
Photos: Eugeni Pons
Visit the Alex March Studio website