This is the 22nd edition of the leading design event for talented young designers. An edition that also invites reflection on the future of food from a responsible perspective, exploring ways in which design technology can be combined with ancient artisan practices
Creative young people with a real thirst for making their mark and communicating through their own very personal design make up the generation of talents spawned by SaloneSatellite over the last twenty-one years - a real breath of fresh air that has successfully revitalised the looks and remits of furnishing products.
Many of these young people already vaunt numerous collaborations with leading design companies keen to take them on and to look towards the future together. On the eve on the new edition, which runs concurrently with the Salone del Mobile.Milano from 9th to 14th April, SaloneSatellite is reprising its role as a talent scout and a catalyst for discussion, reflection and exploration around the future of design.
Around 550 exhibitors will be ranged over 3,000 square metres in Pavilions 22-24 at Rho Fiera Milano, with free public entry from Cargo 5.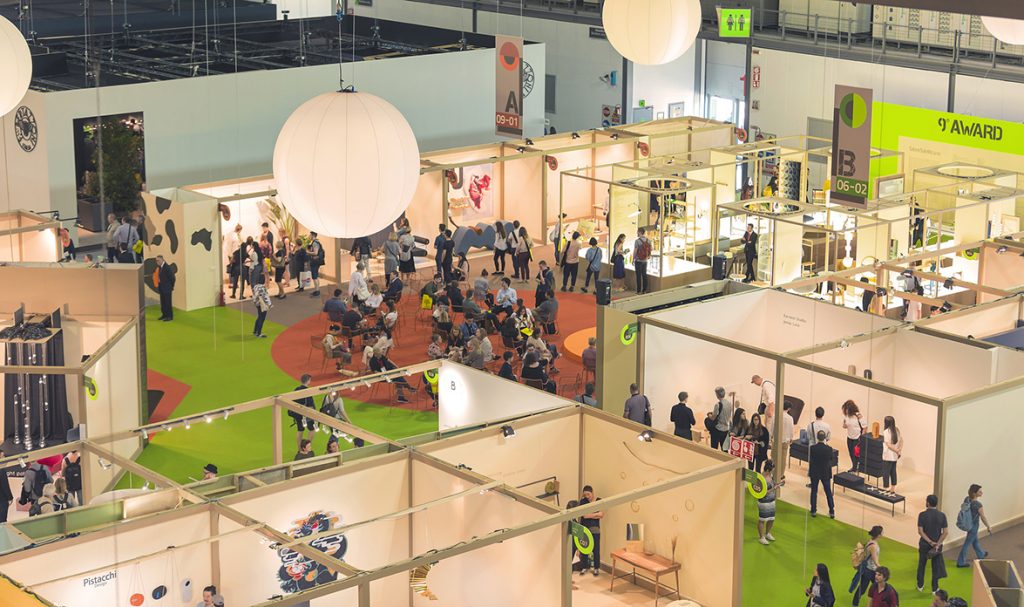 This year's event also aims to focus on the relationship between design and food and, with the slogan FOOD as a DESIGN OBJECT, is joining the chorus of voices calling for what is now a much needed global food revolution in which design, technology and traditional manual skills can come together to tackle the challenges of the future - from climate change, which affects the food system at every level, to the lack of resources and the crucial diversification in food production and consumption. In this day and age, we are having to rethink food production methods, packaging, distribution, consumption and disposal.
The hope is that the young SaloneSatellite protagonists, who hail from every corner of the globe, will see the slogan as a trigger for responses and solutions in the form of cutting-edge visions, ideas, designs and original contributions. Geared to creating a hypothetical way forward based on experimentation and memory - not just new forms of cutlery, crockery or kitchen spaces and original ways of eating, but also new production tools.
Michetta bread will have a concrete presence, both as a symbol of the theme and as a homage to the city of Milan, whence it originates. Made from 5 grains from all 5 continents, it will embody the hope of a future comprised of renewed prosperity, health and integration at table. SaloneSatellite's initiative is being held in partnership with Pane Quotidiano, the non-profit association set up in the Lombard capital in 1898 to provide food for those most in need on a daily basis. This special michetta will be handed out at the organisation's various offices on 10th and 12th April.
As always, a prestigious Selection Committee, made up of internationally renowned figures from the world of design, planning and communication, headed by Marva Griffin Wilshire, Founder and Curator of SaloneSatellite, has cast an eye over the submissions from a great many new designers. The committee includes the designers Stephen Burks, Francesco Faccin and Francesca Lanzavecchia; Emiliana Martinelli (President, Martinelli Luce), Gianluca Mosconi (President and CEO, Tecno and Zanotta), Monica Pedrali (Commercial and Marketing Director, Pedrali); the journalists Loredana Mascheroni (Domus), Veronica Orsi (IDFM) and Norman Kietzmann (designjournalist.com); gallerist and talent scout Jean Blanchaert; the architect Ricardo Bello Dias; design teacher and critic Beppe Finessi and Patrizia Malfatti, Head of Communication and Press Office, Salone del Mobile.Milano.
The selection process is always highly competitive in order to preserve the extraordinarily high reputation of SaloneSatellite, which 'honours' promising young designers destined for the market and the design star system. The 2019 process has been particularly rigorous and demanding and the Selection Committee has seen fit to reject many of the candidates, encouraging them to put themselves forward again in the future with more carefully honed proposals.
The selected new rising stars will join ranks with designers who have already taken part in previous editions (up to a maximum of 3), the winners of the 2018 editions of SaloneSatellite Moscow and SaloneSatellite Shanghai, and specialist sectoral Italian and foreign schools and universities.
The now traditional SaloneSatellite Award - now into its 10th edition - marks a further step in facilitating interface between supply and demand, between entrepreneurs and designers, between creativity and manufacturing. The competitors have also been informed of this year's theme, while being absolutely free to adhere to it or not when working up their prototype entries. The Award is assigned by an international jury of figures from the design world - chaired from the very first edition onwards by Paola Antonelli (Senior Curator of the Department of Architecture and Design at MoMA and curator of the XXII Triennale di Milano) - which will select the top 3 contenders.
Source: Salone del Mobile
Pictures from SaloneSatellite 2018
Visit the Fair & Event calendar on Infurma
Read more news related with SalonSatellite published on Infurma