Well-balanced shapes in harmony with their environment - the Eurostyle faucet line from GROHE resembles a sensual work of art inspired by Feng Shui. First launched in 1999, the third generation of this design classic is characterised by organic flows, soft contours and natural beauty.
As a special treat, the Eurostyle faucets are, for the first time, available not only in chrome but also in brilliant white. Even though it comes equipped with the latest technical features, Eurostyle falls in the category of affordable luxury.
Form and function with a natural appeal
The lever, spout and body all blend into a softly formed and naturally inspired unit, resulting in a sensually curved silhouette, which instantly catches the eye. Inclined at a 7-degree angle, the lever is the focus of attention, with its oval cut-out transforming the faucet into an aesthetic sculpture while at the same time adding a touch of dynamic lightness. Its ergonomic shape makes the lever very comfortable to operate. The new 35-millimetre cartridge with integrated temperature limiter uses GROHE SilkMove® technology to ensure silky smooth lever action and precise fine-tuning of both the flow and the temperature.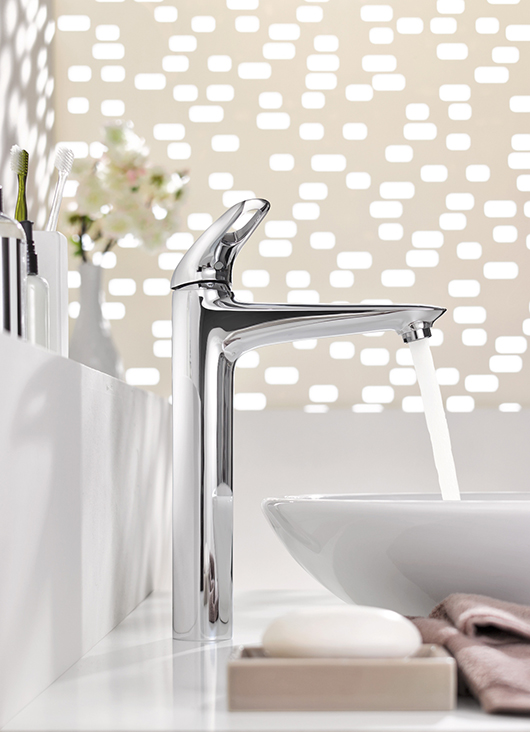 Eurostyle is the right choice for a sustainable lifestyle. Its reduced water consumption of only 5.7 litres per minute helps save the precious resources and protect the environment. The faucet line is also available with the new GROHE Zero technology for all those who only want the best for their health and well-being. Like no other technology, GROHE Zero's advanced water conduit technology prevents lead and nickel from being released by the faucet body into the drinking water - maximum quality that lasts a faucet's lifetime.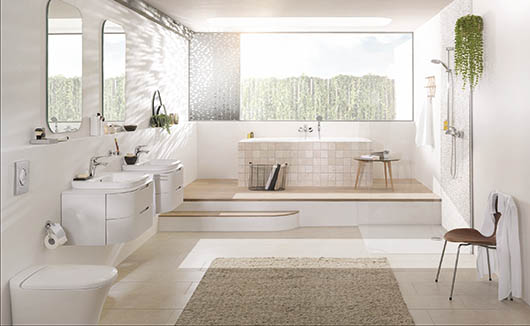 Diversity for modern bathrooms
Eurostyle is available in brilliant scratch-resistant GROHE StarLight® Chrome and in shining MoonWhite with chrome details for washbasins, bathtubs, showers and bidets. The spout heights of the washbasin faucets range from S to XL to match a large number of different washbasin types. Thanks to these flexible options, their unobtrusive design blends in stylishly with any environment.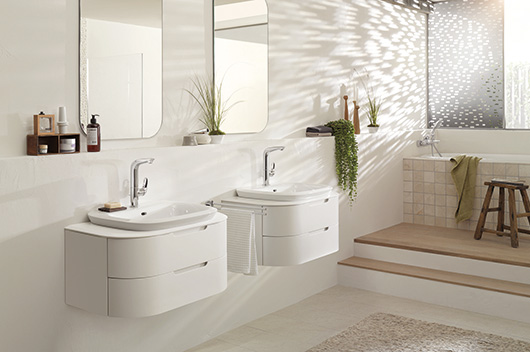 Sensual lines and a touch of luxury meet endless functionality and innovative technologies - the new Eurostyle faucet line from GROHE brings an air of effortless elegance to today's bathroom.
Source: Grohe
Read more news related Grohe published at Infurma
Visit the Grohe website