The corner cabinet solution Recorner maxx revolutionises storage space utilisation in corner cabinets. Instead of the space-consuming central column, Vauth-Sagel offers a product with a completely new, for consumers, invisible construction - a product that is absolutely unique within the market. In addition to this uniqueness, the Recorner maxx program is characterised by its sheer diversity: the new solution is absolutely compatible with tall, base and wall corner cabinets with round 3/4 and 4/4 shelves. Equipped with the new Premea-Glassline wooden shelf program, the Recorner maxx unites optimum storage space utilisation with comfortable access and extraordinary design.
Dispensing with the space-consuming central column generates additional storage space and makes the Recorner maxx not only a practical, but also a visually-pleasing, product for tall, base and wall corner cabinets. The round shelves are supported by a traverse that stretches across the entire carcass and the assembly of the vertical bracket is carried out in the interior of the carcass. Here, the mechanical parts of the fitting remain virtually invisible to the consumer. The shelves in the Premea and Premea Glassline models now also offer space for bulky items such as casserole dishes, serving platters, oversized bowls - simply all those things that could not be stored in corner cabinets to date. Depending on the cabinet design, 3/4 or 4/4 shelves can be used.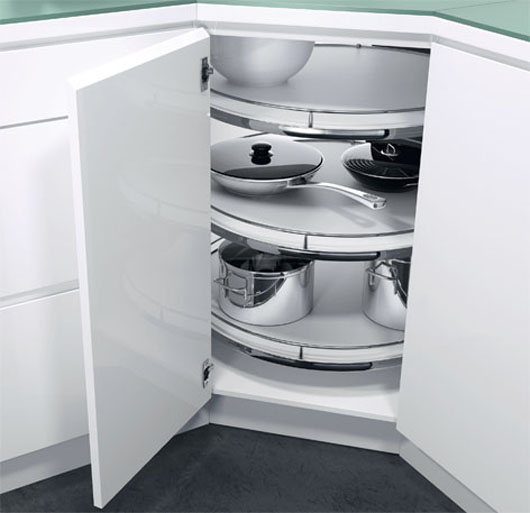 The fitting - available in 600-, 650-, 800- and 900- mm widths - also permits height-adjustable shelf positioning, which is completely independent of the carcass height. And as several shelves no longer have to be connected to each other, the Recorner maxx also creates order in a sink based unit, for example.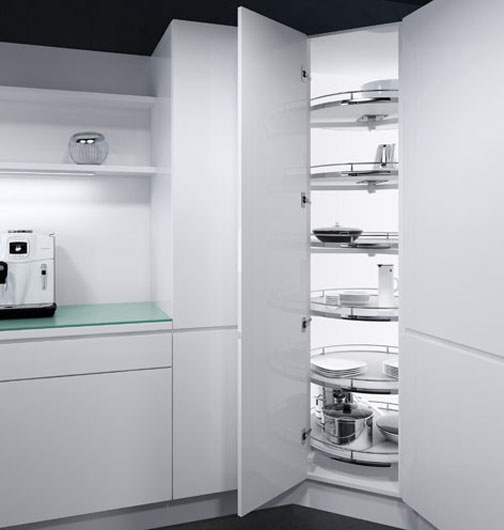 Recorner maxx in corner wall cabinets
Vauth-Sagel has redesigned the Recorner maxx especially for corner wall cabinets. To this end, the developers have made the traverse under the shelves and the shelf supports more filigree in design. The result: upon opening, users see only the harmonious-looking round shelves such as Premea-Glassline - all the technology remains discreetly hidden.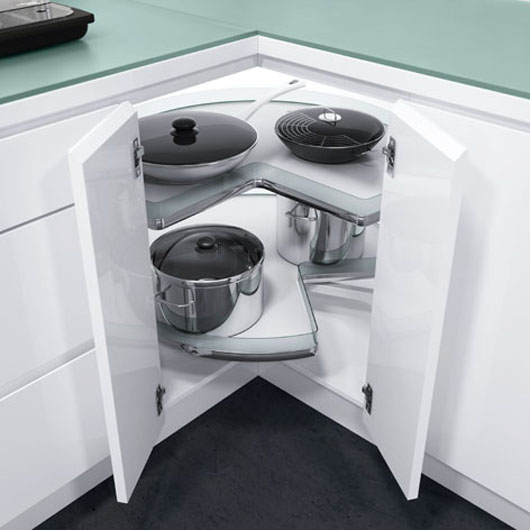 Simple can often be better
With the Recorner maxx, Vauth-Sagel once again proves its development competence. It has succeeded in developing a completely new and simultaneously simple-to-fit storage space solution that offers consumers considerably more storage space and hence tangible value added. Very much in keeping with the motto: simple can often be better.