Antonio Di Oronzo, principal of bluarch architecture + interiors + lighting, designs Segafredo Restaurant Café Lounge in New York.
Segafredo is a venue in the heart of the Greenwich Village in New York City. Designed as a franchise of the homonymous Italian, top-shelf coffee brand, this venue offers breakfast, lunch and dinner menus centered on Italian tradition and recipes. Also available is a lounge area with an ad-hoc cocktail menu.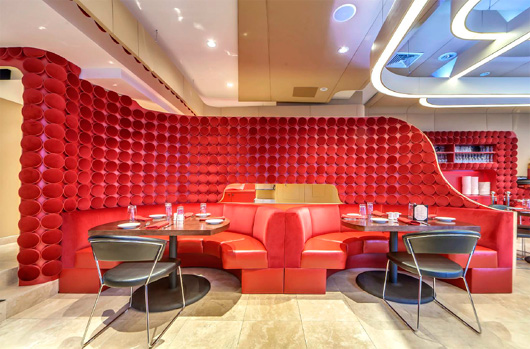 The project is a conceptual exercise upon the juxtaposition of the geometrical implications of the Mobius strip and the act of stirring coffee. There is a popular belief that stirring coffee with one's left or right hand and in either clockwise or counterclockwise direction implies different meanings. On the other hand, the Mobius strip has the mathematical property of being non-orientable, of disregarding handedness. One is signified through the fluid, dynamic properties of light, the other through a seamlessly unfolding surface showing its duality.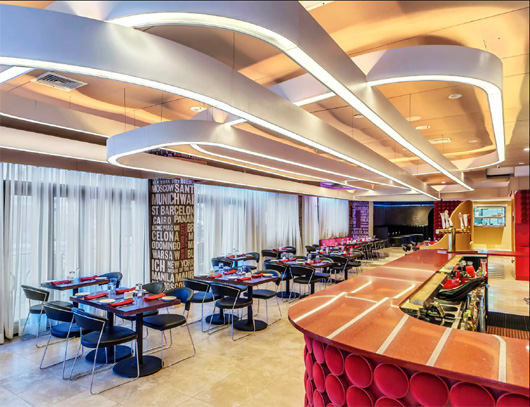 The project is divided into two main systems, the lighting design, and the interior design. A large, custom-designed light fixture hovers the space by swirling just like the act of stirring coffee. It is a winding light box fitted with warm white LED luminaire which illuminate downwards, while an RGB LED luminaire glows upwards. The thin fixture slants and rises, turns and lowers in chamfers.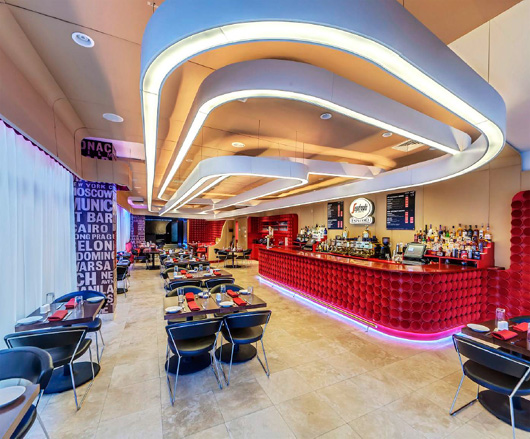 The interior design is based on a single surfaces which folds [also in chamfers] along the edges of the space, while revealing its two sides one finished with seamed warm beige upholstery, to set a more casual mood for lunch the other fitted with upholstered, 6-inch round panels finished with deep red velour, to offer a more intimate, soft setting for dinner and drinks. This surface twists like a Mobius strip to accommodate the various programmatic spaces and needs.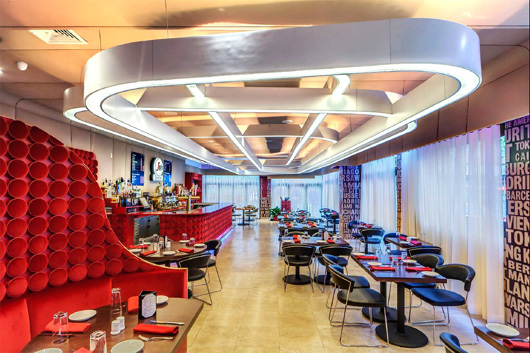 The floor is Travertine, and runs throughout the venue, all the way to the lounge room fitted with chocolate brown channeled banquettes and oval mirrored tables. Here, the walls are clad in a soft, sensuous sheep skin that makes the space perfect for intimate rendezvous, and, at once, for fun parties of 30 to 40 guests.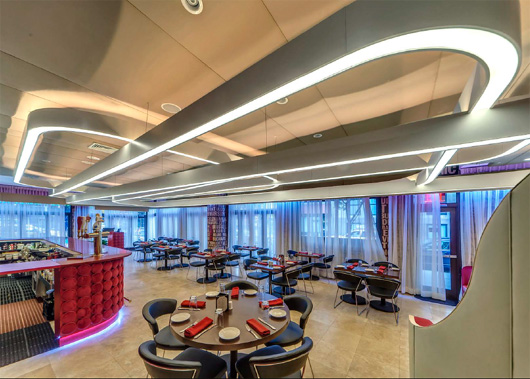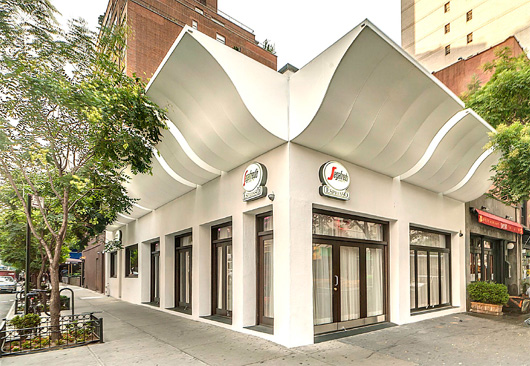 Source: Bluarch architecture + interiors + lighting
Read more news related Bluarch published at Infurma
Visit the Bluarch website