Milesi leader in the production of wood varnishes, and belonging to the group IVM Chemicals, has developed a technology called Polygreen range, a product for market segments interested on pigmented processes with low harmfulness and low environmental impact.
This technological innovation by MILESI in Polygreen product development has been recognized positively by the market (replacing the current use of polyacrylic sealers ), which has allowed them to achieve important business results.
For satisfaction and customer needs, the Research and Development Laboratory of Milesi informs us that this new version has been called Polygreen White Sealer, to perform high quality pigmented processes with low harmfulness and low environmental impact.
With the entry into force of the REACH Regulation, which regulates the registration, evaluation, authorization and restriction of chemical substances and preparations, in order to ensure a high level of protection of human health and the environment, customers and end users are demanding increasingly the use of materials and products that do not contain harmful substances.
Polygreen White is suitable for high and low gloss pigmented processes. Furthermore, the perfect levelling and thixotropy increases the covering of the edges, comparable to those achieved with the use of polyester products, but with lower residual emissions and styrene free.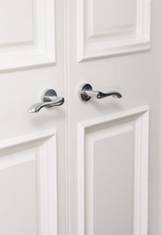 The Polygreen White, replacing current polyacrylic and polyurethane sealers with high aesthetic quality and also very low COV, this Polygreen sealer offers numerous advantages:
• Excellent hiding power.
• Total absence of harmful substances, including styrene.
• Odor free.
• Excellent levelling
• Good sanding
• Higher whiteness.
Its high resistance to shrinkage with time, makes it particularly interesting for high gloss polished pigmented processes, and is currently the most innovative technical solution and less harmful for pigmented processes in the market of modern furniture, kitchen cabinets and bathroom.
The Polygreen White Sealer meets international specifications of major furniture manufacturers that provide aromatic solvent free products and styrene monomer free, and exporting to countries with such limitations as Japan, Germany, Sweden, Northern Europe in general etc.
Milesi with this product launch, even in difficult times like today, continue betting strongly on innovation, research and development of new products and new processes for wood finishing.
Source: IVM Chemicals
Read more news related Milesi published at Infurma
Visit the IVM Chemicals website
Visit the Milesi website