The Feria Hábitat Valencia 2012 haute décor exhibition has been notably backed by firms from this sector. The most select habitat will occupy Level 2 in Feria Valencia's Pavilion 2, with a meticulous atmosphere which will reveal the latest trends in haute décor after a rigorous selection of firms that offer products of excellent quality and have a clearly international vocation.
With two months before the event starts -held from 18th to 22nd September- Pavilion 2 is virtually complete. Among the manufacturers to form part of this restricted "brand names club" we find reference firms like Lladró, Colección Alexandra, Schuller, Amboan, Muebles Picó, Mariner, Tecninova, Soher, Vicente Zaragozá, Alcomobel, Llass or the Italian firm Polaris.
The intention is for the pavilion setting and contents to reflect this sector's exclusiveness. In fact, the pavilion will offer its own services and activities to complement this exhibition area; for instance, a Product Gallery, an individual area showing exhibitors' emblematic articles. Next to it, there will be several information points, rest areas, a photocall and a central area for special events and presentations.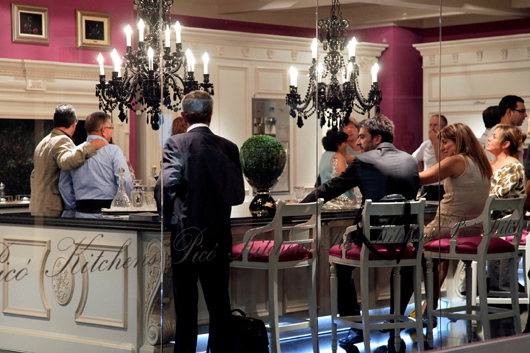 These firms will be visited by the international buyers attending the event, and their agenda will be filled with encounters with prescriptors of great potential from the main overseas markets which their products address; markets like Saudi Arabia, Qatar, United Arab Emirates, Russia and ex-Soviet republics or China. Presently, the event is completing the list of buyers who confirm their attendance.
For José Blasco, the Feria Hábitat Valencia Chair, "the haute décor project responds to the needs of the manufacturers themselves and will be one of the main attractions of this edition". Indeed, the trade fair has firmly opted, now more than ever, to respond to the demands of its exhibitors and visitors by promoting ad hoc an exhibition project for each style.
Hence, haute décor will become a part of Feria Hábitat Valencia's complete shop window -furniture, lighting, home textiles, decoration, kitchen and rest-, and will be arranged into different areas: quality-classic interior decoration, modern-upholstery-rest, contemporary-design and home textiles. The manufacturers' response to this new option has proved most satisfactory and the trade fair is now ready for its forthcoming event. According to Blasco, "despite today's economic context, the perspectives allow us to be optimistic".
Read more new related with Feria Habitat Valencia published at Infurma
Further information at Feria Habitat Valencia website