After 12 years in San Vicente del Raspeig, the restaurant Murri moves to Alicante with a more elaborate gastronomic proposal based on the quality of local products. The award-winning interior design studio Tarruella Thenchs has carried out the interior architecture project. And so they explain us,

The project is based on the use of noble materials and pure forms that reflect this new gastronomic concept. The walnut wood of the acoustic soffit and the facade walls, the Baltic blue stone flooring and the wall of upholstered panels form the envelop of the restaurant, where the brass lattice stands out, which forms the spatial axis of the concept, organizing the space, and visually separating the main dining room from the private ones and the show kitchen.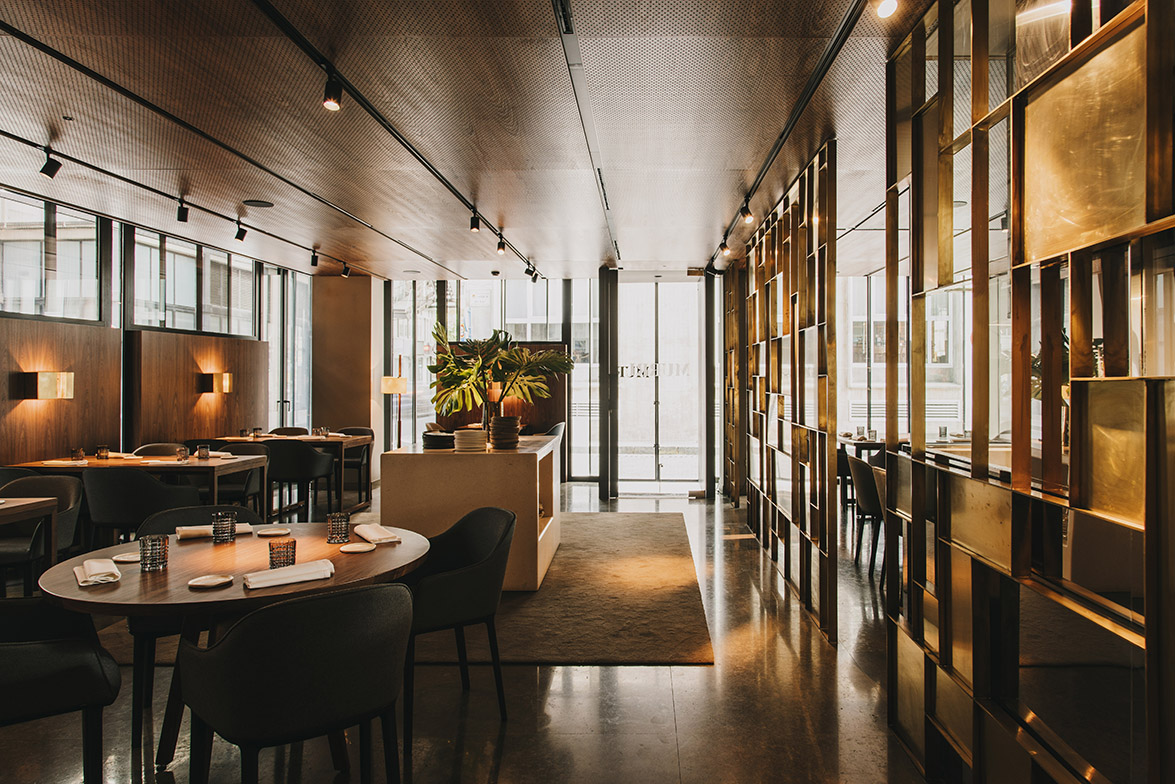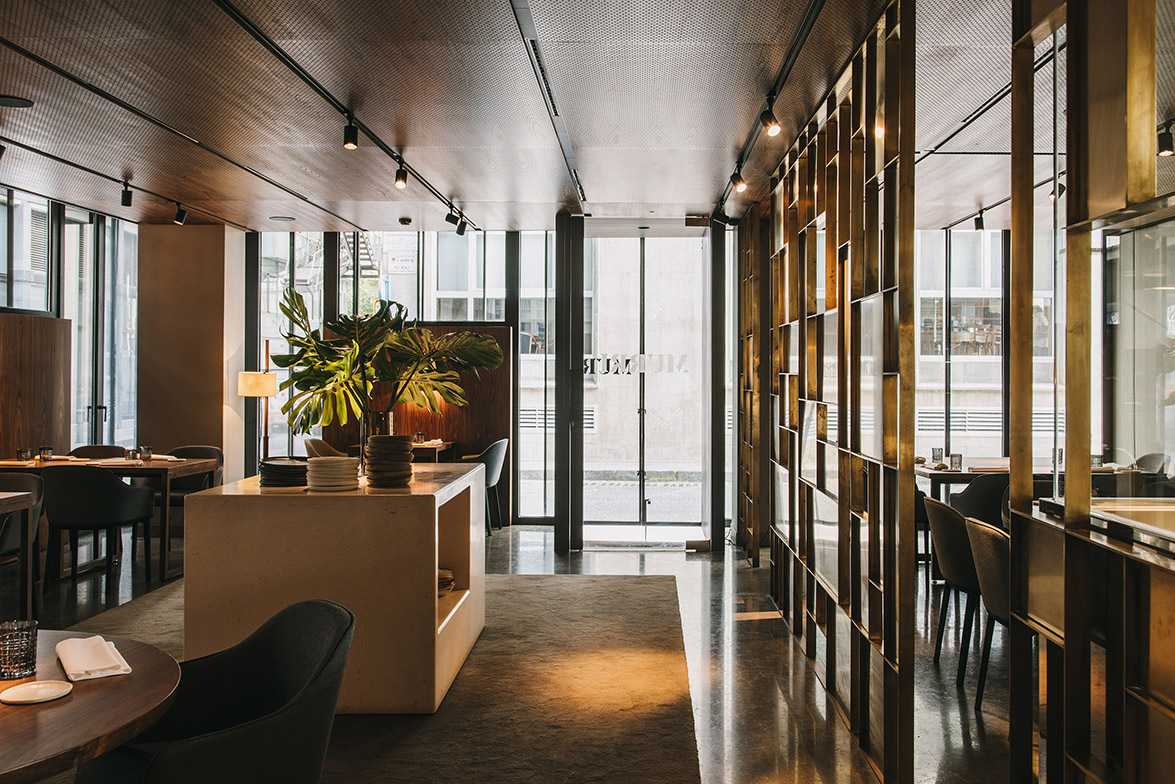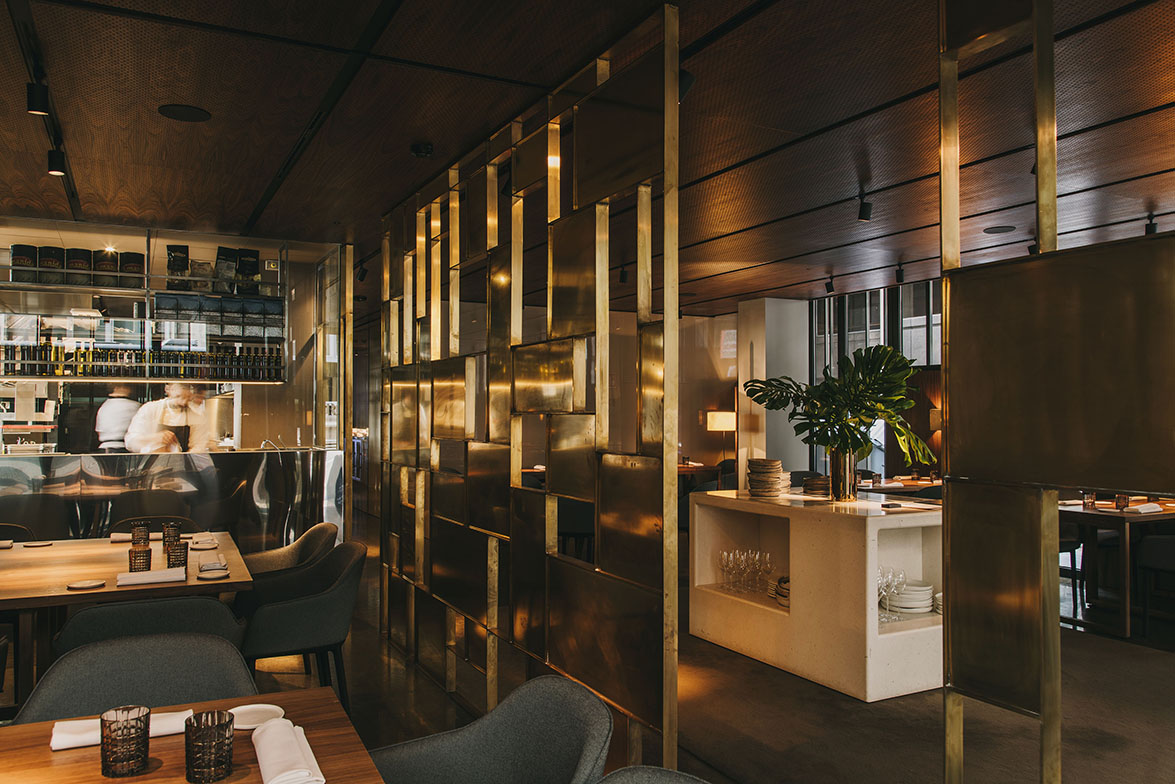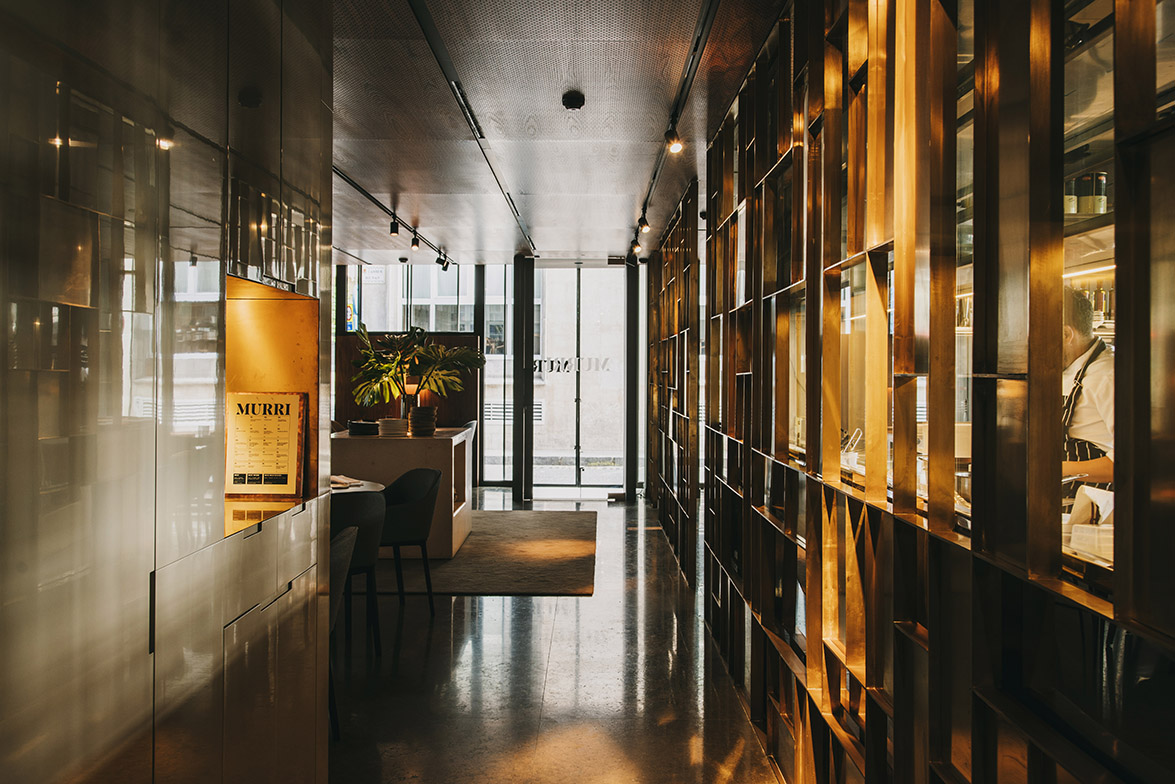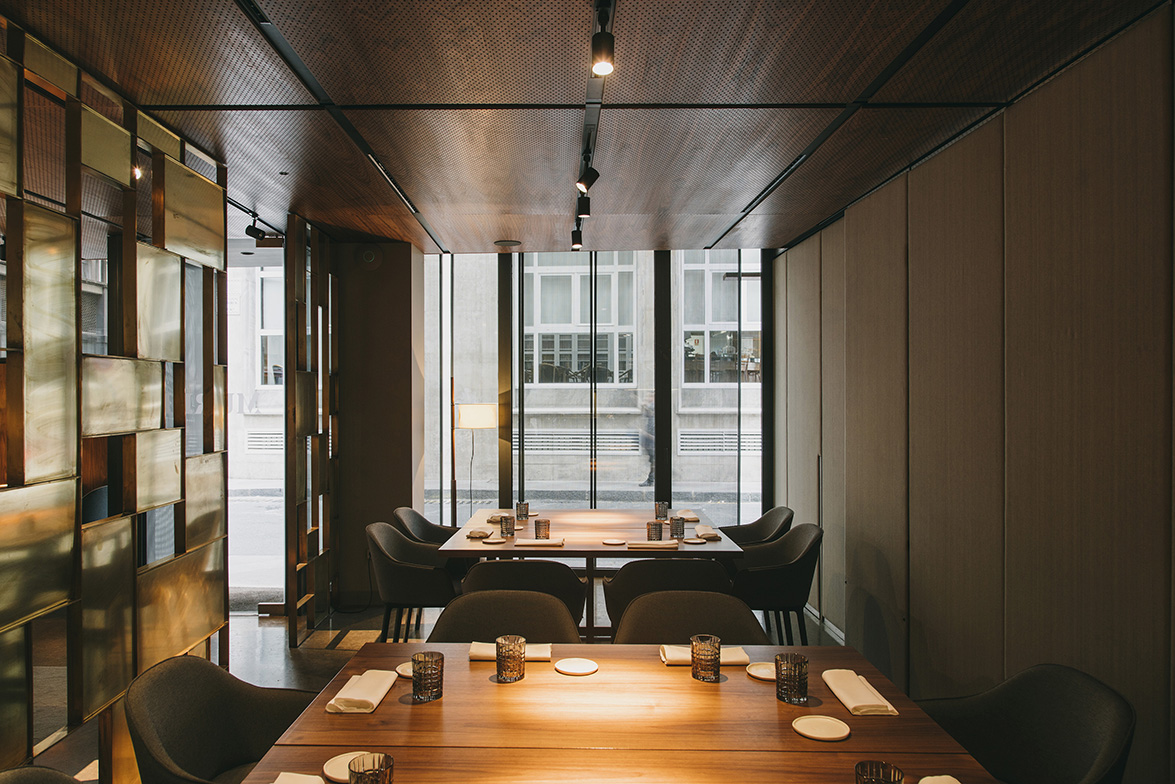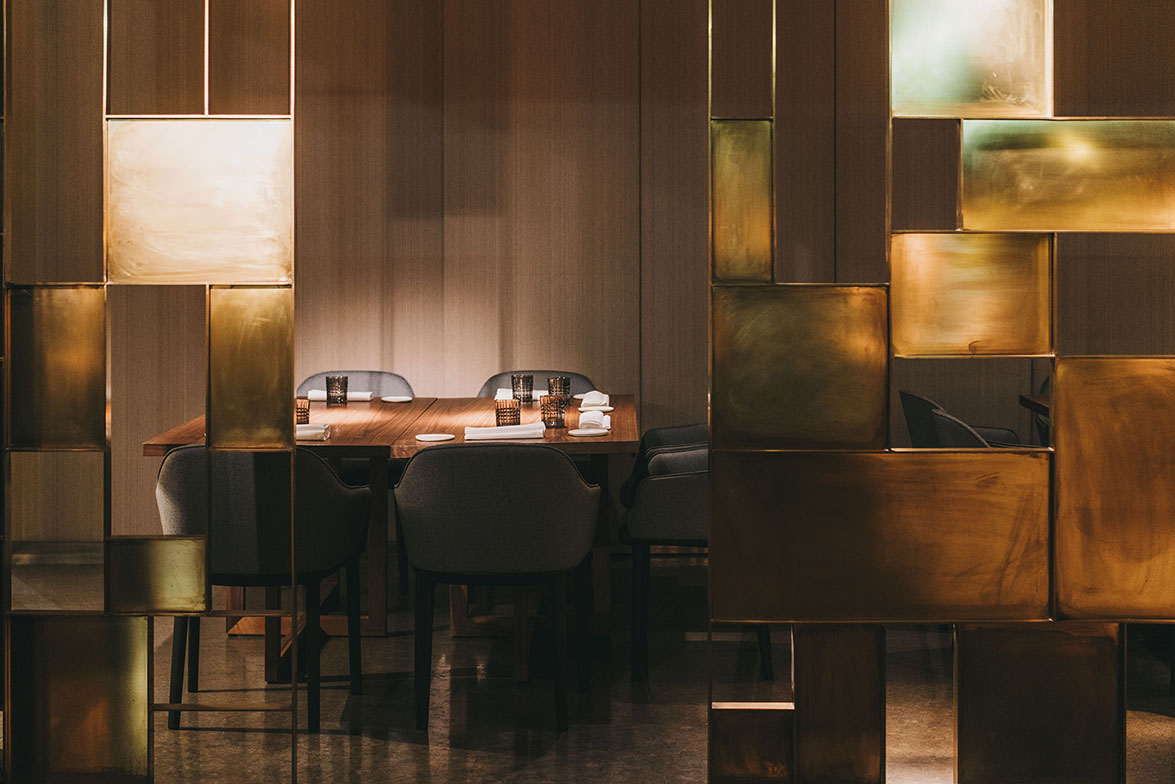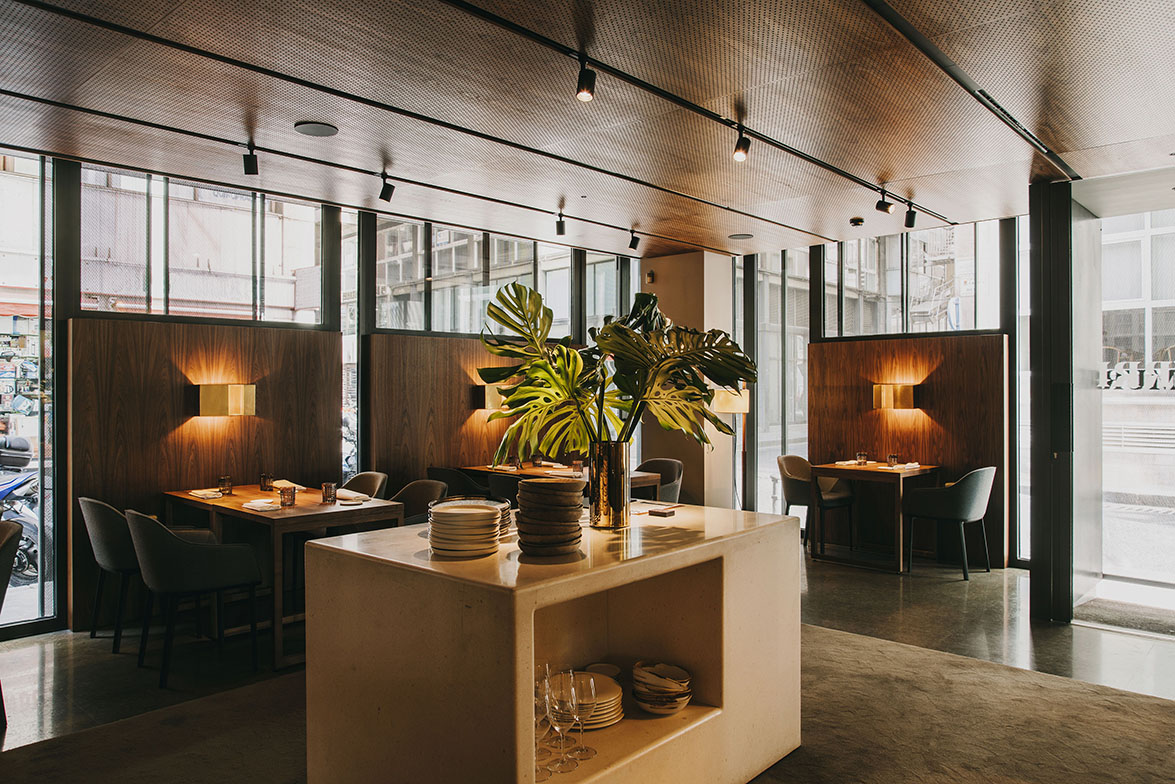 Walnut tables and upholstered chairs are placed in the main dining room as an extension of the walnut walls on the façade, and are arranged around the Limestone service station. The natural brass wall lamps, the wool rug, and the floor lamps with linen shades complete the space giving it a warm feel.

In the private rooms, the show kitchen activity is shared with the Terre restaurant, and the upholstered acoustic panels allow reconfiguring the space according to the needs of each service shift.

Across the show kitchen there is a bright lacquered volume made in MDF containing the restrooms, a niche as a support surface for waiters, a wardrobe closet and the main kitchen. Both technical lighting and air conditioning of the premises are resolved among the strips found on the micro perforated walnut wood soffit that acts as an acoustic absorbent.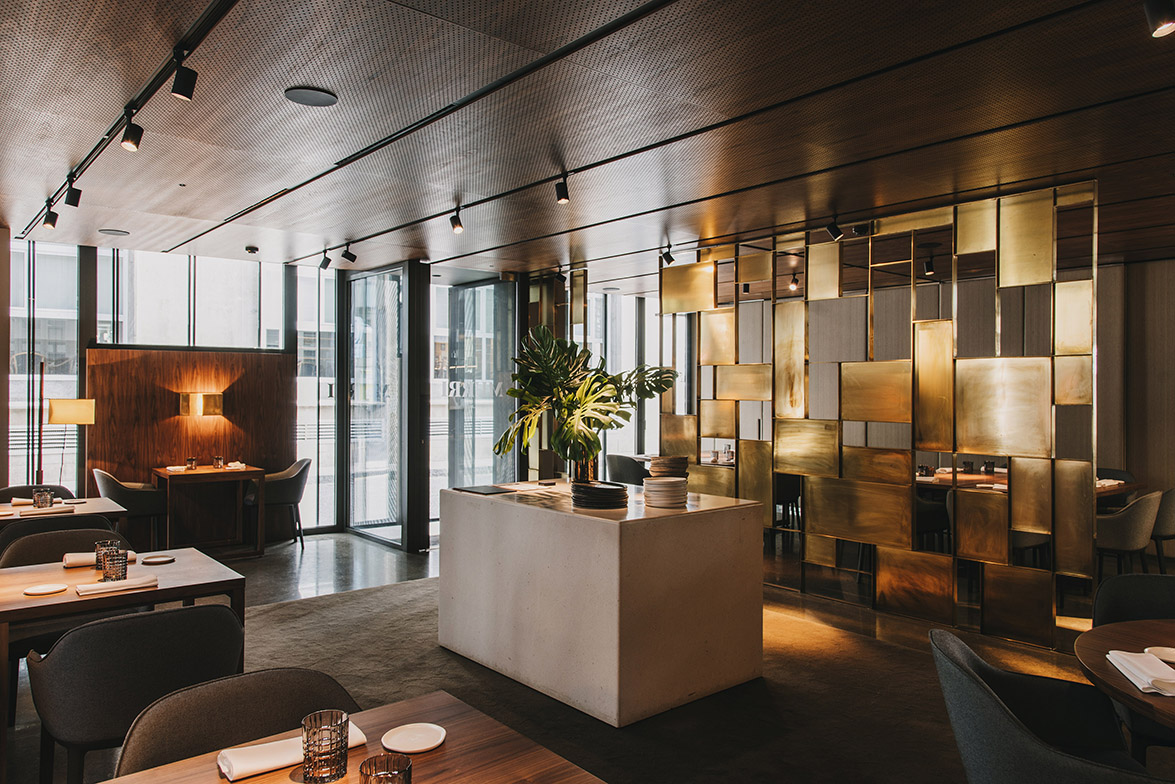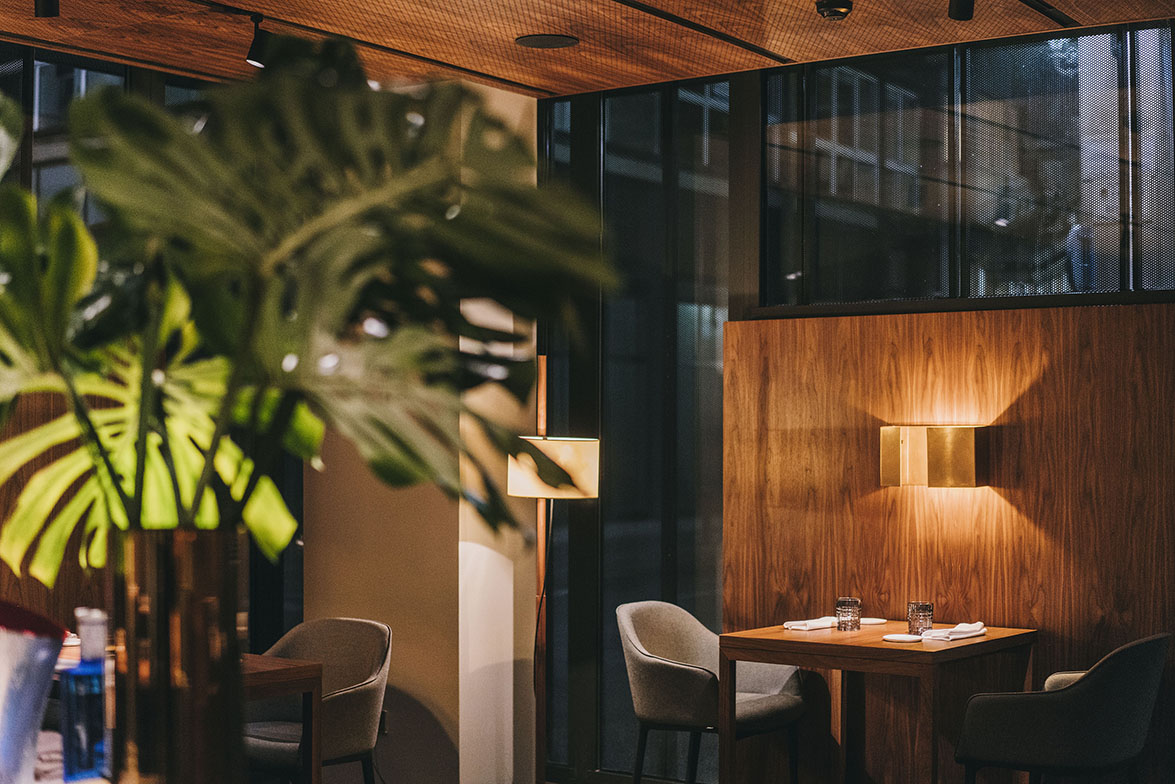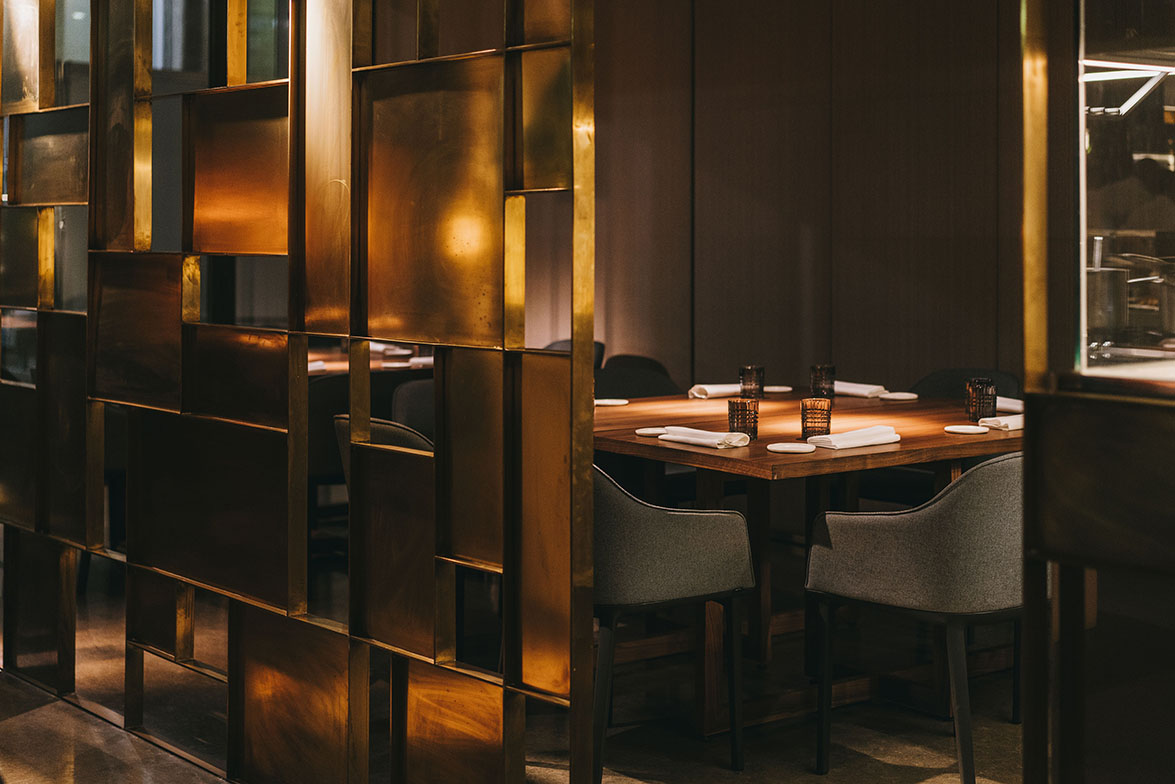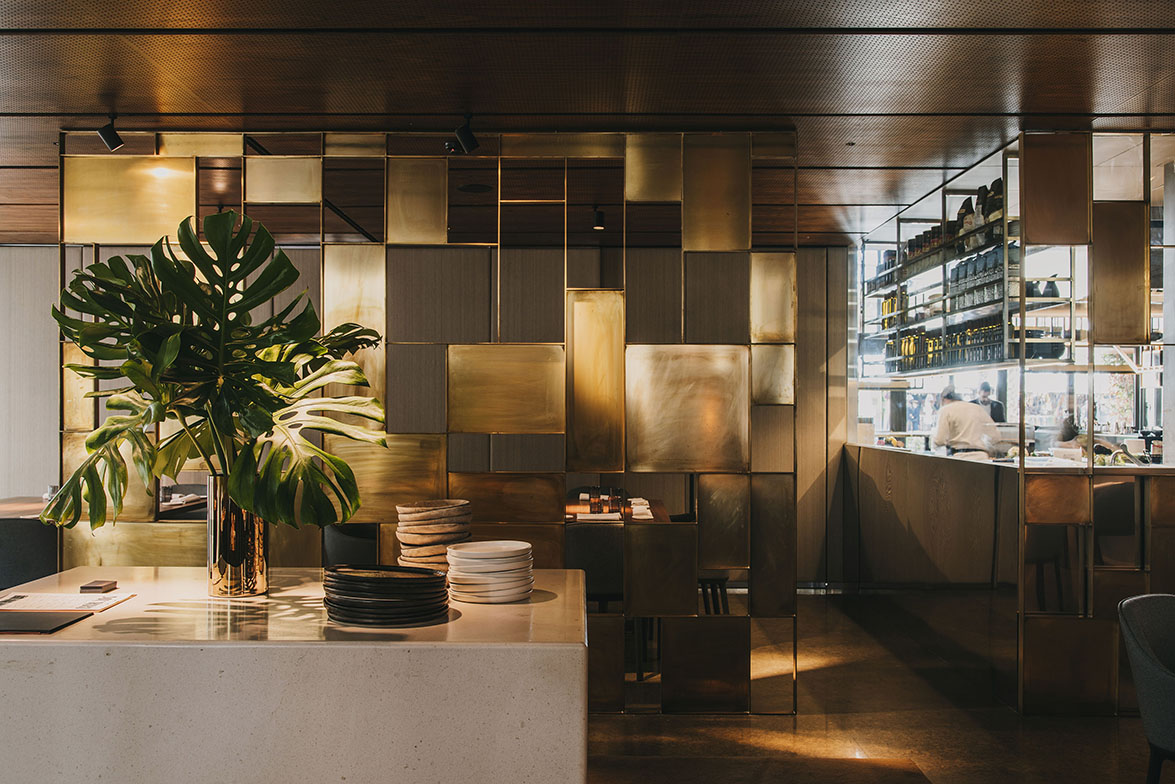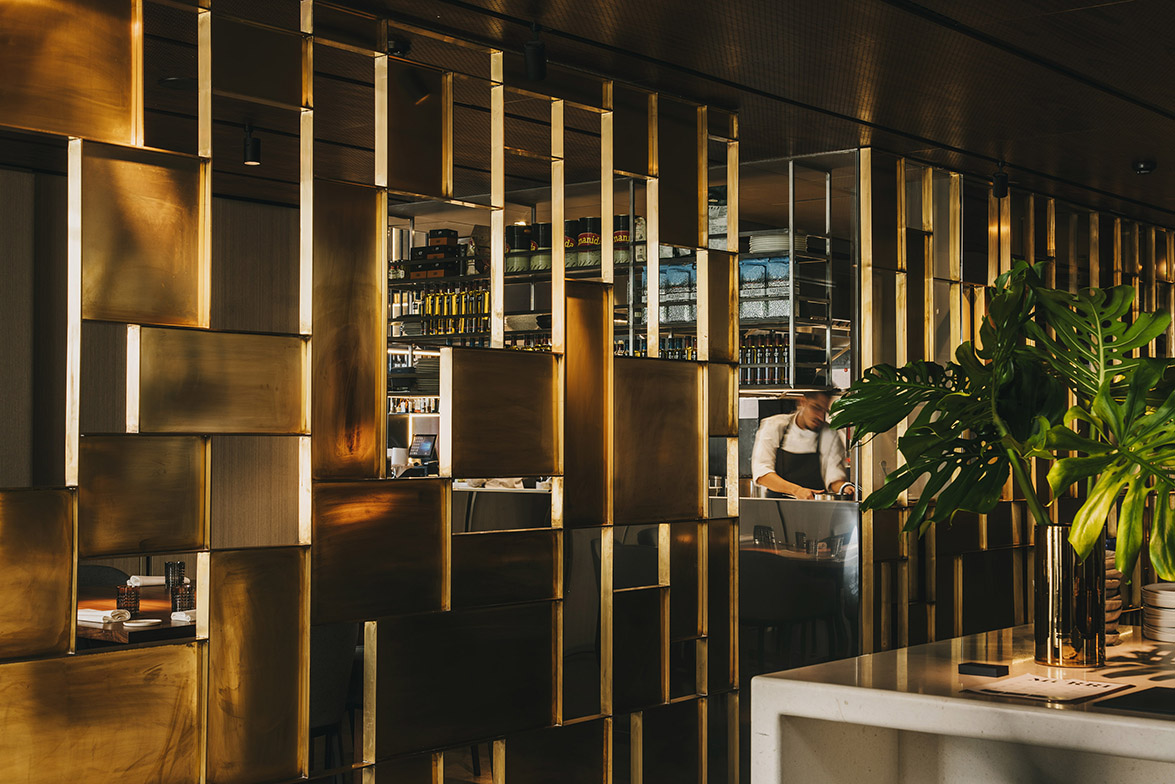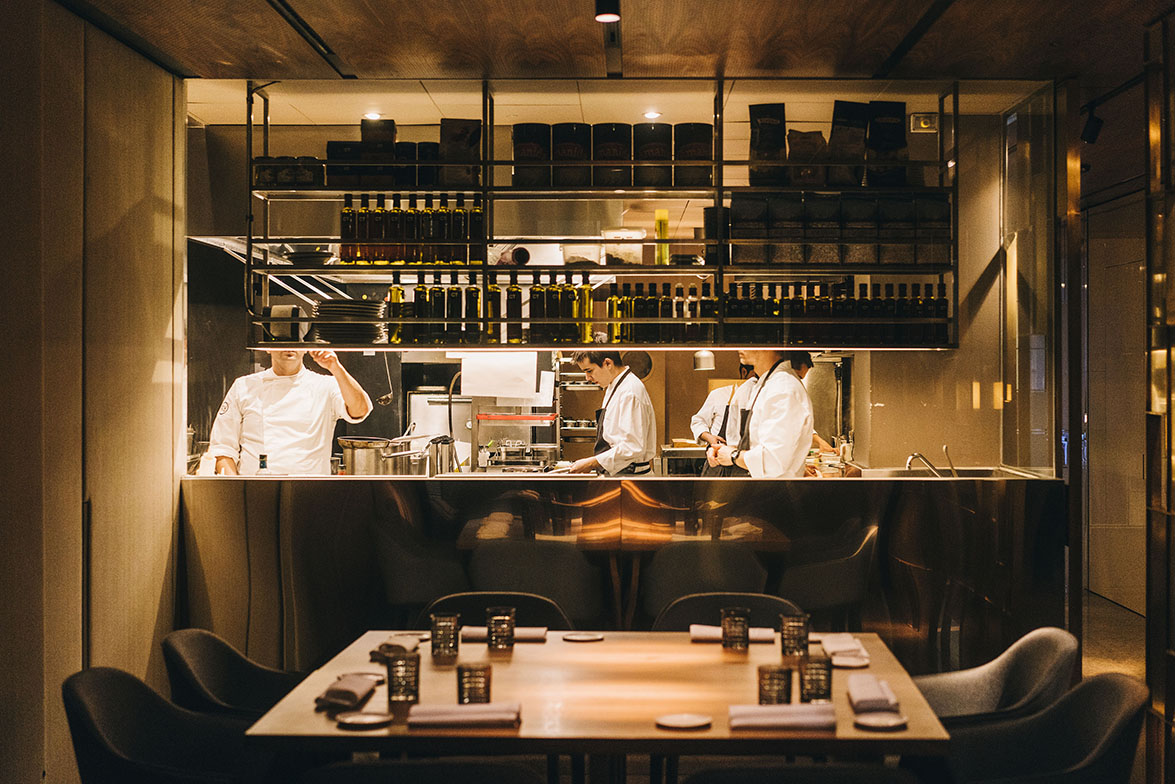 Finally, some perforated metal panels run randomly through the façade in a set of transparencies, fills and voids that integrate the access to the restaurant, the night enclosure of the premises, and the interior distribution of the restrooms. These panels are merged with the double height façade of the Terre restaurant, hiding the access of waiters and the ventilation of the mechanical room.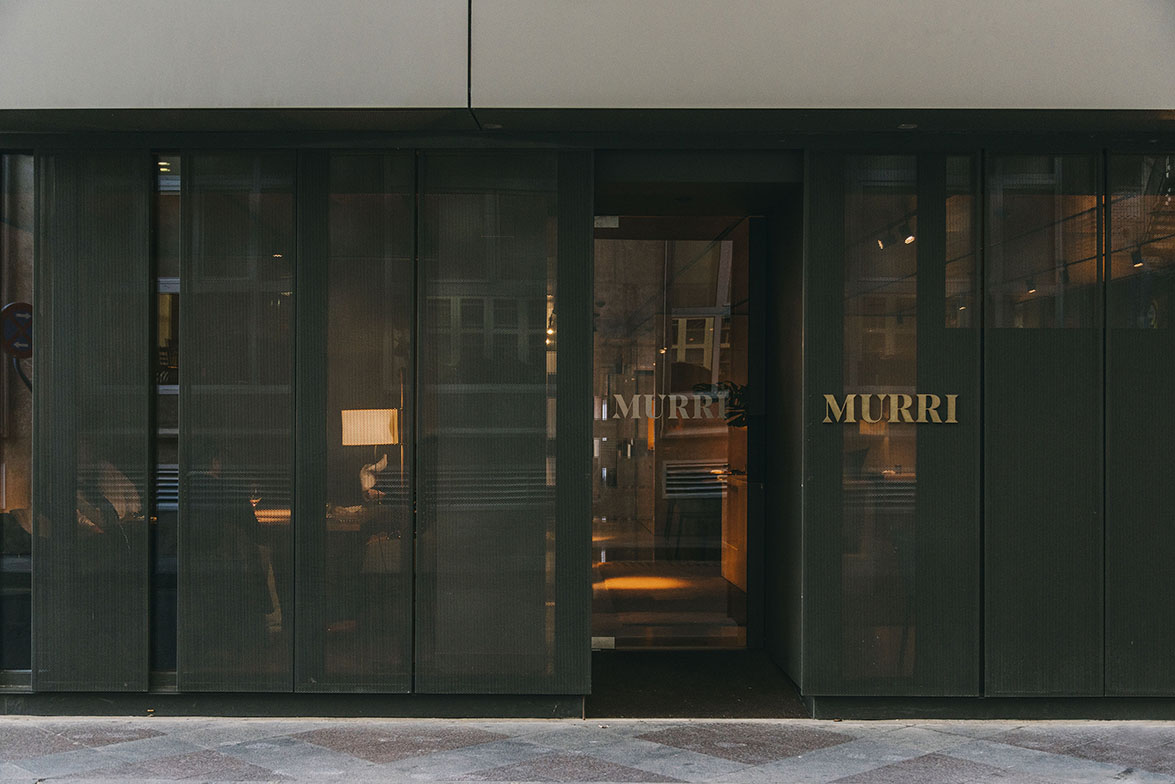 Creative Direction: Sandra Tarruella & Ricard Trenchs
Project Leader: Anabel Cortina
Collaborators: Núria Martínez, Núria Calderón, Anna Torndelacreu, Olga Pajares, Mariona Guàrdia, Elsa Noms, Carmen Muñoz, Marc Julián

Source: Tarruella-Trenchs Studio

Photos: Meritxell Arjalaguer

Read more news related Tarruella-Trenchs Studio published at Infurma

Visit the Tarruella Trenchs Studio website