To see water fall onto our hands, without having to touch levers, is a luxury which we can have by installing the SOLTRONIC electronic tap by Ramon Soler.
It is a high technology tap which combines functionality and hygene in our bathrooms, as well as being good value for Money as all Ramon Soler products.
This model presents a stylised design having a clean rounded tube, which does not encroach with our other bathroom accessories.
The SOLTRONIC 8101 is powered by four 1.5V batteries and an infra red sensor, which allows a great deal of water saving as the tap automatically shuts off after use.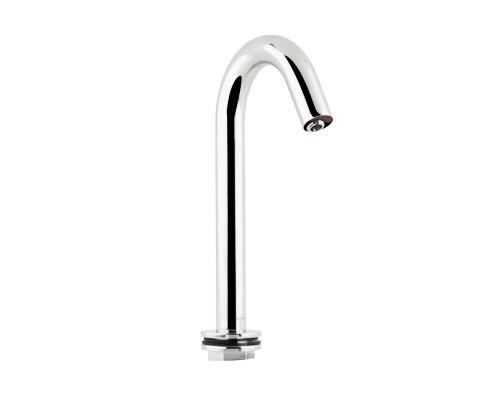 The possibility of fixing the water temperature iat a maximum of 60ºC permits its use in public facilities and in households where there are children present.
Ramon Soler offers us this electronic tap with a good flow rate, efficient and sustainable which can cover all of our needs without wasting precious water.
Source: Ramon Soler
Read more news related Ramon Soler published at Infuma
Visit the Ramon Soler website