The design studio Cuatro Cuatros, joins the Missana upholstery designer furniture brand with Trampolin, an original and practical chair that seeks simplicity and comfort.
Trampolín is a chair which structure dares to surprise everyones perception. The young design studio Cuatro Cuatros based their idea in a very functional, comfortable and schematic product, with a high contrast between horizontal and vertical perspectives that results in amazing diagonal lines that make it looks like the chair is actually suspended somehow.
A great variety of metal and fabric finishings make it suitable for every space, and the fact that it is stackable and that both seat and back covers are removable are what takes Trampolín even closer to perfection.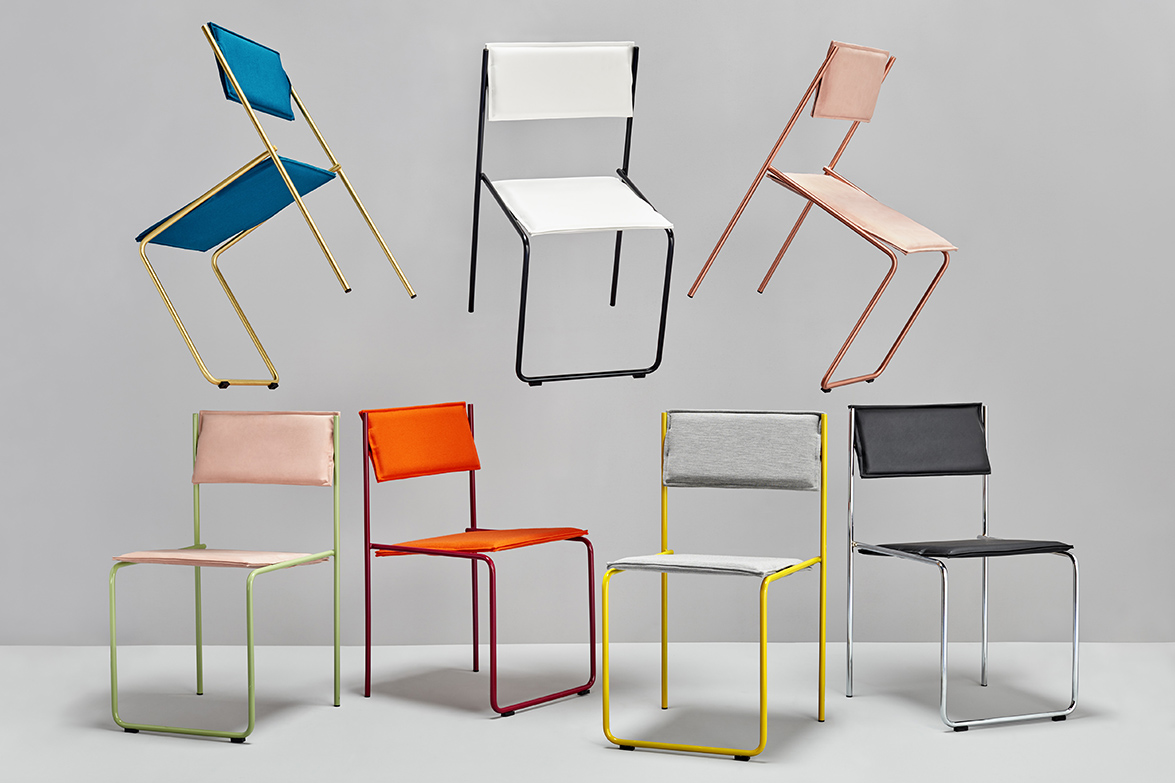 Trampolín is a very chameleonic chair, its challenging structure seems to be suspended in a weightless state, almost floating.
The different metal and fabric combinations result in a very wide range of "different chairs", for example, a classic chair ussing a golden metal finishing and an elegant blue fabric, a modern chair with a funky pink/copper metal finishing combined with a beautiful leather, femenine, minimalist, trendy, for the more cosmopolitan projects such as the combination we have chosen for Trampolín's launching mixing copper and black velvet, a wonderfulfabric named "Star" by Kvadrat, a vintage and elegant touch, perfect industrial spaces.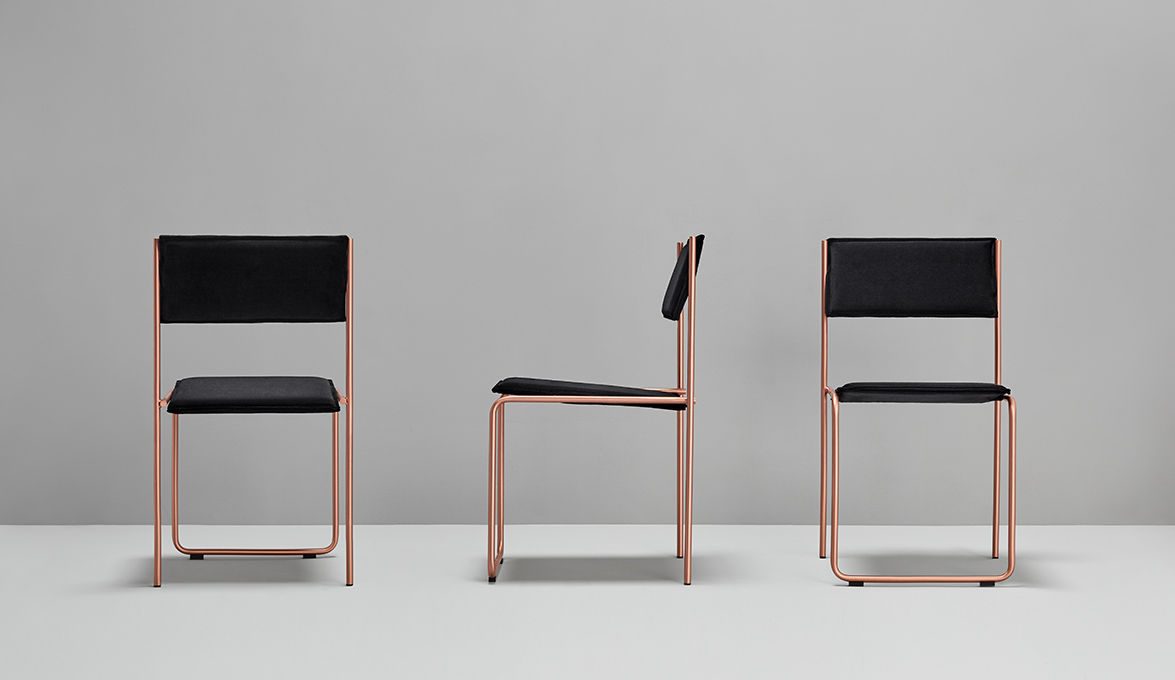 Cuatro Cuatros is a design studio stablished in Valencia in 2010. Their latest creation, Trampolín, joins now The Novelties, a new concept collection by Missana that every month throughout 2016 will welcome at least a new exclusive product, by the end of the year will have a trendy compilation of products exclusively designed for Missana by both, stablished and emerging designers from all over the world. Adrian Martinez Almonacid and Cristina Ródenas Lechigueros are the head designers of Cuatro Cuatros, a studio specialized in home design due to the experimentation and creativity opportunities that this sector offers. They Always look for functionality, simplicity and schematism in their products as is evident in Trampolin. Their designs don't go unnoticed, they try to bring new solutions to daily objects, looking for a surprise factor that is not obvious, looking to interact with the user by creating very dynamic products. They have exceptionally captured the requests and needs of Missana without leaving aside their essence, which have resulted in Trampolin being an exceptional and unique piece of art. Their work has been recognized recently with several awards like the iF Design Awards (Germany) and the Good Design (Chicago), both awarded in 2015. In 2016 they've tutored some of the ETSID "Workshop Paralel 2" groups, at the Polytechnic University of Valencia.
Missana has over 20 years of proven experience and endless passion for the upholstery world, with a new acquired challengue of making real new ideas and innovative proposals from designers all over the world. Every product is traditionally handmade in the factory in Alberic (Valencia). Missana's products have been specified and used in many projects all over the world offering the most demanding audiences trendy and elegant pieces that are modern and contemporary, pieces that are perdurable over time due to there durability and the use of noble materials.
Source: Missana
Photos: Cualiti
Art Direction: Jiménez de Nalda
Read more news related Missana published at Infurma
Read more news related Cuatro Cuatros published at Infurma
Visit the Missana website