Duravit is embracing the concept of 'less is more' with its new Scandinavian inspired collection of washbasins, bathtubs, and bathroom furniture. Created by Duravit's first female design partner Cecilie Manz, Luv is defined by soft, muted colors and curved shapes.

The series encourages designers and consumers to create an individualized look, with consoles and washbasins available in a variety of finishes and storage options. Equally modern and timeless, the Luv series is a fresh aesthetic for Duravit that matches the trends of today and the classics of tomorrow.

Luv's signature oval shape was inspired by a straightforward vision from the Danish designer. "The image in my mind's eye from the very start was a bowl filled with water on a simple table," notes Cecilie Manz. This vision produced the sophisticated purism of the Luv series.

"Cecilie Manz brings a new perspective to Duravit," says President of Duravit USA Tim Schroeder. "The Luv series is modern and impeccably designed. With the combination of Duravit's technology and craft expertise and Manz's artistic vision, the Luv collection is an excellent addition to the Duravit family - just in time for our 200th anniversary."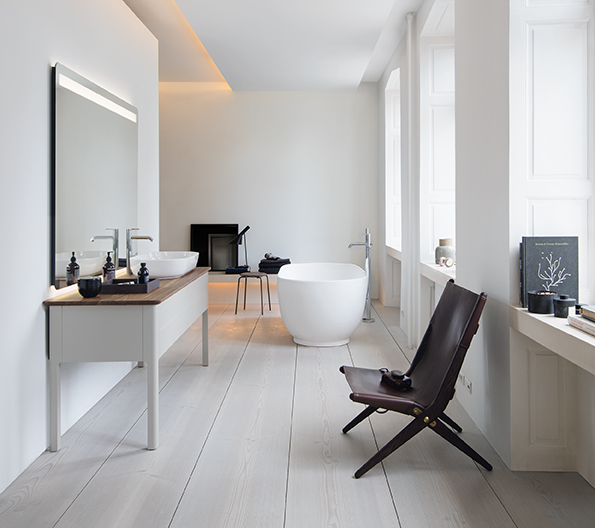 Bathroom design is a new territory for Manz, but her Luv line is anything but novice. The collection is accomplished and original, combining Nordic style with traditional, classic features. Luv's curated selection of available materials and colors brings warmth and durability to the bathroom. Her color palette of matte lacquers and soft glazes was developed exclusively for Duravit and emphasizes the refined aesthetic of Luv.

The Luv washbasins are all made of DuraCeram® and are perfected with generous inner basins and clean edges. The glazed exterior comes in three pleasing colors: satin matte White, Grey or Sand. These color options all contrast with the glossy white glazed inner basin, producing pieces with an individual look and feel. Ceramic siphon covers complete the washbasin for a harmonious, flowing appearance. On the variants with an incorporated tap hole platform, the tap fitting is mounted centrally at the rear, and on the small hand rinse basins, it is fitted on the left or right side.

The washbasin stand consists of a console table on four gently curved, height-adjustable feet. Using this creative design language, Cecilie Manz skillfully realizes the original vision of a table and water bowl. Three widths are available for the washbasin: 70 inches for the double, 55 inches for the single and 27 inches for the guest bathroom. The stands are lacquered in satin matte and come in white, Nordic White, Taupe, Stone Grey, Light Blue and Night Blue. The quartz console panels are available in three colors and a solid-wood version in American walnut. Storage space is ample, with handle-free pull-out compartments and drawers insightfully fitted with tip-on technology and self-closing mechanisms.

The Luv series is completed by mirrors in three widths ranging from 20 to 63 inches, with an integrated dimming function and mirror heating (for de-fogging). In addition to the standard mirror height of 31 inches, all models are available in a height of 47 inches. The glare-free LED lighting at the top edge of the mirror with activated ambient lighting guarantees optimum illumination of up to 700 lux.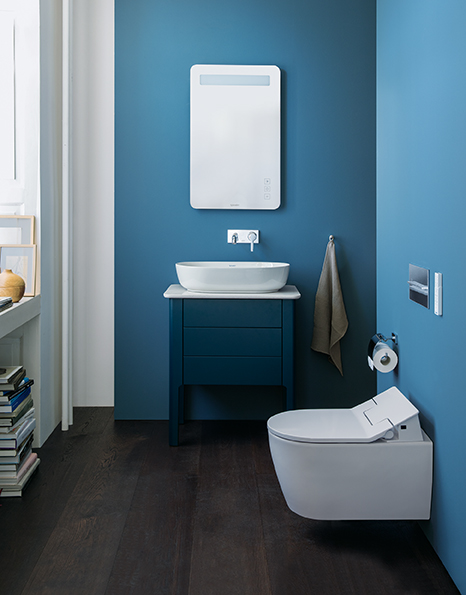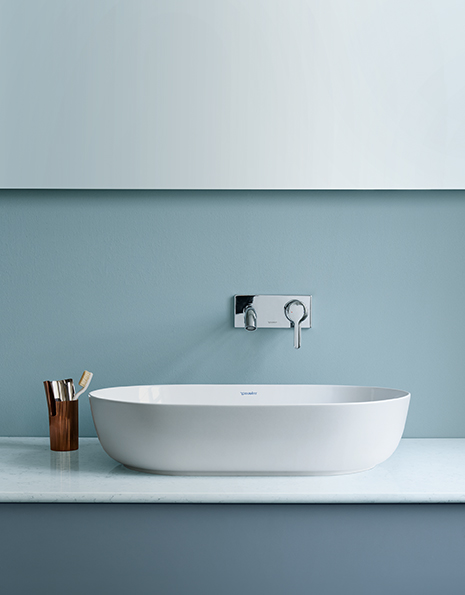 Luv also offers bathtubs inspired by the shape of the wash bowls. Seamlessly made of DuraSolid A, they are warm to the touch with a high-quality matte look. They are available as a free-standing model and as a back-to-wall or corner version.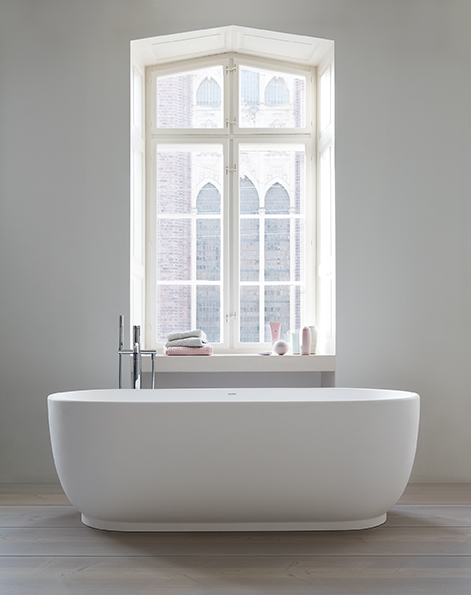 The Luv collection will be shown, from 21 to 24 May, at the ICFF in New York (booth 1439) and in its showroom at 105 Madison Ave, New York
Source: Duravit

Read more news related Cecilie Manz published in Infurma

Visit the Duravit website