Once again, the Spanish lighting brand, Lzf Lamps, surprises introducing its new collection. HIGH FIDELITY has a specially designed tailor made format. The musical rhythms and the graphic images unite with each lamp to form a multi-sensory compilation that embodies the spirit of this year's collection. Designs by Yonoh, Marivi Calvo, Burkhard Dämmer, Roberto Celada or Ray Power will be seen soon in Milan (Euroluce) and Las Vegas (HD).
Their presentation features an outstanding quartet made up of music, graphic design, motion graphics and products. Lzf Lamps tells about,
12 songs, 12 album covers, 12 posters, 12 almanac pages and 12 animations to accompany 12 lamps. In a tribute to the iconic album covers of sixties jazz records and the popular soundtrack themes of the 70s, LZF have harnessed many forces in a creative fresh campaign.
This campaign celebrates the excellent moment that the company is experiencing and transmits, through the friends who have joined the creative team, the fun that they have had making this compilation. We bring you a melody inspired by the quest for quality and caring for the fine details, like the the lingering pleasure of after dinner conversation, in the desire to make sure that each lamp is more than just a lamp. It will become a memorable experience.
Rithma, (Etienne Stehelin II), music maker from Los Angeles who has worked on many of LZF soundtracks has taken the musical lead in the project, composing an album of twelve songs that accompany the collection on an LP called High Fidelity.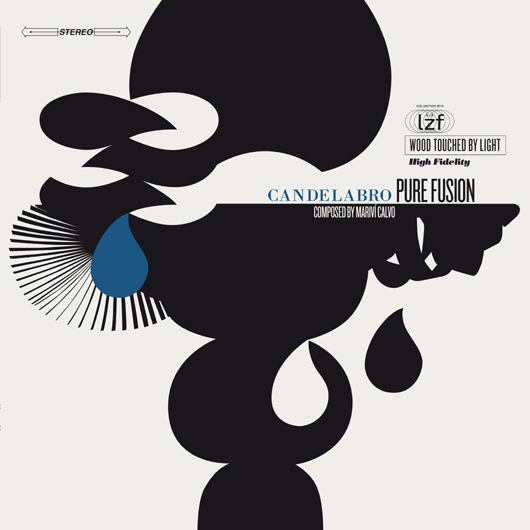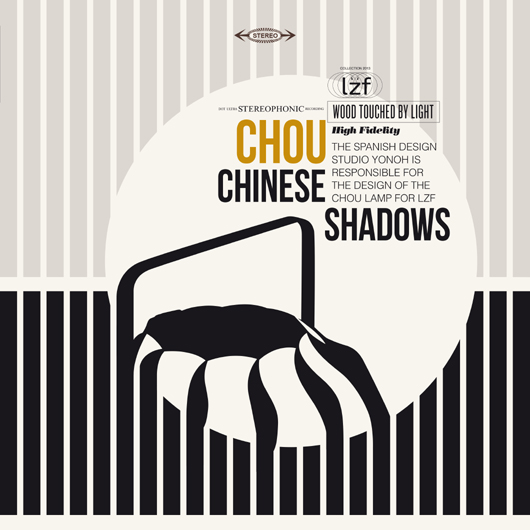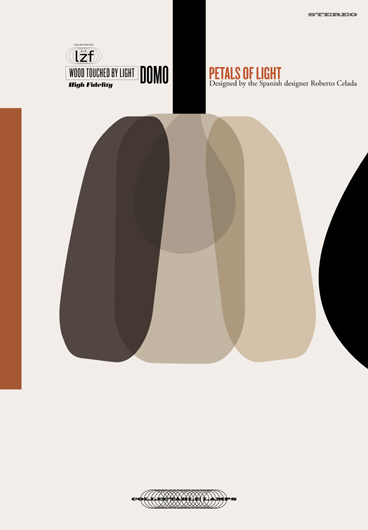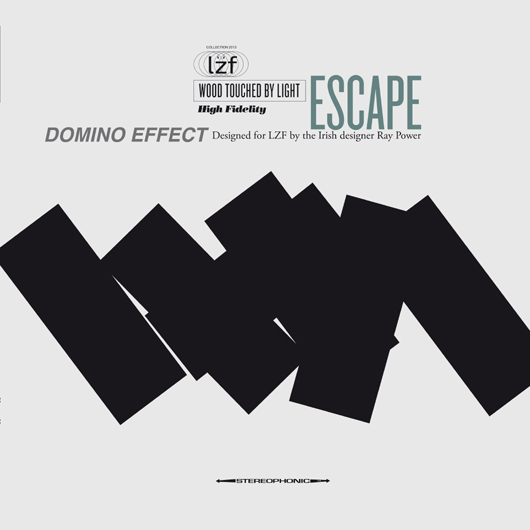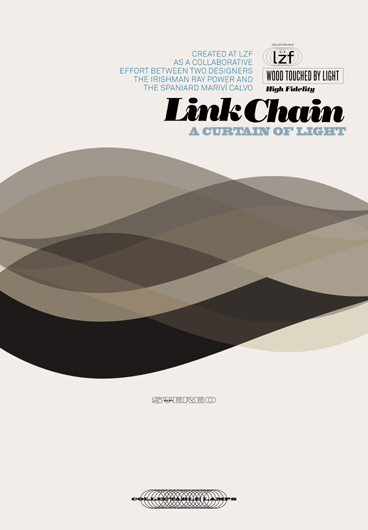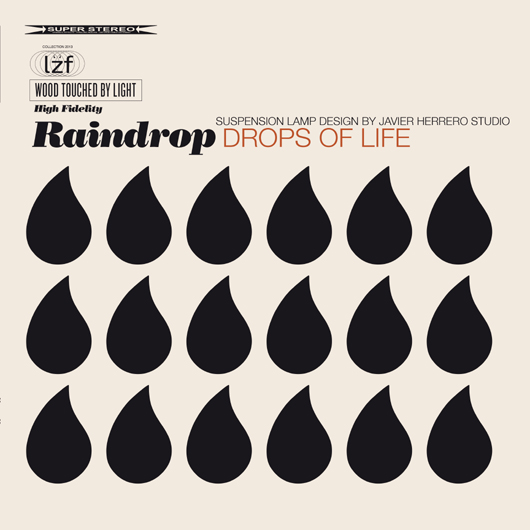 The leitmotiv of this years collection was to pay tribute to those small clubs, whose ambiance, made up of live music, lights and dark corners, always accompanied good times and get together full of happy moments.
In a sense, music has always been part of LZF's DNA and has accompanied them from the very beginning. But never before had they brought their lamps together with music in such an explicit, conscious and deliberate manner. At last, the new "High Fidelity" collection has provided them with the opportunity to pay this long overdue tribute.
Lzf Lamps has launched a mini website in which you can listen all themes at once you see all new collection: www.lzf-lamps.com/highfidelity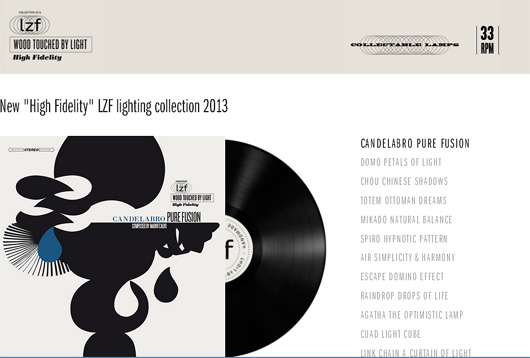 Products included at 2013 High Fidelity Collection:
DOMO
The seventies was a great decade for the invention of dome shaped objects, like the transparent dome umbrella, the dome hat with those round orange sunglasses incorporated into it; but what we most cherish from this decade is the dome of silence from the TV. series Get Smart. When designer, Roberto Celada, brought this design to us, we just had to have it, in memory of agent 86.
ESCAPE
The domino effect in lighting, a chain of self supporting squares falling into a ring of light. This new proposal by Irish designer Ray Power creates a domino circle caught in a constant state of gravity defiant falling.
CHOU
Inspired by the film "The World of Susie Wong" designers Yonoh studio plunge us into the cinematic aroma of Hong Kong with the Chou series. An object that decorate any room with tales from the Far East.
CANDELABRO
Candelabro is a song about a world where golden birds inhabit suggestive cloud like forms. A melody that breaks and reunites. A song of lights, composed by Marivi Calvo using the most emblematic pieces of the firm.
AGATHA
Inspired by Agatha Christie the author of this series of lights, Luis Eslava, shares the imperishable style of a job well done. Literature of the fantastic and imaginative design join together to weave a synopsis of the story of this lamp.
RAINDROP
Raindrops of music that permeate throughout life, as if Javier Herrero had cosen the form of a concierto to present his designs to us. These drops, suspended in the night, creating inspiration for us all.
SPIRO
Nearly fifty years after the term Opt-art first appeared in the pages of Time magazine, Remedios Simón offers a new interpretation of this artistic tendency. One that tricks the senses, especially that of sight.
MIKADO
Daring, mischievous and nonconformist, the Mikado lamp leaves nobody feeling indifferent. An ancestral game known as Mikado enters our home thanks to Miguel Herranz's ability and skill. A lamps whose strips of wood unfold in the air and project beautiful rays across the room.
LINK CHAIN
The Link Chain melodically chains together all the strength of great promises so that Light and design can remain united. A chain created by the hands of Mariví Calvo and Ray Power.
AIR
Simplicity and harmony. These two ideas are brought together in the Air lamp. Designer Ray Power hits the bull's eye with his simple, yet striking and ethereal creation. A lamp that seems to sit effortlessly in any corner of the home.
TOTEM
In Istanbul, two friends, Mariví Calvo and Burkhard Dämmer, came out of the spice market smelling of spices, tea and tradition. Totem is like a dream about the Ottoman Empire. With the Totem, the designers have recuperated it's splendour without the superfluous details. The Totem may turn any room into a bazaar for the senses.
CUAD
The author of this piece, Burkhard Dammer, presents us with an archtectural model of great sobriety but which hides in its interior great beauty and demonstrates to us how simplicity can be of great impact. Equipped with T5 electronic technology it has great versatility for use in the home or the office.
Lzf Lamps will show its new collection at Euroluce in Milan, April 9-14, in a space located at Hall 11 Stand D32, and at HD Las Vegas, May 15-17, in Booth 2023
Source: Lzf Lamps
Read more news related Lzf Lamps published at Infurma
Read the Lzf Lamps special articles published at Infurma
Visit the Lzf Lamps website