The Playhouse Theatre at the Geelong Performing Arts Centre (GPAC) in Victoria, Australia was once a dark and almost claustrophobic place. Now rejuvenated, American walnut is key in a palette of materials reflecting the theatre's natural surroundings, and delivering outstanding acoustic properties.
"Nothing much had been done since it was built about 30 years ago and, basically, it was just ... brown!" says GPAC general manager Jill Smith. "The physical structure of the theatre was working well, but aesthetically, it was in desperate need of some TLC. The seats were falling apart and there were access compliance issues."
The initial brief for architects Studio 101 was to brighten the space, make it more welcoming and look at the acoustics. "With theatres, you are always conscious of acoustics - and timber is always a great way of achieving that," says Smith.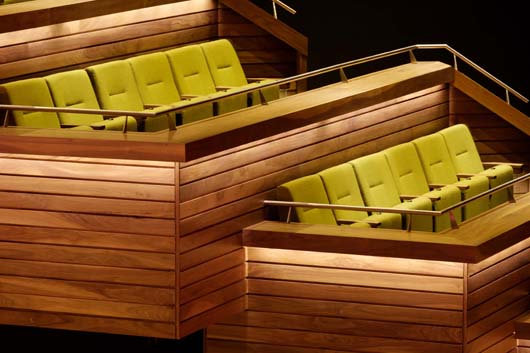 Confronted by the overwhelming 'chocolate' of the existing space, Studio 101 architect Richard Wiesbrock says it would have been reasonable just to give it a lick of paint and change the carpets and seats. "Instead, we chose a solution that became the identity of the theatre: a heavy emphasis on a walnut finish on the seats, sound reflectors, balcony balustrades, boxes, doors, and throughout".
"Timber presented itself as an opportunity to give this important 800-seat theatre some life and get some extra warmth in there." It also needed even colour toning that wouldn't distract from the performance - something not too light or too dark.
"Walnut was always in our thinking, but we had never used it before. We did quite a bit of research and felt very confident we had the correct material. But the decision was made for us while we were looking at seating options. They are such a big thing in theatre design; people touch and comment on seats before almost anything else."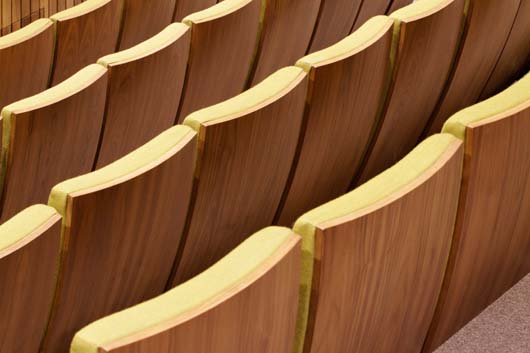 It had already been decided that the upholstery would come from local manufacturer Geelong Textiles, but the search for a suitable seating mechanism took the specifiers to Colombia. "It just so happened that they had an overstock of walnut from a big job in the United States. We had already decided to use walnut, and that, plus the mid-century design, influenced our thinking," says Wiesbrock.
"We researched the colour toning, density and acoustic qualities for the sound deflectors, and everything was pretty much perfect really."
Yes, an Australian timber such as blackbutt or cypress might have been considered, but the architects say the choice was much more about "honesty of expression in materiality".
"If the timber has a colour, then it should be represented most of the time as such - particularly inside. But if you used something like spotted gum, you would finish up with an uneven colour toning of reds, yellows and browns. Other Australian hardwoods can become quite lightish, and we certainly didn't want bounced or reflected light. Whereas walnut, with its mid-colour toning and warmth has none of those issues."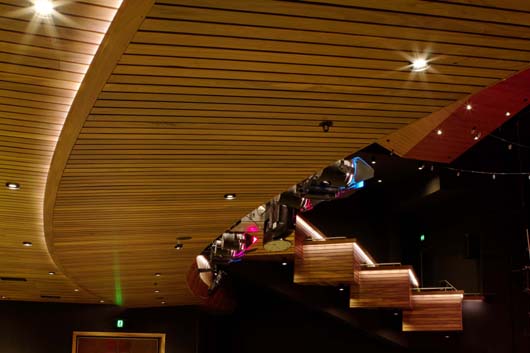 The nearby Otway Ranges State Forest is the inspiration for the mid-range tonings, emphasised by the natural timbers and green fabric. Splashes of red at the rear add a theatrical touch. All other surfaces were painted out black to become recessed planes, allowing the walnut to seemingly 'push forward' and interact with the large spatial volume.
International experts Marshall Day recommended acoustic improvements for parallel downstairs halls, the back of the stage and other pockets. "We needed to reflect the sound back into the deep recesses of the theatre for superior audio quality, and the walnut-veneered sound deflectors have been very successful," says Wiesbrock.
Although finishing and maintaining timber elements can require a little extra work, Studio 101 says variability was a key factor in the choice of the walnut:: "It is not too inconsistent and has a nice overall texture, plus each board has its own texture and colour toning."
The Geelong-based practice specialises in timber-based design solutions and is drawn to wood because "what you can actually do with it goes far beyond any other material". It identified the following key benefits American walnut brought to the GPAC project:
• select grade for visual consistency
• the right durability and hardness for vertical linings and ceiling soffits (Janka rating 4.5)
• rich, mid-range colour toning and tight, delicate grain
• a wonderful tactile quality
• harvested from sustainably managed hardwood forests
• readily available at the time of specification in veneer and shiplap cladding
• excellent acoustic properties
• 'deemed to satisfy' fire hazard indices.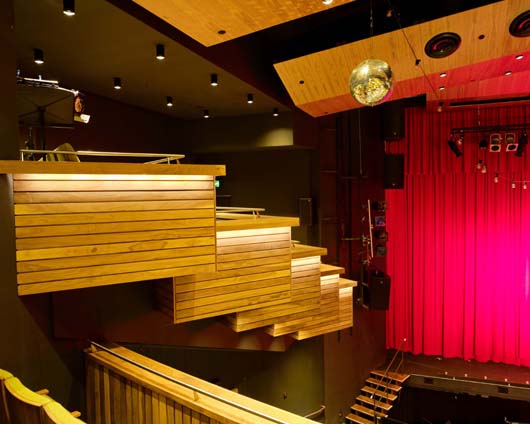 American walnut veneer on 12 mm plywood panels are carefully integrated as sound deflectors suspended from the theatre ceiling. The panels deflect sound to the upper balconies and conceal the service catwalks above. They provide a partially timbered ceiling soffit which floats delicately and adds intimacy to the space.
Plywood also allowed for a lightweight steel substructure, reducing costs and construction time. Screw fixings were set out and expressed on standardised panels of 1200 mm widths to reduce waste.
"Essentially, the walnut-veneered ply panels enabled an innovative suspended timber ceiling element otherwise unachievable with solid timber, and added to the visual honesty and conceptual integrity of the project," says Studio 101.
"The consistent expression, detail and underlying conceptual use of timber and the recessed existing wall planes have led to a finely crafted and well received result in this high-profile theatre redevelopment."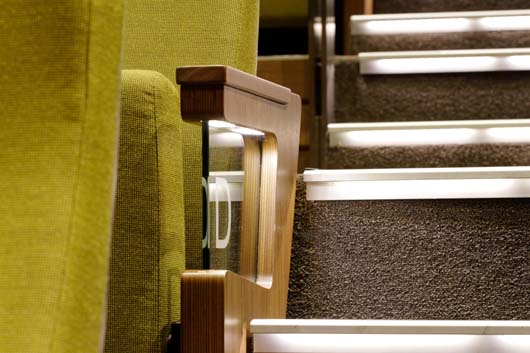 Project Data
Name of the project: The Playhouse Theater at the Geelong Performing Arts Centre
Location: Geelong - Australia
Architect: Studio 101 architects
Year of project: 2010
Year of completion: 2010
Type of building: Cultural
Client: Geelong Performing Arts Centre
Total cost: Project cost: approx $3 million AUD or approx 2,42 million € (change rate 0,80526 €/AUD).
Photography: Tony Neilson
Visit the Teatro Playhouse del Centro de Artes Escénicas de Geelong website
Visit the Studio 101 architects website
Visit the American Hardwood Export Council (AHEC) website