Marchi Group is a leader in the handcrafted kitchen sector. It prides itself on great attention to detail and on its use of durable, high quality materials. Marchi Group is proud to present its exclusive new line of products at Maison & Objet, the international design and furniture fair in Paris. VINTAGE STYLE Collection is the fruit of a careful study in recent trends in kitchen design. Marchi Group has thus created new concepts in kitchen style to satisfy an ever-growing customer base. Marchi's latest collection, "VINTAGE STYLE", proposes new designs in a traditional, authentic style, maintaining its hallmarks of high quality and attention to detail.
1956
This kitchen is made using high quality durable materials including solid wood and sandstone. This kitchen offers a quality that will last in time. Areas are equipped to make the best use of space.
Natural wooden tones give this kitchen a refined look. Important features include the sink made of granite, the steel hood, and magnetic panels, a useful accessory that can be decorated with fun memos.
Marchi gives this kitchen a British touch with a fridge encased in a traditional London phone booth. This is the most important feature of the kitchen.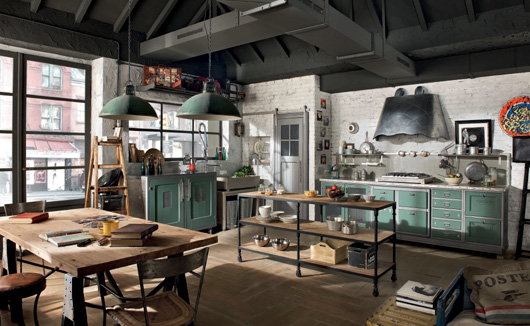 Loft
Loft
The new LOFT design - ideal for young couples - combines an original, forward-looking style with a sense of family and tradition.
Teal pastel shades and smooth, rounded shapes reminiscent of the 1950s are given a modern make-over. The result is a truly innovative design. It comes complete with new generation kitchen appliances.
The composition in the pictures evolves in a linear manner along a single wall. Features include a steel hood made in an original patchwork style, and the fridge, mounted on four wheels for ease of movement.
For further information, you can visit Marchi website