New achievement in water design: Axor, the designer brand of Hansgrohe SE, is introducing a revolutionary washbasin mixer. Growing out of Axor's relentless drive for products that reflect the vitality and emotionality of water, the brand's first transparent mixer, Axor Starck V, was brought to life in collaboration with Philippe Starck. Its official presentation is taking place at the Axor flagship store DURINIQUINDICI in Milan from April 7 - April 13.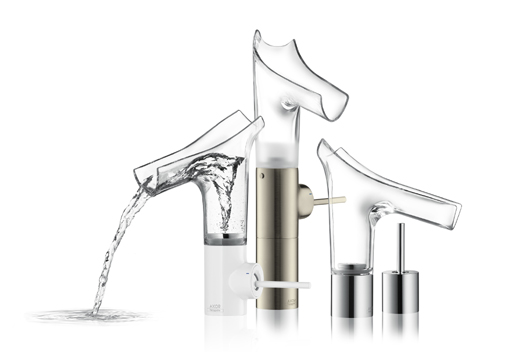 "The vortex phenomenon has occupied my father Klaus Grohe for several years", explains Philippe Grohe, Head of Axor. "His intuition that water could visibly be brought to the foreground through the vortex, was the starting point in the development of Axor Starck V. In our long-time friend Philippe Starck, we not only found the perfect design partner to create a shape around the vortex, but also a valuable sparring partner in the developmental process. Ultimately, the realization of the project was not made possible by creativity and determination alone, but by technical know-how and over 100 years of experience in handling water."
The result according to Philippe Starck "is a mixer that represents the absolute minimum: totally transparent, almost invisible, and enclosing a miracle that is the vortex".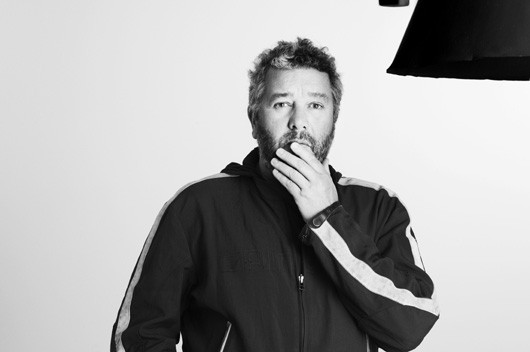 Connecting with Water through the Vortex
For more than 20 years the human interaction with water and space has been at the core of Axor's innovations. Axor Starck V will be one of the most prominent translations of this idea yet: with the beauty and dynamism of its vortex, the mixer bridges the gap between the functional and emotional aspects of water at the washbasin, transforming it from a basic commodity to a valuable resource.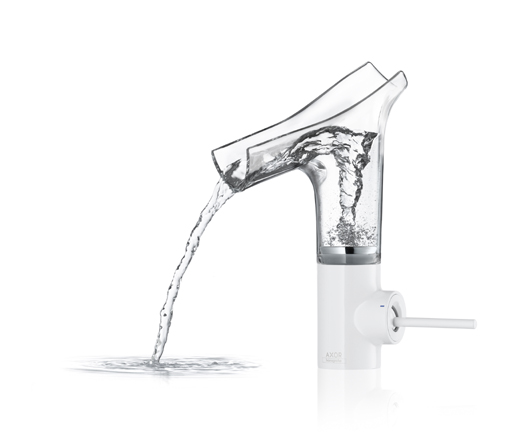 Organic Design and the Aesthetics of Transparency
The organic, transparent design of Axor Starck V gives it an exciting, yet subdued presence. Besides serving the technical function of making water visible, transparency aesthetically fuses the mixer body with its surroundings, thus, in essence de-materializing it. The openly designed spout contributes to the natural water experience: before the eyes of the user, the upward, swirling motion of water through the mixer's body and its "free-fall" into the washbasin trigger a feeling of joy and happiness.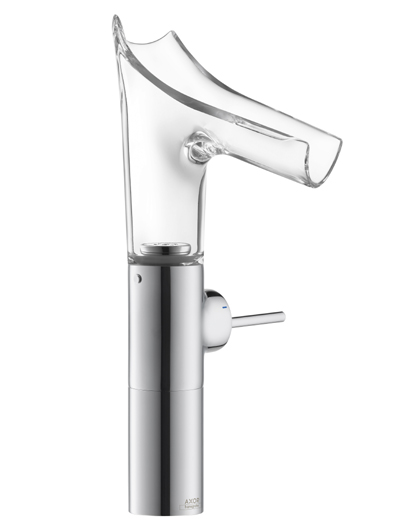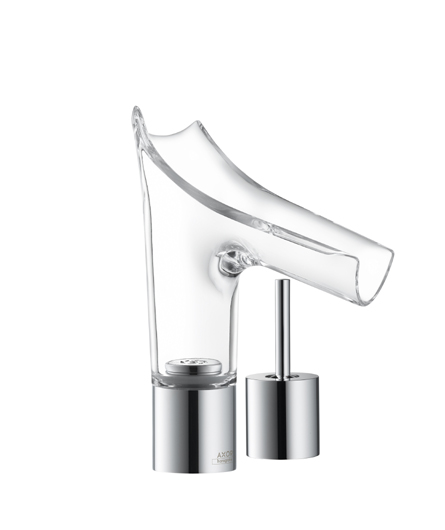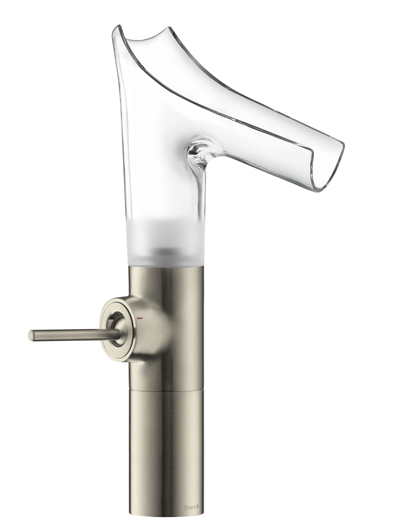 Experiencing Water through Technology and Innovation
True to the Hansgrohe principle of producing highly aesthetic, functional and sustainable bathroom products, Axor Starck V shines with a multitude of innovations that together are certain to define a whole new category of washbasin mixers. For example, the mixer is produced out of the organic material crystal glass, which is sustainable and durable. With a flow rate of 4 l/min, Axor Starck saves water without compromising the user experience. The open, rotatable, and detachable spout offers additional comfort: flexible installation of the mixer body in combination with the washbasin and easy cleaning in the dishwasher.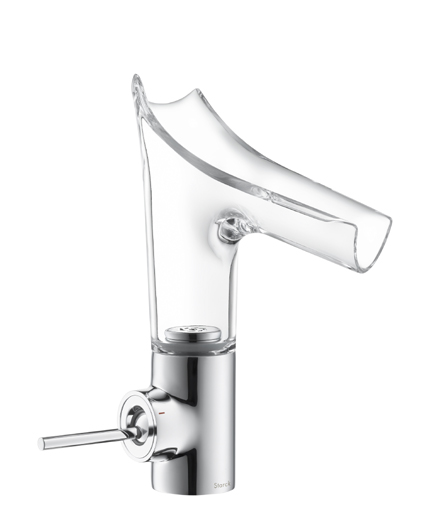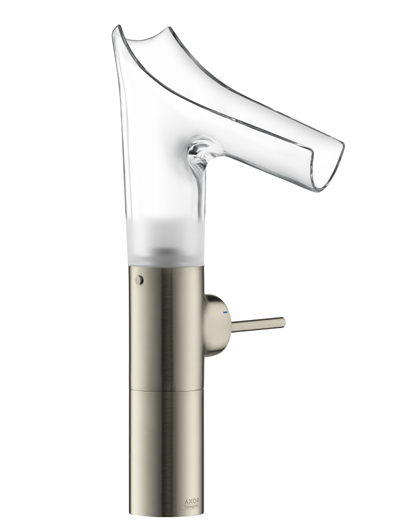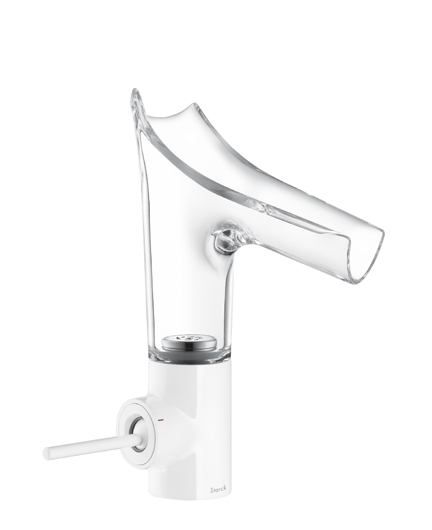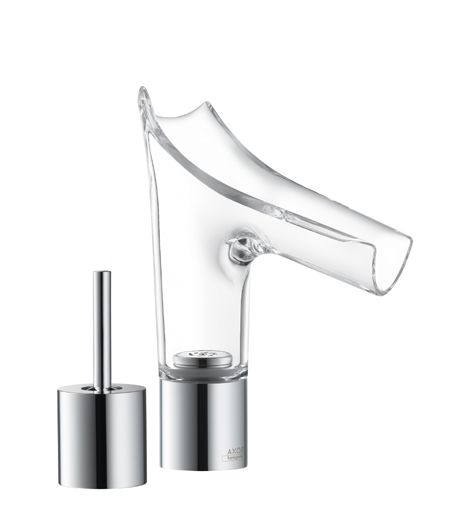 Axor Starck V
Axor Starck V is available as a Single Lever Basin Mixer (9/2014), a Two-Hole Basin Mixer (3/2015) and Single Lever Basin Mixer for Washbowls (3/2015)
Chrome and white (powder coating) finishes; twelve standardized special PVD finishes; further finishes are available upon request through the Axor Manufaktur
Flow Rate of 4l/minute
Minimum water pressure of 1.5 Bar needed to activate the vortex
Crystal Glass: scratch- and detergent-resistant; dishwasher-proof
Removal of glass spout: EasyClick-In connection between body and spout for easy cleaning and spare part handling
SafetyStop: allows removal of spout without turning off the cartridge
Swiveable spout: allows for a better view of the vortex; adjustment of the water spray to minimize splashes, flexible installation of the mixer body in combination with the basin
Variable positioning of the mixer body to allow the joystick cartridge on the left or right
Information and images by courtesy of Hansgrohe
Read more news related Axor published at Infurma