In a new month, we introduced the product Nikari November, within the project "2012 Designs for Nature". The Danish designer Louise Campbell has created a small desk for this renowned Finnish firm.
Louise Campbell,
"November: my cold, dark, wet and windy enemy.How to find something good in you? I think of gentle light, maybe just a candle, a soft chair, this little desk, its drawer full of pens, its shelf full of paper, and I can almost welcome you."
The November table desk is made of maple, surface treatment natural wood oil mixture.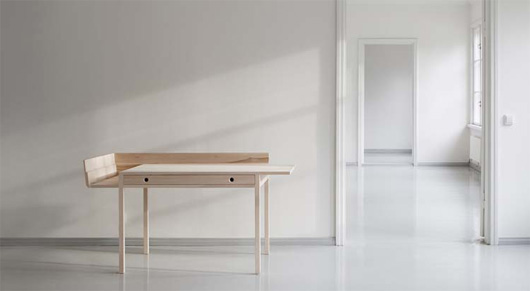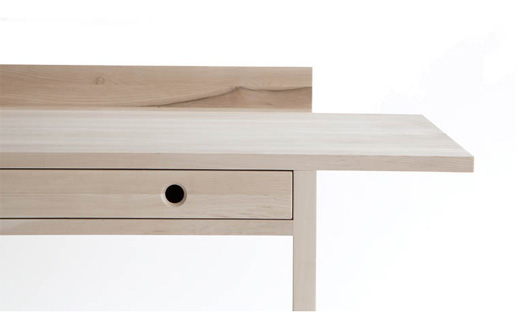 The Project 2012 Designs for Nature has been carried out by Nikari in co-operation with the Finnish WWF, and is based in the manufacture of 12 products during the 12 months of the year by 12 recognized designers over the world, who use local forests' wood and part od the sales price is donated to protecting rainforests and forests globally.
March "Martí Guixé designs for Nikari the MARCH wall bench in the Project 2012 Designs for Nature"
April "Alfredo Häberli designs "April" for Nikari in its project 2012 Designs For Nature"
May "Nikari presents "May" chair, designed by Simom Heikkilä"
June "New "June" chandelier, designed by Mikko Paakkanen for Nikari project 2012 Designs for Nature"
July "Nikari presents the seventh product of its "Designs for Nature" project. The "July" stool, designed by Nao Tamura"
August "Nikari presents the "August" stool, designed by Aamu Song and Johan Olin"
Setpember ""September" has arrived. The Nikari product of the month for its "Designs for Nature" project"
October "Samuli Naamanka designs "October" for the Nikari project "2012 Designs for Nature""
Photographer: Chikako Harada
Visit the Nikari website